Home

Emily Grace Events
About this Vendor
Just A Right Touch to a Flawless Execution!
Emily Grace Events caters to all brides and grooms who are looking for a creative and personalized planner for their stylized wedding inspiration. Whatever detail you have in mind, large or small, we will help you put the pieces together to create the perfect moment.
Details
Engagement Party, Getting Engaged, After Party, Bachelor Party, Bachelorette Party, Bridal Luncheon, Bridal Shower, Rehearsal Dinner, Welcome Party, Rehearsals + Parties, Ceremony, Cocktail Hour, Day After Brunch, Reception, Rehearsal, Wedding
Destination Wedding Planning, Destination Weddings, A la Carte Wedding Planning, Budgeting, Day-Of Coordination, Full Service Wedding Planning, Planning
Contact Info

Reviewed on

11/06/2017
Cara S
Emily did a fantastic job running my wedding and making sure everything was in place for the day of. My ceremony and reception went very smoothly and she was a pleasure to work with. Would definitely recommend!
---
Reviewed on

10/13/2017
Tomiko P
Emily Grace and her staff were amazing. They made our wedding so special and it was absolutely beyond perfect!! We can't say enough nice things about Emily. Tomiko and Chris
---
Reviewed on

10/04/2017
Leona W
I can't say enough about how great it was to work with Emily Grace. I am the mother of the groom and circumstances were such that I was very involved in the planning as my new daughter in law does not understand American wedding customs. Emily immediately understood and worked... Read More with me with what seemed like endless patience. The rehearsal and wedding day were perfect.
---
Reviewed on

9/05/2017
Phuong N
We are from California. Emily is the coordinator for my wedding reception at Tao restaurant at the Venetian. She is experienced and very helpful. Her price is reasonable. She set up everything pretty well and my requirements are met. I will recommend her service.
---
Reviewed on

7/19/2017
Phuong N
Emily Grace Events: full of professionalism, complete stress reliever, and ridiculously organized! I am a self-proclaimed DIYer. I started on the wedding planning journey attempting to do everything on my own. It got overwhelming thinking about all of the things I would have to... Read More do the day of the wedding. What would I be missing? Is there something I would overlook? The last thing I wanted to do on my wedding day was stress over the details. I needed someone who took her profession seriously. I needed a person to take my hand and guide me through the entire process. I needed someone utterly passionate about weddings. I found Emily Grace Events. Grace promptly responded to my initial email. After retaining her services for day-of-the-wedding coordinator, she frequently kept me in the loop and alerted me to issues/concerns that she had in order to facilitate a smooth wedding day. I am from soCal and decided to have a destination wedding in Las Vegas. I had a tea ceremony in a suite at Caesars Palace and the wedding reception was at Joe's Seafood, Prime Steak, and Stone Crab with 60 guests. I never visited the facilities but I had complete trust in Grace from our phone meeting and email correspondence. Grace was knowledgeable regarding the technicalities of the having an in suite ceremony and she was completely familiar with the setup at Joe's. She put any fears I had to ease. She communicated with all of the vendors leading up to and during the big day. Everything went as smoothly as possible. I could not have asked for a better wedding coordinator. Thank you to Grace and her team for their dedication and hard work. I highly recommend her services because her work, her demeanor, and her professionalism speaks volumes. It was truly an unforgettable day!
---
Reviewed on

5/10/2017
Rachel R
When my now husband and I decided to have our wedding at the Red Rock Casino and Spa, in Las Vegas, we were informed we needed a day of coordinator. At no point did we plan on having one, but due to this rule we started searching. I went on The Knot to find coordinators and... Read More found Emily Grace Events website. After I contacted her we met soon after and she discussed what she could assist with and explained her role. My husband's only rule was "she has to be nice," which she definitely was! In my head I imagined having limited contact with Emily prior to the day of because I assumed she was only a "day of coordinator." I found this to not be the case. She was amazing! Whenever we text or emailed her questions, she would reply as soon as possible. She gave excellent recommendations and would call to check in. She was there when asked and was truly accommodating. When we were not sure what to do or needed ideas, she would be ready to give us an asked for opinion or suggestion. I really had no experience in planning a wedding so she would guide me through things, and explain what I would need to do (e.g. how to set up photographers, vendors, how to set up the event with gift tables, and who would help with what). On the day of she came through. We had decorations for centerpieces and for our sweetheart table. She took care of it all and set it up (with a picture of an idea I had) and was able to make it come to life. She was great in keeping all the vendors in line, and explaining what they needed to do. She wrangled in my family for pictures (seriously, like herding cats), and kept us on time for our grand entrance, to the grand exit. Even after the weeding my bridesmaids came up to me to explain how on top of it she was. When there was something needed to be done, Emily would figure it out and instruct them not to bother the Bride and the Groom, which was definitely appreciated. Our wedding was awesome, so much fun, and was limited in stress, largely due to Emily Grace Events! Thank you so much!
---
Reviewed on

11/17/2016
Our wedding was small and intimate and Emily helped us to make this day more than perfect. She is very accommodating and has a lot of great ideas that made it easy for us to plan everything. Emily went above and beyond with both helping us during the planning process and on our... Read More actual wedding day. I would 100% recommend her as a wedding planner! She's SUPER responsive! Thank you Emily!!!! Couldn't have done it without you!
---
Reviewed on

10/29/2016
Simone M
We hired Emily to conduct our day of coordination for our destination wedding in Las Vegas. Leading up to our big day Emily was always available. She had tons of resources and ideas to make the entire process run smoothly. In the beginning I was thinking I could do it all by... Read More myself, and what was I thinking. There were so many details that I had forgotten about, but Emily was always on top of things. My only regret is that I wish I would have met/ hired Emily before I started hiring vendors. The amount of unnecessary stress with vendors could have been avoided. I would highly recommend Emily to coordinate any event that you are thinking of having.
---
Reviewed on

9/28/2016
Jennifer C
We chose Emily Grace as our day of coordinator, just to relieve all of my stress on my special day. Instead, she went above and beyond day of duties. She was in contact with me almost everyday, especially the last few weeks before. She contacted every single one of our vendors,... Read More created a timeline, made sure everything was done, and if not, she did it. She was beyond amazing at the rehearsal, made sure everyone knew what they were doing, quickly and efficiently. This was all before the day of!!! Words do not begin describe how pleased we were with the job Emily and her team did on the actual day of the wedding. She set up our whole wedding, made sure everyone was there on time, I was not worried one bit. The day was perfect and if I could, I would rewind. I give a lot of thanks to Emily Grace Events for making sure it was just that. She's amazing. You will not regret it.
---
Reviewed on

6/18/2016
Sadie M
Emily did an exceptional job she truly made us feel at ease from the moment I first spoke with her until the day of the wedding. Living in Miami and having our wedding in Las Vegas was the best decision ever made thanks to having Emily by our side. I would truly recommend her to... Read More everyone or at least any Bride that is looking for trust worthy person to help good them through their wedding planning.
---
Reviewed on

5/02/2016
Amanda K
Emily Grace went above and beyond with both helping us during the planning process and on our actual wedding day. I would 100% recommend her as a wedding planner!
---
Reviewed on

3/29/2016
Thanks to Grace my son & son-in-law's destination wedding in Las Vegas was nothing short of perfect! Although I started planning the wedding myself it quickly became apparent that I would be so burdened with the numerous details involved in a destination wedding that I would... Read More not get to properly participate in the wedding nor enjoy the day/weekend of events. Once I was introduced to Grace and spoke with her, I felt confident that I could turn over all my duties to her and she would handle them professionally and with ease. And that she did! Day one in Vegas: Our Champagne Meet & Greet: Grace worked with our destination hotel to deliver gift bags that she beautifully assembled to present to our guests. Grace arrived before the first guest to oversee every detail and to make sure everyone had a wonderful time. Day two in Vegas: The Wedding Day: Thank goodness for Grace's Production Schedule! She had everything properly planned in advance. She worked with the photographer, reverend, wedding venue, 2 florists, caterer, transportation, reception venue. So much hard work and attention to detail on her part made everything flow seamlessly! This allowed me to just show up, enjoy and celebrate with my family and all of our friends. The day couldn't have been more perfect! Thank you Grace for all your hard work and planning which allowed our boys, me, my family and our guests to enjoy a wonderful destination wedding in Vegas!
---
Our Saving Grace
Reviewed on

11/09/2015
Gary M
Having Grace on board to guide us through planning our special day was one of the best decisions we made. Not only did she guide us through everything, but made sure that everything went smoothly and exactly how we wanted it executed. She met with us multiple times and did... Read More numerous walk through's with us. She is extremely professional, but was very generous with adding her personal touches and input. Planning a wedding is a full time job and Grace has been there when I just didn't have the time to do everything on my own. She set up appointments for me, met with Vendors, and introduced me to different wedding vendors in the community. The day of the wedding when I was the most stressed out, Grace sent me a text message, " Enjoy your moment, I got this!" And she did take the reigns and lead us to a successful and memorable wedding day all the way through. I highly recommend Grace to anyone in need of a professional event planner. Grace Thank you for being our "Saving Grace" and I cannot thank you enough. You are the best! -Chase and Gary
---
Dependable, Detailed, Perfect
Reviewed on

11/09/2015
Sandra C
I highly recommend Grace to anyone! On my best friend's wedding day, she was there organizing, decorating, and coordinating everything with such "Grace" and ease. Nothing was too difficult for her and it came out so beautiful. Grace was very knowledgeable and efficient. She was... Read More not afraid to share her opinions and ideas but respectful if not taken. She was very creative in finding solutions to last minute issues and she definitely knew how to bring my best friend's vision to life. All the bride had to do was arrive and enjoy - all else was taken care of. I will always be thankful to Grace for her workmanship, dependability, and detail on this special day for my best friend. Thank you so much Grace!!
---
Awesome job!
Reviewed on

10/12/2015
Our wedding was small and intimate and Grace helped us to make this day more than perfect. She is very accommodating and has a lot of great ideas that made it easy for us to plan everything.
---
Meet The Owner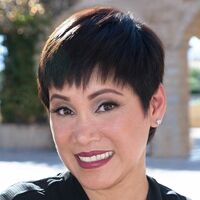 Emily Grace Julaton, CGSP
Emily Grace Julaton, CGSP is the owner and creator of Emily Grace Events – a wedding and event planner based in Las Vegas, Nevada. She is graceful, efficient, sensible, and playful. Her background in administration, pastry lead cook, and customer service has shaped her to be the ideal person to create an amazing experience to her individual clients. She feels that event planning and coordination compliments her love for cooking and baking, combining her artistic and organizational skills who pays attention to details, client's needs and ideas.