Home

emporaflora
About this Vendor
emporaflora
Details
Contact Info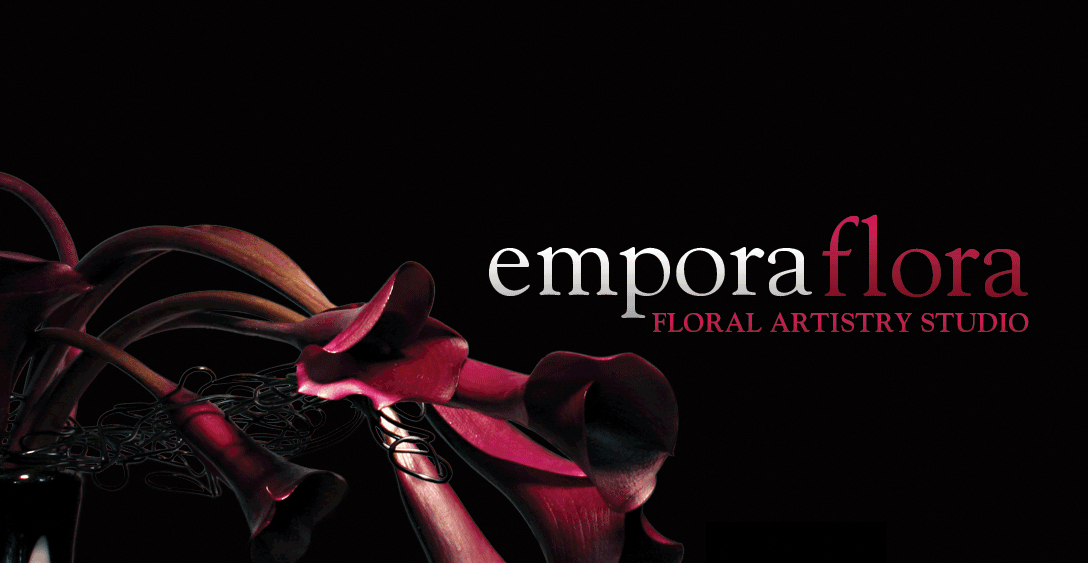 23257 E La Palma Avenue, Yorba Linda, CA
Yay!! Best florist ever!!!
Reviewed on

6/30/2013
Nina E
I'm finally getting around to writing my vendor reviews, and I have nothing but amazing things to say about emporaflora and owner Marisa! Marisa has TALENT. I always think that my wedding flowers have to have been the prettiest flowers in the entire universe and then I look at her other designs/weddings and am so impressed. Thank you so so so much Marisa!
---
Best Florist Ever, I love EmporaFlora!
Reviewed on

2/29/2012
Becca M
When my husband and I met with our DJ, we mentioned to him that we were still looking for a florist. He recommended Empora Flora and we visited the website and were impressed immediately. We quickly scheduled a meeting with Marisa, the owner of Empora Flora. From the first meeting, I knew her style and expertise in floral artistry would be the perfect match for us. Marisa came up with the most amazing and unique floral wedding designs on paper in just one day. We could tell that she had a burning passion for flowers and she put 150% of her time and energy to make sure we were happy and comfortable with all the decisions we made as a team. We told her that we wanted: blues, greens, and whites to come together in a playful, modern beach wedding. What she delivered was so much more than I could have ever imagined. On the big day, her flowers took my breath away. And even my husband's (this coming from a man who didn't want to spend a penny on flowers)!! She also created an amazing rose petal design down our aisle that our guests talked about the entire wedding day. Months later, our guests from the wedding still talk about it and all the other floral arrangements. From the bouquets, boutonnieres, aisle décor, and then to the center pieces….. no other florist could have come near in creating something so beautiful and perfect. Picking Marisa and her team for our wedding was one of the best decisions we did for our entire wedding planning process. We can't say enough about Marisa & her team at Empora Flora. Simply put: best florist ever!
---
bride
Reviewed on

1/18/2012
tina c
I love Marisa. Words cannot begin to describe her talent and dedication. I've never planned any type of party before so I guess there is always a first for everything. Since this day was so important to me, there were many things for me to worry about already and many vendors needed quite a bit of handholding. Marisa never had me worried. I knew I could trust her judgement and that if I let her do her thing, I would be very, very happy. My faith never wavered and it proved rewarding in the end. The church, as she mentioned in her post, was named Mariner's Church. It is a beautiful church but after Marisa had finished her work, the Pastor sought me out just to let me know what a wonderful vendor I had hired. He mentioned that in all his years at the church and all the weddings he had officiated, none were as beautifully decorated as mine. Marisa truly outdid herself. Talent is an important thing to have, but at the same time, a successful vendor also needs to understand the client's needs and be able to adapt. I was so worried about flowers until I talked to Marisa. I wanted something elegant but gorgeous and I was afraid I would never find someone who could make my dream a reality. Marisa had such energy and enthusiasm that even over the phone, I began to believe everything would be alright. With a reasonable budget, she will find the best flowers for you within your price range. Perhaps you won't be able to afford all those expensive flowers, but her comfort zone is so wide, you'll never miss it. I was so thankful that she was so willing to work with me, to take the time to learn what I liked and disliked and then try to find a middle ground with my budget using a variety of flower choices. I ended up going a bit over my initial estimate only because I kept seeing more of her work and couldn't resist adding more things onto my invoice. I mean, it IS once in a lifetime! She was very kind and patient and was always prompt with returning phone calls and emails. She allowed me to add in items last minute without ever giving me an attitude even though I knew I should have thought of these things earlier. On the day of the wedding, she was prompt and on time and set up with no fuss. She and Ryan were very efficient and needed no help at all returning the venue to its original state. Before the wedding she assured me over and over again that she would represent me to the fullest and would definitely not ruin or damage any venue she decorated. She was right! The church had some pretty picky people and even they were delighted with her. She is a joy to work with and there is not a day that passes that I don't give myself a pat on the back for finding her. She is truly a diamond in the rough and if you found her and hire her, you are in for a treat! You will always be pleasantly surprised and never have to worry about a thing. She is easy to work with, has a great attitude and willing to find ways to stay within your budget…honestly, what more could anyone want from a florist? She honestly made my wedding day so very special. It would not have been the same without her flowers. -Tina
---
AMAZING!!!
Reviewed on

10/18/2011
Tani B
The flowers for my wedding turned out even more beautiful than I could have ever imagined! EVERYONE was commenting on how stunning and original the floral designs were. I am VERY, VERY picky!!!!! I told Marisa the color ideas I had in mind for the various arrangements and for the areas I wasn't sure about, she helped me out and gave me her professional opinion. I put a lot of trust into Marisa and was 100% blown away out how STUNNING everything looked. She has a very sharp eye and her attention to detail sets her apart from any other artist I've ever met. She is SO easy to work with! Even if you don't have a set idea in mind about what exactly you want, Marisa is so innovative she can make your wedding dreams come true!
---
Amazing!
Reviewed on

8/01/2011
Dannara K
Marisa did an amazing job coming up with unique floral designs and I could not of been happier with how all of the floral arrangements came out.Marisa was a pleasure to work with, and worked within our budget, to create a concept that really reflected the theme of our wedding.
---
No less than PHENOMENAL
Reviewed on

7/28/2011
Marie B
Marisa is, by far, one of the most creative and passionate artists I have ever encountered. She is an above par florist, with ideas that just flow through her. To call her just a florist seems to be short of what she truly is, because Marisa is an artists at what she does. Every piece of work that she created for my wedding was pure art, from the centerpieces, to the bouquets, from the aisle petal work to the alter pieces. She put her blood, sweat, and tears into my wedding, and it showed. Everyone at my wedding asked who the florist was. In addition, everyone who is close to me at my wedding astutely pointed out that our flowers truly embodied my style. Marisa was able to make my vision of my wedding more beautiful than I thought it could ever be. I came with an idea for flowers, and she made it a story. I had an infinity sign theme, and she helped make it come alive. My bouquet was the talk of the wedding, and continues to be a highlight that my guests talk about. I have already told everyone that I know that is planning a wedding to use Marisa as their florist. I met a lot of florists, and I admit, after a while they started to blend together, but Marisa continues to stand above the rest, in her style, personality, and value. Not only am I glad that we used her work for our wedding, I'm glad I just got to meet her as a person.
---
The Most Amazing & Artistic Florist!
Reviewed on

7/20/2011
Cindy Y
EmporaFlora did an amazing job for my wedding. Marisa has a really modern feel and is so creative with all that she does. You can tell how passionate she is about flowers. Many of my friends commented on how unique my floral arrangements were, and loved the colors! She was very easy to work with, and I would definitely recommend her!!
---
One Word...AMAZING!
Reviewed on

6/30/2011
Cori C
Marisa is more than just an amazing florist, she's a super cool chick! She took all of my ideas and made them a beautiful reality better than I could have ever even imagined! She took the time to make me feel like my wedding was the only one she was working on, when I am sure she is super busy doing tons of events because she is super talented! Everyone at our wedding complimented how beautiful our flowers were! Marisa is now my go to gal for any of my floral needs!
---
amazing florist
Reviewed on

6/16/2011
Suzie L
marisa from Empora is amazing she is so creative and knew what we wanted right away! I will use her for all my future floral needs!
---
Beyond AMAZING
Reviewed on

6/07/2011
Kimberly G
Where do I begin? Marisa is absolutely a dream to work with. First of all, she is so sweet and easy to talk to. She really listens to what you want and offers her ideas and advice to really take your concepts to another level. Responsiveness is an A+ because I know how nerve wracking it is when a vendor doesn't responds to your phone calls and/or emails. You give her your budget and she can do amazing things with it. However, I would definitely NOT skimp. Marisa's work is AMAZING! Put your trust in her and she will not disappoint. She is truly a master at what she does. I would HIGHLY recommend Empora Flora if you want quality, fresh, creative, budget conscious, artistic, and just fabulous flowers. I have NO complaints. Thank you again Marisa! You made my dream wedding a wonderful reality.
---
True floral artistry at a great price!
Reviewed on

5/29/2011
Ang S
Marisa's amazing. Period. The bouquets, boutonnieres and corsage she made for my wedding last weekend were beyond gorgeous. I got so many compliments on them. I found Empora by accident while driving home one day. I had checked out a few other florists and the prices were crazy high. I'd also gone downtown to look into getting flowers done and it was "Tell us exactly what you want or bring a picture and we'll copy it." Yawn. So when I drove by Empora one day I figured I'd check them out. Best move. I met with Marisa, the owner, and she was so easy to work with--a good listener with a good eye and lots of creativity. She asked me to bring pictures, and she used those to get an idea of the types of flowers, colors and looks that I like. But what she was most interested in was figuring out my personality and that of my wedding and venue to be able to give me the best floral designs to fit. From talking to her and seeing photos of her other work, it was clear that Marisa knows her stuff, so I felt comfortable throwing in a few guidelines (e.g., nothing "avant garde"/"artsy") and then just letting her do her thing. She's truly an artist with flowers. And that's exactly what I got-floral art. I couldn't tell you the names of half the flowers in the bouquets, boutonnieres and corsage, but I *can* tell you that the colors were totally us, the look was totally us and it all worked so well with the overall look of our wedding and venue! And the price was amazing! I highly recommend Marisa and Empora!
---
Genius!
Reviewed on

5/25/2011
yo m
Marisa is so wonderful at her craft. She is truly passionate about every creation she is tasked with. I can honestly say that I've never met anyone so enthusiastic and energetic about their work. From our first meeting I felt secure to hand over the reins. I'm normally a control-freak but Marisa was so excited about my wedding. I knew she would do an excellent job, so...I handed her a check and said, "I trust you, do whatever you like." Needless to say, when I entered the venue the day of my wedding, I almost did cartwheels; everything was impeccable. I even picked her up and spun her around. She is creativity bottled up in a pint-sized package. Above all, my not-so typical, cascading bouquet was ga-ga-gorgeous. She has definitely set the bar HIGH when it comes to bouquets. The centerpieces were amazing to say the least. My guests were fighting to take them home. In addition, my bridesmaids loved their composite bouquets as well. The ceremony aisle was a blanket of red roses. And when I say blanket, I mean BLANKET! There was no white to be seen from the aisle runner underneath. It was the "ahhh" factor when the guests walked in. They all mentioned that they had never seen anything like it. Though I am excited about my wedding finally being over, I'm a little bummed-out that I will no longer get to work with Marisa; maybe I can intern on the weekends, lol. She will most definitely get hired again for my baby shower when and if I get pregnant. I enjoyed working with Empora and I HIGHLY recommend their services! A++++
---
Beyond AMAZING!!!
Reviewed on

5/19/2011
an D
Marisa was soooo amazing to work with! She took my crazy idea to create a wall of flowers and really made it a reality. A WALL OF FLOWERS!! Literally! Everything was perfect... from the centerpieces, bouquet, to boutonnieres. She even got me peonies, even when another florist I met with said they were out of season. Amazing! I really can't recommend Marisa enough and if I was getting married all over again I'd still pick her.
---
Captured Our Vision Flawlessly
Reviewed on

5/15/2011
Rory I
Marisa saw our vision and created floral arrangements better than I could have imagined. She worked with our budget and was honest and up front about what she could do within our parameters, then comped a bunch of stuff for us!
---
More beautiful than I could have ever imagined...
Reviewed on

3/21/2011
joyce a
The first time I saw my bridesmaids' bouquets I wanted them, and then I saw my bouquet and I could not have been any happier with how Marisa made the most beautiful arrangement of all of the flowers I loved, and somehow kept it all within my budget. Everything kept getting better throughout the day, from the boutonnieres to the center pieces, altar pieces, cake flowers, toss bouquet and parents' bouquets. Marisa was the first of three florists I went to see and she was the kindest and most creative and enthusiastic about making our wedding day special, spending many hours trying to hone in on what exactly I was looking for amidst my indecisiveness. She was so reasonable yet full of ideas, willing to work backwards from my budget and understand what I had in mind. I gave her a general idea of colors and feel/style of flowers, and she ran with it and far exceeded my expectations. You will not be disappointed if you let her be creative with your wedding colors - I could never have designed what she came up with. Her flowers make our wedding photos look amazing and our bouquets/bouts complemented the wedding party so well. She was professional and flexible throughout the process, accommodating changes in flower/color selection or early meeting times, and she even added in accents here and there at the wedding with flowers/ribbons that added so much to the overall decor. All in all, I am so glad I trusted Marisa and the staff at Emporaflora with my wedding - she made our wedding so beautiful and memorable.
---
Creative, Unique and a true Floral Artist!
Reviewed on

12/06/2010
pearl p
When I first met with Marisa to give her my wedding theme ideas, she instantly helped me to capture my vision with her creative ideas and experience. I went in with an open mind and a set budget and I had no problem allowing her to use her talent to put together something truly amazing. She makes sure to include the little details like colors and jewelry details and the theme to make sure everything flows and contrasts in the right ways. In the end, my bouquet was absolutely amazing along with the bridesmaids bouquets, and I couldn't have been happier with the centerpieces and trinkets of flowers here and there at the reception. I would HIGHLY recommend Marisa as your future florist! When your florist gets excited and wants the challenge of a new idea, you know she's the one!!
---
Marisa saved my wedding day!!!
Reviewed on

12/04/2010
Michele J
Empora Floral came to my rescue when my original florist cancelled on me just two weeks before the big day! With time running out Marisa was able to meet with me just a week before the wedding and put together the most beautiful flowers. She even kept me within budget and was able to get me flowers that I didn't think I could afford. She listened to my requests and concerns and I couldn't have been happier. The flowers were so pretty and delicate; just how I had imagined them. She was so fun to work with and is an amazing artist and a beautiful person! She was my angel on the most important day of my life. This is who you want as your florist on your wedding day! AMAZING TALENT!
---
Anything You'd Ever Want in a Florist!!
Reviewed on

12/02/2010
Becky D
emporaflora is amazing!! At our first meeting, Marisa was enthusiastic, informative, and brimming with ideas. She is so passionate about her work and has such an impressive knowledge about both the flowers themselves and the art of design, and made the design process such an enjoyable one. She is so easy to talk to, is flexible with your needs, and makes you feel like you are her only bride. Since I was planning my wedding from Florida, we had to rely on email to communicate our vision – not normally an easy task! But Marisa is so good at what she does that when we asked for a sample centerpiece, she somehow created exactly what I was picturing in my mind - even though I had not found any photos of similar arrangements I liked or anything! My wedding day flowers were breathtaking and surpassed my already high expectations. She also delivered everything herself and went above and beyond to help us that day. I can't thank her enough and I would hands-down recommend her to anyone!
---
Can do anything !!!
Reviewed on

12/02/2010
Necia K
Marissa is a true artist, that can stay in a budget. She created the most beautiful arrangement for my wedding for an amazing price. She went above and beyond anything I could have wished for. Since pesto is my new husbands favorite thing to eat. Basil was a theme. My center pieces where fragrant basil plants (which the guest fought over). She even included the basil in the men's boutonnières. Marissa also made adorable tiny succulents for the guest to take home. And the best was my bouquet, I have never scene anything like it. A mixture of succulents and flowers, it was a work of art. If you choose Marissa you will get a creative and original florist that will make your day breathtaking.
---
Wonderful Artist!
Reviewed on

12/01/2010
Regina B
I was searching around for florists on The Knot and found Marisa with Empora. She was one of The Knot's top picks in Orange County. I knew she had to be great to be that highly recommended. And I was right! I had no idea what type of flowers, centerpieces or bouquet that I wanted. We met with Marisa and she immediately knew what to create for us based on our personalities. I let her have free range to create what she thought was best, and I was very impressed! Everything turned out so beautiful and was very inexpensive compared to other florists in the area. I definitely recommend Marisa and Empora to any future brides!
---
Loved the florist, loved the flowers
Reviewed on

11/29/2010
Joy S
Seriously... no need to look further, you have found your florist. Even you control freaks... you can trust Empora. You won't find a better product for less money. I called Empora Flora because I drive by it every day and thought was worth a shot. Marisa is the owner and artist and she was such a saving grace in my whole wedding planning situation. As a person, she was great to work with throughout the process... she listened to my ideas, TOTALLY worked wonders with my budget (which wasn't much), she was easy to get a hold of and accessible the whole time, and she really became a friend throughout the process. I trusted her taste so much that for my reception, I gave her a set amount of money and told her to make X amount of centerpieces, and to make them look cool. Everyone loved how unique they were and it was awesome for me to not have to worry about the details of everything. Now that my wedding is over I even look for opportunities to hire her at my job!! Considering what she was able to do with my VERY VERY frugal budget, I would LOVE to see what she could have come up with if I had given her 10 times the money. Pick Marisa at emporaflora! She's the best!
---
Our Flowers were Amazing!
Reviewed on

11/23/2010
Leslie L
Marissa was such an awesome person to work with, so flexible and so creative. I would recommend Marissa to anyone in a heartbeat. When we walked into our Reception we were speechless on how beautiful our flowers looked, they were so colorful. We received so many compliments on the arrangements and all the boquets. I loved my bouqet and the color was amazing. Thank you Emporaflora for making our wedding one to remember.
---
Absolutely Beautiful!
Reviewed on

11/05/2010
Jenna T
I was the type of bride who knew exactly what she wanted and had everything pictured; I should also mention that I am sort of a perfectionist. I went on the KNOT.com to try and find a good florist - and after looking at many websites - I decided to give Emporaflora a call. Marrisa was so kind and really seemed to understand what I was wanting for my bouquets. She made me feel at ease and that I could trust her to provide me with beautiful flowers. I had 8 bridesmaids and was on a tight budget. She was able to come up with a quote that not only fit my budget but that filled all my wishes for my bouquets. On the wedding day, my bouquets (of pink roses) were delivered on time and were presented beautifully. They were exactly what I had envisioned. Emporaflora does a fabulous job from beginning to end - I was so VERY happy with my bouquets, corsages, and boutineers. I highly recommend Emporaflora - I would use them again in a heartbeat. (My bouquet dried beautifully too and looks great in our new apartment! - so I am still enjoying it!)
---
First Class Florist
Reviewed on

10/06/2010
Dina L
I could not have asked for a better florist for my wedding! Marissa at Empora Floral Artistry is truly an artistic genius! From our first meeting my husband and I had no doubt she would do a wonderful job. She, however, did above and beyond a wonderful job. She took the time to listen to our vision and truly consulted with us on what flowers would work to achieve that vision and still fit in our budget. All the flowers were fresh and fragrant. The bouquets and centerpieces looked like they came right off the pages of a high end bridal magazine. My bouquet almost two weeks later still looks good! My guest kept complimenting how beautiful my bouquet and centerpieces were. We couldn't be happier! I would highly recommend Marissa to any bride! She is punctual, professional, affordable and an absolute delight to work with!
---
Truly Fabulous!
Reviewed on

10/05/2010
Christina C
Empora Floral Artistry is amazing when it comes to original and creative designs. They did such a beautiful job at my wedding reception—I received so many complements about my centerpieces and the floral spread on my sweetheart table. Marisa went above and beyond decorating my reception site…everything from the sign-in table, cake table and even the vanities in the restroom. Everything looked so elegant! I highly recommend Empora Floral Artistry!
---
Send Message