Home

Enchanted Honeymoons
About this Vendor
Paradise awaits.
Enchanted Honeymoons, the experts in honeymoon travel and destination weddings would like to make this time of your life special. Let us help you plan the perfect honeymoon or destination wedding.
Details
Destination Wedding Planning, Destination Weddings, Honeymoon Planning, Planning
Contact Info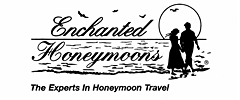 Reviewed on

3/20/2016
Heather S
We worked with Andy in order to plan our destination wedding in Turks and Caicos - he was SO great! We could call or e-mail with anything we needed, and he would go out of his way to assure our needs were met. Andy handled everything from booking our hotels and travel for us and... Read More our guests, to keeping in contact with our destination to assure all of our documents were sent down and received. Andy was great about handling everything for us, so all we had to do was show up to the airport and go! Please use Enchanted Honeymoons to help plan our destination wedding, honeymoon, or even vacation down the road. They made planning a wedding so easy!!
---
Reviewed on

4/04/2017
TEST Lindsay S
I used Enchanted Honeymoons for my travel for my brother's destination wedding in Riviera Maya last May. It was my first time working directly with a travel agency and had a great first experience. I worked specifically with Kyle and couldn't have been more pleased. He is... Read More professional and very responsive. I felt that he gave me his honest opinion and answered every questions I had and went above and beyond to give me additional information. I felt completely comfortable booking our travel with the agency after speaking with Kyle vs. booking directly with the resort. It put me at ease knowing that I could contact the agency if any issues occurred during out trip. They also took care of airport transportation, which I know was relief to my sister-in-law as the bride to not have to coordinate transportation for a large group in a foreign wedding location. It was these small personal touches that truly took our trip from great to grand. And none of it would have been possible without Kyle's guided expertise and flawless execution. I highly recommend using Enchanted Honeymoons for a destination wedding, honeymoon, and any travel!
---
Reviewed on

6/30/2016
Stefanie H
Josh at Enchanted Honeymoons was absolutely wonderful and very professional to work with. We had two different destinations in mind, Hawaii and Ireland. He made sure he included everything we dreamed of and what we wanted to do. He made itineraries for both places and we... Read More ended up choosing Hawaii as our Honeymoon destination, and we are so glad we did. The Hotel rooms he chose were fabulous and our entire time there was the best ever! Thank you Josh for planning our honeymoon, we loved every second of it!
---
Reviewed on

4/14/2017
Kirsten M
We worked with Graci to plan our honeymoon we just took last week! We had some travel bumps along the way that was weather related, in no way was it a planning error. Graci was there after hours to make sure we could extend our trip a day for the day we lost and changed our... Read More flight no problem. During a really stressful time of travel it was so nice to have Graci there as a contact to make sure everything was taken care of. I would highly recommend working with Enchanted Honeymoons and referring Graci as a perfect travel agent! Thank you again for all your help we couldn't have enjoyed our trip like we did without you!
---
Reviewed on

10/30/2016
Eric B
Great agency Graci Woodworth did a phenomenal job booking our trip to Aruba and curacao!
---
Reviewed on

6/12/2016
Ashley B
Rachel helped us out with our honeymoon to Ireland this past April. We were unsure at the beginning where we wanted to go and she was very informative and patient with us. Offered tons of options with great detail. Great communication which was a plus since we do not live in... Read More Omaha. Recieved a packet a couple weeks before our trip which included all of our needed documents and information. Great travel agency! Definitely recommend to others.
---
Helpful Advice for Honeymooners
Reviewed on

8/31/2015
Kristin B
Grace at Enchanted Honeymoons was such a great help in planning our honeymoon. My husband and I had never travelled together, let alone out of the country, and she helped us pick a location that was accommodating for our budget and the activities we wanted to do. She gave great... Read More advice on what to book ahead of time, what to pack, and what to wait for until you get there. With so many similar locations and resorts, it was really difficult to pick just one, but she gave us great feedback and answered all of our questions. Once we booked our trip, our flights changed and we had very limited time between connecting flights. We also had to spend all day traveling by flying to Charlotte and then on to Mexico in the other direction, which was a little nerve wracking for first time travelers. Overall, our flights went fairly smoothly and we had an amazing honeymoon thanks to Grace's help!
---
Breathe-taking
Reviewed on

7/07/2015
Kelli F
We were looking for a honeymoon that would be easy to plan and to decide on in the mix of all the wedding planning. Going to Enchanted Honeymoons gave us just that. All we knew we wanted to do was to be active. We did not want to only be able to lay around the pool/beach all... Read More day. They took our requests, picked a couple picture books they put together on their own and showed them to us. We picked the one we liked the best and were done. They handled the rest and it was everything I wanted and more. We will use them in the future for our traveling needs for sure!
---
What a treat!
Reviewed on

7/01/2015
Teresa H
Rachel was awesome. She helped plan our honeymoon, and we went in not knowing what to do, and she took care of all the details. There were no questions when we got our paperwork because everything was explained to us in great detail! Awesome service!
---
Organized and stress-free experience
Reviewed on

10/27/2014
Angela G
We worked with Mandi to book our honeymoon to Mexico. She was very quick to respond to emails and phone calls, and processed our payments in a timely manner. She was also great about trying to find us the best deals on everything from flights to the honeymoon package that our... Read More resort offered. As this was both my and my husband's first time out of the country, we had no idea what the protocol was on passports, customs, and how to be safe when traveling out of the country in general, and Mandi and the rest of the Enchanted Honeymoons staff helped us get organized and gave us all the information we needed. They even booked a private transfer from the airport to the resort we were staying at so we felt at ease the whole time. I would definitely recommend going through them to book a honeymoon or any international trip! Overall, they were very easy to work with and helped make our honeymoon the best we could have imagined!
---
Did a good job, a few issues arose
Reviewed on

10/24/2014
Brenda
We worked with Theresa and felt she really knew a lot about the places we were traveling to. She got us wonderful hotels in 2 of the 3 cities. Venice and Florence were fantastic! We loved the cities, the art and the people! Rome was beautiful but our accommodations were very... Read More crowded and the people at the hotel were not great. Theresa emailed us about a flight change, which was good b/c the hotel staff in Rome never relayed the information so I'm glad we were checking our email. Not that it's Theresa's fault, but Rome could've gone smoother. One thing we didn't care for was a day trip that she recommended to us. It was further than we realized. We went to Capri from Rome and after all the travel only had 1.5 hours on the island to look around. Was a waste of a day. I would recommend Capri, but only if you are already in Naples or a more southern Italian town. Was too far from Rome to be worth it.
---
Kyle was great
Reviewed on

9/02/2014
Ashley R
We used Kyle as our travel agent and he was so great to work with! We used the gift registry program and got lots of money towards our honeymoon!
---
Good service
Reviewed on

7/24/2014
Alissa
We had a good experience with our travel agent. He provided lots of helpful suggestions within our budget and took care of all the planning. It was nice to not have to worry about any of the planning, airfare, hotels, transportation. They took care of all of it so we were... Read More able to relax and enjoy our travels!
---
Highly Recommend!
Reviewed on

6/19/2014
Steffany S
They are so great to work with and have many great options for all price ranges. We loved working with them!
---
Unorganized and not helpful
Reviewed on

2/04/2014
Laura R
We chose to go with a travel agent to help us plan our destination wedding so our guests would have a source to go with questions and get help booking their trip so we wouldn't have a ton of questions directed at us. Well, I ended up doing price research on almost everyone's... Read More trip because the prices being offered by the travel agency varied so drastically and I was able to find cheaper options. We also were mislead as to what we would be offered as perks for bringing so many guests with us - which brought a ton of business to the agency. It was a pain from the beginning to the end - ending with us having horrible travel arrangements that could have been fixed ahead of time had it been noticed by the travel agency.
---
Easy!
Reviewed on

1/06/2014
Kimberly S
This is the way to book a vacation, pay someone else to do it for you! All we had to do is give Grace our information and she booked the honeymoon for us. We want to go on another trip next December and we will definitely be using enchanted honeymoons if we do.
---
Honeymoon
Reviewed on

9/17/2013
Christine P
They were very helpful and easy to work with
---
Best and most stress free trip ever
Reviewed on

8/22/2013
Nicolette
Enchanted honeymoons guided my lack of details for a honeymoon into a full trip completely planned for us. I just wanted a beach, all inclusive, and I wanted a guy to bring me drinks as I sat on said beach. When I explained this she said well that's nearly every resort I... Read More have. She quickly narrowed it down to three options in various price ranges for us. She made sure we were spending what we wanted and were getting everything we possibly could. We spent around $2,500 for the two of us for 5 nights and 6 days in Cancun. Highly recommend The Royal Resort in Cancun and highly recommend our travel agent Lindsey at Enchanted Honeymoons. I cannot wait to return.
---
June wedding
Reviewed on

6/18/2013
Amy W
They are so helpful and get right back to you. This is a great place to go and I will use them in the future.
---
Super Friendly
Reviewed on

6/08/2013
Tiffeny N
They were super fantastic to work with, we booked our honeymoon over a year out and they check in periodically to make sure everything was on track and helped with the Bridal shower even. I love Enchanted Honeymoon, I have used them twice for vacations and I will never go... Read More anywhere else!!! They are great to work with on pricing and making payments, they have been everywhere that they have listed in their books which is a huge help for making decisions, seriously don't go anywhere else!
---
Awesome
Reviewed on

6/04/2013
Tess P
We worked with Andy who did a wonderful job. The honeymoon went so smoothly. Everything was done and prepared, which made it that much more relaxing. He made sure we were ready with everything we needed. He was easy to work with and communicate with. Our schedule is limited so... Read More Andy worked with us all through email and phone, which was perfect. We loved working with him and would definitely recommend this company!
---
So Helpful
Reviewed on

6/04/2013
Jillian K
Lindsey was so helpful in getting us what we wanted. We were not sure what we wanted, we met with her and gave her ideas of what we were thinking. She came up with two places and gave us ALL of our different options at both of them and we picked one. It was the Best trip I have... Read More been on! Loved it she did great!!
---
Great to Work With
Reviewed on

5/19/2013
Jeralee H
They were very good about helping us choose an all-inclusive resort that was within our price range. They also coordinated all of our travel in Mexico and were good at answering all of our questions before we went on the trip.
---
Amazing
Reviewed on

4/30/2013
Katelyn M
They helped us with everything and always could answer our questions.
---
Enchanted Honeymoons
Reviewed on

10/31/2012
Amy M
They made it so easy!! We told them our price range and what was important to us and that was it! Everything was arranged and nothing went wrong. We ended up going to Sandals Ocho Rios in Jamacia and can't wait to go back!
---