Home

English Turn Country Club
About this Vendor
The Perfect Place to Say "I Do!"
English Turn Golf & Country Club is 15 minutes from the Central Business District and French Quarter. The Clubhouse at English Turn can accommodate receptions and ceremonies in our Grand Ballroom to our Garden Room. Stunning outdoor ceremonies by the water.Call Racheal A for more information.
Amenities + Details
Amenities
Indoor Ceremony Area

Kosher Available

Liability Insurance

Liquor License

On the Water

Onsite Catering

Onsite Overnight Accommodations

Onsite Parking

Onsite Wedding Consultant

Outdoor Ceremony Area

Outdoor Reception Area

Outside Caterers Allowed

Site Fee

Tented Area

Valet Parking

Wheelchair Accessible
For more details about amenities, please message the Venue.
Banquet/Reception Hall, Country Club, Mansion/Historic Site
Contact Info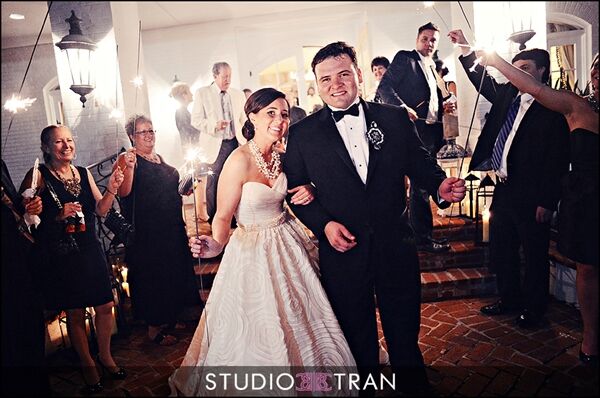 One Clubhouse Dr, New Orleans, LA
Fairy Tale Venue!
Reviewed on

4/17/2014
Tiffany F
My husband and I just had our dream wedding last month at English Turn for our 5 year renewal of vows. There are not enough words to express how amazing that day was for us and how perfect the staff were throughout the entire process. Katie was a complete angel and guided me through everything the entire time,she was always willing to help when I needed her. The day of the wedding they made everything run so smoothly that I was completely calm the entire night. I had so much fun without a care in the world because they were taking such great care of me and my guest. My ceremony and reception were in the Garden Room and Piano Lounge. The sunlight from the all-glass ceiling was perfect for the ceremony. And the sunset outside was the perfect backdrop for pictures after the ceremony. For the reception, the candles throughtout the room reflected off the ceiling and made the whole scene look like something out of a fairy tale, so breathtaking and surreal. Despite the madness of the evening Katie, Racheal and Maya(I think that was her name) made sure that we got to eat and always had drinks in our hands. The food, oh my goodness, the food. Everyone raved about it for days afterwards because it was that incredible. I could probably live off of those crab cakes that just melted in your mouth! Needless to say the food was to die for! To my suprise, when it was time for the magical night to end all of our stuff was ready and packed with a beautiful basket filled with cake and champagne. It was so sweet and such a perfect end to a stress free evening. I could go on for days but I will end it with this. Thank you so much for giving me a day that I will never forget and always cherish for the rest of my life. You guys made the experience even more perfect then I could have ever imagined. THANK YOU!!!
---
My Fairy Tale Wedding
Reviewed on

5/08/2014
Aimee F
My husband and I were married on February 15, 2014 at English Turn. Instead of a traditional church wedding and reception we chose to have both our ceremony and reception at English Turn and it was MAGICAL and everything I had ever dreamed of. On the day of the wedding we were a little worried that it might be too cool to have the wedding ceremony outdoors, but everything worked out wonderfully, we were married right before sunset and it was absolutely perfect. Our reception was held in the Grand Ballroom which was beautifully decorated with candles throughout and looked like something out of a fairy tale. Everyone is still raving about the food and saying it was the best food they ever had at a wedding and how they were surprised that it was available to everyone until the very end of the reception. Racheal and Katie were so accommodating in meeting our requests regarding the wedding. Also, Katie was an absolute angel, she made sure that everything ran smoothly and she was constantly at my side attending to my every need the entire night. I had not a care in the world and all I had to do was enjoy the moment. When the reception was ended Katie also made sure that everything was packaged up and ready to go and included a basket of champagne and food for us to take with us. Thank you Racheal and Katie for making my fairy tale wedding come true. Aimee Ferrier Correa
---
The Wedding Every Bride Wants
Reviewed on

3/27/2014
Susanna E
My husband and I were married 4 days ago at English Turn and it was AMAZING! Instead of having a traditional church ceremony and following reception, as most Native New Orleanians do, we chose to have both our ceremony and reception at English Turn. In New Orleans, the name English Turn is synonymous with elegance and class. Our wedding embodied both those characteristics. When planning our wedding, there were some aspects that were top priority. These were: guest parking, food and beverage packages, outdoor ceremony availability and location of venue. ET was a dream come true for me! Guests never had to worry about where to park because there was safe and ample parking. The food and beverage package options were the most diverse of all places we looked at. ET offered complimentary champagne on their bar. Not all venues offer this. Our coordinator Katie worked with me to ensure any wedding detail I asked for was executed. The outdoor ceremony was a nail biter with the possibility of bad weather, but it turned out to be PERFECT. ET was beyond professional with an inclement weather plan to roll out in the event it was needed. The entire staff was friendly, professional and provided stand out service. Anything I asked for they saw to it that it was provided. They facilitated our event seamlessly. After the reception, our coordinators Katie and Rachael saw to it that we were well packed with all of our belongings and a wedding basket of champagne, cake and some some bites. Not one item was left behind. My guests raved about the how excellent the food tasted and how the hand passed food servers never missed a beat. The bartenders were prompt and kept my guests happy. If I could relieve our wedding all over again, I would in a heartbeat. I wouldn't change a thing about our experience at ET. Thank you to Katie, Rachael, Randy, Rodney, Dwan, and Wendy who all had a part in the success of our wedding! Love, Mr. & Mrs. Gary Marino Jr. "GSM 3.23.2014" EnglishTurnDownForWhat?!
---
Awesome!
Reviewed on

10/31/2014
English turn was a great place for my reception! It was so spacious and roomy to hold my guests. The staff is so amazing to work with! They were very professional, everything turned out just as I wanted it! Highly recommend!
---
Wedding Planner
Reviewed on

10/30/2014
chocolate b
The staff Katie & Rachel were great to work with in the planning of details for my out of town clients. The day of event I must say Andrew was pleasant and eager to assist in anyway needed; Dwan the front desk lady always greets you with warming spirit and made sure we were taken care of during set-up; and as always Mia banquet captain has and will go over and beyond to assist and execute in all areas of service...from Captain, Server, Bartender, Busser, Cake cutter...there isn't anything this lady won't do to assure that the client(s)& or guest(s) are happy during their event from start to finish. I love to host events with this venue...Great service, affordable, and yes the food is fresh and delicious. I highly recommend to visit and book with this venue for your next event..
---
Wedding
Reviewed on

10/28/2014
I recently got married here in September. Katie Davis was the best! She was a huge help and so sweet! She literally guided us through EVERYTHING. If it weren't for her we would have been all over the place. I would definitely recommend!
---
Dream Wedding!
Reviewed on

10/21/2014
Jewel G
I got married at English Turn a few weeks ago and it was even better than I imagined. Not only has the club been updated but the service is impeccable. My ceremony was outside overlooking the water and reception in the gorgeous ballroom. All my guests kept repeating how amazing the food was!!!! It was truly a dream come true. Katie was absolutely amazing! She was always on top of everything and kept me calm! I will be sure to refer all of my friends to English Turn.
---
Ceremony/Reception at English Turn
Reviewed on

10/19/2014
Mittye C
My husband and I were married on 10/10/14 in an outdoor, sunset ceremony, and we really couldn't have asked for anything better! First, we took advantage of a deal for 100 people which included the ceremony, food, table linens, DJ, open bar with beer and wine. Now, our ceremony was on a Friday, which lowered the costs, but all we had to do was show up with the flowers and any other decorations we wanted. Rachael and Katie, the coordinators, were very hands on and readily available to answer any and all questions we had during the planning process, and they remained calm with us on the day of. When the day finally arrived, my husband and I were blown away by the level of personal service we received for our private dinner. The entire evening was better than we ever expected, and was certainly a WOW experience for our guests. The beautiful setting allows for many, MANY picturesque moments. If you are in the beginning stages of planning your wedding, please take some time and drive out to see English Turn yourself. Pictures on Facebook do not do it justice!
---
Great Venue!!!!!
Reviewed on

7/30/2014
We chose to have the ceremony and the reception at English Turn. They had just redone the ceremony area 2 weeks before our wedding and landscaped. It look BEAUTIFUL!!!! The reception place was really nice also, the food was excellent, we had plenty of seating, and the staff and our personal attendant were extremely polite, easy to work with, and very attentive to our needs! I would totally recommend this venue to anyone. Everything is perfect!!!!!!!!
---
English Turn Country Club is the place to go for your wedding!
Reviewed on

7/17/2014
Savanna E
Being that I grew up in the subdivision, in the end it was a no-brainer on where to get married, however, I did not expect it to be as amazing as it was! The staff was very involved from the contract to the secondline and alleviated the extra cost of hiring a "day of" wedding planner. Everyone was very personable, professional and hands-on. The venue is gorgeous on its own so if you don't have a large decor budget, no worries! You already have a beautiful backdrop! We had our ceremony on the back of the country club facing the golf course and I couldn't have asked for a better view on the day I married my best friend! Being that it was a spring wedding, we had a 6pm ceremony that worked perfectly with daylight savings time. The picture shown on the homepage of this venue is my husband and I after our ceremony. I still cannot imagine a better sunset! Having the grand staircase to walk down on from inside the club makes you feel like a princess! Then it is an easy transition for your guests into the clubhouse for the reception. We had 260 guests on our wedding night and never at one point was the room crowded.To this day, I still have multiple people (no exaggeration) tell me that our wedding was the best they have ever been to! You cannot go wrong with this venue, the staff, the food (was phenomenal!), the service and the attention to detail. English Turn was hands down the best place for my husband and I to spend our special day! P.S. my groomsmen took advantage of the golf course the day before the wedding and loved it!!!!
---
The best day of our lives!
Reviewed on

7/15/2014
Jordan R
English Turn was one of my top 3 choices when we started looking at venues. I wanted that southern plantation feel and the grandness of this venue was perfect. The event space is perfect with separate areas for drinks, music, and food. It flowed perfectly, the ballroom is beautiful and comfortable. Katie and the staff at English Turn were wonderful to us. Katie helped me with every step of the way and we became fast friends, she even updated me the day of the wedding to keep me calm and free from worry! The staff was so attentive to us at our reception and we felt very well taken care of. Our wedding was 3 months ago and our guests are still complementing us on how wonderful everything was. Having our reception at English Turn Country Club really helped to make our day absolutely perfect! Highly recommended!
---
Wonderful Wedding and Reception Venue
Reviewed on

6/30/2014
DaJuan B
My wedding and reception was recently held at English Turn and I must say this venue was beautiful. The ladies that work there both Katie and Racheal help to make our big day run smooth and perfect!! I couldn't have choose a better places to have my big day!!! I can not THANK them enough!!! English Turn is bi far one of the best places!!! Love ONE HAPPY BRIDE !!!
---
Such an amazing night!!
Reviewed on

5/06/2014
Ami S
My fiance' and I fell in love when we went to view ETCC. We went in thinking we would not love it and that we were going to go with another place. Well, were we wrong! WE LOVED IT!! From the moment I walked in to the Clubhouse, I knew this was it. The reception ended up being more than I could have ever imagined. Katie Davis(The wedding coordinator) was amazing!!! She was constantly bringing us refills of drinks and making sure we had everything we needed! The night went TOO fast but it could not have been better! Even though, we didn't get to eat much that night, we had a HUGE going away basket full of food!! YUM! Our guests also raved about the food. So so so happy we went with English Turn. They will not let you down!!
---
Betty W. Ferrier
Reviewed on

2/20/2014
Betty F
The wedding service was wonderful, Katie was so kind and helpful, everyone said the food was delicious, the cake was really good and the service was great. English Turn was beautiful. My daughter's dream wedding was everything she wanted it to be. Whenever I called with a question or a problem before hand, someone always got back to me and helped work it out.
---
Mother of the Bride
Reviewed on

2/19/2014
English Turn was awesome. The place is beautiful, we brought in our own decorations and flowers and they did the rest. After the wedding was over, for weeks I have been told what a great place to get married, how pretty it was, and MOST importantly the food. ALL of the food was great, presentation & taste. Others have called just to ask who catered the wedding because the food was so good. We didn't do a taste test before the wedding (they do offer it, we just didn't get a chance to) I just went from someone else"s word and glad I did. We added the Asian Wok to our menu which was delicious. Everyone at English Turn was very helpful throughout the whole wedding process.
---
Wedding Reception
Reviewed on

2/12/2014
Jeanne B
We had our wedding reception at English Turn Country Club. We had a fabulous time and so did our guests! Everything was beautiful! Everyone at English Turn was great to work with and very helpful! They made the preparation and the wedding day very enjoyable! This is a great place for a wedding reception!
---
The Perfect Fit
Reviewed on

10/07/2013
Lea B
For me, the most stressful part of the wedding planning process was finding a venue. We visited many venues and none of them were right for us. Once we visited English Turn Country Club, everything fell into place. It was a perfect fit. It was everything we wanted and more. I would recommend this venue to anyone. I would recommend this venue, not because I had my wedding there, but because of the level of customer service that received. By the end of the wedding planning process I felt as though Racheal and Katie were more like friends, then a wedding vendor. They went above and beyond to provide the best service they could. If the Dining Room that overlooks the 18th hole, The Atrium and Grand Ball Room does not sell you, then the food alone should. The food was WONDERFUL. My guests are still talking about how good the food was. This was the right venue for us. They truly helped all my wedding dreams come true. I would not change a thing!
---
A Wedding to remember!!!!
Reviewed on

9/03/2013
Kevin S
My wedding was a day to I will always remember. My husband and myself was so pleased with the service we received at English Turn Country Club. The Catering Department made our day so enjoyable and non-stressed. The impeccable timing and attention given to every detail was exceptional. I would definitely recommend English Turn Country Club to every one.
---
Above and Beyond
Reviewed on

8/28/2013
Jennifer W
English Turn was the perfect place for our wedding. When we visited English Turn for the first time Katie Davis made us feel so comfortable. We knew right away that English Turn was the venue for us. We did everything at English Turn, rehearsal dinner, ceremony, and reception. We also rented the villa for the weekend, which was very convenient. Everything went flawlessly (except for the rain the forced my outside ceremony inside but the staff handled it effortlessly). We got so many compliments on our venue. Some guests even told us that the food at our wedding was some of the best wedding food they had had. Words cannot express how fabulous Katie was. She was so easy to work with and communicate with. She made sure everything was taken care of and that the ceremony and reception flowed flawlessly. I felt as if Katie cared about our wedding as much as we did. I will never forget the moment she and I had right before I walked down the aisle. She kept me calm and reminded me to just take everything in and enjoy the evening. The rest of the staff was so attentive. The bridal attendant Mia was amazing, between her and Katie I was never without lip gloss or a drink. We could not have asked for a better experience. English Turn went above and beyond and that is what really sets them apart from other wedding venues. My husband and I highly recommend English Turn for weddings and any other events!
---
Fairy Tale!
Reviewed on

8/28/2013
Susan L
English Turn was the perfect place for our I DOs and I couldn't be more pleased with how things turned out! From the first moment of inquiry, Katie Davis made us feel like the most important clients she had. She worked with us on every detail and offered great assistance throughout the entire planning process. We knew from the moment we stepped foot on the property and met Katie that this would be an amazing process, and it was! Our ceremony was held in the Garden Room, which created a beautiful setting for a sunset ceremony. The reception was awesome! Everyone thoroughly enjoyed the food and the staff was amazing at making sure everyone was well taken care of the entire evening. Everyone kept talking about what a "hidden gem" English Turn was. On our wedding day, Katie was right by my side calming every nerve I may have had. She had everything on hand I may have needed...from lip gloss to peppermints to keeping my husband and I separated so we wouldn't accidentally see one another. Katie not only was a wonderful coordinator, but turned out to be a great friend in the end! Something most brides need during the chaos of wedding planning! Overall, we would not change anything about our experience with English Turn! We would highly recommend English Turn for your big day or next event!
---
Suprisingly good time and venue
Reviewed on

8/12/2013
Lavonzell N
I looked at a bunch of venues and was really apprehensive about choosing English Turn because of distance and having out of town guest. We had a shuttle and guest didn't know the difference. I am not the most creative person so I also wondered how we could create a very modern wedding in the venue. Working with our wedding planner it all came together beautifully. I must say we were pleased beyond measure at how our wedding turned out. There service was awesome. Cammy and Katie helped me along the way even when we made changes. They were really nice in making recommendations when asked and had our food adjusted to our taste perfectly. I would say the best thing that I loved was that it made my wedding feel very intimate and welcoming not stuffy like other venues. We loved it and our guest did too!
---
Dr. Donna McDaniel Mitchell
Reviewed on

7/16/2013
Donna M
AWESOME!!! Deciding to host our wedding at English Turn was the best decision we could have made to make our wedding a memorable experience everyone in attendance will always treasure. The assistance with planning and the service the day of the wedding were awesome. The elegance of the venue and the impeccable service made our special day hassle free for me as a bride without a wedding planner. Cammie was wonderful in assisting with the initial planning, making dinner and drink suggestions and I even decided to use a wonderful photographer after viewing pictures in her office. Even though it was a small gathering of family and friends on the day of the wedding I was still very nervous. Katie and Mia took care of every little detail and walked me through the process. One of my favorite pictures from my big day is Katie holding my grandson. I highly recommend English Turn for any gathering that is special to the heart!
---
Dream Come True!
Reviewed on

7/15/2013
Megan L
My reception was more than my husband and I could have ever dreamed of. From the delicious food, amazing attendants, and of course Cammy and Katie, the best coordinators ever, I loved every second of our reception. I have and will continue to recommend English Turn as the perfect place for a wedding reception! My husband and I knew right away that we wanted to have our reception at English Turn Country Club. I had grown up going there with my parents, and my husband had played golf with my dad there the entire time we dated and were engaged. We loved the beauty of the club house and the grounds. From the first time we met Cammy and Katie, we knew that we had made the right decision. Cammy helped with every decision that needed to be made and even recommended vendors when we needed suggestions. We wanted a very personalized wedding reception and Cammy was willing to accommodate all of our requests down to hanging lanterns and lights in the atrium, and a personalized "eat, drink, we're married" banner hung at the bar. No matter what my requests were, Cammy was willing to work with them and helped with every aspect of the set up. It was so nice to know that I had someone who was so willing to make me and my husband happy in every way. It truly made the wedding planning process and of course the night of our wedding as stress free as possible. We rented the Villa for the Friday and Saturday of our wedding. It was so nice to stay there the night before and have a place for everyone to get ready. The girls got ready at the villa while the guys hung out, ate and got ready in the Men's Grill. We were able to take professional pictures before the ceremony with our wedding parties and families, and English Turn and its grounds provided the perfect backdrop for our pictures. The reception itself was amazing. Our guests still comment on how delicious the food was and how they loved having places to not only dance, and trust me our guests loved to dance, but to also sit and talk. The guests had the option of sitting in the main room where the band and dance floor were, or in the back room where it was much more quiet. My husband and I were well taken care of from the second we stepped out of our limo until we were presented with our basket stocked with food and champagne as we walked out. I could not have asked for a better experience than what I had with English Turn. I loved getting to know Cammy and Katie and loved sharing my special day with them. If you can't already tell, I would highly recommend English Turn Country Club for a wedding site/reception. I know that my husband and I will continue to use English Turn for our events in the future.
---
Truly a Perfect Night!
Reviewed on

6/04/2013
Jordan Olivia G
When we first started looking for venues for our wedding reception, we thought we would never find a place that would hold all of our guests. Someone suggested to us to look into English Turn. We went to meet with Cammy and Katie and they were awesome! The space was PERFECT! The one thing we loved, was that the space is so beautiful, it spoke for itself. Katie and Cammy walked us through the whole process. My parents were even blown away by how easy and painless the process was! At the food tasting, Chef went through all of our options and each item on our menu. When it came to the day of the wedding, Katie and Cammy had everything under control. I could rest easy knowing that my reception was in GREAT hands. All of the staff did an incredible job! Mia was always on hand when my husband and I needed something! We couldn't have been any happier with our wedding and we would recommend English Turn to everyone! Thank you for an amazing day that we will remember for the rest of our lives!!
---
AMAZING!!!
Reviewed on

4/22/2013
Stephanie L
English Turn was an amazing place to host our wedding. We had the ceremony and reception there. It was absolutely stunning! I loved our sunset ceremony in front of the pond with GORGEOUS swans! Katie was so helpful! When I took my bridal pictures she was there, she helped with the rehearsal too...not to mention when I ever needed anything she always had answers and was there to calm my nerves! I loved that we were able to rent the Villa for the Friday and Saturday night. All the bridesmaids slept there the Friday before the wedding and we got ready there Saturday. The staff was so helpful, the bridal attendant Mia was AMAZING! She always made sure that I had my lip-gloss on and a drink in my hand:) I think everyone went above and beyond to make sure things were done perfectly. We got so many complements on the food and drinks. We were too busy shaking it on the dance floor to eat so we were so appreciative of the yummy basket of wedding cake and food they packed up for us. I couldn't say a single bad thing. I would absolutely, hands-down recommend English Turn for a wedding/reception venue.
---
Send Email