Home

Erin Hill, Harpist NYC
About this Vendor
#1 Billboard artist! Solo Harpist or Harp & Vocal
Erin is a NYC harpist & singer with a #1 album on the Billboard World chart. She's played & sung with Enya, Kanye West, moby, Jewel… and has been on Broadway, film & TV. She played the "Game of Thrones" theme on her harp for HBO & sang as The Pretty White Girl on Comedy Central's "Chappelle's Show."
Details

Reviewed on

4/02/2018
Cristina L
Erin played at our wedding yesterday from the ceremony to cocktail hour, and played and sang all through the reception. We loved her harp renditions and vocals to many popular songs, both intimate and upbeat. Guests told us in person and have been texting since then that they... Read More thought the harp and trio was a great classy touch, better then the traditional band or DJ- and we agree! We were able to mingle with guests all night without the music being overbearing. Erin was also able to play a traditional Italian dance song (Tarantella) on request, and killed it!!!!! Thanks so much Erin!
---
Erin Hill is a rare, talented Musician
Reviewed on

3/04/2015
Not only does Erin Hill play Harp and sing so beautifully, she does it with a cheerful positive attitude and with real professionalism. She is very responsible and also very agreeable to suggestions and will make sure her part at your event is done perfectly. I recommend her... Read More services whole-heartedly. She knows quite a large variety of songs, it was a pleasure having her play at my wedding.
---
The perfect touch!
Reviewed on

10/26/2014
Kristen T
After watching Erin perform at Joe's Pub in NYC we knew we wanted her to play at our wedding. We received so many compliments on her performance during our ceremony and cocktail hour. She was a perfect touch to the evening. Throughout the planning process Erin was very... Read More professional. Planning a wedding can be very stressful and Erin made her part very easy and stress-free for us. She provided great song suggestions that would entertain our guests. We would not hesitate to book her again for another event.
---
Reviewed on

10/15/2017
Erika L
We wanted someone unique and Erin was just that. She provided an amazing long list of available songs she already knew beforehand, and was even able to learn a new one just for our walk down the aisle as well. She, her instrument, and her music were all so beautiful it really... Read More created such a wonderful atmosphere within our wedding. All of my guests were so impressed with Erin. Her talent as well as general professionalism was 5 stars. I can not recommend a better musician if you are thinking of a harpist. Worth every penny
---
Reviewed on

6/07/2017
Stefanie M
Erin was amazing! She played for our wedding ceremony and cocktail hour. From the beginning, she was easy to get in touch with, propmt with her responses, and so accommodating. She plays beautiful music, has a lot to choose from, and even learned a song for us! Thank you Erin!... Read More We loved every minute of it! -Stef and Jack
---
Reviewed on

5/26/2017
Natasha S
Erin was absolutely amazing to work with! She was receptive to what I needed, and flexible when my event plans changed a little. She even stayed later when our event went a little longer! I didn't have to worry about her being late, she was already at the venue and sorted out... Read More where she was meant to be set up--I didn't have to worry about a thing! The music went off without a hitch, and we got so many compliments for hiring her. You will not go wrong with hiring Erin. You'll be in good hands!
---
Reviewed on

5/25/2017
Jenelle S
Erin was absolutely amazing!!! My guests are still raving about how entertaining and talented she is. She will forever be our go to harpist and I'm forever grateful to her for adding to how special our wedding day was. Simply amazing
---
Reviewed on

4/24/2017
Sandra G
Erin came highly recommended by a friend for my wedding. She was great and everyone loved her music and voice. She was accommodating, professional and overall a lovely person. I would highly recommend her especially for weddings!
---
Amazing!
Reviewed on

10/06/2014
Erin played the harp for the cocktail hour of my daughter's wedding. Her repertoire was large and she had the voice of an angel. We could not have picked anyone more perfect!!!
---
Erin Hill harpist and singer
Reviewed on

10/06/2014
She is an amazing artist! Her voice is just beautiful. She is so professional and great to work with.
---
Erin is "THE BEST"
Reviewed on

9/28/2014
Mersedeh G
Erin was simply amazing. What made her different from the other harpists I contacted was the fact that she called me right away (instead of texting and e-mailing). She was very pleasant on the phone and she sounded very nice. As a bride, it is important to be able to connect to... Read More the person you wanna hire to perform at your special day. And that was a very important factor to me to make the decision. During the ceremony and cocktail hour, Erin WOW'ed all the guests with her amazing performance and beautiful voice... Everyone LOVED her performance.
---
She delighted and astounded our guests
Reviewed on

9/16/2014
Jennifer B
We hired Erin to play at our wedding this past weekend and it was one of the best decisions we made. She is incredible on the harp as well as has an amazing voice. Our guests couldn't stop raving about her. While we did not get to hear all of her numbers, the two pieces that... Read More were most important to us - Pachelbel's Canon as the wedding processional and a Beach Boys song as the recessional - were played beautiful and sounded powerful and strong. What's more impressive, prior to the wedding we had requested a few surprise crowd-pleaser songs which Erin had to learn from scratch, and she obliged happily. When she played those numbers our guests went nuts! Erin is highly responsive over email, has a great sense of humor, and is an absolute pleasure to deal with. We would recommend her to anybody.
---
Well Worth!!!
Reviewed on

9/10/2014
indra l
Erin is an amazingly talented harpist with the voice of an angel! She is so professional, kind, sweet and well worth having at your wedding or event!! We had her play during our outdoor wedding ceremony on 9-7-14 and she was beyond amazing! She is so beautiful and professional!... Read More She was hired to play just the harp during my wedding but also sang a few songs with her angelic voice as guests arrived which was an added surprise for us! Our guests and my dad especially loved her and were shocked and amazed by her talent! Very punctual, timely and flexible with requests and knowledgable with all song types and requests! Love love love Erin! She is the best! Many thanks again!
---
Erin Hill's music was perfect!
Reviewed on

8/18/2014
Erin was on time, professional and a joy to have. We booked Erin, along with her cellist, with less than 2 weeks until our wedding and they were still able to grace us with their beautiful music and Erin's absolutely stunning voice. Even with some last minute changes on our... Read More part, they had no problem adjusting to what was needed to make this day the best it could be. She was the glue that pulled our ceremony and cocktail hour together. Erin and her cellist made for an unforgettable experience that will last a lifetime. The only thing I regret I have is not booking them for the entire reception.
---
Perfect!!!
Reviewed on

8/13/2014
Erin was perfect for what we wanted - she's not your traditional harpist, in fact you can look her up on YouTube and prepare to be amazed! Erin played at our ceremony and she was wonderful. She was easy to work with prior to the ceremony and so very accommodating. She... Read More played contemporary music for us, even some pop music and it sounded great. We highly recommend Erin!
---
Erin Hill, harpist and singer extraordinaire
Reviewed on

7/24/2014
mary ann f
Erin played the harp and sang at our wedding ceremony and cocktail hour. Her voice, music and presence was angelic! Erin learned "At Last" for our processional as a special request by myself and my partner of 30 years. Her performance was just lovely and really topped a... Read More perfect ceremony. She played the cocktail hour as well and her music selections were the perfect background to our banquet. Prior to the day Erin responded to all emails. Her arrival was timely. We highly recomend Erin. She was a joy to work with. -Mary Ann and Bernadette, Mamaroneck, NY
---
Erin Hill, Harpist & vocalist
Reviewed on

7/15/2014
It's rare to find a world class harpist who also has a world class voice. Erin Hill provided the music at my son's recent wedding service and cocktail hour, demonstrating her amazing instrumental and vocal chops. Her version of Etta James' "At Last" during the service caused one... Read More of the groomsmen to turn to my son and remark "I thought you might have oversold the harp player. You definitely DID NOT oversell the harp player!" Not only was the music world class, but Erin was a delight to work with in every respect. Pleasant, personable and professional. I highly recommend this multi-talented artist for any occasion.
---
Beautiful and Versatile Music
Reviewed on

7/13/2014
Dana G
Erin was a wonderful ceremony musician. She was a pleasure to work with and a real help with planning. She was able to play both traditional and current music with ease and to help me find the right music for my ceremony. She really made my ceremony more memorable.
---
Meet The Owner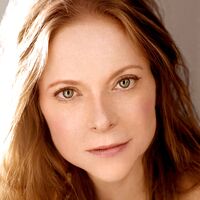 Erin Hill
I'm a harpist & singer, so I can do solo harp, or harp & vocals. I also perform as a duo with flute, cello, violin, or pedal steel guitar. I play (or play & sing) for ceremonies and cocktail hours, & I also perform for receptions with a DJ, singing and/or playing harp to tracks. I have a small amp I bring, so the sound can be adjusted to as loud or soft as needed. I play all types of music (classical, of course), as well as celtic, jazz, opera & pop (Beatles, Bowie, 50's, 60's, 70's, 80's on up to Lady Gaga, Radiohead, John Legend, etc.). Listen to audio clips here http://erinhill.com/music