Home

Eskay Bridal
About this Vendor
Eskay Bridal
Nestled in beautiful Bozeman, Montana, the Eskay Bridal boutique provides customers with a one-of-a-kind shopping experience in true Montana fashion. Eskay Bridal offers lines from Allure, Willowby, Rebecca Ingram, and Stella York Bridals!
Details
Bridesmaid Dresses, Wedding Dresses, Dresses, Alterations, Private Appointments Available, Fashion Services, Fashion






Contact Info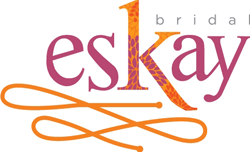 Reviewed on

10/24/2017
Sarah G
If only finding a husband would have been as easy as finding a dress at Eskay! I absolutely loved my experience with Karyn and Sari, they made me feel beautiful and well taken care of. They were both down to earth, easy to get along with, and really understood me. I almost... Read More wish I could buy another wedding dress from Eskay! (Almost.)
---
Reviewed on

10/18/2017
Cara G
Getting my dress from Eskay was so fun and easy! I had gone to a couple of shops before and had a good idea of what I wanted. The staff listened to my ideas and budget and found the perfect dress! Sari was so easy to work with doing alterations. The whole team was great at... Read More communicating (I was planning from afar) and fit in my fittings despite a sometimes crazy schedule. I cannot recommend them enough!
---
Reviewed on

9/22/2017
Tara M
Eskay bridal took me in as a walk-in appointment and I was not disappointed one bit! Helped me pick out the PERFECT dress and set up a payment plan and everything just to ensure I get my dream dress. Thank you, Eskay! 💋💋
---
Reviewed on

11/01/2017
Alycia F
loved my experience there!! I found several dresses that I loved and had to choose between one here and another place. I went with the one at the other place but I still got my headpiece with them. I live in iowa and was visiting my sister whom lives in Montana. They sent me my... Read More head piece to my home in iowa. I love them!!
---
Reviewed on

9/20/2017
Julie O
Sari at Eskay is the most wonderful person to work with! I explained the dress that I had envisioned and she picked out the perfect dress, the very first time! She is so great at responding and getting all of your wedding attire together in one place. She made my life SO easy... Read More and my dress fit absolutely perfectly!!! Sari is amazing and you won't regret having her help make your special day even more special!
---
Reviewed on

8/30/2017
Melissa M
I found the dress I loved at Eskay. And even though we were in a time crunch to get it altered before the wedding, they got it done in one session and it fit perfectly. All the girls were so sweet and helpful. I'd tell any new bride to find their dress at Eskay
---
Reviewed on

8/01/2017
Jenny H
I love my dress! Everyone is very helpful and nice. They have a large variety of dresses in all different sizes. I am very chesty and some bridal salons only carry sample sizes of 6 & 8 so it was frustrating going to those salons because none of the dresses would fit my boobs.... Read More I'm a size 12/14 in the chest but a size 8 in the hips and waist so finding a dress was difficult. Eskay had a ton of different size so I was able to find the right dress that fit my boobs and Siri did an awesome job taking my dress in and adding some fabric to cover my cleavage so I felt more comfortable. They are also reasonable in price. They range from affordable to more expensive so every bride can find a dress they want.
---
Reviewed on

7/25/2017
Danielle B
Eskay did a great job with my wedding dress and our tuxes!
---
Reviewed on

7/19/2017
Sarah A
Love Love all these ladies here!! They are Amazing! They made me feel special each time I came in (which was a lot) and were so helpful and supportive with helping me find the Perfect dress!! Thank You!! 💜
---
Reviewed on

7/13/2017
Sarah A
Amazing! The staff was always ready and willing to help me immediately. I worked with Sari and Lauren, they were awesome! Always ready and willing to help with everything! Couldn't have asked for a better company to work with! They were patient, kind, got the job done quickly... Read More me perfectly. The alterations were absolutely perfect!! I highly recommend them!
---
Reviewed on

7/11/2017
Kelli F
Absolutely amazing! She made my dreams come true! I would never gone anywhere else and I my family members plan to use these guys also. Absolutely amazing service and sari did above and beyond on alterations
---
Reviewed on

7/07/2017
Miranda R
If I could add a million more stars, I would! They made my experience the most memorable, I love my dress if any of my friends get married I will always recommend them here. The environment is fantastic and the staff (oh my gosh the staff!) they treat you like your the only... Read More bride there during your appointments. Thank you so much ladies! I will never forget my wedding and my experience with you guys!
---
Reviewed on

6/27/2017
Kara A
Loved these girls. The team was very helpful in finding my dream dress. The shop stayed open until I found THE dress, they tailored it perfectly, and stayed professional and very friendly. Not once did I felt pressure to buy a dress unlike other places I visited in Bozeman.... Read More Eskay just wants to make every bride feel beautiful on her wedding day. Thank you Eskay!
---
Reviewed on

6/21/2017
Lacey D
All of the ladies at Eskay are wonderful. I was able to find the perfect dress for me and even came in under budget. I loved the individualized attention and the time that they spent with me while I was shopping and during my fittings.
---
Reviewed on

6/16/2017
Sari is wonderful!!!!!!! I drove 200 miles just to go to this store because I knew how great they were. The whole staff is up beat and love what they do and it shows!!!! I was a very indecisive bride and they put no pressure on me at all to choose a gown. After a few weeks I... Read More called them back with another dress they were able to order for me. Sari, put my mind at ease and listened to all my concerns. I would recommend them 1 million times over!!!!!
---
Reviewed on

6/07/2017
Nocona F
The ladies here are amazing and so thoughtful! I initially would not have picked my dress, but my consultant pulled it and I fell in love with it! It was the perfect one for me.
---
Reviewed on

6/07/2017
Talor D
Everyone was so friendly and extremely helpful!!! I LOVE my dress and couldn't have asked for a better experience. Thanks Eskay
---
Reviewed on

4/03/2017
Dallas M
So incredibly helpful!! Loved the staff and their suggestions were wonderful and they helped me find my perfect dress!
---
Reviewed on

1/26/2017
Natalie S
Karyn and her staff at Eskay Bridal are a joy to work with. They made my wedding dress shopping a fun, relaxing and enjoyable experience. They store is beautiful, and they have a wonderful atrium area where you can enjoy the experience of really seeing how the dresses look on... Read More you in a nice big room. They spent a lot of time with me to help me find the dress that works for me. I knew what I wanted, the style, the shape and everything, and Karyn helped me find the dress of my dreams! I have told many people about them, and would recommend Eskay Bridal to any one that wants to experience dress shopping at a new level. Thanks Eskay Bridal for helping to create a lasting memory for me.
---
Reviewed on

10/31/2016
Brittany H
Eskay did an incredible job helping me to find the perfect dress. I felt so beautiful in it and they were wonderful when it came to alterations. No matter my question or concern, they took care of it. They were recommended to me and I would highly recommend them to anyone else.... Read More I loved working with them. Those ladies are gifts.
---
Reviewed on

10/06/2016
Elizabeth H
The ladies at Eskay Bridal are absolutely wonderful! Every time I came in for an appointment, they were all very helpful and awesome to work with. They knew exactly what I wanted before I did!!
---
Reviewed on

9/22/2016
Nicole A
The Eskay team makes you feel like family! Sari is so warm and kind! Save some time and visit Eskay first. They have your dream dress! All you have to is enjoy the moment!
---
Reviewed on

8/24/2016
Rachel S
Best bridal shop in town!
---
Reviewed on

8/24/2016
Josey C
Sari, at Eskay bridal, was a dream to work with. From the very first day when I found my dress, to the week before my wedding, she was by my side and helping with all of the fittings. Highly recommend Eskay!! Beautiful dresses and beautiful people!
---
Reviewed on

8/17/2016
Shawnna J
I had the best experience at ESKAY. They are all SO amazing and really listened to my vision for the big day. I would not recommend any other bridal shop in the Bozeman area as highly as I do Eskay. Xoxo
---