Home

Evelyn Sanabria Makeup|Hair
About this Vendor
Bridal Beauty Specialist
Thank you for taking time to visit my page! I'm Evelyn, a professional makeup artist & hairstylist specializing in bridal beauty. My goal is to make all of my clients feel the most beautiful they ever have by enhancing their natural beauty. I look forward to being a part of your special day!
Details
Beauty Group Bookings, Hair + Makeup Trials Available, Hair Stylists, Airbrushed Makeup, Eyelash Extensions, Makeup Artists, On-Site Hair + Makeup, Tanning, Beauty

Contact Info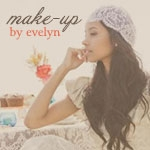 Evelyn Rocks!
Reviewed on

4/06/2011
Elizabeth F
From our first email, I knew Evelyn was the artist for me. She was warm and down to earth and didn't have any problem helping me choose services that fit my budget. And on meeting her during our trial hair and make-up run, I was hooked. She put together a very natural, but... Read More elegant look for me, and had no problem making adjustments if I felt something wasn't quite right. She also designed custom hairstyles to match each of my bridesmaid's unique personalities. No easy task. Unfortunately, I came down with a severe cold the night before my wedding, but Evelyn swooped in to the rescue by getting all the bridesmaids ready while I slept in. This was a lifesaver. With a little rest, I was ready to take on the day, and after she worked her magic, you couldn't tell I wasn't feeling like a million bucks. I highly recommend that you seek her out.
---
Hair/Make-up
Reviewed on

6/18/2013
Katie B
Planning a wedding from out of state was very challenging and I was worried about finding someone good to do hair/make-up for my bridal party and myself, but Evelyn was amazing and super flexible. She was very responsive by email and clear about her wedding packages. I had very... Read More limited time to get a trial, but she fit me in and drove 45 minutes to do it for FREE! She made me feel very relaxed about the whole thing and did exactly what I asked for. On the day of the wedding, her and her team arrived promptly and though we had 6 people, was able to finish everyone within our time frame. All of the girls were very happy with their make-up and hair and our photos turned out gorgeous. I would highly recommend using Evelyn.
---
Evelyn will make your special day even more specia
Reviewed on

11/28/2012
Dawn K
Evelyn and her team did an amazing job making me beautiful and, just as importantly, making me feel calm on my special day. She was extremely attentive to my requests and never tried to pressure me into a look that was overdone. She was a true professional. Thank you, Evelyn!
---
BEST hair & makeup for Brides
Reviewed on

9/21/2015
Julie C
Evelyn is the best, simply the best. It was really difficult for me to find one person who could do hair and makeup. She does both and is exceptional at both. She can do so many different styles of hair and so many different looks for makeup. She knows the ins and outs of it... Read More all. She is an expert at makeup for the camera. I look incredible in all my photos. And my hair stayed for over 8 hours. I felt like a queen all thanks to Evelyn.
---
Not proper Business Practices nor Communication
Reviewed on

3/18/2013
b s
I am so incredibly disappointed with Evelyn's services, as she does not have proper communication nor proper business practices. I had been contacting her about 6 months before my wedding date, in order to lock her in, to which she agreed. We have then been in contact only when... Read More I emailed her questions relating to trial run and opinions. I let her know that I most likely will have the trial about 1.5-2 months before my actual date, not 6 months before, to which she agreed. I then asked via email about how we should proceed and she let me know that I'm booked. Come 2 months before the wedding date, I'm contacting Evelyn for my hair trial and she tells me that she was going to email me letting me know that she booked another bride for the same day and that she would only be available before 10 am and if that would work for me. How ridiculous and rude. Not only did she not communicate with me, but she left me and my party of 5 without a hair and makeup artist. Incredibly rude and would not recommend as a professional services business.
---
Hair & Makeup was beautiful
Reviewed on

9/29/2012
Ariana M
She did a great job on my hair & makeup, and the hair & makeup for all my bridesmaids. However, when a last minute emergency caused 2 people to cancel their appointments for the wedding, she was completely unwilling to refund us.
---
Excellent!
Reviewed on

1/26/2012
Lorena V
I would highly recommend using Evelyn as your hair and makeup artist. Finding the right makeup and hair person was probably the most stressful part for me in planning my wedding. Evelyn was very responsible and attentive at the beginning with answering my emails and phone calls... Read More and answering all my questions. On the day of my wedding she was punctual and ready. She made me look beautiful, radiant just want I wanted! I cannot recommend her enough!
---
AMAZING!
Reviewed on

11/28/2011
Heather A
Evelyn and her girls are absolutely amazing! I was lucky enough to have my hair and makeup done by Evelyn three times over the summer, and each time she was fantastic. Both her professionalism and her skills with hair and makeup were the reasons why my friends and I continued... Read More booking her for all of our events. We knew each time that we would get the best service possible. In addition to being extremely gifted with hair and makeup, Evelyn is also incredibly sweet and very considerate of the bride and her girls. I look forward to working with her in the future, for any and all events!
---
The only person I'll use
Reviewed on

10/01/2011
Nicole M
I was in need of a hair stylist for my best friend's wedding and I found Evelyn on Style Me Pretty Blog and went ahead and hired her. We loved her work so much that since then, all my friends have used her. She is the only person my group will use and our friends of friends are... Read More using her now because they loved our make up/hair in the weddings they've been too. I feel like I hit a jackpot with this vendor and I don't see me using anyone else ever. She's not just an amazing artist either, she's a freakin' doll and so sweet. I love seeing her and it feels like she's just one of the girls. I love it!
---
She is Great!
Reviewed on

9/18/2011
Christina S
Evelyn was awesome! She came to my house for the trial and she was great. She listen to what I wanted and on the wedding day I could not have looked any better! She was on time and even traveled to my beach wedding in Santa Barbara. I would recommend her services to everyone.
---
She made me perfect!!!
Reviewed on

8/05/2011
jennifer s
Evelyn did a fantastic job for me on my wedding day for my bridesmaid, Jamie and for myself. Evelyn was great! She booked me on very short notice for my engagement photo shoot. (Saved my life, LOL!) She was on time and very friendly. She took her time and made sure to ask me... Read More what I wanted and was easy to change anything. On the wedding day I only had her booked for myself and at last minute when a bridesmaid needed make up she stayed and took care of her. Evelyn gave me plenty of touch of make for me to have on hand to fix anything before pics. After makeup being put on at 8:30am and running around till 11:00pm, my make up still looked beautiful!!! Thank you so much Eveyln for making me such a beautiful bride! Sorry It took me so long to figure out how to write this. I told you I was comp-u-tarded! =) Hope all is going well for you!
---
Amazing!
Reviewed on

7/30/2011
Rachel H
Eveyln and her crew were the best! We had a day of beauty the day of the wedding, and all of my girls had a great time. Eveyln was so laid back and patient with us (all 10 of us!) and each of my girls had a different hairstyle that fit them perfectly, I was SO impressed!! My... Read More hair and makeup was so beautiful! Evelyn made me look amazing!! I'm not usually a makeup all day girl, so the fact that I felt natural and beautiful all day without feeling like I had a ton of caked on makeup is really a testament to Eveylns creativity and HUGE selection of products. And even w/ a night full of dancing our hair and makeup was in place throughout it all! Thank you Evelyn for everything!! I would definitely recommend you to any future bride!
---