Home

Events by Phillipa
About this Vendor
Uniquely You & Completely Unforgettable Events
Events by Phillipa is a Boutique Event Planning Company, focused on thoroughly understanding our clients' visions and objectives, and delivering a unique and unforgettable experiences. With 15 years of diverse event leadership experience, our goal is to bring your dreams to life by partnering with South Florida and South Carolina's best vendors and leveraging our relationships to ensure everyone over-delivers and offers the absolute best value.. Planning a wedding can seem daunting but we make it our mission to make it easy and fun for you while we handle all of the details.
Details
Engagement Party, Getting Engaged, Honeymoon, After Party, Bachelor Party, Bachelorette Party, Bridal Luncheon, Bridal Shower, Rehearsal Dinner, Welcome Party, Rehearsals + Parties, Ceremony, Cocktail Hour, Day After Brunch, Reception, Rehearsal, Wedding
Destination Wedding Packages, Destination Wedding Planning, Destination Weddings, A la Carte Wedding Planning, Budgeting, Day-Of Coordination, Full Service Wedding Planning, Honeymoon Planning, RSVP Tracking, Planning

Contact Info

Phillipa is "PH"ANTASTIC!!
Reviewed on

9/24/2015
I was in my friend's wedding earlier this year and I am not joking when j say it is the best wedding that I have ever been to! We kept saying Phillipa (pronounced Fill-ip-a) is fantastic the entire wedding day. My friend is from Venezuela and is Jewish. There are so many... Read More religious and cultural traditions and Phillipa was an expert on all of them. She also seemed like she was everywhere at the same time- checking on us getting our hair done while checking on the groomsmen pictures and at the same time in the ballroom making sure set-up was running smoothly. I know she assisted my friend in menu selection, the decor, the band.... Everything! She also had so many small details worked into the night from custom ties for the staff serving the food to props for the Hora Loca and Photobooth. I can't express how amazing the wedding was and Phillipa deserves the credit. Now I just need to get engaged so she can be my planner!!
---
One of the Family
Reviewed on

9/01/2015
Planning a wedding is a huge task but Phillipa really made it look easy while exceeding our expectations. There was no detail she didn't think of, and she handled the logistics with such efficiency that we were able to just enjoy the day. For anything that came up she was... Read More prepared and proactively communicated with everyone involved so that everyone was able to execute their part flawlessly. Phillipa started as our planner but by the end she became part of the family and we are so grateful to have had her with us every step of the way.
---
Reviewed on

11/05/2017
Helene G
Phillipa and her team make sure that you have the PERFECT WEEKEND! Phillipa helped us every step of the way in planning and made sure that we had no worries whatsoever on our wedding weekend. Her communication, organization, advice, and professionalism are second to none. She... Read More is the who's who of wedding planners, knows the best vendors to use for you and your fiance's personalities, is amazing with family members and knows how to always make you laugh. Stop looking-- Phillipa is your answer to your wedding! People are still talking about what a fun and amazing wedding we had and I always tell them "Thanks! My wedding planner planned the whole thing!" Thank you Phillipa!
---
Reviewed on

3/31/2017
Anne F
Phillipa and her team were great to work with! She worked with me 6 months out, working on details and dealing with family at times. We became very close during the planning process and I don't think our friendship will end with the wedding! She was very reasonable in what was... Read More worth the price and what was not. She was familiar with many of the vendors I hired, which made coordination that much easier. Anything that seemed excessive, she was thoughtful enough to make it elsewhere or have it outsourced. Her assistants Ratchel and Brian were also great and were a huge help the day of, it really was a perfect event. If you hire Phillipa, she won't just be part of your wedding day, but a part of the family.
---
Reviewed on

3/15/2017
Brooke F
Phillipa and her team did an incredible job helping me create the wedding of my dreams. As an out of town bride I needed a planner that could handle all of the details and final preparations that needed to be done. Phillipa went above and beyond - turning her guest bedroom into... Read More my "welcome bag studio." Everything was executed perfectly I and no detail went unnoticed. My wedding was 5 months ago and I am still getting compliments on how beautiful and fun my event was. Needless to say - I would recommend Phillipa and her team to any bride knowing she is the best of the best.
---
Reviewed on

3/26/2016
Sabrina S
Phillipa will make your wedding day magic come true! She saved me so much time, money, and energy because she is truly a professional and so passionate about what she does. Events by Phillipa's main priority is making the client happy and taking all the stress away! She covers... Read More every single detail so you don't have to worry about it! My wedding will forever be the best day of my life and I owe that to Phillipa! Thanks girl, you're a rockstar! XO
---
Reviewed on

10/05/2015
Do not worry about the minor details, organization and execution of any event you may have, Phillipa has it all handled plus MORE! It is one thing to plan an event but the execution is another! She gets the job done and is such a joy to work with! You can tell her years of... Read More experience dealing with people has truly paid off!
---
Truly Outstanding at What She Does and an Amazing Person
Reviewed on

9/25/2015
From the moment I met Phillipa her passion was clear. She approached the event like it was her own wedding and thought of absolutely everything. You hear horror stories about wedding planning but I can honestly say that I enjoyed the entire process and was overwhelmed at the... Read More result. She was able to find the best vendors who will really understood my vision and she negotiated amazing value from everyone we worked with. Working with Phillipa will ensure not only the most amazing experience but more than that she is a great person that will be friend forever.
---
Great partner to work with
Reviewed on

9/24/2015
Phillipa makes what is often thought of as miserable, truly enjoyable. Her attention to detail and ability to materialize my bride's vision was amazing and it was a remarkable event that we will never forget. Working with Phillipa made wedding planning seem like an easy task... Read More however we are all abundantly aware that it is no small feat. Her experience is apparent but more so is her passion and love of what she does
---
Phillipa is a fantastic planner!
Reviewed on

9/23/2015
I was not a bride who had thought much about what her wedding day would be like so when it came to planning I felt totally lost on where to begin. A friend referred me to Phillipa and she was so great to work with! She really spent a lot of time talking to me about expectations,... Read More what really mattered to us on the Big Day, the esthetic and "vibe" we wanted to achieve, etc. She was super patient with me (and my future mother-in-law!) and she came up with a lot of great little details to impress our guests at the reception. At first I thought hiring a planner was going to be an unnecessary expense but I feel like I saved so much time and stress outsourcing the logistics. She was also super responsive to my crazy texts and emails as we got closer to the wedding day, which I really appreciated and helped keep me calm! In the end, I had SO MUCH FUN on my wedding weekend and that, to me, is priceless.
---
No Hassle Wedding
Reviewed on

9/21/2015
My best friend Katie just got married to the love of her life Ben, and Phillipa was the wedding planner. She's not your typical planner in the sense that she already knows what you need! All those annoying little details that usually pop up during a wedding had already been... Read More discussed with the bride, and of course the bride's mother, so day of everyone could relax and enjoy the moment knowing it was all being handled. She was nice, funny and was always around the corner with a glass of bubbles for the bride. I don't have a groom yet, but know that I'll be using Phillipa for my own wedding when the day comes!
---
So sweet!
Reviewed on

9/14/2015
Jessica L
Phillipa set up our ceremony in 2010. She treated us like friends while going above and beyond to make our dream come true, not to mention the surprises she threw in to top off the day! We'll never forget her cheerful kindness. Thank you, Phillipa!
---
We love Phillipa!
Reviewed on

9/01/2015
Erin D
Her responsiveness, attention to detail, and professionalism make her an amazing event planner and her charming personality makes her wonderful to work with. We couldn't have imagined a more perfect wedding day, thanks to her flawless execution and creative vision. She was with... Read More us every step of the way. We would highly recommend her for any of your future events!
---
Top notch is an understatment
Reviewed on

8/31/2015
I was very pleased with the innovated approach and the execution of all my requests for my special day.I have extreme confidence that Events by Phillipa can facilitate your dream event. I recommend with highest regard for her professional approach and attention to detail
---
Rehearsal Dinner
Reviewed on

8/31/2015
We used Phillipa to help plan the rehearsal dinner for our son's wedding. Not only was she fabulous and professional, but a true pleasure to work with. She tended to every detail, which definitely helped to make my job, as mother of the groom, much easier! I would highly... Read More recommend her!!!
---
Meet The Owner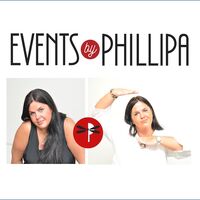 Phillipa Giesbert
My passion and genuine love for what I do comes from a lifetime of hospitality experience. Born in South Africa to a hotelier father, I grew up immersed in hotels and food & beverage, had the opportunity to travel the globe, and from a young age was taught the importance of strong work ethic and the meaning of true hospitality. With over 15 years of extensive event leadership experience, my mission is to ensure my clients maximize their budget so that we can exceed expectations and create unique and unforgettable events. I pride myself on making the process painless and fun for every client.