Home

Exeter Events & Tents
About this Vendor
The Party Professionals Since 1986
Get $200 off a rental of 1K or more. Say The Knot. Elevate your affair to new heights with our stunningly beautiful sailcloth tents. We stock a full line of tables, chairs, china and accessories. With 50 years of combined experience in the event rental industry we can guide you to the perfect event.
Details
Lighting, Sound Equipment, Benches, Chiavari Chairs, Folding Chairs, Chairs, Dance Floor, Dinnerware, Generators, Heating + Cooling Equipment, Flatware, Glassware, Linens, Lounge Furniture, On-Site Delivery + Setup, Stages, Cocktail Tables, Dining Tables, Tables, Tear Down, Tents, Rentals + Equipment
Contact Info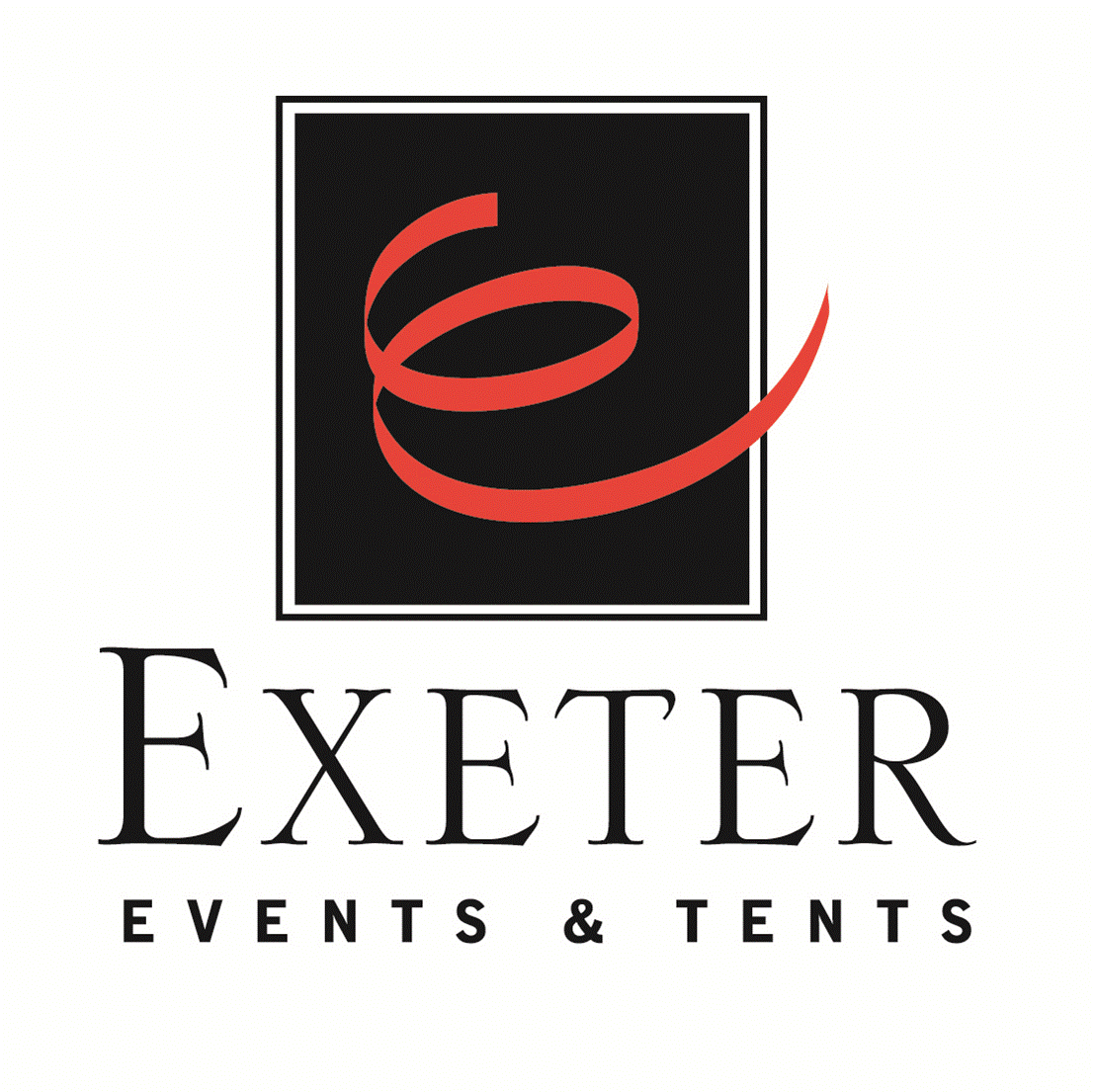 9.10.11
Reviewed on

12/01/2011
Nicole R
I used Exeter Events and Tents for all my wedding rentals. The consultants are very knowledgeable and I found them extremely helpful when it came to deciding what style and size tent I needed. They also created a layout for me which was amazing because it helped me envision my... Read More wedding. The quality of the items are fantastic. I rented Fruitwood Chivari Chairs with White cushions and they were so beautiful! All of my glassware, flatware and dishware were also rented from Exeter and I couldn't have been happier.
---
Reviewed on

8/25/2017
Hilary B
We used Exeter Events & Tents for the linens and a beautiful wine barrel bar at our wedding. Their wedding and event consultant, Emily Varn, was SO helpful throughout the linen process. She gave us all the necessary information and also gave us her professional and personal... Read More opinion on various items, which was greatly appreciated. The company as a whole was easy to work with and dropped off & picked things up in a timely manner. We could not have been happier with the way the linens and wine barrel bar looked on our big day!
---
Reviewed on

8/14/2017
Kelsey M
I used them for a 15x20 white dance floor for my wedding. They were very professional and easy to work with. They reminded us of the deadlines, and made sure to check in and make sure all of the details they had were right. They communicated easily with the venue, and... Read More delivered the product that they promised! I would recommend them to anyone!
---
Everything was Great
Reviewed on

9/02/2014
Deborah M
Rented just champagne glasses and a sweetheart table. Smooth transaction. quick service.
---
Overall great
Reviewed on

7/21/2014
K.Lee M
Not sure that I recommend this company. Products are beautiful, but I have to share this-- they did not notice the glitch that we ordered 85 chairs, but they had written that we only needed 80 napkins. When they went over our final order on the phone two weeks before the... Read More wedding, we noticed and said we needed more napkins to cover all our 85 guests. They said it was too late to order more. To solve it my mom bought a set of nice napkins for just the wedding party table so we just looked a little special. The OTHER thing was that we ordered green table cloths and half of them showed up in peach!! Luckily it worked with the rest of our color scheme so I didn't freak out. (I know another bride might have flipped!) We sort of laughed it off, but I'm not sure how that happened when they packed for us!
---
As expected
Reviewed on

1/25/2014
Maria Raquel G
Working with them was very easy. Their chairs, tables, and dance floor, great! I have no complains.
---
Mother-of-the-Bride
Reviewed on

11/06/2013
darcy d
Exeter Events and Tents delivered exactly as promised! We needed a large tent, tables, chairs, and linens for a wedding venue which had never had a large tent before. Because we planned to set up the tables and decor ourselves, we needed the tent set up the day before, so we... Read More could do all the decorating the day-of. Exeter Events and Tents was able to co-ordinate this with us, having the tent ready for us one day and everything else delivered first thing the next morning, meeting our narrow time constraints. They also were able to meet a time request we had for take-down the day after the wedding. Half-way through our months of planning, a new Exeter Events and Tents co-ordinator took over our event. While at first I had a moment of mother-of-the-bride/wedding-planner stress about this, the transition was seamless, and our new co-ordinator was completely in-tune with our needs. She provided advice and quick assistance to any question I had, and happily revised our contract countless times. The wedding was out-of-state from our home, so I was only able to visit the showroom once, and never even met our ultimate co-ordinator. Regardless, she treated me like I was a well-known and valued customer! Thank you,thank you, Exeter Events and Tents!
---
simply the best!
Reviewed on

10/25/2013
I was very happy with Exeter Event & Tents as the tent vendor for my wedding. From the get-go Ashley and her team were so accomodating. The staff that physically put up the tent were fantastic as well. The best part about it all was how beautiful the tent looked. We had a... Read More backyard wedding at my parents home in Walpole, MA. The sailcloth tent was gorgeous- it lit up the entire property at night. All of my guests could not stop talking about how beautiful it was. We also had japanese lanterns that were personally placed by Ashley and she did a wonderful job. Ashley is professional, and does not push you to do anything that you don't want to do. She is very knowledgable about spacing for the tent on your property. Highly recommend everyone at EET!
---
Excellent Service
Reviewed on

10/24/2013
Stephanie G
Exeter did the tables, dance floor, lighting and chairs for our wedding. Even though we worked with them to plan where all the tables would be, I did have to pay the caterers to come early and move everything from where Exeter had put it to the actual places we had planned on... Read More (they left it all in the tent, just not necessarily in the right places). This was not a surprise the day of, just an additional expense. We had a bit of a glitch because the chairs actually needed to be set up for the ceremony (about 200 ft away) - Exeter never asked me about the ceremony, so that was an oversight on both our parts. But the lights were gorgeous, if expensive, and the quality of the linens and tables were great. Exeter was also timely, which is SO important on your wedding day! We met with them twice to discuss options, they were very patient and made all my changes correctly. Just be clear with what you need and they will make it happen.
---
Tent Reception Rentals from Exeter
Reviewed on

9/30/2013
Analee H
We rented a sailcloth tent, tables, chairs, dance floor and place settings from Exeter. They worked through Alan's of Boscawen so we dealt with them very little prior to the big day. They set the tent up over our venue's tennis court and it looked so beautiful! Had absolutely no... Read More issues with this vendor, they were professional and comparable in price to other companies around the region.
---
Tent looked beautiful!
Reviewed on

9/16/2013
Sethan L
I was overall very happy with Exeter Events & Tents. There staff had a very "can do" attitude when it came to my order, set up time, break down time, etc. They were flexible with what was on my order up until a couple weeks before my wedding. The one thing that became a small... Read More glitch was a promised set up time that ended up being too early for the set up crew to make. It all worked on just fine in the end, and the co. was very good about making their small error correct.
---
Great Service
Reviewed on

8/29/2012
Sarah S
These guys got everything done in the allotted time, which was not much time at all. Nicole Mower was great, answering any questions I had throughout the planning process. She even has her own wedding planner business and does day of coordination. She was able to keep it within... Read More our budget by letting us know ahead of time what we could realistically get for our money. I was very impressed with the execution of setup at the venue as well.
---
Chairs and lattice
Reviewed on

7/03/2012
Ashley N
It's a little pricey because everything is an additional charge. Delivery, set-up, take down, pick up...everything costs extra and it's per item not just a flat rate. Over all good just not that budget friendly
---
Good service
Reviewed on

7/02/2012
Lauren S
this company has flexible hours and friendly staff
---
Linen Rental
Reviewed on

4/17/2012
Amanda M
Everything was gorgeous-rented the linens and upscale chairs from them-looked great, all was in wonderful shape and once ordered-I didn't have to worry about a thing!
---
outdoor backyard wedding rental
Reviewed on

12/03/2011
Hannah B
Exeter Events and Tents was such a relief after all the stresses of wedding planning. They were so friendly and genuinely sweet. The prices were less than what I was expecting and they dropped off/picked everything up within a handful of days so we didn't feel rushed. I felt... Read More really comfortable in their showroom and comfortable with Jessica, who was very helpful and patient. My wedding was awesome!
---