Home

Eye Wander Photo
About this Vendor
Light and Emotion to make you look amazing!
Inspired both by editorial and fashion photography, Aaron Hogan of Eye Wander Photo does not miss the moment. He emphasizes emotion and strong use of light above all to create art at your Wedding, all while putting his clients at ease. Available for travel worldwide. **NEW! We now have an amazing Photo Booth with $100 off when added to a Wedding package (normal price $650 for 3 hours)**
Details
Artistic, Classic, Documentary, Dramatic, Lifestyle, Modern, Vintage
Bridal Portraits, Day After Session, Engagement, Trash The Dress
Getting Engaged, After Party, Rehearsals + Parties, Wedding
Destination Wedding Packages, Destination Weddings, Photo, Second Shooter Available







Highly recommend
Reviewed on

7/28/2012
H. A
Aaron was absolutely AMAZING-- I would highly recommend him. He is a really nice guy and very easy to have around, not too bossy or pushy but definitely knew he what he was doing and how to get the best shots. The pictures came out absolutely beautiful! His assistants are also... Read More nice and take beautiful pictures as well.
---
Reviewed on

10/17/2015
Katie L
Absolutely 100% the best!!! Aaron and his staff made the entire picture process very easy peasy! My husband and I loved working with him. Aaron made us both feel very comfortable!!! He took my bridals, our engagements, and our wedding day. All of my pictures were perfect! For... Read More the wedding day, Aaron captured all of the most precious moments and intimate details. His pictures tell a story, and I'm able to relive my wedding day over and over. He truly is an amazing and talented photographer, and I'm so glad we chose him!
---
The Best!
Reviewed on

11/19/2013
We used Aaron at Eye Wander Photography for our engagement photos and our wedding. The images couldn't have turned out better. He has quite a few ideas on how to get the perfect shot and they all turn out brilliantly. I've had nothing but compliments about our photos. If you are... Read More looking for a professional and quality driven photographer, Aaron at Eye Wander Photography is the only place you should look.
---
Reviewed on

10/23/2017
Taylor L
Stop looking for a wedding photographer, you found the best! I planned my wedding in 3 short months and Aaron along with his team didn't hesitate. We knocked out everything we needed and they made everything so simple (and worked with busy schedules, too!). The pictures are... Read More beyond perfection and what's more, Eye Wander is FUN too. Folks at my wedding still mention the great time they had dancing with my photographers. Don't second guess - just choose Eye Wander! I promise you will not be disappointed.
---
Reviewed on

10/11/2017
Lizette V
Aaron was wonderful to work with! he made the whole process very comfortable and alot of fun. I can't wait to see the pictures!
---
Reviewed on

8/22/2017
Suzette W
My son & his bride chose Eye Wander for all their photos: engagement, bridal, Rehearsal Dinner, wedding day-prep, Nuptial Mass & Reception + photo booth. Aaron & his staff were so pleasant (+ fun) , very respectful & truly captured the beauty & the emotion of the special... Read More moments. Amazing photos! They even stood in the rain, in their suits, to snap the perfect shots. We highly recommend this talented artist. The portfolio speaks for itself & I am telling you, he & his staff are wonderful folks!
---
Reviewed on

6/09/2017
Kristen E
When choosing a photographer you need the best. They're there to capture your special moment. Choosing the best would mean choosing Aaron Hogan and his team at Eye Wander. Aaron is an amazing photographer. He brings such great energy to his photo shoots. I really enjoyed working... Read More with him on my engagement and wedding sessions. My husband and I always felt like we were not photogenic people and are very self conscious when it comes to photos. We never look right in them. Aaron changed our perception of that. I can honestly say that I never felt more beautiful during my shoots. And when I saw my engagement photos, I was floored. He captured some amazing photos! He is big on capturing the perfect light. You can easily see he has a genuine passion for what he does. He is a true artist. During our wedding day while things got very hectic he was so calming and patient with me. He truly cares about his clients and wants to deliver the best. Please allow him to use his creativity; you will not be disappointed. I promise! He will work with any vision you may have. We did not have a vision for anything, so some people might say we were taking a risk leaving it to someone else. We are glad we let his creativity flow and he took us on a fun journey during our engagement session. Unfortunately we did not allow enough time after the ceremony to do as many photos as we would have liked; and we are kicking ourselves for that because we know we had the best photographer and we weren't allowing ourselves to utilize him and his amazing artistic abilities. So my advice to you is this... give yourself time with him! You hired the best! Let him do his thing! You will not be disappointed!! You are in very good hands with Aaron!!
---
Reviewed on

4/21/2017
David D
Aaron was fun and creative with my high school twins for their senior portraits. They enjoyed the session and we got some amazing photos!
---
Reviewed on

3/28/2017
Ronald K
Aaron is a superb, creative photographer. Having used him for years for commercial photography, I had the chance to have him capture my daughter and grand kids when they visited last summer. The location shoot that resulted were by far the best photos ever taken of them.... Read More Aaron has the rare knack for truly capturing personalities. Bravo!
---
Reviewed on

3/09/2017
Allison I
My husband and I had our wedding in New Orleans back in 2011, and Aaron was our photographer. His pictures are absolutely amazing! Not only that, he took us around the French Quarter to take photos and he made it so much fun for us. He made us laugh, and made me feel... Read More beautiful, which is reflected in the pictures. Our wedding album is beautiful, and I love showing it off any chance I get. Aaron is a very talented photographer. I highly recommend him!
---
Reviewed on

3/06/2017
Meg F
Stop looking because you won't find anyone better! My husband and I received our wedding album last week, and it is absolutely perfect! It looks better than we imagined. The feedback we most often get from our friends is that our pictures look like they should be in a magazine.... Read More It feels amazing to get those kind of compliments and know that people truly enjoy looking our pictures. Hiring Aaron as our photographer was one of the best decisions we made. When we reflect on our engagement announcement and wedding from beginning to end, not only the photography but our interaction with Aaron in general is frequently brought up. He is a staple memory and experience from the happiest day of our lives, and I say that from my heart with so much conviction. I'd also like to call out the wonderful staff who has never been anything short of attentive, responsive, and overall kind and pleasant on the many occasions we have spoken over the last year. My only regret is not hiring him to do the photo booth at our reception back in Tennessee !
---
Reviewed on

2/23/2017
Chancy G
EYE Wander was the best decision I made for our wedding. It was such a pleasure working with such a fun and creative group of people. I received multiple complements from family and wedding guests throughout the night about how wonderful and impressed everyone was. They made our... Read More entire wedding experience enjoyable. They were extremely patient, receptive to our ideas, easy to work with and made everything feel easy and fun. Aaron and his team are absolutely fantastic at what they do and I know we will have the most beautiful photos of our wedding!!
---
Reviewed on

1/29/2017
Melissa W
We have used a lot of photographers for family photos. But, our time with Aaron was amazing. His eye is a gift from God. He can bring out the best in people and he made our photos more than I ever could have imagined. When I opened the boxes with the actual canvases, I cried.... Read More His work is masterful and they will hang in our home forever! His staff was wonderful as well. I am so glad we traveled from Austin to see him. It was worth every penny. Thank you Eye Wander. We LOVE OUR PHOTOS! The Wileys Austin, Texas
---
Reviewed on

1/16/2017
Kate D
Aaron and his staff were absolutely AMAZING!! They make each photo shoot personal and fun, and on your wedding day they are there to capture all of your special moments. You can't find a better photographer for your special day!!
---
Reviewed on

12/15/2016
Sally F
I have worked on several events from weddings to baptisms and fund raisers. He is a terrific and talented photographer who is a delight to work with, if you are lucky enough to be able to schedule him.
---
Reviewed on

11/06/2016
Laura A
Aaron is an incredible photographer!! My fiancé and I were scared of having our photoshoot taken because we don't know how to pose and do not really like how we look on pictures. However, Aaron was able to make us feel completely at ease, told us exactly how to pose, and the... Read More pictures came out incredibly natural and looked amazing! The best thing of choosing Aaron is that not only did we find the best photographer we've ever met, we gained a FRIEND: he is a great person that truly cares and listens to what you want and takes the necessary time to know you and understand your needs so he's able to capture you at your best and happiest in his photographs. What better way to keep your best memories forever!!! J In short, I almost never write reviews because my opportunity cost is very high. With Aaron, however, I had to because of all that is above. Needless to say, if you need a photographer, you have to choose him.
---
Reviewed on

10/13/2016
Aaron is in a league of his own. His photography is stunning. He is easy to work with and has creative ideas. We used him in Jamaica and he captured the beauty of the natural scenery into all his work. Aaron truly has a gift. I would not use anyone else!
---
Reviewed on

10/13/2016
Daina H
It was a pleasure working with Aaron. He is a natural talent. He was very helpful knowing what angles worked best. Beautiful results!
---
Reviewed on

10/03/2016
Bonnie B
Fantastic ! Simply the BEST.... Thanks Aaron
---
Reviewed on

9/20/2016
Michael N
As a musician, my band has worked with Aaron and staff MANY times all over the gulf coast at corporate events and wedding receptions. His work is first class & easy to work with. He even makes our band look good!
---
Reviewed on

9/14/2016
Megan J
A little expensive, but worth every penny! He captures the most flawless pictures-so amazed and satisfied with what I got! I have nothing but good things to say :)
---
Reviewed on

9/08/2016
Aaron is a phenomenal photographer. Every photoshoot is an adventure filled with many laughs and ends with amazing photos. He really cares about his staff and clients. He also rents out a photo booth at events and it is always a good time. Check his work out!
---
Reviewed on

8/10/2016
Erin G
My experience with Eyewander Photography (Aaron Hogan) was simply perfect! Eyewander was easy to work with throughout it all. Aaron has a fun personality and very personable. He made my husband and I feel completely comfortable with being photographed extensively on our big day... Read More and our engagement shoot the summer prior. Aaron is great, his professionalism is always first and foremost. You can tell that he's been doing this for a long time, and I never had to worry about anything leading up to and especially on my wedding day. When the wedding got closer and I had questions, he responded quickly and had everything figured out. It was so nice to have a confident organized conductor with a detail timed itinerary for the big day. On March 4th, our wedding day, everything went seamlessly. I did not have to think of one thing regarding photos, everything was captured and his wonderful wife/ assistant made sure all of the family and portrait style photos that I wanted were taken. I feel like nothing was missed because Aaron covered all areas and bases, even the ones I had no idea existed. I cannot recommend and rate Eyewander high enough for the level of service I received, the kindness and professionalism they came with, and the overall gorgeous product I am now left with and get to have for all time. I cannot recommend the quality of the product that you get with Eyewander Photography enough. He is a true artist, and If you want an artist to capture your perfect day, Aaron is the person you want doing it. He's experienced and is always evolving and pushing his limits and talents for the perfect photograph. I have received so many superb compliments from friends and family, of how they've never seen wedding photos this unique and beautiful before. It is true that I could not have found better.
---
Reviewed on

8/01/2016
Nick W
When my fiancée (now wife) and I were considering what we wanted to remember about our wedding day, we really wanted to capture the authenticity and emotion of the day. Upon hiring Eye Wander Photo, we received an email asking us to complete a survey so that Aaron could get a... Read More better feel for our relationship and who we were; it was then that I realized how invested Aaron was willing to become in order to give us an experience that we will remember forever. Aaron's commitment to the job and his passion for his work show in many ways: from flying halfway across the country to shoot our engagement session to getting up at sunrise to capture some truly beautiful photos. Aaron became a close friend to us in the process. He offered convenient viewing appointments to walk us through each of our photo sessions (engagement, bridals, and wedding ceremony/reception) and even virtually decorated our home so that we could see what our walls would look like with our photos hanging. The end result: hundreds (and I do mean hundreds) of authentic, emotion-filled, perfectly-captured moments that my wife and I will treasure for years to come. Aaron is incredibly talented, but his kindness is unparalleled. We loved our experience with Eye Wander Photo and would highly recommend this company to any prospective customers. - Nick and Heather
---
Reviewed on

7/31/2016
Heather L
Aaron was terrific from the start - we really felt like he tried to understand who we were before he took our photos. The overall experience with Eye Wander Photo was wonderful; our photos perfectly summarize our relationship and capture the beauty and joy of our wedding day.... Read More Aaron is a tremendous photographer and a great friend, and he will invest tons of time, energy, creativity, and vision into capturing the absolute best photos. We would highly recommend his company to anyone considering a photographer for ANY occasion.
---
Meet The Owner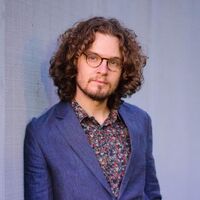 Aaron Hogan
We believe that the first step in capturing the celebration of a wedding, or the heart-connections of a family is not to look, however, but to listen. A photo that moves someone is the shutter that was snapped at precisely the right moment, in a flash of synchronicity that combines instinct with experience. The glance of a groom as he sees his bride for the first time, the unfettered delight of a child as she falls into the joy of the afternoon. Those crystalline moments are captured first not by looking, but by listening to what feeling our clients want to freeze forever.