Home

Eyes by Erica
About this Vendor
The beauty is in the Eyes!!!
Erica Smith is a fresh, vibrant make-up artist from Kansas City, Missouri, that currently resides in Dallas, Texas. Erica has countless years of experience in the beauty and fashion industry.
Contact Info

Reviewed on

6/04/2015
Vivian E
My wedding party and I booked Eyes by Erica at the suggestion of my hairstylist who had worked with her on numerous photo shoots. She brings such a flare with her own personal style and passion for makeup that I knew she would be perfect for my friends and I. Erica met us at the... Read More hair salon and went to work, giving us a classic bridal look, not to done up, but just enough to get that second look ;) . We laughed and hung out as Erica "painted" a masterpiece on all of our faces! It was definitely a day to remember and we all looked and felt amazing! Thanks Erica
---
Reviewed on

6/19/2017
Liz Z
Erica was amazing! My makeup, the bridal party makeup and the moms makeup was truly STUNNING. Plus we had the best afternoon laughing with her while we got ready. She came to us and was totally professional. It was the perfect way to get ready and the final looks were... Read More incredible! I can't recommend her enough.
---
Reviewed on

6/15/2017
Rachel C
Erica did the makeup for my wedding back in May. I loved her. She listened to my concerns, worked with allergies I have, and made me look stunning. She takes the time to plan for the big day with the bride and maintains contact so you won't have to worry about whether she'll be... Read More there are not. I recommend doing fake lashes as well! She will pick the best look for your face and eyes.
---
Reviewed on

5/22/2017
Melissa F
Erica did an AMAZING job! She is extremely kind, professional, easy to work with, and talented!! I loved that my make up looked more than my every-day and was perfect in pictures, but also didn't look cakey or over done in person. It was beautiful but still very natural. I... Read More couldn't have asked for a better person to do my make-up for such a special day. :)
---
Reviewed on

5/22/2017
Kierra M
I can't rave enough about Erica and her work! My original artist cancelled on me the day before my wedding..the.day.before. as if the stress wasn't already at an all-time high! In comes Erica on a white horse! She knew my situation, reached out to me and was willing to honor... Read More the price I was originally quoted. Although I was extremely hesitant to book with someone I had never met, I reviewed her website and had a good feeling about her. She moved her whole day around and drove to Plano to take care of us. Now to her work... She did everyone's makeup EXACTLY how we wanted. We looked stunning and our makeup was on point all night long! I am in a wedding in November and am really hoping she will book with Erica then too. She is funny, professional, and just really good at what she does!
---
Reviewed on

5/19/2017
SAndra C
Erica did a fabulous job on all the makeup. Everyone so complimentary on how the bridal party looked. Better yet ---she returns calls promptly and shows up when promised without worry. Book her. She's the best!!!!
---
Reviewed on

4/04/2017
Vickie B
Erica did a amazing job making the bride, bridesmaids and mother of the bride look absolutely amazing. She has a amazing talent and is so fun to be around. She was there on time and did 10 people's make up. Everyone looked so beautiful. I can not give her enough stars. We all... Read More will continue to use her for any event.
---
Reviewed on

4/02/2017
Tanya K
Very professional and she really know what she her job
---
Reviewed on

2/16/2017
Ashura N
We absolutely love Erica...she is the best Mua!!!! She is very professional, showed up on time all the time and made sure everything went smoothly. She is responsive to texts emails and makes sure to answer any and all questions. Her positive energy set us all at ease on the... Read More big day, not to mention all of our makeup was absolutely fabulous! I recommend her to any and everyone looking for a mua!
---
Reviewed on

1/16/2017
Misty W
Erica is amazing! I used her for the first time on my wedding day and she made me look and feel beautiful! She did my makeup again for a special event and she will be doing it again for my 40th birthday next month! I would recommend her to anyone!
---
Reviewed on

10/08/2016
Kerri T
Makeup perfection. She works on a variety of skin tones and very timely. My advice, book her for the Bride. If not, you may end up with a jealous Bride. I've used her several times, never been disappointed.
---
Reviewed on

6/08/2016
Jeanine P
I booked Erica after looking through her portfolio on her website and reading through several reviews like the ones below. I'm so happy I booked her! Erica was a pleasure to work with from start to finish! She's easy to talk to and knows how to work with multiple skin... Read More complexions to make you look beautiful on your big day! It was really important to me to find a makeup artist that knew how to make a variety of skin tones look good on camera because I knew my bridesmaids represent an array of shades. Erica did not disappoint! She made us glow! We cannot WAIT to see our professional pictures! Finally, I loved working with Erica because at one point she just started dancing with us as she put on our make-up. She really helped make my day special! I received so many compliments on my make-up! I'll definitely be using Erica again anytime I want to look special for a big event!
---
Reviewed on

5/30/2016
Lauren E
Erica is EVERYTHING! I booked Erica for my bridal portraits and my wedding day. My previous make-up artist flaked out on me, and thankfully I came upon Erica's information through the knot website. I emailed Erica and she texted me within 5 minutes. Literally, 5 minutes.... Read More The girl was on it! First of all, she is extremely talented and knows her craft. She comes well prepared and she has all the best products. Erica had me singing Beyonce's "Flawless" by the time we were done! I loved, loved, loved, my make-up for all my events. Erica is also very attentive and she genuinely cares about her clients. I strongly recommend booking Erica for your big day! -Lauren Black
---
Reviewed on

3/27/2016
Danielle W
Erica was amazing. I was in a bind and within weeks of my wedding. Erica was recommended by a friend of friend. From the moment we spoke, she was accessible and on time for each meeting and the day of. She was prepared for just about anything and displayed professionalism... Read More not to mention expertise. Everyone looked gorgeous thanks to Erica. We cannot thank her enough.
---
The bomb makeup artist!
Reviewed on

6/05/2015
Alexis H
Erica is truly talented. More importantly, she cares about her clients' satisfaction. My wedding day was a success because of her professionalism, free-spirit, and flexibility!! She understands how tones translate in the natural light and cameras!
---
Amazing Wedding Makeup
Reviewed on

6/05/2015
I am forever grateful to Erica for making me look so beautiful on my wedding day. She was so easy to work with, especially since I had never had my makeup done before. There were so many worries I had on my wedding day, but whether or not my makeup would look good was not one of... Read More them! I highly recommend her services for your big day!!
---
Meet The Owner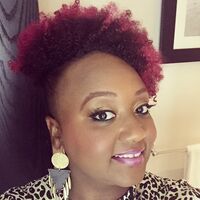 Erica Smith
Erica Smith is a fresh, vibrant make-up artist from Kansas City, Missouri, that currently resides in Dallas, Texas. Erica has countless years of experience in the beauty and fashion industry. Obtaining a Bachelor's of Science degree in Apparel/Textile Marketing and Design at the prestigious Kansas State University in Manhattan, Kansas. And working in management/make-up artistry for one of the worlds leading cosmetics brands, Erica has gained the knowledge of precision and skill that can be transformed from street to runway. Erica's artistry has been seen in fashion shows, weddings, etc.