Home

Fabulous Frocks of Alexandria
About this Vendor
the luxe bridal consignment boutique
Fabulous Frocks of Alexandria is the DMV's only high-end bridal consignment boutique. We only carry once-wed and sample bridal gowns from top couture designers, while still providing every bride with a personalized shopping experience. We also offer new to order bridesmaids dresses, and accessories!
Details
Bridesmaid Dresses, Wedding Dresses, Dresses, Fashion
Contact Info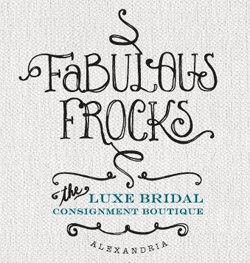 Gorgeous dress, and eco-friendly
Reviewed on

6/24/2013
Allie S
I didn't know what I wanted when I went to pick out my wedding dress so I made appointments at numerous boutiques, at numerous price points. I was so pleasantly surprised to find my favorite dress at Fabulous Frocks. I bought a designer dress for half the price and I felt like I... Read More was doing something great for the planet! This store offers a gorgeous, traditional wedding boutique experience and a great deal.
---
Fabulous!
Reviewed on

10/23/2012
Emily W
I was so happy to work with Linda at Fabulous Frocks. I found my dress online at the Charleston location, and they shipped it to Alexandria so that I could try it on. Linda had me try on several other dresses too so that I could compare. The dress was a sample, so it wasn't in... Read More perfect condition but it was good enough for me. Even though it didn't fit exactly right, Linda was confident that it could be altered appropriately (and she was right!) Such a great little shop!
---
Reviewed on

10/19/2017
Ona B
I had the best experience at Fabulous Frocks and found the perfect dress here. The staff were so polite to my mom and aunt and made us all feel like we were celebrating. I ended up buying a dress that was glamorous and Great Gatsy-esque, not at all what I was looking for, but it... Read More was the most fun to dance in and I got lots of compliments at the wedding since it was so unique.
---
Reviewed on

10/11/2017
Erin F
If i could give a billion stars I would. Margaret is just the BEST. She is by far and away the most helpful/kind person of my entire wedding planning process - and I was a little nutty. Fabulous Frocks is patient, helpful, accommodating and truly wants you to find your perfect... Read More bridal look. They've got an amazing selection of both off the rack and made to order and I also loved their accessories. Margaret even was able to order a gorgeous Theia veil from me from the designer that was unavailable anywhere in the US. Margaret and her team are not pushy at all and are honest and just so nice. If you are bridal shopping in the DC area be sure to stop by Fabulous Frocks - you will love them!
---
Reviewed on

6/17/2017
Rachel W
My mom and I planned a day trip to Alexandria to try on dresses for the first time. I was both excited and nervous. I made an appointment to try on dresses at Fabulous Frocks. They were attentive on the phone and although my budget was their minimum of $1500, they assured me... Read More there was no problem coming in to try on dresses. When I arrived the store was empty, I asked to used the bathroom and when I came back both sales clerks were attending a walk-in. I started to feel a little weird since neither clerk seems in a rush to attend me, even though I was the only one with an appointment, and they continued to chat with the walk-in. When I was finally attended, the clerk asked me what my size was. I told her that the seamstress at a lovely place called Ellie's Bridal told me I was between a bridal 8-10. The Fabulous Frock clerk insisted I was a 12 and showed me a section of less than 5 dresses I could try on. I tried on one, she told me it was a size 14, and that I could now only try on size 14s. I asked her if I could try on a dress I liked in a size 10 and she told me flat out no. Although the clerk apologized for the lack of dress options. I felt like her attitude was anything but apologetic. It was clear she worked for commission and did not want to waste her time on someone with my budget. I understand bridal dress sizes are weird and often a lot larger than our street sizes, size should also not matter, but I felt like the clerk was passively aggressively pushing me into higher sizes to make me uncomfortable and push me out of the shop. I have never had such a horrible, bodyshaming experience ever. I left the store in tears and was afraid that I would not be able to find a dress. Thankfully, I did at BHDLN, a size 6 and in my budget. The clerk was really sweet and welcoming. I felt beautiful in every dress there. I do not recommend Fabulous Frocks to anyone.
---
Reviewed on

4/29/2017
Hailey S
After visiting the bridal salon inside of Macys (a bit old school) and BHLDN in Georgetown (a madhouse on a weekend), this place was like a breath of fresh air. The shop itself is lovely and welcoming. They had tons of dresses in my price range (1-2k) and after trying on several... Read More solid options I found a home run! All of the dresses were lovely and unique. A word of warning - since the dresses are all unique, there is usually only one size of any particular dress, so alterations are likely (and in the DC area are outrageously priced). So make sure to figure that into your budget!
---
Reviewed on

3/15/2017
Tracey B
Fabulous Frocks is an AMAZING location to find your unique wedding dress. I went there based upon a co-worker's suggestion. I sat with Margret and discussed my idea and showed her some pictures. I literally found MY dress in less than an hour and then with Margret's help found... Read More my jewelry and bedazzled belt. I cannot State enough how welcoming and easy locating MY dress was with Fabulous Frocks. Everyone loved my dress and most importantly my daughter approved of my dress and stated, "Mommy; that is so you." That was what I wanted and her little voice said it all. THANK YOU!
---
GO SEE LINDA NOW
Reviewed on

8/22/2013
Jennifer L
This is THE BEST way to buy your wedding dress. Hands down! Linda styled me & my bridesmaids. Everything I wore, sash, hair pieces, earrings... all from Linda! Amazing, no pressure, bubbly flowing atmosphere!
---
Very nice shop
Reviewed on

6/13/2013
Susan L
Although I didn't ultimately find my dress here, the owner is very nice and knowledgeable. I would recommend to anyone looking for a designer dress at more affordable prices (but be aware prices start at $1,000 and most dresses are over $2,000)
---