Home

Faking It Salon the hair extension & makeup specialists
About this Vendor
Smart girls fake it
We are an upscale salon located in West Roxbury, Ma. We specialize in all types of eyelash & hair extensions, including clip-in's, individual bonds, tape and more. We also are available for on~sight hair & airbrush makeup for your wedding day or engagement shoot. Leave the beauty to us!
Details
Eyelash Extensions, Hair Stylists, Makeup Artists
Contact Info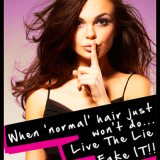 5196 Washington St., West Roxbury, MA
Absolutely Amazing!!!
Reviewed on

5/05/2014
Krystal G
Regina is absolutely AMAZING, she is the most talented hair and make up artist around! She helped make my wedding day better than I could of ever imagined! Regina and her assistant came to my apartment bright and early on the big day to not only do my hair and make up but my wedding party as well. They were both easy to talk to and knew just what to do to create the look we each wanted. We had a blast getting ready, Regina and Sara were so much fun to work with. I absolutely LOVED my hair and make up on my wedding day, it was perfect! My hair was everything I wanted and more, it stayed perfect though the outdoor ceremony, the entire evening on the dance floor, and still looked fab the next day after traveling and boarding a cruise ship for my honeymoon!! My make up was airbrushed and absolutely flawless!! Regina knew exactly what to do to achieve the look I wanted. I felt like a pretty pretty princess!! Everyone was very happy with their wedding look. I was obsessed with all my girls hair and make up everyone looked gorgeous! I couldn't of been happier! Regina is amazing at what she does, I highly recommend Regina and Faking it Salon!!
---
Best wedding hair stylist and makeup artist, better than I could have wished for
Reviewed on

4/27/2014
J. D
First off, when I called to inquire about onsite wedding hair and makeup, Regina answered with an comforting, pleasant tone of voice and answered my questions and explained their services without hesitation. I called about a dozen places and some people were curt, left you on hold for over 5 minutes, seemed annoyed, took a couple days to respond, or didn't respond at all. Going with Faking It Salon was an easy decision to make and Regina is even more pleasant in person. I had very little sleep, arrived late, had other people's kids getting in their space while they worked and they were so easy going and friendly still. My sisters, Mom, Mother-In-Law, nieces and friends all raved about how awesome they were. Everyone looked great. Regina put my hair up in Beehive as I requested, gave me false lashes, and airbrushed our makeup. My hair stayed perfect all night (90 percent of which was spent on the dance floor) and many complements were received on our hair and makeup. They were great conversationalists and were okay with me not having energy to say much. They made the beginning part of the day so much better than I could have imagined; I highly recommend their services to anyone.
---
Faking It Salon
Reviewed on

4/27/2014
Gia C
Regina is simply amazing at what she does!! I go to her regularly for color and extensions and she always brings her A game. I had no doubt in my mind that she would make me look perfect on my wedding day and she did! Not only did she do my hair & makeup but she did my entire bridal party, along with my mother & mother-in-law. & she ROCKED it. She brought a second person with her & together they listened to what each of us wanted & did such an AMAZING job! We all looked fabulous!! All of our hair was perfect. The airbrush makeup felt like we had nothing on but looked FLAWLESS!! Our lashes looked amazing & our makeup lasted until the next day. As always, I couldn't have been happier with Regina's work. She really is amazing at what she does & she is such a pleasure to be around!
---
Regina is Amazing!
Reviewed on

6/09/2015
Katie K
I hired Regina to do my hair and makeup as well as my bridesmaids (5) makeup for my wedding and she is the BEST! My biggest concern was my super fine hair staying in place for 12+hours. The day of my hair trial it was pouring rain which was a great test - my hair stayed curled and voluminous all day. The day of the wedding was pretty humid and I expressed the same concern but Regina worked her magic and my hair was still perfect the next morning. She truly is an artist with makeup as well. The airbrush makeup is great because it does not feel heavy but stayed on flawlessly throughout the whole night. Regina was an absolute pleasure to work with.
---
Amazing!
Reviewed on

11/19/2014
Ali S
Regina and Faking It Salon are my two of my new favorite things! Regina is talented, funny and just a great person to be around. She is very professional but also someone you would want to hang out with. She did my extensions the week of my wedding and they are absolutely beautiful! I'm also excited that I can keep them in for up to a year! Definitely worth the investment. The salon is adorable and Regina makes you feel welcome and comfortable. She then came to my parents house the day of the wedding to style my hair and do my make up. Needless to say, my family and friends loved her as well, and I got a billion compliments on my flawless hair and makeup! The whole experience was effortless and amazing. If you are looking for your wedding, or just a new hair salon, don't hesitate to call! You won't regret it! Faking It Salon is the whole package! Smart girls Fake It!
---
Awesome Experience & Amazing Hair
Reviewed on

8/07/2014
Liz V
Regina did my hair and my wife's hair (we are a lesbian couple) for our wedding and our hair was so great! She really embraced our theme and our requests. Working with Regina was wonderful. She was kind, professional, and fun. She had a calm presence which helped put our wedding day jitters at ease. It felt like having our hair done by an old friend--- who is a really awesome hair stylist!
---
Best hair and makeup for stunning and effortless beauty and pictures
Reviewed on

8/06/2014
Bonnie P
My family hired Fakin It! Salon to do my bridesmaids and my hair and makeup for my wedding. Regina and her assistant traveled to our location and not only was the time we spent getting our hair and makeup done one of the most fun parts of the day, every one of us looked stunning and took amazing pictures. Regina knows exactly what hairstyles and colors will enhance each individual's beauty. I couldn't have come up with anything more perfect in my wildest dreams. The pictures came out stunning and I am forever grateful to Fakin it salon for making me and my bridesmaids feel and look so gorgeous for a truly special day.
---
Fast, Easy, and Great Hair Extensions!
Reviewed on

6/17/2014
Kendra D
I have a friend who is already doing my hair and makeup for my wedding so all I needed was hair extensions. I had a free consultation with Regina who just happened to have the exact color, length, and type of hair extensions I needed. She went ahead and showed me how to use the hair extensions and about how to take care of them. It was so nice to come in for a free consultation and be able to leave with exactly what I needed! As a bride with less than 2.5 weeks left till the wedding, I really appreciated being able to cross that off my to-do list! If my friend wasn't already doing my hair and makeup I would definitely look into having Regina do it. She was extremely helpful, nice, and listened to everything I wanted. I am a very satisfied customer!
---
ABSOLUTELY GORGEOUS
Reviewed on

6/11/2014
April J
I had Regina and Susana from Faking it Salon for my wedding hair are makeup, as well as all 6 of my bridesmaids and moms. I can not say enough about how incredibly talented they both were and I would highly recommend them to anyone who is looking for the best of the best. Their prices were fair, they worked very efficiently, and they were the sweetest people on the planet!! I will be contacting them again for all of my future hair and makeup needs!! :)
---
amazing!
Reviewed on

6/11/2014
kym p
The moment I spoke with Regina over the phone I knew I would be amazed. She's funny, down to earth, and an expert. I had already tried another salon before hers, and trusted my instincts and decided we weren't a great match. I told Regina at my trial the theme of the wedding, what looks the girls and I were going for, and nailed it. She took myself and my bridal party with short notice at our hotel, and thanks to her and her assistant, we looked like models! I strongly recommend Regina and her "wolf pack" to any bride that wants to look nothing short of amazing.
---
Regina is awesome!
Reviewed on

5/18/2014
Margaret H
Regina is the owner of Faking It and she is just great! She did my hair and make up for my wedding - it was perfect, exactly what I wanted! She nailed my hair, I showed her a picture and she did it just right! Regina even traveled up to Maine for my wedding to do my hair and makeup and my wedding party. I also got lash extensions from her twice and they lasted for over a month!
---
12/14/13 Wedding
Reviewed on

1/13/2014
Amanda H
I was privileged to have Regina from FakingIt! Salon do my make-up and my bridal parties makeup for my Wedding. Regina was set up and ready when she said she would be. We had a make-up trial and discussed additional changes we'd do prior to the wedding. The day of she did my make-up exactly how we discussed and even was flexible to some last minute changes. She also did my bridal party's makeup; airbrush and fake eyelashes. My girls were so pleased! I had one bridesmaid who doesn't really wear makeup and was very concerned but Regina worked with her and only did what my bridesmaid was comfortable with. When Regina had completed her job all of us in the Bridal party looked beautiful but even more important we felt comfortable with our makeup. I highly recommend Regina from FakingIt! Salon! I couldn't be happier with her!
---
Regina Rocks @ Faking It Salon!!
Reviewed on

10/24/2013
Crystal R
Regina did my hair and makeup for my wedding and a trial before. I can honestly say is the best my hair out makeup have been done. I'm fair skinned and I have very long dark hair. My makeup came out looking elegant and not overdone but with the dramatic eyelashes I had requested. My hair held a steady natural wave all night through lots of dancing. Regina has a wonderful and fun personality and is extremely easy to work with. She helped my sister through a few tears as well. I cannot wait to find another excuse for her to do my hair and makeup!
---
Wedding and Boudoir!
Reviewed on

10/07/2013
Pamela M
I have used Regina on two occasions, one for my best friends wedding where I served as maid of honor, and for my boudoir shoot. Both times I was blown away by her ability to make my hair into pieces of art, and flawlessly. She is also fun to be around, and truly loves what she does!
---
Extensions Extraordinaire!!!
Reviewed on

9/28/2013
Meaghan O
Regina did my extensions about a month before the wedding. She spent her time making sure they were perfect and were they!! I have a very different shade of brown with a lot of subtle color variations and she matched my hair color perfectly, also adding in a few highlights as I had requested. She also drove out to Westford the day of my wedding to do my hair and my bridesmaids'. She is a perfectionist which is exactly what you want on the day of your wedding!!! My mother had her hair done elsewhere closer to where she lives and was all distraught about it when she arrived at the hotel. Regina saved the day and made her look stunning as well. Regina is a staple in my life now and I drive the extra distance to have her do my hair. I don't trust anyone else anymore!
---
Seanna
Reviewed on

9/25/2013
Regina was absolutely awesome at my wedding. I was a very indecisive bride. I wanted my hair up and my hair down and my hair short and my hair long. Regina made it all happen! My hair was up at the church and when we got to the reception she she had my updo out and my extensions clipped in and curled before dinner was even done getting put out! She also airbrushed 6 girls makeup before the wedding, which came out gorgeous. I couldn't picture my special day without her! And she traveled all the way to Maine!
---
Best of the Best!
Reviewed on

9/23/2013
Nichole Z
Regina, the owner of Faking It Salon did my makeup for my wedding in July. I am extremely picky and had 2 makeup trials (both of which I hated) before going to her! Regina did an amazing job! She listened to what I wanted and gave me we suggestions and totally nailed it! Cried when I looked in the mirror on my wedding day and people are still complimenting me on my makeup that day! You are in great hands with Regina!!
---
Definite Must For your Wedding!
Reviewed on

9/12/2013
Regina is AMAZING at what she does! I was a bridesmaid in a wedding recently and oh my god she made us all look incredible! Everything from hair extentions to eyelashes, to airbrushed makeup! the looks lasted all day we looked flawless in every picture. She is extremely talented and professional, I would encourage EVERYONE to use her on their wedding day!
---
Such a gem!
Reviewed on

9/11/2013
Erin D
I went to this salon for my extensions as well as my updos for both myself and bridesmaids. The prices were amazing and the quality of products they offer is great! Ms Kathi Duggan did my extensions in record timing and I've had nothing but compliments with them. None of them have fallen out or gotten loose yet and they have been through the ringer while on my honeymoon (saltwater etc.). All in all this salon was adorable inside and super easy to get too. I would definitely go back and use them for all other big events in the future :)
---
I can't say enough AMAZING things about this salon!
Reviewed on

9/10/2013
Bianca S
Kathi is my girl. She completely rocked my hair. The extensions are beyond perfect -- they look totally natural -- and my (blonde) color is the perfect shade, unbelievably shiny, and so healthy looking (and feeling!). In a nutshell, I have super shiny, silky, long, Victoria Secret's model hair. And seriously what more could a gal ask for for her wedding day?
---
Jenn and Jess
Reviewed on

9/09/2013
Jennifer W
Regina is absolutely incredible. She made our wedding day complete. We had a major issue with the woman we hired for hair and makeup so Regina took over and nailed all of the looks we wanted. She actually did a better job than our actual hair/makeup artist we hired. I would recommend her to anyone. We truly appreciated all her hard work. Regina was under major pressure to get our entire bridal party done with hair and make up and she did it!!! She absolutely is the best makeup artist/ hair stylist I have ever met. She listens and produces what you want. Without a doubt, we would drive 5 hours to her salon to get our hair/ make up done if we had to for another event. SHE IS THE BEST. We are picky with everything and she NAILED our looks. Awesome personality, sweetheart to work with, an absolute pleasure. We couldn't have asked for anyone better!
---
Awesome hair and makeup for my bridal party!
Reviewed on

9/05/2013
Barbara B
I recommend Regina without any hesitation! She did an absolutely amazing job on my wedding day! She nailed the "romantic", "braided", and "flowy" style I was looking for for my bridal party despite each girl's different hair type or length. (All the girls' hair not only looked great on pictures from all angles--including the back or side on the pictures at the ceremony, but the style held up for the whole evening of 5+ hours and plenty of dancing!) She also did an absolutely incredible job with my mom's hair--simple, and yet truly elegant--which complemented her dress, style, and personality. In addition to her skills and professionalism, Regina has an awesome and upbeat personality! As a bride, it definitely helped me calm my nerves, relax, and just enjoy myself with my bridal party! Do yourself a favor and get Regina to help you and your bridal party on your very special day!
---
AMAZING stylist!
Reviewed on

9/03/2013
Liz O
I met Regina of Faking It! Salon a few years ago after moving here from out-of-state and was therefore hairdresser-less. After one cut and color, I have been seeing her ever since! When I got engaged, I of course asked her to do the hair and make-up for me, my maids, and the moms. I can't even describe what a great job she did! My before and after pics alone are a true testament to her talent and ability. On top of it all, she came and put my hair up for me later in the evening once the dancing began so I could have my luscious curls for the ceremony and pictures, and a gorgeous up-do for the partying- best of both worlds! I highly recommend Regina for your big day, you won't be disappointed!
---
Perfect Hair for the Perfect Day.
Reviewed on

9/03/2013
Crystal B
I absolutely recommend using Faking It Salon for all your hair needs on your big day. Regina of Faking It Salon did my hair and my bridesmaid hair for my wedding day, and I wouldn't have gone anywhere else. Something that never dawned on me is how important your hair is on your wedding day, when I look back through my photos today, I don't really remember some of the details, but I always notice my hair, and how perfect it looked. Regina took the time to understand what I wanted, and ran some trials before we finalized the perfect look, and she made the look perfect. What can I say, she knows her stuff. I wouldn't send anyone anywhere else, so book with Faking It Salon!
---
Best Wedding Decision Made!!
Reviewed on

8/31/2013
Caroline G
Regina is absolutely amazing!! Not only is she a pro at what she does but her personality completes the package. She is upbeat, positive, and creates a fun atmosphere. I just recently got married in July and Regina showed up bright and early at 7:30 with a smile on her face. She was ready and willing to do whatever I needed her to do from blow outs to makeup-for a group of 12! She rocked it out and had us ready on time-she did not do it alone and the other girls she worked with were just as good, she will be able to do whatever you need, no group is too large for her to handle!! Having Regina do the hair, makeup, or whatever it is you need for your wedding will be the BEST choice you make. Her confidence shows and it is due to her superior skill. You will feel the most beautiful you will ever feel in your whole life-I didn't think I could look so good!! I promise you, if you choose Faking It Salon, you will not be sorry.
---
Send Message