Home

Fascinare Floral Decor, Event Design & Wedding Planning
About this Vendor
You dream it and we make it come true!
Fascinare is proud to offer: Flowers | Lighting | Draping | Linen | Wedding Planning | Day of Coordination | We take care your entire wedding decor and planning seamlessly and hassle free. Fascinare is chosen by CBS "The Best Wedding Florists" and awards winning full-service wedding firm.
Details
Flower Preservation, Silk Flowers, Wedding Day Flowers
Contact Info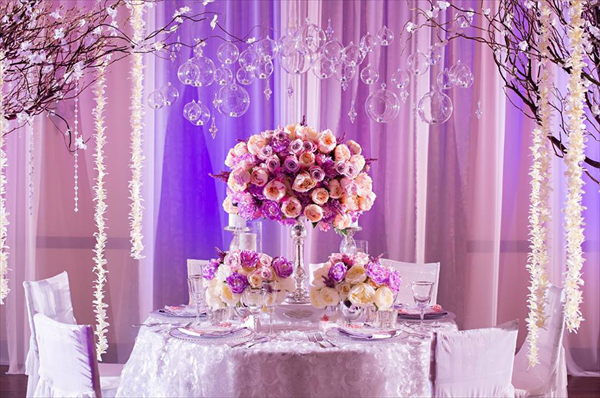 Unforgettable wedding :)
11/01/2014
Earlier this summer my husband and I got married. Our friend referred us to Fascinare and said that we wouldn't regret having Joy as our florist for our wedding. Although I came in with an idea of what I wanted for my wedding, Joy was extremely helpful with any questions I had. She made everything so clear and she was very understanding. Joy made all the pieces to my puzzled idea for my wedding fit together. I'm so glad everything came out so smooth. My wedding was truly unforgettable.
---
Best florist
12/28/2013
My husband and I were having trouble finding a florist for our wedding, and we came across Fascinare. We decided to give Joy a call and she was very helpful with helping us figure out what design, color, and style would fit best for our wedding. On the day of our wedding, the entire decor came out perfect and everyone was amazed by the decorations. Our experience with Joy was very nice and I would recommend her to anyone who decides to do any events that need a florist.
---
A+
7/26/2014
My wedding was honestly just as I pictured it. This was all thanks to Fascinare. I couldn't have asked for anything else. Having everything on point just as I wanted it made me want to recommend this florist to everyone else. Joy, the designer and florist of Fascinare, is so efficient in the work she does. Grade "A++++" material.
---
Beyond my wildest dreams
9/20/2014
Jennifer L
Words cannot express how absolutely STUNNING the work Joy and her professional crew did for our spectacular (as our guests have called it) wedding at the Cicada Club. From the bouquets, the flower girls, and of course the table arrangements, I wouldn't have changed a thing. In fact, I started crying during dinner because our head table was just so-so beautiful. She thought of things that our planner should have and didn't. We also used her lighting suggestions including a gobo (just learned that one) and a spotlight. I kept asking my groom to smell my bouquet because I couldn't believe how fragrant the flowers were in the bouquet! I wasn't a bride that had a vision of what I wanted and Joy was incredibly patient with myself and my husband, as she really needed to guide us. The final product was a dream, I didn't know I had, come true! We considered firing our planner after we met Joy and having her be our day of planner and we sincerely regret not doing that. She's so meticulous and thorough that I'm sure she wouldn't have forgotten to have the photo list we wanted of family photos after the ceremony! We look forward to being able to hire Fascinare again in the future!!! Joy, you're awesome!! All the best to you and Chris!! XO
---
My fantasy wedding really happened :)
8/09/2014
Fascinare! Fascinare! Fascinare! All I have to say is wow! Joy is just simply fabulous. She's so understanding and such a kind person that I would highly recommend her to anyone. She literally went out of her way to make my dream wedding come true. The time she spent with figuring out what I wanted was highly appreciated. My experience here will never be forgotten, because it honestly made my wedding the best day of my life. My fantasy wedding really happened. Thank you so much Joy!!!!
---
flawless wedding :)
5/03/2015
Last spring my husband and I got married and we hired Fascinare for our floral décor. Joy was super helpful with suggesting ideas to us because we had no clue what we wanted. After the first meeting with her we had a tough time deciding what we wanted for our wedding. Joy was very patient and willing to help us make our vision come true. After a few more meeting with her, our wedding day finally came and we were in amazed with how everything turned out to be. It was like a dream come true and more than we expected, everything came out flawlessly and we loved all the décor that Joy and her team designed.
---
best florist
11/17/2013
I was a bridesmaid for my close friends wedding and all the girls were there throughout the whole process helping the bride decide what was best for her wedding day. We were referred by another friend to Joy and she was very helpful with suggesting ideas to us. The bride was very picky with what she wanted for her wedding day and we were there to help and support her discussions. Joy was very creative with helping us put together what the bride wanted and it came out as the bride expected. Working with Joy was really wonderful because she help make the brides dream come true and everything turned out as expected.
---
beautiful decor
5/31/2014
I was attending my friend's wedding and I was amazed by the floral decorations, it was so beautiful. I loved the designs of the bouquets and the gazebo arrangements. The bouquets looked so elegant and beautiful for each one of the bride and bridesmaids, and the gazebo arrangements looked so nice and flowed with the gazebo as if it belonged there. The centerpieces for the banquet looked amazing also, the arrangement were on these candelabras and there were crystal strands hanging down from them too. I absolutely loved the floral design that my friend decided for her wedding, and I would recommend Fascinare to anyone who decides to any events and need a florist. :)
---
thank you for the best wedding
10/18/2013
My husband and I hired Joy and her team for our wedding and I was very specific with what I wanted for our wedding. I showed her A LOT of pictures of how I envisioned my wedding to be like. After going back and forth with her on what I wanted for my special day, I was amazed of the outcome. It was everything I expected and more, and even my guest was amazed with the floral decor. Thank you Joy for making my wedding turn out so beautiful.
---
Best florist in San Gabriel
8/31/2014
After doing some web searching on the best florists around San Gabriel, I ran across Fascinare. I read a bunch of good reviews about this place, and my wedding date was already set. Although I was not too sure about what I wanted for my wedding, Joy, the designer gave me examples of past weddings she has done. She was really easy to understand and communicate with. After getting some ideas for my wedding, Joy helped me out with something that would suit mine. I really appreciate the patience she had and I loved how everything came out on my wedding day. I made a great decision by choosing Fascinare. Joy is the best!
---
amazing and beautiful
9/12/2014
Fascinare did such a great job in my wedding that I recommended it to my best man and now he's getting his floral design and coordination done by Joy. Her work is amazing. She had me feeling anxious the day of the wedding to see how it came out, but once I saw it on my wedding day, I was speechless. The way she set up the flowers looked beautiful. A million thanks to Joy.
---
Magical and talented
6/28/2014
Looking for a florist for my wedding was a pain, after meeting with a few florists I finally decided to go with Fascinare because Joy was really nice and knew what I was looking for. Joy took the entire headache away from me because she understood what it was that I was expecting. I really liked having Joy as my florist; she was very understanding and had the eye for design. Joy and her team are very talented, I was very happy with how everything turned out on the day of my wedding. Everything that I imagined it to be turned out perfectly and even my guests loved the floral design. The floral designs really made the room come to life and it felt really magical. I would use Fascinare again if I ever need any events and refer Joy to my friends.
---
Great experience
3/28/2014
My daughter recently just got married earlier this year and a family friend referred us to Fascinare. We looked up reviews and were very impressed with other people's reviews and comments that they had, so we called to set up a consultation with Joy. My daughter did not really know what she wanted for her wedding, and Joy was really helpful with suggesting different ideas and showing us different designs. Working with Joy was a great experience and she really helped us make the wedding come true. My daughter was really happy with the outcome of the floral design. Overall working with Joy was a good experience, if you are looking for a florist for a wedding I would definitely recommend her.
---
Above and Beyond
7/12/2014
Thanks to Joy and her amazing point of view, I had the best wedding experience anyone could ever ask for. The way she coordinated everything for my wedding was very professional. She went above and beyond for my wedding. She pays so much attention to the little details that I wouldn't even know where to start. Nothing like a great organized Florist. I loved her work.
---
Very good.
5/10/2014
My wife and I got married late spring this year and we were referred to Fascinare by our friend. We set up a meeting with Joy; she was very helpful with helping us get our ideas together because my wife was very specific with what she was expecting. The day of the wedding everything turned out really nice and the decor really brought life to the room. We were very happy with how everything turned out, and it was really nice having Joy assisting us with our wedding.
---
Prefect wedding
4/25/2015
My friend had hired Fascinare before for their wedding and I loved the work that they did, so I decided to book them for my wedding. During the consultation with Joy, I also found out that she has coordination services so I also hired her for that. It was really easy working with Joy and she was very helpful with assisting us on what we wanted on our wedding day, and also working with us throughout the whole process. On the day of our wedding everything went smoothly and came out prefect. We were really impressed by how everything came out to be, it was more than we expected. Thank you Joy for making out wedding turn out prefect.
---
Beautiful Decor
3/08/2014
I attended a friend's wedding and I was absolutely breath taken away by their floral décor. The arrangements were so beautiful and it just made the room come to life. The centerpieces were so beautiful and elegant and just looked perfect with the setting of the venue. I would hire them for my wedding when I get married.
---
Fascinare is the Best!
1/17/2014
We were browsing though yelp and we came across Fascinare and feel in love with their floral designs, so we decided to set up a consultation. Joy was really helpful with helping us by suggesting designs and going over with us what it is we wanted for our special day. She was also consistent with replying back to us when there were changes. On the day of our wedding everything was perfect and we loved how everything turned out. I would suggest her to anyone who is looking for a florist for their wedding.
---
Super Professional
9/22/2013
Rita T
Joy was great to work with. She was always so professional and friendly no matter how much of a "bridezilla" I was ;) Even for a super picky bride such as myself I was super pleased by all the work Fascinare did. It was perfect! Thanks Joy (and thanks for putting up with me!)
---
Thank You!
5/19/2013
Alice W
Long overdue review, but Joy THANKS SO MUCH for our beautiful wedding! We would go with you again in a heartbeat. Our flowers were amazingly fresh and gorgeous! The decor was stunning! I recommended you more than a few times =)
---
Loved My Wedding
5/25/2013
Sally L
I was referred to Fascinare by one of my girlfriends who was married last year. In fact I was at that wedding, and still remember it as one of the most beautiful I've seen. Naturally I decided to use Fascinare for my own wedding, and I couldn't have been happier. Joy worked with me to create a stunning elegance-themed wedding, and at a totally reasonable price. Everything was beautiful, thanks Fascinare!
---
I made the right choice!
6/15/2013
Joyce Y
I signed up for flowers and wedding planning from Joy. After seeing some of her renderings and her other weddings I also signed up for lighting and decor. So GLAD I made that choice. The wedding was stunning! The pictures came out amazing and I will always remember stepping into our banquet hall for the first time. It was like a fairy tail! Thanks Joy and the team at Fascinare for your excellent work!
---
Everything I hoped for!
8/24/2013
Irena T
Wow is all I can say! Joy did a fantastic job on our flowers, lighting, and banquet decor. The guests were really wowed, and I kept getting compliments. I was so glad I went with Fascinare! And Joy, thanks for everything!
---
Impressed
8/17/2013
Heidi L
I'm a groom and I never thought I'd be writing a review about my wedding planner, but Joy deserves my highest praises. She's so nice, funny, creative yet organized, and could not have been more of a delight to work with. She is the wedding planner you're looking for, trust me.
---
Floral + Lighting
9/07/2013
Jamie K
Fascinare team did a great job with the chosen venue for our wedding. The lighting was just how I wanted. Very elegant and beautiful. Everyone loved it so much. We got many compliments on everything. The team was so wonderful. They really knew how to organize everything and everything ran really smoothly.
---
Send Email