Home

Feedback Entertainment DJs & Event Co
Details
Classical, Country, Disco, Hip-Hop, Jazz, Pop, R&B, Rock, Latin
Contact Info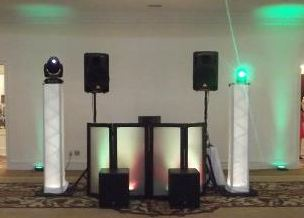 Amazing DJ
Reviewed on

10/31/2014
Lindsey G
I was referred to them through my venue. I had a sit down and they listened and knew exactly what i wanted. My DJ that i met with actually no longer worked there and the new DJ called me 3 days before the wedding and i felt so confident in him. He was fun and seemed to know... Read More exactly what i wanted. When he arrived to set up he even came up to personally meet me face to face. They were amazing!!
---
Jonathan was a blast
Reviewed on

5/12/2014
Megan M
Feedback was great! We did have a bit of a hiccup during my ceremony when two of the songs I picked had disappeared from Jonathan's computer. However, he was a quick thinker and quickly substituted in two other appropriate songs instead. The only person who knew the difference... Read More was me - my wedding party and husband didn't even notice it. Jonathan also apologized immediately following the ceremony. He also more than made up for it at the reception! We had a blast! He played all 80s music and if someone requested a song he didn't think my husband or I would like he sent them to us for approval first. It worked perfectly and ensured there was no chicken dance! I'd definitely use Feedback and Jonathan again.
---
Feedback Entertainment is wonderful!!!!
Reviewed on

5/12/2014
Megan H
We just wanted to say THANK YOU!!!! Marvin was a wonderful DJ and went above and beyond to help make out wedding amazing!!! He was personable, professional, funny and entertaining. He helped make our wedding special and got everyone out on the dance floor! The up-lighting on the... Read More inside was great and the volume on the dance floor was perfect. He was timely in returning phone calls and emails. He worked with us on our first "surprise dance"!!! He definitely helped make our wedding memorable from the ceremony music outside to introductions to getting the party started!!! I would recommend Marvin and Feedback Entertainment!!!!
---
my beautiful wedding
Reviewed on

4/23/2014
lesley c
We used them for our ceremony and reception. He was very nice and professional but just off alitte. Our first dance we had a slide show and ended sooner than it should have. He just wasn't on point with everything but overall the service was good.
---
Packed dance floor
Reviewed on

4/05/2014
Lyndsi S
When when originally booked the DJ we booked with Kevin, the day before the wedding we were told that Kevin wasn't available but Jonathan would be the DJ for the wedding. I was a little frustrated with the last minute change and lack of information relayed back to me, but it all... Read More worked out perfectly. Jonathan had the dance floor packed the whole night! There were songs on my list that weren't played, but he kept people dancing so I was okay with that. Over all, my husband and I were very happy with the music and entertainment he provided at the wedding.
---
Lackluster communication
Reviewed on

3/27/2014
Mallory K
I don't even know where to start with how dissatisfied I am with Jonathan and this company. My fiance and I had already verbally agreed to sign with this company, all we wanted to do was meet our DJ in person and we were set. First, Jonathan told us that George would be... Read More our DJ. After weeks of me sending Jonathan my work schedule so he could coordinate a meeting, suddenly George had family issues that prevented him from being our DJ, which is fine. Jonathan then told us Justin would be our DJ, and that he would send me times of availability so we could meet and I thanked him. This was on February 27th. On March 12, I got an email from Jonathan asking if we were still interested in their services... WHAT? When I questioned Jonathan about the possibility of contacting Justin directly (which he told me he would send me weeks earlier), eliminating a "middle man" coordinator and thus speeding up the 1 week response time, he responded with "So about the delay Kevin go's to school and and works a regular job. and he's be having some test at school, so he's been extremely busy." I don't know who Kevin is. Or George. Or Justin. I do know that we were never a priority and our business was not appreciated by Jonathan. I sent my first email to Jonathan on 12/23/13 and I can longer endure the unnecessary added stress and chaos.
---
Helpful
Reviewed on

11/20/2013
Lea H
I had so many questions and concerns about music for my wedding. Jonathan was so helpful and put my worries at ease. He also taught everyone how to wobble.
---
Average
Reviewed on

6/29/2013
Jennifer M
Didn't play the song list that I took the time to put together
---
Great!
Reviewed on

6/11/2013
Marissa L
We did not have Jonathan as our DJ, but dealt with him on the business side of things. He was very responsive and I am very pleased with Feedback. Marvin was our DJ and he was great! My good friend is getting married and she plans on booking them as well!
---
If you want nonstop entertainment with a true Master of Ceremony - call Feedback Entertainment!
Reviewed on

5/27/2013
Erica H
Jonathan Mac Cray at Feedback Entertainment made our wedding a non-stop party! We are so pleased with his service, expertise, and customer service. We purchased the ceremony package and Traditional reception package with the towers, full room up lighting, Red Carpet photo booth,... Read More and lighted DJ façade. Feedback offers bridal tools to help you plan your timeline and identify song dedications, do not play, and must play lists. We met Jonathan the weekend before our wedding and explained a few logistical problems we were facing with the timeline for pictures with the photographer, the traditional wedding customs, and the sit down dinner. It was important to us to include the cutting of the champagne, but we couldn't figure out the timing. Jonathan came up with a wonderful suggestion to do the champagne cut at the end of the ceremony before the recessional. Everything went perfect! I received so many compliments on the music, energy, and charisma of Jonathan. Plus the Red Carpet photo booth was a huge hit! This take on a photo area doesn't technically include a booth so guests can watch people take crazy photos. Imagine movie stars at a premier standing in front of a curtain. Very chic and fits well with any décor. To express the comments of many guests, "This was the most fun I've had at a wedding in a long time" and "This was the best entertainment I've ever seen". These comments are a direct reflection on Jonathan being a premier Master of Ceremony. Thank you to Jonathan and Feedback Entertainment for making our wedding and reception such a wonderful and memorable event! If we ever need event entertainment services in future – you certainly have us as a repeat customer! You guys rock!!!!
---
Amazing DJ
Reviewed on

3/02/2013
Tonya M
We hired Feedback Entertainment within a week of our wedding since things did not work out with one that we had already made arrangements with. Jonathan was great and very professional! We received immediate access to our personalized website that allowed us to select a playlist... Read More and a do not play list. Jonathan provided us with ceremony and reception music and did an amazing job. He was right on time with every ceremony selection and did a great job filing in missing spots on our playlist. He interacted with the guests and kept everyone dancing throughout the entire reception, even my mom! I recommend Feedback Entertainment to any couple that is looking for a DJ that will deliver amazing service.
---
Absolutely Fantastic
Reviewed on

2/06/2013
Kara M
One of the things we wanted to ensure at our wedding was that everyone had a good time - and part of making sure that happened was to select a great DJ. Jonathan and Feedback Entertainment fit that bill perfectly. From our first meeting with Jonathan we knew we wanted to go with... Read More him for our wedding. Not only could you tell he was professional, but you got the sense he cared about your event and wants to ensure a good time is had by all. Furthermore, he offers an online event planning tool to help organize your music choices and timeline and we found that to be very helpful as well. Jonathan also went above and beyond when we randomly asked him (about a week before the wedding) if he knew anyone in the area who would be able to record our ceremony and bits of the reception when we found out one of our grandmothers wasn't going to be able to make the wedding. He offered us a few individuals in the area, but also let us know he'd be more than happy to assist us. The day of the wedding proved even more so that Jonathan was a fantastic choice. We used his services for our ceremony, which went flawlessly, and the reception music was outstanding. A number of individuals even commented the music was great - but the real proof was shown by the fact that most all of our guests spent the evening on the dance floor. I highly and happily recommend Feedback Entertainment for your wedding - you won't be disappointed!
---
Perfect!
Reviewed on

10/09/2012
Erin A
When my original DJ did not work out, I did a lot of wedding site research for another. I came across Feedback Entertainment and was impressed by his reviews. Jonathan contacted me very soon after I inquired about his services. He was very laid back and had a great... Read More personality. He definitely seemed to understand what I was looking for and the type of event I was hoping for. Using his online tools, I was able to create a playlist and request all the special touches I wanted. He did my ceremony, cocktail hour and reception. HE WAS FANTASTIC! Upon his arrival, he was genuine and knowledgeable. Everything was perfect. He kept the party going and had a great read on the audience. Jonathan had a great outgoing personality without being cheesy. I couldn't have asked for more! I am still getting compliments about him to this day. I would absolutely recommend him to any couple!
---
Not the ideal experience, so many problems!
Reviewed on

8/09/2012
Julie S
I don't have enough room to explain WHY I am SO disappointed with Anthony as my DJ (brides: go to weddingwire and look up this company and search via lowest ratings and you can see my entire review that way). Anthony was rude, demanded more money THE DAY OF MY WEDDING WHEN HE... Read More ARRIVED for something we had already agreed upon, didn't get in touch with me about our song list until the day before during our rehearsal even though I had called him multiple times prior and emailed as well and talked with the manager about it. I got passed off from having Jonathan to Anthony without being told or explained why, Anthony played the weirdest songs (Jason Mraz I wont give up for the bridal party entrance???), pronounced our bridal party and my new last name WRONG, and was extremely unprofessional when we were trying to confirm details with NO apologies. Beware, he has another job which clearly is his first priority! Finally by the end of the night he came around, but our entire timeline and requested songs were all messed up. Not worth the 700$$ I paid for!
---
Wonderful and energetic
Reviewed on

6/18/2012
Allison J
We LOVED Jonathan as our DJ. Although he blew a fuse at the wedding, which he couldn't help, we still had an amazing time and there were a lot of people out dancing. It was so much fun, and I would definitely use him again for any kind of event.
---
Outstanding!!!
Reviewed on

6/07/2012
Shannon G
Jonathan was wonderful! He did a fantastic job. Everything from the playlist to guiding my husband and I through cake,bouquet toss, etc. went wonderfully.
---
Excellent!
Reviewed on

5/13/2012
Tizza L
Jonathan was the best DJ I could have asked for. He had a wonderful interactive website for clients that helped me put my ideas and song selection down for him. He was incredibly professional and personable and had everyone on their feet. My guests all loved him. He made my... Read More wedding more special than I ever imagined.
---
DJ
Reviewed on

3/06/2012
Amanda O
My groom and I wanted very unique and specific music played at our wedding. We fell in love to certain songs and wanted them for special moments. I spent countless emails discussing when and where I wanted songs played. The ceremony music was incorrect. Our first dance song was... Read More so quiet no one could hear it, and the other dances were rushed. The DJs didn't play our songs from the list we provided and had to download them when we requested them. This should have been done prior to arriving at the ceremony. I was disappointed by the service they provided.
---
great value
Reviewed on

11/29/2011
Kelley T
i hired our DJ without shopping around very much. i was a little worried but he was fantastic. we filled out some songs we wanted online which was very easy. he found our first dance song even though it wasn't on his list. during the reception, his music selections kept... Read More people on the dance floor all night! He was very inexpensive compared to some other DJs in the area and he did a wonderful job! Some of the guests thought the music was a little loud. :)
---
Best Decision
Reviewed on

10/06/2011
Holly W
Jonathan Macray & Feedback Entertainment were AMAZING! They were one of the BEST decisions about my wedding. I had numerous people tell me it was the best wedding they had been to and the most dancing they had ever seen. Jonathan really knows how to get people up and moving.... Read More He definitely MADE our wedding :)
---
Good DJ for the Price
Reviewed on

5/21/2011
Jennifer M
Our DJ was pretty last minute do to our originally planned DJ who was a friend, being in the Navy and having to go out to sea. We didn't really have a DJ set in our budget however we felt Feedback Ent was within our budget and they were available for our date. We booked them... Read More just weeks before our wedding and they worked with us with short leadtime. Jonathan did a great job getting everything to come together and he did our ceremony music on the beach and our reception that was outside. He came dressed appropriately and arrived hours before to make sure setup and sound were good. The only negatives I have are that it was an outside reception and the wind did pick up a little bit out by the beach and it did blow some of his DJ table down which fell onto the dance floor. He fixed it and all was good. There was also a song played that had some curse words in and he tried to edit it so you didn't hear the curse words however they weren't all caught. Other than that, he did a great job.
---
Afternoon Dancing
Reviewed on

4/19/2011
Erin G
Jonathan did a great job! He got people up and dancing and laughing. He was attentive to what I wanted and had no problem switching things up when we needed to delay the father/daughter dance. I was very impressed. He was professional. His prices are the best that I found.
---
Use our messaging tool to connect with vendors anytime, anywhere. Stay organized, all in one place.