Home

Felicé Bridal Salon
About this Vendor
Cherry Creek North Boutique
Welcome to Felicé Bridal, a mother-daughter owned boutique featuring exclusive couture gowns, in a relaxed and intimate environment. Focused on customer service, our knowledgeable staff will customize a complete bridal look, unique to your vision. Felicé Bridal is known for our simple elegance.
Details
Mother of the Bride Dresses, Wedding Dresses, Dresses, Alterations, Bridal Stylists, Private Appointments Available, Fashion Services, Fashion





Contact Info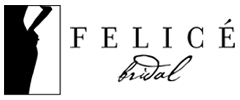 Reviewed on

10/17/2017
Courtney H
The team at Felice Bridal was very helpful and great service overall! I tried on styles I was interested in as well as ones that were not on my list, which helped me get a better idea of what styles looked best on me. Felice Bridal has a wide variety of styles and lots of... Read More beautiful designer dresses. Taylor was great to work with and she was patient with me in finding a dress I absolutely love!!
---
Reviewed on

10/17/2017
Samira R
I had been to a lot of stores in and around Denver and when I heard about Felice, everything changed! I hadn't had any luck anywhere but everyone here was so incredible. And even though they have so many fancy dresses they let us look around and touch them and see them without... Read More us feeling judged. Robin was so nice, she showed us kindness and graciousness, I felt like I was shopping with a sister and a friend. My mom even loved getting to chat with the staff and make friends! My dress was a dream come true and so were my accessories that Robin and her stylists and contacts helped me design! If I had it all to do again, I'd only go to Felice, they were so kind and made the whole experience so incredible. PLUS, they have dresses that NO ONE ELSE in Colorado carries, the designers are to die for! Felice and Robin are really the best, and they remind us what weddings are about, love, because you can feel the love in the store <3
---
Reviewed on

8/14/2017
Carrie A
Shopping here was one of the best experiences i've had and besides working with my planner, was one of the best vendors I worked with. I only went to 2 stores but this store worked with me on a personal level to figure out the style I liked the most and then from there worked... Read More on helping me find the look. I received so many compliments on my dress and it was perfect for the venue and my wedding "theme". The price was within my budget. I recommended this store to a couple of other friends after my experience and they both found dresses there as well. I would highly recommend Felice!!
---
Reviewed on

11/30/2017
Nichole R
Absolutely amazing experience. Dresses are beautiful and great quality. Robin knew her stuff and was super helpful! Would definitely recommend this Bridal Salon to any bride. Much better than any of my other experiences looking for a dress.
---
Reviewed on

11/08/2017
Jackie F
Best Wedding Dress selection in Denver!
---
Reviewed on

10/30/2017
Amelia B
Shopping for my dress at Felice Bridal has been a highlight of planning my wedding. From the moment I walked in, Robin and her staff made me feel welcome and at ease. Robin listened to what I had in mind and helped me select a perfect variety of dresses to try on; she helped me... Read More find a variety of styles and more importantly gave honest feedback and information about each dress. I ended up with the first dress she pulled out for me, and I could not be happier. Every bride should start (and finish) her search for a dress at Felice!
---
Reviewed on

10/29/2017
I had the best experience here. I had the perfect dress picked out from online. Perfect online, not perfect on the price. I was willing to go well over my budget for this dress though if I loved the way it looked on me. Felice bridal was the only boutique that carried it.... Read More Well, I tried it on, LOVED IT. But I tried on other dresses since I was still worried about the price. After trying on a lot of dresses. It was clear I loved the first dress and clear I was still considering the price tag. Robin could see how much I loved the dress and told me that she would provide me with a discount. The sale discount. Let me repeat that. The sale discount. This amounted to HALF the price off the original price tag. Needless to say, everyone I brought with me cried tears of happiness and joy. I didn't need to break the bank to get my dream wedding dress. THANK YOU FELICE BRIDAL for getting me into my dream wedding dress!
---
Reviewed on

10/24/2017
Andrea B
I loved my experience. My dress is great, the experience was great, and they gave me a ton of options based on my budget. Didn't feel like I was another bride but they truly gave me a bridal moment. It was special but laid back.
---
Reviewed on

10/22/2017
Emerald C
The team here was absolutely amazing! I came in with my Mom and Grandmother was as very open to something different! Robin was awesome at finding exactly what my favorite style was and we were able to find my dress!! Future brides would be silly not to go to this shop!!
---
Reviewed on

10/19/2017
Marjorie B
After trying on 30+ dresses on day 1, I was worried I wasn't going to find "the one". Thank goodness I made an appointment at Felice on day 2. The staff was so calm and patient, listened to what I was looking for and ultimately recommended my dress!
---
Reviewed on

10/19/2017
ANGELA B
My experience with wedding dress shopping was discouraging until I finally found a high quality bridal gown at Felice Bridal salon. This boutique is high end, high quality, owned and ran by a mother and daughter team. They are extremely knowledgeable of the designers they sell... Read More and provide the intimate knowledgeable experience I was looking for. I traveled from Washington state after noting styles and prices that were not consistent. My matron of honor had a few friends who had some luck in Denver and recommended Felice Bridal salon. I had a few appointments the day prior to going to Felice Bridal. The stylist were inexperienced indicating they had only been in the field for a few months. I thought to myself...how am I suppose to buy a wedding gown and make this significant purchase from someone who doesn't even know the basics? I again, left disappointed. The following day I met a few girlfriends at Felice Bridal. My stylist Robin greeted me with professionalism. She listened to my concerns being an older bride, my preferences and price range. She also welcomed suggestions from my girlfriends. The appointment was not rushed, we reviewed all the dresses in stock with ease. Robin's knowledge base was impressive. She knew details and had suggestions based on her knowledge of the designers. She assisted me with trying on each gown but also provided modesty when necessary. Her sample dresses were cared for and not mistreated as I had appreciated in previous bridal salons. Robin placed me in a gown that I was initially not interested in; a strapless gown. However, when adding the bolero (modesty top) it provided the look exactly what I was looking for. I was extremely pleased with all her accessories especially the veils. The purchase process was painless. I am also pleased I can have the dress altered there as well. Overall, a extremely positive and pleasant experience. We immediately cancelled our last appointment of the day (prior to purchasing the dress) once I indicated this was the store, I was going to purchase my gown from. I highly recommend this bridal boutique without reservations.
---
Reviewed on

10/19/2017
Angel A
Felicé Bridal was an absolute dream! I was able to buy a wedding dress on sample sale that o would have never ever been able to afford otherwise. It was perfect. Taylor helped me through every step and was such a gem. I can't thank them enough!
---
Reviewed on

10/19/2017
Lauren C
Robin at Felice was absolutely incredible! I had one day to dress shop in Denver with my Mom and best friend, and it happened to be a day that Felice was closed. Robin was so accommodating to open up for us to shop there, and I'm so grateful she did! It was the last stop of the... Read More day and we had been unsuccessful at all the other stores. Robin listened to what I like and got a really good feel for my style and personality, which was different from everywhere else I had been that day. This was great because she had me try on some dresses that were different than what I thought I wanted, and it worked out beautifully. She found the most perfect dress for me and my wedding and I cannot WAIT to wear it! The store is also incredibly beautiful with high quality dresses, and they manage to retain a personal, comfortable feel to their shop. I loved everything about my experience here and would recommend anyone to shop here!
---
Reviewed on

10/19/2017
Alison D
We had a wonderful experience at Felice!! A few years back my sister-in-law got her dress at Felice and so of course I made it my first stop for my wedding. After finding a gorgeous dress, I popped by two other bridal stores which just did not compete with the Felice... Read More experience. Robin was professional, lovely to work with and made me feel like a (future) beautiful bride!
---
Reviewed on

10/19/2017
Kristen T
I am so grateful my sister found Felicé Bridal Salon and scheduled our appointment. My mom, sister, and mother-in-law-to-be, joined me for a day of bridal gown shopping all over Denver as they are all out of town. We had made appointments at 3 salons in one day and while I had a... Read More great experience at all, none compared to Felicé. I had tried on many dresses already that day and had a pretty good idea of what style I was looking for by the time we arrived. Taylor worked with us to pull more dresses than I could imagine in the couple styles I liked, all within my price range. It was as if she knew all along the perfect dress. As we tried on a few and I pointed out elements of each I liked best, when she then showed me one final dress that perfectly encompassed them all. I tried it on and instantly fell in love. Fast forward 3 months later and it just so happened my dress arrived while my mother and grandmother were in town visiting. We came in to try the dress and it was just as I'd remembered and fit beautifully. Karen, the owner, assisted my in picking out the perfect rhinestone belt and offered me an excellent price. I left the first appointment with ease knowing my dress was carefully stashed on site, waiting for my return and our first fitting.
---
Reviewed on

10/18/2017
Brennan C
I had a wonderful experience at Felice Bridal and decided on THE dress the first day I went shopping. I fell in love with a beaded bodice separate and just needed to find a skirt to go with it. I couldn't find the one until I saw the skirt on another dress. It just so happened... Read More that the owners of Felice Bridal knew the dress designer well so they called her up and asked if she could make just the skirt custom to fit me! It came together absolutely perfectly. Also, I loved the mother-daughter duo that ran the shop. They were so nice and helpful. I definitely recommend Felice Bridal!
---
Reviewed on

10/18/2017
Hayley K
I would definitely recommend Felice Bridal to anyone looking for their dress! The store had a large enough selection that they can help you find the dress you are looking for in any price range. It is an intimate and smaller boutique which helps make you feel special! Loved the... Read More experience & selection. I would highly recommend visiting them!!
---
Reviewed on

10/17/2017
Caroline C
Felice went out of their way to find a dress that i was hunting down! No where else in Colorado carried the designer and they provided great communication in helping me secure! Beautiful intimate boutique with very friendly and helpful staff!! Glad i said yes to the dress... Read More here!!
---
Reviewed on

10/17/2017
Maureen E
Taylor made the experience fun and so easy!
---
Reviewed on

10/16/2017
Kimberly D
I highly recommend Felice Bridal Salon! My experience from the moment I walked through the doors was better than I had hoped for! Taylor was very attentive to what I was looking for and the budget that I was trying to stay within. Taylor even suggested some dresses that I... Read More didn't think I would like and I ended up falling in love with one of them.
---
Reviewed on

9/03/2017
Lauren B
I would definitely recommend this bridal dress shop to anyone! The owner and other women that work there take such good care of you and make you feel special! They offered me and my bridesmaid champagne when we first went dress shopping there. Very professional the whole way... Read More through and responsive to my emails. I highly recommend!
---
Reviewed on

9/01/2017
Lawana T
Taylor helped me during my selection; and was simply amazing. Taylor and Robin even assisted with finding my seamstress!! I am so pleased and would suggest any bride/mom of the bride to go for the best service.
---
Reviewed on

5/23/2017
Angelina D
This was the second boutique I went to to look for a wedding dress. The first place I went to made me a bit hesitant because the woman that worked with me was very, very pushy. But when I got to Felicé, Taylor really helped me out and took care or me! She didn't try to push me... Read More to dresses that were out of my price range or not the style I was looking for - she really listened and pulled out the dress of my dreams! Taylor and Robin are really such a pleasure to work with and know how to take your wedding dress stress away! I would HIGHLY recommend going to visit them if you are looking for a dress!
---
Reviewed on

4/19/2017
Elise R
The service I got here was not comparable. The sales rep was professional and gave me ideas that I would have never chosen for myself. She clearly loves her job and it helped me select an amazing dress I wouldn't have even tried on without her suggesting.
---
Reviewed on

2/16/2017
Emily V
These girls are amazing. Got my dream dress here after buying an "oops" dress at another bridal salon. They made me feel gorgeous, comfortable and cared for every step of the way. Their accessories night was completely worth it- and Donna upstairs is great too!
---