Home

FiftyFlowers
About this Vendor
FiftyFlowers, Fifty Flowers, FiftyFlowers Reviews
FiftyFlowers provides wholesale flowers delivered fresh and direct from the farm to your doorstep. DIY Brides come to FiftyFlowers for the variety of flowers available, excellent customer service, and trustworthiness of a company that has delivered premium, fresh cut flowers for over 50,000 events!
Details
Centerpieces, Plants, Vases, Decorations + Accents, Bouquets, Flower Arrangements
Contact Info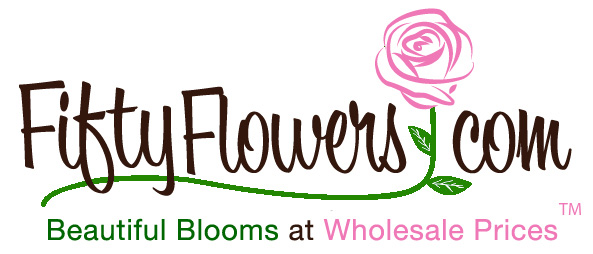 223 N. 6th St., Boise, ID
INCREDIBLE!!!!
Reviewed on

9/04/2013
Celia M
I was skeptical about ordering flowers online, but I can without a doubt say that I am SO happy that I did!!!! I ordered hydrangeas and daisies from here. When they arrived, I was SHOCKED at how beautiful and huge the flowers were. They were absolutely splendid. I could not have gotten better flowers anywhere else, and I would recommend this company to anyone. They arrived on time and I was so happy about that. Please, if you're looking for an online vendor, this is the one!!!
---
The Flowers
Reviewed on

8/27/2013
Jessica Anne F
With the flowers in my wedding we bought them wholesale from fiftyflowers.com and my sister arranged them for us. The flowers came ON TIME (praise God!), they were fresh, had instructions and lasted all the way through the wedding looking fresh and beautiful :) They deliver wonderful services.
---
Positively fantastic!
Reviewed on

8/25/2013
Sarah W
Choosing my flowers was the first thing I did after I was engaged. Actually, let's be honest, I did it *before* I was engaged. Hey, with a 15 week engagement, somethings had to start early! Anyway, I picked the 50 flower wedding pack with 25 yellow roses and 25 white roses, as well as an additional 25 yellow roses. The only issue was that when the roses arrived, I had 25 white roses, 25 white roses, and 25 additional yellow roses. So 50 white instead of 25 white and 25 yellow. I called immediately and after sending pictures, I was given the option to either be sent the yellow roses I didn't get, or have the money for those flowers refunded. I opted for a refund. The customer service was prompt, kind, and gave me options rather than just telling me what to do. My flowers arrived on time, and I followed the care instructions exactly. I kept them in the basement, made flower food for them, trimmed the ends when they arrived, changed the water every 24 hours, etc. I did a lot of researching on how to arrange them, and sent my bridesmaids YouTube links as well. My bridesmaids, my mom, and I did the flowers 24 hours before the ceremony, and kept them in a fridge (without fruits or vegetables) overnight. They turned out *fantastic* and I'm so very glad I didn't pay a florist. I got a lot of compliments on them, and even my grandma was impressed on how long hers lasted afterwards. If you're feeling brave, and are willing to put in the time to learn a bit about flower care, I would *highly* recommend Fifty Flowers! Calculating without the refund, the flowers for my whole wedding cost less than $200. (Note, that's just boutonnieres, corsages, and bouquets with a bridal party of 3 attendants each, and grandparents, parents, and ushers. Everything at the reception was fake flowers.)
---
Reviewed on

6/22/2015
Mandi B
One word "Amazing"! I was hesitant to order because of a few of the reviews on this site, but I'm glad I did! My flowers were absolutely beautiful! They were the right color, arrive on time, healthy upon arrival and they bloomed so beautiful I told the groom I just might love them more. Just do it!
---
Great DIY flowers!
Reviewed on

2/02/2015
Kelly L
Ordered 144 Creamy Ivory Peonies, 20 bushels of Baby's Breath, and 75 Cotton White Sweetheart Roses (grand total of about ~$620). Due to Mother Nature, we had to change the Peonies to a "mix" of white/ivory peony-like roses... They called a week prior and handled all the changes. I received everything on time and they even called at every delivery to make sure. The flowers came Thursday for our reception on Saturday - all flowers bloomed (some of the mini ivory peonies were tight, but still looked pretty). I would definitely use this service again!
---
Really Happy
Reviewed on

12/07/2014
Hannah
I ordered all my flowers through FiftyFlowers and had them put together by a family member who used to be a florist. Flowers were gorgeous. Amazing quality. I think of the 5 boxes I ordered we only like like 5 actual flowers. Everything looked gorgeous. I received a phone call from their customer service department to change delivery dates to make sure everything would be at peak on my special day. So happy with this. Would totally recommend.
---
Just what we needed
Reviewed on

10/14/2014
Karen f
We only needed flowers for the bouquets so we used the DIY section & put them together ourselves, using roses & spider mums. They were beautiful and very economical. The flowers arrived fresh & beyond my expectations! I would highly recommend them.
---
Great service, ok value
Reviewed on

10/14/2014
Lauren H
The service I received from the company was great- the called and texted many times to ensure a proper delivery. I ordered late and was charged a rush delivery fee.. and my flowers still came later than the quoted. Luckily it wasn't an issue that they arrived the day of the wedding, however it was a bit disappointing the at I was charged extra for them to arrive on Tuesday and did not get this luxury. However, the flowers looked great and were cheaper than I could find anywhere else.
---
beautiful flowers
Reviewed on

10/14/2014
Danielle S
the flowers were beautiful, took a very long time to complete all of the floral arrangements and my roses were unavailable at the time but their customer service was outstanding and had replacement flowers overnighted, they are very helpful in completing the order, if you have the time and commitment required for making your own floral arrangements it is worth it and this company was great
---
Lots of flowers for a great value
Reviewed on

10/01/2014
Katelyn F
I was able to order 8 different types of flowers for approximately $1000. This allowed me to make a bridal bouquet, 4 bridesmaids bouquets, 8 boutonnieres, 7 wrist corsages, an altar arrangement, 14 centerpieces, and arrangements for my escort card table and bathrooms. The company called me and recommended some flowers were delivered a day earlier than I requested. Doing your own flowers is rough though. I had to purchase 10 paint buckets and clip the ends of all the flowers once they arrived. We broke many pairs of floral scissors doing our own arrangements, so I recommend buying good quality floral shears. The flowers looked gorgeous on my wedding day, and there were many left over.
---
beautiful
Reviewed on

9/20/2014
Rosemary B
Very happy with the quality and quantity of flowers. They were perfect and beautiful! Fiftyflowers.com was easy to work with and offered tons of flowers for a great price!!! They came 3 days before the wedding and were perfectly beautiful and stayed that way until at least a week after the wedding. We ordered two of the assorted farm mix packages and had way more than enough flowers for 6 bridesmaids, 5 groomsmen, bouquets for both mothers, flower girl throw flowers, brides bouquet, flowers for the tables and flowers to decorate the aisle- all for $340! We had so many were honestly just trying to find places to stick flowers. It was great!!!
---
Did My Own Flowers
Reviewed on

9/20/2014
Lindsey J
When I started searching for flowers online I found a few different options to order flowers from. FiftyFlowers had the best reviews and now I can see why. I arranged all of the flowers by myself and knew I needed bulk flowers in different styles. We purchased a combo box and I would highly recommend it. The guess work is all taken out because it includes everything you will need to put together various arrangements. FedEx requires a signature when the flowers arrive and when delivered we didn't hear the doorbell ring so they couldn't leave the flowers. I immediately received a phone call from FiftyFlowers customer service who contacted fedex for re delivery. They were extremely helpful in trying to get the situation resolved to make sure my flowers would be delivered. I couldn't have asked for better customer service. I would definitely order from them again!!
---
Great quality and communication!
Reviewed on

9/05/2014
Jenny S
We ordered our flowers online and arranged the centerpieces ourselves. I was definitely nervous but they were beautiful and came in time. They even called after each set of flowers were delivered to make sure we received them and ask if we had any questions about how to care for them! I was impressed! We ended up making the centerpieces, boutonnieres and corsages. We ordered flower petals as well to throw for the send off and for the flower girl. It was perfect!
---
Awesome customer service and beautiful flowers for DIY bouquets
Reviewed on

9/03/2014
Jessica D
I was hesitant to purchase bulk flowers off the internet to make for bouquets, boutonnieres, and centerpieces; however, if I purchase these floral arrangements at a florist, it would have cost me a fortune! I was glad to find Fiftyflowers, they have great communication and the flowers arrived right on time! Thank you!
---
Great prices as amazing prices
Reviewed on

9/01/2014
Marci C
I found my perfect flowers thanks to their program where you can look at ones past brides have made through them. However my original flowers that I ordered were no longer available. They let me swab it for a related item and they paid for the difference in price! If you don't mind the work of making your own flowers its def worth the extra $$ in your pocket! Great way to cut costs!
---
Lots of work but turned out beautifully
Reviewed on

8/27/2014
Brenna S
I ordered a bunch of different flowers for my wedding bouquets and center pieces. A friend arranged them for me as a wedding gift--they turned out fantastic but it was a little stressful keeping them on water and making sure they opened (but not too much!) in time for our ceremony. We ordered them a few days ahead of time but could have gotten them closer to the date given that they opened pretty quickly in the MT summer heat. A lot of work but I had plenty of flowers for ceremony, reception, bouquets, and some left over!
---
Great website for DIY brides!
Reviewed on

8/18/2014
Kristen K
Fiftyflowers.com is a perfect website for DIY brides. I ordered my flowers about a month ahead of time for deliver two days before my wedding. About a week before delivery a representative from the website called and notified me that delivery two days before my wedding was considered "risky." They asked if they could change the delivery day for three days before and three days before was perfect timing. My flowers were fully bloomed for the wedding day and were in gorgeous condition. The day of deliver I received delivery confirmation for each box that was delivered and once all of my flowers had been delivered I received a call just to check and make sure that everything was in order. I loved that on the two occasions I was contacted, I was contacted by a human being and not a machine. They were informative and friendly and really seemed to be interested in my wedding personally. I would certainly order flowers again from this website and will suggest friends who would like to DIY to do the same!
---
Great Option for DIY flowers!
Reviewed on

8/05/2014
Jamie L
If you are looking for a way to decrease costs on your wedding and have a creative sense (or a friend that does), I would definitely suggest going this way. The flowers were BEAUTIFUL and opened up just like they said they would with the proper care. I enjoyed, more than anything, making all my own flower arrangements for my wedding, from bouquets to decorations. Customer service was extremely helpful as well. They answered all my questions and even went beyond helping me find my best options.
---
Fresh wedding flowers delivered
Reviewed on

8/03/2014
Patti C
I went to fiftyflowers.com and selected flower packages for my summer wedding. They were affordable and delivered in time for my wedding. I was impressed by the quality and condition of all of the flowers we ordered. Definitely the way to go for a destination wedding, or even local. Go for it - you won't be disappointed!
---
Great for the DIY bride and afforadable
Reviewed on

7/20/2014
victoria d
Fifty flowers is an online florist that will mail you your flowers. I used them for my wedding and I was very impressed. I ordered their green and cream centerpieces and they were amazing. We got them 2 days before the wedding and they were bloomed and fresh looking on the day. I also got their 50 white roses and 25 sunset roses, and they were amazing. I also got their 6,000 rose petals and they were also very fresh looking on the wedding day. The only flowers I was not happy with was the calla lilies. They had to substitute my pale peach calla lilies and they gave me a dark sunset like calla lilies, and their stems were very soft on the wedding day and they were very sad looking. It could have been that since we live in Arizona, that they didn't like the heat. I would recommend doing a little research on what types of flowers work well in your climate. I would recommend fifty flowers to the do it yourself bride.
---
Easy Wedding Flowers
Reviewed on

7/17/2014
Heather K
We didn't arrange any flowers we just wanted some random flowers in jars and what not. You did get alot of flowers but we didn't get as much babies breath as I thought we would. Over all the price was good and the service was excellent. I got confirmations that they were delievered and a call about how to take care of them! I also had an order delayed and they let me know before we began to worry where the last shipment was. They were very upfront in the process! Would definitely recommend.
---
Great Product
Reviewed on

7/12/2014
Bethany B
I loved the prices at FiftyFlowers, I had a budget friendly wedding and couldnt beat their fresh flower prices. I ordered 17 pre-made seasonal bouquets and 100 carnations. They arrived 2-3 days ahead of time and took some flower care, but they bloomed perfectly for my summer wedding just like FiftyFlowers said they would!
---
Excellent customer service
Reviewed on

7/07/2014
Priscilla S
The flowers were the only thing I didn't have to stress over! The FiftyFlowers agent called me to let me know when my flowers would be delivered and that one part of the shipment would be delayed due to weather. She called again to make sure I got everything. The Gerbera daisies were beautiful.
---
Beautiful Flowers
Reviewed on

6/10/2014
Stephanie M
Prefect
---
Great service, bad flowers
Reviewed on

6/08/2014
Sarah H
I want to start by saying I was very hesitant to DIY the flowers for my wedding. But I was intent on having pink peonies for the wedding, and the only way to make it affordable was to DIY. I was AMAZED when I saw the prices at fiftyflowers.com, and could not believe it would be true. But then I read reviews and saw their guarantee, and I was convinced. So I ordered 30 blush pink peonies and 30 hot pink peonies for my wedding bouquet and my four bridesmaids bouquets. I was going to use 12 hot pink peonies for my bridal bouquet and then 7 blush pink for each of the bridesmaids bouquets. The flowers arrived, on time, and we put them in water, as instructed. The lighter colored flowers opened the next day, which I was slightly worried about as they arrived three days before the event, but the even more upsetting part, was that these were not blush pink. At all. They were white. Two days later, the hot pink flowers were not open, still very tight, and the white ones were starting to brown. Of course I had a million things to do, so we just did what we had to do: we tore off the browning petals and then mixed the white flowers with a few unopened pink flowers in the middle. The bouquets looked fine, but not only did I not get the separation of bright pink and blush pink between the bridal and bridesmaid bouquets, but I also had unopened flowers in the bouquets. The wedding went on, but it was my only disappointment of my wedding. Two days after my wedding I contacted fiftyflowers.com with my complaints, and the service was wonderful. The contacted me many times in the same day to check in and figure out what happened and then after sending photos to them, the completely refunded my money. They even said if I had contacted them the day before my wedding they would have tried to figure something out for me. So even though my experience was not very good, I would recommend trying them, potentially with a less difficult flower than peonies, but if something goes wrong, contact them immediately!
---
Send Message