Home

Fine Arts Ensemble
About this Vendor
Live Music for your Wedding
Professional LIVE MUSIC services for your Wedding. Also Proposals, Vow Renewals. Indoors/Outdoors. Civil/Church marriages. We travel everywhere. Violin, Cello, Harp, Flute, Trumpet, Solos, Duets Trios String Quartet, Singer, Piano, Organ and more! Contact us today for your free consultation!
Details
Contact Info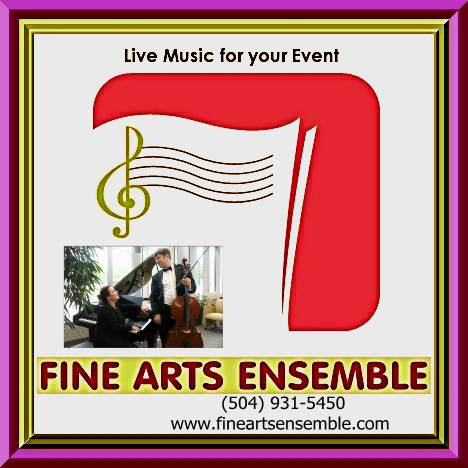 Beautiful Ceremony Musicians
Reviewed on

4/16/2013
Emily C
Fine Arts Ensemble was wonderful to work with! Dimitri was very accommodating in helping us organize a ceremony music program that encapsulated our personalities and the feel of our wedding. Their proposal came with a CD of various tracks that showcased their choices of... Read More instrument groups and popular music suggestions. It made planning for the ceremony music very easy! The musicians were talented and it added a beautiful ambiance to my outside ceremony. I would recommend them to anyone!
---
Thank you!
Reviewed on

10/29/2013
Music was great. Loved the Canon! Thanks guys!
---
Perfect!
Reviewed on

10/21/2013
Dimitris & Fine Arts Ensemble were great to work with and provided an amazing music set for our wedding ceremony. I highly recommend them if you are looking for musicians to perform at your wedding.
---
Reviewed on

7/16/2017
Kimberly D
Fine Arts Ensemble made our wedding ceremony unforgettable. We requested two pieces out of the group's typical repertoire (which is extensive in itself) – including a song very dear to both me and my husband – and the string quartet could not have played a more beautiful... Read More rendition. Highly recommend FAE to any bride-to-be!
---
Reviewed on

5/17/2017
Ashley N
Fine Arts Ensemble were amazing to work with. They gave me great suggestions as to the playlist for my ceremony. Everything thing went perfectly and the music sounded beautiful. Their timing on everything was perfect. i couldn't have asked for a better experience
---
Reviewed on

5/10/2017
Laura O
Although Dimitri was unable to attend the event due to a serious auto accident he gave a full refund and additional compensation.
---
Reviewed on

4/15/2017
Mary J
Wonderful musicians! We hired them for our wedding in March and they were professional, prompt, and beautifully rehearsed to accompany our wedding ceremony. I am so thankful we found Fine Arts Ensemble and would absolutely recommend them for any occasion. A good quartet and... Read More bring to life any event one could imagine. Thank you for being part of our special day, and we will call upon you in the future for any other use we could have of you!
---
Reviewed on

1/13/2017
Aimee
I was pleased with Fine Arts Ensemble. I thought they were easy to work with and made planning simple. Dimitri was accommodating and worked to help us organize ceremony music that we wanted instead of just doing what is always done. The music was beautiful. They even worked... Read More with my soloist on a song we selected that was not on their standard list. I would recommend them to anyone.
---
Reviewed on

11/15/2016
Amy A
I had a string trio for my wedding ceremony in a Catholic church. FAE did a great job. They were very professional and easy to work with. The music was beautiful!
---
Reviewed on

9/07/2016
Brittany R
I used Fine Arts Ensemble for my wedding ceremony music and would definitely recommend!!! As the bride, I did not get to hear much of the music, but all my guests said they did an amazing job!! I can't wait to see the video ! They were very easy to work with and responsive to... Read More emails. Very reasonably priced as well!!
---
Reviewed on

9/03/2016
Ashley R
Fine Arts Ensemble was EXACTLY what I wanted for my ceremony music. Dimitri and his team are accomplished musicians who are accommodating about making sure the sound you're envisioning is what you hear when your guests are arriving and/or you're walking down the aisle. Big... Read More sound, small sound, sweet songs or powerful ones, Fine Arts Ensemble are magical with their musical talent and perfectly priced for the quality of artists you're getting.
---
Reviewed on

6/11/2016
Jaime S
The violinist we booked did a great job!!! He was more than willing to accommodate us in any way we needed. Thank you so much for adding something extra to our already special day!
---
Reviewed on

4/13/2016
Kristin T
Fine Arts Ensemble provided the perfect music to compliment my wedding--elegant and beautiful. Dimitri was wonderful and easy to work with. He helped coordinate the music even when I wanted to play a recording for my first dance. In fact, the band saved the day when my first... Read More dance song couldn't play over the venue's speakers so they offered me to use their speaker system. I would definitely use them again for any event.
---
Reviewed on

3/29/2016
Katy W
Dimitri and Irina were fantastic from beginning to end and made my ceremony music the least stressful part of my wedding planning. Dimitri always responded to my emails promptly and was very accommodating with our music selections. Since we were planning our wedding long... Read More distance, we had only visited our venue once--luckily Dimitri was very familiar with the venue and was able to make instrumentation and cuing suggestions. In the end, we decided to keep things simple and go with instrumental piano music, with the exception of the "Ave Maria". We chose a few traditional pieces from their extensive prepared list of music. They provided piano accompaniment to my uncle while he sang the "Ave Maria". They were even willing to learn 2 pieces which were not on their list: "Invincible" by Muse for the processional and "Somebody to Love" by Queen for the recessional. Both pieces were performed perfectly by Irina, and "Somebody to Love" had guests singing along as we processed out of the church as husband and wife! It was all so well done and we couldn't be happier. We highly recommend Fine Arts Ensemble and are forever grateful for the beautiful, memorable ceremony music that they provided for us!
---
Reviewed on

3/13/2016
Dody P
This group is phenomenal! The music was even better than I expected, and I had very high expectations. They made my ceremony even more special and personal. I couldn't recommend them more. I wish there were more stars!
---
Reviewed on

2/29/2016
Christina L
The cellist, Dimitri played beautiful classical music at our wedding reception that added that special touch. Our guests complimented us on the solo cello and we believe the romantic and classical ambiance the music created is what really made the wedding reception special.
---
Book them!
Reviewed on

12/29/2015
Crawford B
Dimitri with Fine Arts Ensemble was so helpful when picking out music selections for the string trio for my Christmas wedding at The Roosevelt Hotel. He even let me incorporate some Christmas hymns that are not typical wedding song that they had to learn. I would definitely... Read More recommend them to any bride getting married in the New Orleans area. As a destination wedding, Dimitri made it very easy to plan from afar and I only talked on the phone to him once. We planned everything via email and it was so convenient.
---
Beautiful
Reviewed on

12/18/2015
Amanda W
I never even met these people, but they played everything perfectly. I only talked with Dimitri and he made sure every aspect of my Catholic mass was covered. A friend of mine used Fine Arts for her wedding and I remembered how beautiful her music was. I knew I wanted a trumpet... Read More and I probably had the weirdest quartet ever regarding the instruments I chose, but the music was beautiful and I loved it. I would recommend Fine Arts to everyone.
---
Reviewed on

12/16/2015
Crystal D
Fine Arts Ensemble was a pleasure to work with. The music was beautiful and all my guests were impressed. They even played popular songs that I requested for the ceremony. Lastly, the price was awesome. I highly recommend them!
---
Elopement
Reviewed on

8/11/2015
I took care of booking the music for my best friend's wedding in New Orleans. I found Fine Arts Ensemble online and Dimitri was very prompt in his response to my inquiries. This was a bit of a last-minute elopement, so finding music was tricky in itself, especially booking... Read More everything from California and not knowing the venue. Dimitri made the process so simple for me and was very pleasant to work with. The ceremony was absolutely beautiful in Audabon park and Dimitri on the cello really tied everything together. We were all very pleased with Dimitri from Fine Arts Ensemble and will definitely refer this company to all!
---
BEYOND Perfect!!!!
Reviewed on

7/13/2015
Jonathan C
I booked Dimitri to play the cello, along with a family friend of mine playing the piano. As a fellow musician and music teacher, good quality ceremony music was VERY important to me. He BLEW me away!!! He learned two songs ("The Luckiest" by Ben Folds, and "A Thousand Years" by... Read More Christina Perri). It was more beautiful than I ever could have dreamed of. They also played gorgeous, more traditional music for the unity candle and for a half hour before as the guests were arriving. I would HIGHLY recommend them to anyone! Very reasonably priced and super easy to work with! Thank you FAE for making our day even more special !!!!
---
Better than I could have imagined.
Reviewed on

7/08/2015
Kathryn H
My husband and I wanted a few unique songs played at our wedding on a cello and piano. I was worried about how it would all turn out, but just hoped for the best. Not only was it perfect for our wedding under the oaks, but they were able to handle anything we through at them.... Read More When the groom misplaced the extension cords, they had brought a back-up battery. If I ever got nervous about anything before the wedding day, they were able to answer all the questions I had and put me at ease. If it starts to rain, they will pick up and set up again in a covered location without charging an extra fee (I thank God it didn't rain though!!). They really know what they are doing and put on a beautiful performance.
---
Reviewed on

6/01/2015
We used Dimitri from Fine Arts Ensemble for our string quartet for our wedding ceremony. Dimitri was easy to communicate with and was great in following up and nudging me to select songs, when I realized I forgotten to give him the song list by the date he requested. Oophs,... Read More totally my fault! Though he handled my mistake like a pro and gave me reminders and was very kind about it. He, obviously, understood that this bride was forgetting things closer to the wedding date. Anyhow, they had an array of song choices. He also gave me a suggested song list to help me in making the decision, which was a huge help. I can't say enough good things about Dimitri and Fine Arts Ensemble. I'm so happy I went with them for my ceremony at Latrobes.
---
Thank you!
Reviewed on

10/07/2014
Fine Arts Ensemble provided the music for my wedding ceremony and they did a great job. They were very easy to work with ahead of time, very helpful, and responded promptly. They showed up on time and were very professional. Joan F.
---
Amazing music!
Reviewed on

8/04/2014
We had the pleasure of having Fine Arts Ensemble play for our wedding ceremony and I HIGHLY recommend them if you are looking for good music to set the tone of your wedding. We can't thank FAE enough for all the hard work that made our wedding day perfect!!
---