Home

Floristika Studio
About this Vendor
Boston Floral Design & Décor Studio
Floristika Studio is a European floral design and event studio offering a full range of floral design and décor services for your special occasion. We serve Greater Boston Metropolitan Area and happy to travel for events elsewhere. Our consultations are conducted in-person or on the phone, based upon our client's preferences. We are also very used to handling things via email, Facebook and Instagram if an in-person meeting is not possible.
Details
Decorations + Accents, Fashion, Flower Arrangements
Contact Info

Reviewed on

7/24/2017
S A
I'm on my honeymoon but just had to write this review. Kseniya and her team are literally the best. I planned the wedding from overseas in 4 weeks and basically had to choose vendors from reviews and online pictures. I saw Floristika Studio's Instagram page and instantly fell... Read More in love. Kseniya's arrangements are beautiful, lush, luxurious, elegant and just amazing. I emailed her 20 days before the wedding, and had a 5 page proposal 4 days later. It was perfect. And that was from communicating only by email. We then had a phone call that was pretty short because she just "got me". I said: Kseniya, just do your thing, I trust you. Because, I really did! She just has that type of personality that is comforting and makes you feel that everything will be great. Then came the wedding day and I still can't get over how beautiful the arrangements were. Guests were having friendly arguments about who would be taking the centerpieces home. I wasn't planning on preserving the bridal bouquet (didn't even know you could do that) but it just broke my heart to let go of the bouquet so I'm having it preserved. It was just that gorgeous!! Kseniya really went above and beyond. She even put flowers on the ceremony table as well as the tables on the balcony even though I didn't mention them in my emails. She knew because she contacted the hotel coordinator and requested to see the space and floor plan for the wedding. She also saved the day by miraculously making extra boutonnieres the day of the wedding. I was freaking out and she said: Don't worry we always have extra flowers. I could go on and on but I'll stop now. If I ever need flowers for an event or an occasion, I know I will be returning to Floristika Studio.I actually can't wait to order one of their gorgeous hatbox flower arrangements!
---
Reviewed on

10/11/2017
Maria P
In short, Kseniya is an exceptional, flexible and very creative professional. Deciding to sign a contract with her to create a garden style wedding was the best choice I could have made, and trust me I did my research:) Thank you Floristika Studio for such a flawless execution!... Read More Maria
---
Reviewed on

9/04/2017
Lisa K
Deciding to use Kseniya for our August 2017 wedding in Boston at the State Room was the best decision we made. I know how hard it can be to choose a vendor, especially there are few reviews. Kseniya, however, offers far more quality and care than any other florist I spoke with.... Read More She is a diamond in the rough. There are many positives about Kseniya, but here are four strengths. First, Kseniya makes gorgeous, creative floral arrangements. Since I planned from afar and did not know what I wanted for flowers, I used pictures from a friend's wedding that used my desired color scheme and simply asked her to do something with similar colors and a unique, contemporary twist. She responded with an inspiration board and proposal. Based on that, I put my full trust in her; she delivered more than we dreamed. Her arrangements used such vivid colors and were so unique! Many guests (including some that I did not expect to notice our flowers) complimented us on them and continue to do so. Further, we went into this wedding thinking flowers did not matter much to us (e.g., we just needed something decent to add color to the tables), and the flowers were easily my favorite part of our decor. Second, she has strong communication skills, which was critical as we planned from afar. She responded to emails the same day or within a day or two during the busy wedding season - even after we signed the contract. This responsiveness set her apart from many vendors. Further, she is the person that you work with from beginning to end; you do not get shuffled off to another person in a large team after signing a contract like other florists I spoke with. Third, Kseniya respected our budget and went above and beyond to ensure not only that our wedding remained beautiful, but that the flowers were reused in thoughtful ways. She reused flowers from our ceremony for our sweetheart table without us asking, and I did not in any way find that she skimped on our flowers despite our budget. With how many florists try to constantly upsell you, Kseniya truly is a breath of fresh air. She offers you gorgeous décor regardless of your budget. Finally, Kseniya is simply thoughtful and caring. Two moments from our wedding day exemplify how she truly cares about making your day special, not just depositing your check. My hair stylist was putting a flower in my hair. Kseniya showed up not with just one but two hair flowers that were prepared with different methods to put them in my hair. She wanted to ensure all of her bases were covered for my stylist; something not every florist would do. Further, when we were lined up getting ready to walk down the aisle, I noticed she was waiting in the hall outside of our venue waiting to do the flip - and we excitedly smiled at each other. That moment truly touched me. I knew that she did weddings because she cared about seeing our joy and playing a part in it - not just to make money off of the industry. In sum, I completely understand someone may hesitate to use a florist with few reviews. I urge you to email her and arrange a time to call. You will realize you can trust her to execute your vision for your wedding day and will want to share it with her. She offers you a level of care and thoughtfulness that is rare in the industry. And, truly, at the end of the day, her arrangements are gorgeous. I would not hesitate to use Kseniya again for another occasion and hope to do so someday.
---
Reviewed on

6/09/2017
Nicole C
Working with Floristika Studios for my wedding was a dream! Kensiya was so pleasant, organized, creative and dedicated. When our floral design hit a snag hours before our ceremony she moved into action with plan b. I could not have been more lucky to be working with me for my... Read More wedding!
---
Reviewed on

6/06/2017
Liza H
My now husband and I had an absolutely perfect experience working with Kseniya of Floristika Studio! We got married at the end of May at the Mandarin Oriental Hotel in Boston and were thrilled and stunned by the beautiful floral creations that Kseniya had made for us. We and our... Read More guests were dazzled and we continue to be flooded with compliments about the floral decor at our wedding! From our first interaction, Kseniya was professional, extremely knowledgeable, and made it clear that her priority was making us happy and bringing our vision to life. We showed her pictures and colors and went over likes/dislikes together so she could really get an accurate idea of what we wanted. Very shortly after our first meeting, Kseniya sent over a proposal and several pictures and inspiration boards to show us her ideas. She 100% nailed it and we knew right away that we wouldn't have to worry about anything to do with our floral decor. I can't say enough just how creative Kseniya is. My husband and I loved the idea of lush centerpieces and orchids but were also working within a tight budget. This didn't bother Kseniya at all and instead of limiting our options, she simply became even more creative with our choices and in the end was able to give us everything we wanted all while staying within our budget. Kseniya truly cared about making our wedding day perfect, and even added extra special touches on the day of. For instance, she provided small trays of beautiful rose petals and had them along the ceremony aisle so that guests could shower us with petals as we were leaving the ceremony. This was a wonderful surprise for us and honestly created one of my favorite memories of the entire wedding day. Kseniya was extremely prompt and thorough with all of our email communication, which is so important when you are planning such a big and also time sensitive event. Honestly, Kseniya just made everything so easy for us that she deserves a huge credit for making the wedding planning process way less stressful for us. On top of that, she's truly a kind person and someone who is easy to talk and work with. I wholeheartedly recommend Kseniya and her team. My husband and I were absolutely blown away by her professionalism, attention to detail, and her ability to create literally the most beautiful floral creations I have ever seen in my entire life. I was thrilled beyond measure with her work and was truly touched by her genuine care about making our wedding day perfect. My advice: save yourself the hassle and headache of researching a million different florists and flower styles and schedule a meeting with Kseniya. She is a true master in her art, will help you create a look that is unique and totally your own, and will deliver flawless results for you. Thank you Kseniya!!
---
Meet The Owner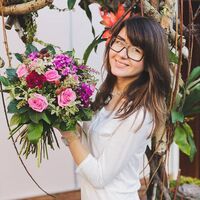 Kseniya Khromina
Kseniya worked hard to convert her passion into a dream career, completing advanced study of floristry and having a privilege to learn from the great masters of Europe. Being effective in her passion means she applies extensive knowledge of floristics, cutting-edge techniques and creative vision to maintain high standards of floral design and produce artfully-styled pieces.