Home

For The Good Hawaii
About this Vendor
Let's Do Good Together
For The Good Hawaii is a full service wedding planning and coordination firm! We can assist you with your planning at any stage and we pride ourselves at providing quality service that fits right within our clients' budgets. We take care of our clients like they are our family. Your trust in us is our most valuable resource. You can rest assured that if you bring on For The Good Hawaii as your wedding planners, that we will take care of you and make your wedding dreams into a reality.
Details
Engagement Party, Getting Engaged, After Party, Rehearsal Dinner, Ceremony, Cocktail Hour, Day After Brunch, Reception, Rehearsal, Wedding
Destination Wedding Planning, Destination Weddings, A la Carte Wedding Planning, Budgeting, Day-Of Coordination, Full Service Wedding Planning, Planning
Contact Info

Reviewed on

4/22/2016
Erika K
Ben and I had a wonderful wedding experience and I credit the For the Good Hawaii team (especially Richel and Mariah) for that. They handled every detail of the process with an incredible level of organization and professionalism that was mind-blowing to us. We could never have... Read More done a fraction of what they do! There were a million moments during the process-- whether they were telling us they had negotiated a deal with a great vendor, managed the numerous contracts, put together the overwhelming amount of information to manage the day-of details, or even offered to help with a problem we were finding intractable (e.g., guest drama)-- that I would tell Ben I wouldn't have been able to do this without them. With them though, it was easy. As an added plus it felt like we were talking with friends instead of with a business. They were a pleasure to work with, understood everything we wanted intuitively, found us amazing vendors, and ultimately our wedding was a total dream come true. Our family and friends told us it was a blast and they had an amazing time, which is all we could have hoped for and more. If I could rank them a 15/10 I would :-D.
---
Reviewed on

6/19/2016
Nathan and I married in Maui on the 7th June 2016, in the presence of 30 of our closest family and friends. All from Australia! I started doing all the wedding planning on my own, but soon realised that I was in to deep. Thankfully, I was quickly able to enlist the help of... Read More Richel, Mariah and their 'For The Good Hawaii' team. I was immediately put at ease upon speaking with Richel over viber. I swear that woman does not sleep! There were times that she would be messaging me to cover things in the middle of the night Hawaiian time!! They are definitely highly organised and efficient while always portraying an essence of being calm and in control, which will put any bride at ease. Lastly, it would be the special touches and the lengths they went to to make us and our wedding day feel one in a million. For instance, on Valentine's Day we received a bouquet of chocolates (arranged all the way from Hawaii!) and as a wedding present they gave us a highlights video of our wedding day, done by their own videographer! We thoroughly enjoyed our wedding day, much to the thanks of the hard work of the FTG Hawaii team! Choose them! You won't regret it!
---
Reviewed on

6/17/2016
Thuy T
Richel and Mariah did an amazing job of helping us plan and coordinate our wedding on 5/29/16. We live in Seattle, and planning a destination wedding in Oahu posed some challenges. Richel and Mariah were amazing in making things run smoothly. They are organized and diligent,... Read More they have great network of vendors, and they have an amazing team. Our wedding wouldn't have been as great as it was without them. We wanted to have a coordinator so that our family and friends could just relax and enjoy the wedding day and that's exactly what happened. I woke up with my husband to be, we were able to jog on the beach and enjoy breakfast. Our friends walked down the beach to rehearse their toasts. Our family hung out on the beach and swam hours before the wedding, who can say that??! All this was able to happen because we knew the girls had everything taken care of. They really went above and beyond what we could have imagined. I am so grateful for all the help that they put into making my wedding day so magical.
---
Reviewed on

9/21/2017
Chelsea R
We are beyond happy with everything that For The Good Hawaii did for us. We made a lot of important decisions when it came to our wedding, but my husband and I both agree that hiring For The Good Hawaii as our planning team, was the best decision ever- hands down. They are the... Read More perfect combination between Wonder Woman, my Fairy Godmother, Best Friend, and wedding genius. We live in Georgia and I was so overwhelmed trying to plan it all and not knowing where to start. We wanted a small and intimate wedding, surrounded by our friends and family. They have these AMAZINGLY designed packages called "Styled Elopements." They find the best vendors and have everything prepped and ready for you. I didn't even know it could be done that easily. We worked with Richel and Mariah and the two of them are a dynamic team. I always loved our phone calls and Skype meetings because they made me feel so calm and comfortable. And they lived up to it on the day-of as well! Book them! Book them! Book them! Best wedding planners EVER!!!
---
Reviewed on

9/20/2017
Melissa H
Working with For The Good Hawaii was absolutely a dream come true. I look back at our wedding day a few months ago and have the biggest smile on my face because everything went so perfectly. Because my now husband and I live on the mainland, the idea of planning a wedding in... Read More Hawaii seemed almost impossible. I found For The Good through Instagram and fell in love with their beautiful work. I reached out for a quote through their website, and received information very promptly. Richel took the time to answer all my questions and made me feel very comfortable. I remember in my initial consult with her, she told me "I am working for you, and making sure you have the best day of your life is my priority." She lived up to that in every way possible. We ended up booking their full planning package and we felt so pampered throughout the entire planning process. Richel, Mariah, and their team responded to emails quickly, provided amazing suggestions and ideas, and were expert designers. They came up with a style guide for us that helped solidify our vision and ideas (and believe me, I know they sifted through my 1000000 pins haha). They also made a beautiful rendering of our venue and it was so crazy because we actually got to see what our wedding would look like beforehand! I was just so impressed with their service, but more than that, their grace and kindness. I felt no stress and on the day of the wedding, their team took care of everything. I couldn't have done it without them and you'd regret it if you didn't hire this amazing team!
---
Reviewed on

7/09/2017
Ashley J
We worked with Richel and the For The Good team for our wedding at Kualoa Ranch and we 100% recommend them to anyone looking for wedding coordinators. We were on the fence on even using a wedding coordinator team when we were first starting to plan the wedding about a year prior... Read More and we are SO happy that we ended up deciding to. Richel had monthly check-in calls to review timelines, checklists, and provided recommendations and feedback when we needed it so we always felt like their team was on top of it. For the rehearsal, they guided us through how the process worked since a lot of us had never been apart of a wedding before and gave great tips and pointers for the day of the wedding. And on the day of the wedding, my oh my did they come through! Seriously, nothing went wrong for us the entire evening. Anytime a drink was empty, their team was already there with another in hand. Everything was set up and ready ahead of time which made the whole day and evening 100% stress free. We seriously can't recommend their team enough.
---
Reviewed on

5/04/2017
Tasha G
For The Good Hawaii were an amazing help with our Maui wedding. Their services relieved stress and brought attention to areas that we may have missed. Melissa and the crew had great personalities and even let us do a payment plan. Thank you for everything!
---
Reviewed on

2/16/2017
Maile D
The best decision we did for our wedding was hire For The Good as our planning team. Richel and Mariah made everything easy and took away so much stress from my husband and I. I can't even begin to say enough great things about them because they really were there for everything... Read More and made me feel so comfortable. I felt like they had answers to all my questions and they even went above and beyond to clarify things to help me feel at ease with my decision. Also my husband is the typical guy who wasn't really into wedding planning too much, but he was the one who was also excited for our planning meetings. He said that Richel and Mariah were honest and realistic and he felt that he could trust them to have our back through the process. Seriously, best.decision.ever. Their team is so professional yet they make it so personable.
---
Reviewed on

1/25/2017
Connie H
It was a blessing to work with the For the Good Team. In looking for wedding coordinators in the Honolulu area, it was paramount to find a team with knowledge of the industry in addition to expert communications skills. Richel was very capable, knowledgeable and responsive to... Read More all requests and provided high quality referrals for any vendor I needed. I also had a chance to see their work in action and witness their great relationships with other local vendors. They hosted a wedding mixer at the YWCA/Cafe Julia and invited couples to mingle with vendors. From start to finish, it was a flawless event. We had socializing time, with a "game" to meet vendors, then we sampled some amazing cuisine from the partner venue (Cafe Julia). There were also raffles/giveaways in addition to an awesome limo ride for the guests at the end. I can only imagine the level of detail and coordination that must have been required to pull off such a great event and they executed it very well. Sign up for their emails to be invited! I loved their professional presence online, in addition to their robust Instagram account with snapshots of real weddings. All this made for a very pleasant and stress free relationship which is absolutely necessary for a soon to be bride!
---
Reviewed on

12/17/2016
Wendy T
I am embarrassed to say they were my coordinators. No communication. No leadership. No organization. The contract was not followed. My entire wedding party, guests, & family knew how stressed out we were. It was embarrassing. My MC/bridesmaids/MOH had to save the day. Their 3... Read More assistants tried to make it easier for us, but there was no communication/leadership from Richel or Mariah. Even with 4 other people helping, Richel could not deliver. THE LIST GOES ON & ON. We spoke to her about the rain plan, wedding crashers, extra seats, etc. We talked about several scenarios and were assured that the wedding will go smoothly. However, the plans we talked about were not implemented. We requested a full refund, but she could only provide $100.Nothing on the contract was followed. All we got were BS excuses. Yes, there would be bumps along the way, but Richel should have responsibility to what an actual Day of Coordinator does! Richel promised a lot of things and failed to deliver. During the POST WEDDING REVIEW(PWR), her main reason for not providing all of the assumed services was that the services were not included in the Day of Coordinator package. Another excuse she provided was that most couples do not want to be overwhelmed by the coordinators, which could've been avoided if she had asked for our preference. My husband & I are upset because when we agreed to the contract, she said that she & her team would be there when we needed them & help us make our wedding day go by smoothly. She said someone would be in our rooms when we got ready, someone would be nearby during the ceremony/reception, someone would cue for speeches, fix problems, etc. Yes, we purchased the Day of Wedding, but she did NOTHING as a Day of Coordinator. A wedding crasher slipped through and an actual wedding guest (a really good friend) was tossed around because they could not find him on the invite list. Instead of clarifying with us who he was, he was tossed around. He was on the list when we showed it to her at the PWR. I told her at the week of the wedding meeting there would be extra seats in case someone showed up. A friend, who tried really hard to make it to our wedding, was told to leave & was randomly walking around the room. During the wedding rehearsal I asked, "When would the wedding party know when to stand or sit." Mariah's answer: "They are expected to know." I was like, shit. Basically, I had to tell everyone what to do. Richel & Mariah didn't have us prepare what to think or do for our wedding party. In our contract there was supposed to be 3 monthly meetings before the wedding date, but we met 1 month before the wedding with the venue coordinator & a timeline meeting the week of the wedding. But, the necessary changes we discussed were not made to the timeline. There were more items to the contract, but of course she made EXCUSES. Richel said they would be there 11am. But, didn't show up till 12ish. She said that one of her assistants can pick up our leis, but Richel told us (11 days later) she had to do it. She had 5 people working that day. When we confronted her that the timeline said 11am, she said there were necessary changes(?) & that we were supposed to check the google drive document she updated. How were we supposed to know that we were supposed to check google drive on the day of wedding. She tried to blame it on the groom. There's more, but there's not enough room for me to say.
---
Reviewed on

4/04/2016
Ashley D
Richel and Mariah at FTG literally saved me from so much stress and anxiety! They're absolutely AMAZING and made the whole process so easy and fun. They took care of everything and it made my fiance and I so happy. From answering my midnight texts to bringing snacks so my... Read More daughter was content during our meetings, the team at FTG was so thoughtful and kind. 100% recommend For The Good Hawaii!
---
Reviewed on

4/04/2016
For The Good Hawaii did an exceptional and amazing job with the planning process for my wedding. I couldn't have asked for a better experience when I was planning the biggest day of my life. I had heard stories of wedding planning being so stressful and unenjoyable, but that was... Read More not the case. Richel and Mariah worked so hard to ensure that my husband and I were happy and stress-free! They were always available to talk, meet, or touch base. They surprised us several times with thoughtful gifts and sentiments to help us relax and enjoy being engaged, and went above and beyond to make sure we got everything we wanted for our wedding and didn't go over budget. The best thing about planning our wedding was hiring For The Good Hawaii as our planning team! Words can't express how happy we are that we went with them. If you're looking for a personalized, amazing wedding planning experience... it's here with For The Good Hawaii!
---
Meet The Owner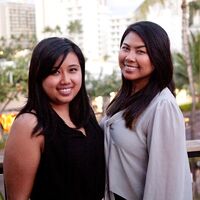 Richel & Mariah
With a background in Events, Marketing, PR, and Management, Richel and Mariah help lead their team of trained wedding specialists as they plan and create one-of-a-kind weddings and events for their clients. Richel and Mariah have known each other since they were young children and grew up as close friends. Their love for details, design, and all things wedding, enables them to create a beautiful and personalized experience for their clients. When they're not with clients or at weddings, Richel and Mariah enjoy going to brunch, sipping on mimosas, and the occasional jetset to Vegas.