Home

Forget Me Knot Events
About this Vendor
Specialists in Unforgettable Events
Forget Me Knot Events, Ltd. are specialists in creating unforgettable events for weddings, anniversaries, birthdays, corporate events, fundraisers, and just plain fun throughout Reno, NV and the Tahoe area. We can turn your event dreams into an unforgettable and affordable reality.
Details
Day-Of Coordination, Full Service Wedding Planning, Planning
Contact Info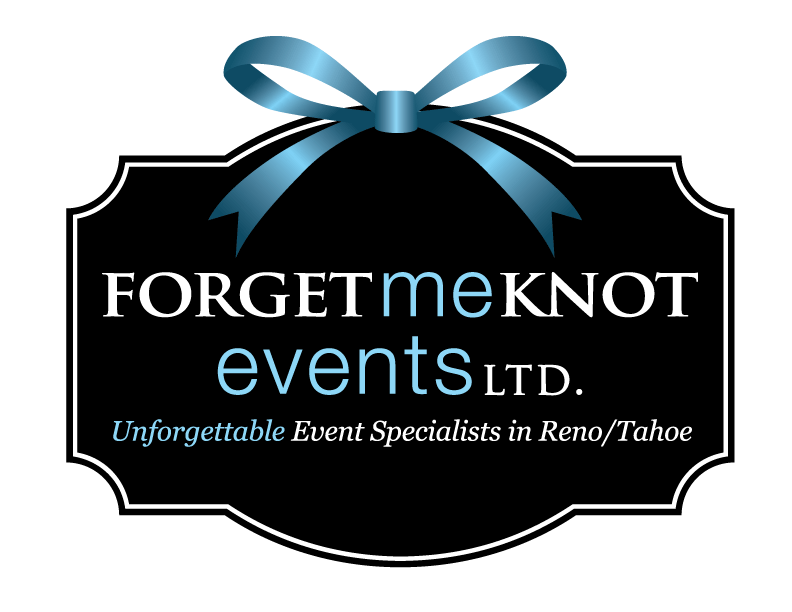 Serving the Reno/Lake Tahoe area, Reno, NV
Serving the Reno/Lake Tahoe area
RENO/TAHOE #1 WEDDING PLANNER
Reviewed on

9/06/2014
Jessica P
Donna Putnam was the most exceptional wedding planner I could've imagined working with. I live in San Diego (and have a very demanding full-time job) and she helped me plan my wedding in Lake Tahoe. I interviewed 5-7 different planners and not only was Donna the most cost effective, she was the only planner who I trusted with my wedding. She was pleasant, precise, organized and thorough. She completed everything on time and uncovered many things/details that needed to be changed/adjusted before the wedding day. My rehearsal and wedding day ran perfectly without a single glitch. Donna sent out the most intricate and easy to follow timeline to all of my vendors and wedding party (and my vendors were amazed by the timeline saying they've never seen anything so thorough and organized). She has a great reputation amongst vendors in the Reno/Tahoe area and I am so grateful that I hired her!
---
Amazing Wedding Planner!
Reviewed on

10/06/2014
Lauren W
I was indecisive initially on whether or not I wanted to spend the money on a wedding planner. Looking back now, Donna was worth every penny and then some. Despite how organized and prepared I like to be, I would have lost my mind if Donna wasn't there. We hired Donna after we had already picked a wedding venue. A few months into planning our venue fell through (every brides nightmare!). Donna told me not to worry and was prepared the next day with a list of alternatives for me. Another addition to having Donna was that she has an amazing reputation within the community, so the new venue was more than accommodating to me and my family. She really understood what we wanted and helped us create it. She was professional, organized, creative, flexible and attentive; all qualities that you want in someone who is planning one of the most memorable days of your life. The wedding was beautiful, our guests loved it, and most importantly, my husband and I truly enjoyed every minute of it!
---
Amazing wedding planner and a wonderful person
Reviewed on

9/20/2014
Irina S
Forget Me Knot Events was highly recommended to me by another bride, who had her wedding at our venue, and I am so happy I got a chance to work with Donna. From the first correspondence Donna was very responsive and easy to work with. Donna was flexible and consultative. We had a video phone consultation followed by decision to contract her for day-of coordination. Donna did an amazing job coordinating with vendors on the day-of and truly going above and beyond for us. She is knowledgeable, professional and friendly. She saved our butts a few times when she advised on things we wouldn't have thought to even consider. I recommend her for day-of, but I wish we used her full planning services. Would of been totally worth it!
---
Dream Day
Reviewed on

2/10/2015
Betsy V
Donna and her team were absolutely amazing for my husband and I's special day at Edgewood, in Lake Tahoe. Donna was super organized and listened to everything that we wanted and envisioned leading up to the wedding day. She worked great with all of our vendors, including our florist and photographer. Our wedding day was absolutely perfect, and we have Donna and her team to thank for that! Donna is caring and personable, and really cares the happiness and satisfaction of her clients!
---
Amazing Wedding Planner
Reviewed on

10/31/2014
Evelyn M
Thank you, Donna, for making things so much easier for me during my wedding. I know there are still so many things I don't know about that you handled for me, but I felt like the day went off smoothly and without a hitch. I can't thank you enough for that. Stephanie was great too. I would highly recommend Forget Me Knot Events. They were super detailed, able to think on their feet, be flexible and deal with all types of people (personalities) and situations. It really made a world of difference and I was lucky to have you on my team.
---
Day of Coordiantion
Reviewed on

10/29/2014
Donna and Evelyn made the day run smoothly without me having to worry about anything! They were also great to fix last minute changes.
---
Donna made me look good
Reviewed on

10/07/2014
Myra H
We selected Donna and Forget Me Knot Events before we did anything else. My daughter and her fiancée and their families all live in North Carolina. The bride and groom had fallen in love with Lake Tahoe on an earlier visit and wanted to get married there. The guest list including the wedding party was under twenty people because they wanted to keep the event intimate. Because of the huge distance between home and the wedding venue, I knew that a wedding planner was essential. One phone call to Donna and we were convinced that she was the right choice. The wedding went on without a flaw, just the way it was planned and Donna was with us the whole way. She is the best! The groom's family was amazed at the selections we made in the choice of our venue and our vendors -- all thanks to Donna who guided us all along the way. Thank you, Donna for making me look good as the hostess/planner and for making my daughter and her husband's dream wedding come to life.
---
Amazing Wedding Coordinator
Reviewed on

10/06/2014
Courtney V
We could not have been more happy with Donna's work as our day-of wedding coordinator. I interviewed a bunch of wedding planners and immediately knew Donna was the one after our first phone conversation. She's sweet and easy to get along with, plus she listens to what you want and takes the time to understand your vision. Although she was only hired to be day-of, she was a great resource for us throughout the entire planning process and even recommended a bunch of good vendors. The day of our wedding we both felt totally at ease knowing we were in great hands with Donna and her assistant. She went above and beyond to put together all of the details and ensure our wedding flowed smoothly. Overall, we couldn't have been happier with Donna's work. She has a true talent and we can't thank her enough for making our day perfect!
---
Forget me Knot Rocks!!
Reviewed on

10/06/2014
Holly G
Forget Me Knot Events did a wonderful job helping me to coordinate my special day! Donna made it so that I was able to enjoy my day with it flowing as smoothly as ever. Donna is very dedicated to her clients, she has a great sense of humor and is exceptionally well organized. I highly recommend her services and will use her again, in a heartbeat, if I ever have another event in the Tahoe/Reno area!!! Use Forget me Knot Events!! You won't be sorry you did!!!
---
Fantastic Wedding Coordinator!
Reviewed on

7/12/2014
Allison B
Donna and her team did a great job ensuring that all aspects of my wedding day went as planned. She begins engaging for day-of support 2 months in advance, and her timelines are so helpful. There was a hiccup with my wedding flowers the morning of my wedding, and she went above-and-beyond to modify the bouquets and centerpieces - she went back to the florist, went to the flower wholesale store, bought samples for me to review, and had the flowers changed. I was so surprised and happy that she did everything to fix the problem! My only critique is that not all of her vendor recommendations ended up being as fabulous as she is, but since I planned a long-distance wedding and wasn't able to meet some of them in person, it was a real possibility that there would be a few vendors that didn't exceed my expectations. I would highly recommend Donna!
---
Wedding
Reviewed on

7/10/2014
Susan P
Donna was awesome as my wedding planner. I would recommend her to anyone. She was organized, had great ideas, and had wonderful recommendations for vendors. She is friendly, easy to work with and was willing to work with me on a very short timeline. On the day of the wedding, she helped things go smoothly. If there was a problem, it was fixed and I didn't even know about it until afterward. Several close family and friends commented on how calmly she handled any situation that came up on the crazy wedding day. It was a beautiful wedding. Thanks, Donna!
---
Bride
Reviewed on

10/06/2013
G D
As I sit here writing this review, I feel overwhelmed because I don't think it is possible to write everything I would like to say about how grateful I was to have Donna as my wedding planner! From the moment I started working with Donna, I instantly knew that she was going to be my saving grace when it came to planning this event. And, eight months of planning and one exquisite wedding later, I feel that she was that and so much more!! Donna is worth her weight in gold and I cannot say enough great things about her! Donna's organizational skills, experience, knowledge base, insight, foresight, dedication and diligence are unbeatable! She was always responsive to me when I had questions or concerns, and her attention to detail throughout the entire process was incredible. She is intelligent, quick thinking, calm, level headed, and she works under pressure with true grace and dignity; and she keeps a great sense of humor through it all! It has been the greatest pleasure (and honor) to have Donna as my wedding planner! My wedding was absolutely perfect (and that is hard to do when planning a wedding!) and I know that my special day would have never been what it was without Donna. I am so very thankful that Donna was by my side through this entire process. She made the last eight months of planning pleasant, comforting and fun and I would work with her again on another event in a heartbeat! I would highly recommend Donna and Forget Me Knot Events. She truly made my wedding day unforgettable!
---
Donna Putnam - Forgetmeknot Events
Reviewed on

10/05/2013
After interviewing 7 Wedding Planners we chose Donna Putnam of Forgetmeknot Events. We chose Donna because she was experienced, organized, down to earth, easy going and approachable. Just they type of person we were looking for. She provided us the luxury of resting assured that wedding plans and details were being generated in the appropriate time frames and kept us all on track. We were pleased with the vendors she recommended, especially our makeup artist & the photographer/videographer. Naturally there were some bumps along the way and she was a great help with negotiations and advice. She was also calm and reassuring the day of the wedding. The wedding was "perfect" and everyone raved about how beautiful it was from the church ceremony to dancing the night away at the reception. So THANK YOU Donna! Because of you we had a great time planning this wedding. I will recommend Donna to any Bride/family who wants to work with someone who is an expert, a good communicator and .....lovely to work with.
---
Worth every penny!
Reviewed on

10/04/2013
Jenna S
Donna with Forget Me Knot was the wedding planner for our wedding and she did an incredible job. After bad weather kept us from our outdoor ceremony, Donna sprang into action to ensure our ceremony would be just as beautiful indoors. She negotiated a new location (no wedding had ever been allowed there before) and handled all the changes. The indoor ceremony turned out better than the planned one! Donna went above and beyond what I expected from a wedding planner. She truly wants to create a memorable day customized around the bride and groom. Looking back I know our wedding would not have been as stunning with out Donna.
---
Great Tahoe Wedding
Reviewed on

9/17/2013
Kristen J
Donna was great to work with. As our wedding was a destination wedding, we relied on Donna for all things vendor related and logistics (house wedding). She was professional and thought of all details. Didn't have too many worries on the day of!
---
Donna had it all under control!
Reviewed on

9/16/2013
Meghan O
We used Donna as a day-of coordinator for our wedding. We were trying to decide if we would need a day-of coordinator, but once we met Donna we were so glad we booked her! She is very organized and really takes the time to get to know what you are wanting out of your Big Day and insure that every detail is in place. She is an expert on weddings, so we appreciated all her input on details we didn't even think about, but she also never overstepped or pushed any ideas on us. Plus her rate was by far the most reasonable rate we were quoted. If you are wavering on getting a day-of coordinator, consider that you do not want to be in charge of vendors, timing and last minute details the day of your wedding. We just handed our plans and dreams off to Donna and she took it away. In the days leading up to the wedding and especially on the day itself, It was such a relief to know she had it under control. It really allowed us to relax and just enjoy! Thanks Donna!
---
Couldn't have done it without Donna!
Reviewed on

9/09/2013
Krista M
Donna and her team and Forget Me Knot Events did a fantastic job from start to finish helping me plan my destination wedding. It was important to me to have regular email contact with my planner, and Donna replied timely and consistently. She not only delivered my idea, but provided helpful suggestions on how to enhance the overall them I wanted. She was familiar with vendors in the area and coordinated them without any issues. I would recommend Donna to any bride, and especially to those that are very particular and from out of town. She even arranged to return my cake topper and veil while i was honeymooning in SLT the next week!
---
Krista / Scott Heist Wedding - Lake Tahoe
Reviewed on

9/07/2013
Typically we are not one to write reviews, sometimes mean to but rarely do it. Because of the great job that Donna did at our daughter's wedding we wish we could do more than just a review. We live in Arizona so with the wedding being at lake Tahoe it was a challenge to begin with. I shudder to think about about not having Donna around to cover all of the bases and the details you don't think about during this entire process. Both Scott and Krista told us many times "Don't worry about it. We'll tell Donna and she will take care of it!" and she always did. The day of the event Donna attended to every detail along the way and because of it our daughter's day (along with ours) was special, beautiful and fun. We have one more daughter that is not married. If she does not get married in Tahoe i wish there were a way we could get Donna to take a road trip! Thank you Donna for helping to make our daughter's wedding a beautiful memory for for her and Scott.
---
Wonderful
Reviewed on

9/06/2013
Gina B
Donna was amazing! She was so helpful and kept everything flowing smoothly. She was willing to go above and beyond to make sure the day was perfect.
---
Donna is amazing
Reviewed on

9/06/2013
Travis S
I left most of the planning up to my wife for our wedding. I wasn't sure that we needed a wedding planner, but it turned out to be a lifesaver for my wife. With planning a wedding in a destination that was 3-4 hours away, it wasn't always easy to find vendors and get away to meet. Working with Donna was great because she was able to make recommendations for us and set up appointments for when we were in the area. I know my wife thoroughly enjoyed working with Donna throughout the planning process. If I wasn't happy with the services Donna was providing, she definitely showed why she is awesome the weekend of the wedding. She handled the variety of personalities of our vendors with grace. Her hard work helped make our wedding day great.
---
Simply the Best!
Reviewed on

9/06/2013
Christine S
I can't put into words how amazing my wedding day turned out because of Donna! Honestly, her services were the best choice and money I spent on my wedding. The planning was so much easier with her in my corner helping me find vendors and make decisions. She was very responsive, from the simplest questions to freakouts over details or bridal party issues. The day of the wedding was handled professionally and efficiently. After the wedding I kept hearing stories from my guests about how wonderful Donna was and how she handled getting rid of the ceremony site's of unwanted "guests."
---
Donna and her staff are AMAZING
Reviewed on

9/06/2013
Alyssa T
Donna and her staff were such a lifesaver for our wedding! We used her day of wedding service package. She went above and beyond on our wedding day. She brought extra chalkboard signs for all our displays and helped to minimize my stress level throughout the day. On the day of our wedding there was a mixup with the company we rented our wine glasses through and Donna made sure everything got worked out so we had wine glasses for our guests. It was comforting to know I had someone there to handle everything so I could enjoy our wedding day to the fullest. Communication with Donna was always thorough and she responded quickly. Donna was great at answering any questions we had and provided expert advice. My husband and I loved her personality and enthusiasm!
---
So happy I chose Forget Me Knot Events!
Reviewed on

9/05/2013
Megan L
I used Forget Me Knot Events for "day of" wedding coordination. I go SO MUCH value for my money! Donna started providing service more than a month before the wedding, making the process easier. She went out of her way to help me find less expensive options to meet our budget. The vendors she referred (florist, hair/make-up artists) also provided a great value/quality and I was extremely pleased with them, as well. Donna and her assistant, Stephanie, handled crazy relatives, last-minute venue chaos, last minute weather issues, a fainting groomsman, and all the tiny details of the day with poise, professionalism, and polish! They kept obstacles from becoming problems and saved our day!
---
Forget Me Knot Events
Reviewed on

7/29/2013
Jenna D
As a bride from out of town, I was worried about planning a wedding in Lake Tahoe. However, the minute I found Donna and Forget Me Knot's website, I knew that she and I would work well together. From our first emails, I could tell that Donna had immense wedding planning experience. She was able to draft a budget, timeline, and detail many other requests of mine in the drop of a hat. Throughout the year that we were engaged, my husband and I consistently threw many questions at Donna and she was not only quick to respond, but gave us many honest answers. Finally, the day of the wedding, Donna and her assistant crafted an amazing tablescape, exactly what I wanted and had imagined in my mind. Throughout the whole experience she was extremely professional, hard-working, and fun to talk to. We highly recommend Donna Putnam and Forget Me Knot Events.
---
The Macgyver of Wedding Planners!!
Reviewed on

6/27/2013
Melanie H
When we decided we wanted to get married in Tahoe, I knew we would need help. After days of searching online and sending inquiries to coordinators that I found, I received a reply from Forget Me Knot. I liked what she had to say and just had a feeling about it, so we went with it! I AM SO HAPPY THAT WE DID!!! Donna is the ultimate PRO at this! She lead us through every step of the way. She knew all the right questions to ask to get an idea of what we liked and what our vision was and then that is exactly what we got. Any time I had a question or concern, she always had the answers. We did most of our communicating via email and Pinterest (she is willing to use any form of communication - emails worked best for me) and she always responded right away. Donna is so sweet and fun to work with, yet knows how to maintain such a high level of professionalism. When things got a little crazy with some mix-ups during set up, she handled things so well, that we were totally unaware of it. It was only after the fact that we found out from someone else how she flew into action with her "professional bag of tools" and quick thinking. All vendors recommended were fantastic and and with Donna at the helm, it was the most special day - even better than we had hoped for. If you have any kind of event and you want to have that special and unique touch, be sure to get in touch with Forget Me Knot Events!! We couldn't have done it without them!!!
---
Send Message