Home

Fritz's Catering
About this Vendor
Serving Central Texas for Over 25 Years
Fritz's Catering offers a wide variety of wedding catering services. A wedding is all about memories, and making your wedding day the most beautiful special day of your life and that is our commitment. We can assist you with developing a custom menu or you can choose from our list of set menus.
Details
American, Italian, Middle Eastern
Buffet, Catering Clean Up, Catering Delivery + Setup, Family Style, Menu Tastings, Passed Appetizers, Seated Meal, Servers, Food + Catering, Service Staff
Contact Info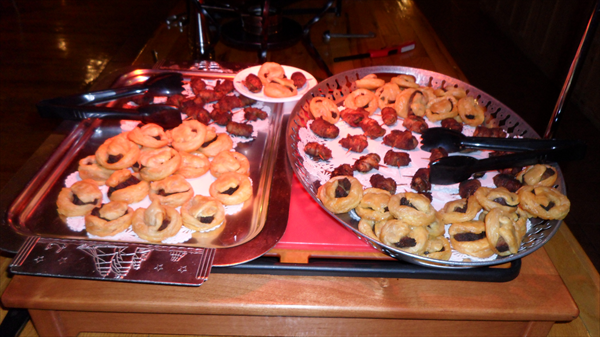 Awesome caterer/event coordinator!
Reviewed on

6/10/2013
Judy D
I anticipated that selecting the caterer for my son's wedding would be the most stressful part of the wedding planning process. However, from the moment my future daughter-in-law and I met Carolyn Fritz, we felt confident that we were making the right choice of caterer and day... Read More of event coordinator. Everything was right on schedule at the wedding and the reception (thanks to Carolyn), and the food was absolutely delicious, from the appetizers to the meal. Carolyn provided the bartending staff and all the wait staff; everyone was very friendly and professional. Just as important as all of this was the fact that the bride's mother and I didn't have to worry about anything; it seemed that Carolyn was everywhere that afternoon and evening, ensuring that everything was running smoothly! Three weeks later, we are still hearing from guests how magical the evening was! Thank you, Fritz Catering and, especially, Carolyn Fritz!
---
Delicious
Reviewed on

8/13/2013
Courtney
The food was everything we wanted it to be. Carolyn worked with us to find the perfect menu and was nice enough to let me do a second tasting to make sure everything was just right.
---
great people and AMAZING FOOD!
Reviewed on

11/13/2012
kristin g
Carlos and I knew from the beginning we wanted a low key, good food, good dancing and lots of laughter wedding. We also knew we didn't want to pay $50 a person for food, or $30 for that matter – no matter if it was Paul Qui's sushi. So, we expanded our Austin vendor search to... Read More local catering companies outside of Austin. This is when we discovered Fritz's catering. From the first meeting to the last bite, they were amazing. Carolyn and Robert had us down to their kitchen for our initial tasting – amazing. We each had an entire plate of food, as Carolyn casually walked us through their endless menu possibilities. Fritz's offers set menus, with a wide range of price offerings as well as just about any recipe you could ever think to ask them to cook for your guests. Carlos and I knew we wanted to have meat, but also have our sides serve as enough of a meal for any vegetarians. We asked Carolyn and Robert to re create a sauce we'd had a 5 Star hotel wedding and they KNOCKED IT OUT OF THE PARK! We also chose two appetizers for our guests to have during the cocktail hour while the wedding party was taking pictures. The set up of the food was spectacular – our guests were amazed at the class we were able to establish with a buffet, self served dinner. Carlos and I were both so excited to sit down to a delicious meal at our wedding (yes, we sat and ate dinner that Carolyn had sitting out for us). Carolyn also made me feel better about being able to feed any number of people that showed up, as I was getting nervous about the lack of RSVP's I'd received a few weeks from the wedding. She ensured me she could feed an extra 100 people if she needed to, not to worry. All of Carolyn's correspondence was prompt and all of their invoices and contracts were very approachable and reasonable to understand. Also, they allow for amazingly reasonable payment and final guest count times – all the mean while checking in at each point to make sure we were satisfied and content with how the process was developing. I would have Fritz's bring thanksgiving dinner to my house with my family next week if I didn't know she deserved the week off to spend with HER family! Frtiz's catering is amazing – such an amazing value for the money as well as wonderful people to work with. Carolyn also offers coordination service to brides. I could write three pages about how worth it it was to have her help through my wedding process. Although she advertises "day of" coordination – she supported me through 12 months of planning a wedding with multiple meetings and countless emails and phone calls. She balances advice and a lending ear perfectly – speaking up when she knows you need to hear an answer, and agreeing when she knows you just need someone to talk an idea through with. And let me tell you, that woman can kick everyone into gear on a wedding day. We had everyone running late and it all came together perfectly. She transitioned the entire evening with ease – from the bottom of my heart, my day would not have come together without her help and persistence. She was incredibly professional when appropriate and emotionally connected at the next minute allowing me to step back and enjoy the entire evening. Best money I spent for our wedding, hands down no exceptions.
---
Reviewed on

8/30/2017
Skye W
My husband and I are so happy with how Fritz's Catering delivered for our wedding. The food was delicious and abundant. The planning process was thorough, detailed and helpful. They had plenty of pre-selected menu options, were quick to respond and happy to accommodate us. We... Read More would recommend them to anyone and everyone.
---
Reviewed on

10/26/2016
Kendra D
Excellent prices and great food. We've only done our tasting but absolutely loved it! The fried chicken with raspberry dipping sauce was our favorite.
---
Reviewed on

5/09/2016
Chris K
Cardinal rule #1 when you're in the catering business is not to run out of food and that is what happened at our wedding in April 2016. We had gone back and forth with Fritz about changing our vegetable to asparagus which they informed us would be an up-charge. No problem, we... Read More signed up. The day of the wedding, they only had enough asparagus for about half of our guests so they were left with no green/color on their plate. Fritz offered to pay us back for the 75 guests that did not get asparagus, but in my opinion they should pay us back for the whole up-charge fee. Running out of food should never happen. Also, we paid to have them take care of the bar at our wedding. At one point, I walked over to discover they had run out of ice and someone was having to go get more. Again...shouldn't happen. The pros are that the staff that was at the wedding were very nice, but I would probably go with another company if I had to do it all again. The food is such an important part of the wedding and there's no reason to be running out of anything.
---
Reviewed on

6/23/2015
Natalie M
We drove in from Houston to meet with this caterer and we were not only stood up but our phone calls were never returned to offer and explanation. Disappointing because we had many referrals to this catering company but reliability is key to a wedding.
---
Reviewed on

5/06/2015
Molly L
Absolutely fantastic experience from start to finish! Carolyn, the chef's wife who helped us out, was amazing! She was very sweet, so easy to talk to, and very forthcoming about all the options and strategies we could choose from. She also does some work as an event coordinator... Read More so she had a lot of insight to share. She was very communicable and made sure we stayed up to date on everything. To top it all off, the food was incredible. Our wedding guests raved about how good all the food was and she even made the setup fit with our decor. Could not have asked for a better caterer!
---
Reviewed on

5/03/2015
Madison H
I was so impressed with them. They showed up for my wedding early. set up without fuss and was the pinnacle of southern hospitality. The food was to die for. The only caterer that would make steak, and it was awesome. Steak, potatoes, green beans, and just wow. When the... Read More wedding ran long, she didn't drop a beat and adapted to the situation. This caterer was cheaper than others, awesome food, perfect service, and just damn awesome.
---
Pleasantly Surprised
Reviewed on

10/17/2014
Audrey R
I definitely rushed into finding a caterer for my wedding. Fritz was recommended by my venue and they were my one and only tasting. Obviously I was pleased with the prices and options from the beginning. However, along the way there was some miscommunication and I started seeing... Read More other options that looked good too. I stuck it out and ended up being very happy. My guests were all pleased with the food and I thought the presentation and service were wonderful. I felt stress-free knowing they were taking care of everybody so well. Definitely a great value!
---
Delicious food, perfect event
Reviewed on

9/18/2014
Jaime E
If I could give half stars, I would give Fritz's a 4.5. We had some slight communication hiccups; sometimes they were slow to respond to emails, and it resulted in an almost-mini crisis over the required insurance for the venue, which I didn't know they were having trouble... Read More meeting until two weeks before the event. However! All of that melted away, because Fritz's delivered an outstanding wedding service that is still receiving compliments three days later. They made my dream of a macaroni and cheese bar come true! They helped pass out the soda bottles for our toast, and provided quick cake cutting service. I highly recommend them, but I suggest keeping in touch over the phone more than I did instead of email.
---
Great Catering!!
Reviewed on

5/29/2014
Jill H
Wonder service and food!!! Working with Fritz's from when I hired them till the end of my wedding has been a great experience and it was a lot of fun!
---
Yummy in my tummy
Reviewed on

1/17/2013
Kara O
Fritz is a great price for AMAZING food. We had the cooked on site chicken fried steak and an amazing raspberry chipotle chicken.
---
Hats off
Reviewed on

11/28/2012
Brittany R
Fritz did the catering for our November wedding. Bring two new college graduates paying for their own wedding we were astounded by the cost of most catering companies. At one point we were quoted 45 dollars a person, YIKES!! We wanted something on the menu that was a real crowd... Read More pleaser without being a real pocket picker, thats when we discovered Fritz. We meet Robert and Carolyn for a tasting and fell in love with their BBQ, we were so happy to know that they did not expect 45 dollars a plate but instead something we could afford for our wedding guest list of 250. They even supplied us with cake plates, napkins, water, and tea. My husband and I also opted for Carolyn's wedding coordination. Another thing we appreciated was that they made a separate entree for of vegetarian guests. Wedding day our guests were very impressed with their food. Carolyn was so much help in making our wedding day run smoothly, we don't know what chaos it would have been without her. If you are looking for great food at a reasonable cost than defiantly look into Fritz's Catering :)
---
Great food and service
Reviewed on

6/13/2012
Karissa N
Very happy with what the served. Everyone loved the food especially the green beans. They were great. The price is reasonable and food is amazing. They really take care when making everyhting. A batch of green beans were a little soft and they quickly replaced them. You wouldn't... Read More be making a better choice if you decided to go with them
---
De-Lish!
Reviewed on

5/19/2012
Pamela C
Words can't express how delighted Stephen and I were to have Fritz's Catering lavish our wedding guest, with such wonderful food and service! From the first experience at our tasting, we talked about the food and how good it was going to be, through our entire process of... Read More planning the wedding. Friends and family are still telling us how great the food was!!! Thank you Fritz Catering! Excellent job...Wonderful food! Pamela and Stephen
---
Excellent Food
Reviewed on

11/21/2011
Ashley W
Every guest at our wedding told us they thought the food was amazing, a few people were mad at themselves for not getting seconds. Carolyn was so nice, and her staff were all very polite as well. We had the chicken wellington, bacon cheddar mash, green beans, aspargus, and roast... Read More beef. EVERYTHING was excellent, and they even packed up the leftovers for us to enjoy later :) I wish they had a restaurant so I could try their other dishes! All of the sauces are fantastic
---
Ahhmazing!
Reviewed on

11/10/2011
Sarah E
Carolyn and Robert Fritz are hands down the best! My guests are still commenting on how great the food tasted. We had the roast beef carving station, pecan crusted chicken, roasted new potatoes, green beans, salad and rolls. The raspberry chipotle sauce for the chicken was to... Read More die for. We opted for the silver reflections plasticware and the square plates; both of which guests thought they were real. Carolyn even supplied a bucket we saw at the tasting for the silverware that the Groom fell in love with and had to have.
---
Perfect
Reviewed on

10/07/2011
Alyson w
Robert and Carolyn went above and beyond to make our special day absolutely perfect! We hired them for our meal, bar service, linens, exit car (an awesome cadillac), and day-of coordination. Everything they did was exceptional. Carolyn made sure everything was done before I... Read More could even think about it! The food is delicious, service is great, they are very easy to work with and very affordable for everything they offer! They really played a huge part in making our day so special! All of our guests were surprised and could not stop talking about the cadillac we left in! It was a great final touch!
---
Delicious food!
Reviewed on

6/13/2011
Kaity H
Carolyn and her team at Fritz were a joy to work with! They made incredible food and had an amazingly reasonable price! Plus they were willing to come al the way to Dripping Springs for our wedding at no extra cost for the traveling! They were professional and the food... Read More service and clean-up was seamless and didn't disturb the wedding activities!
---
Delicious!
Reviewed on

12/06/2010
Tiffany Q
Fritz catering.... let me tell you, has some of the best Italian food I have ever tasted! They were on time, the food was perfect (tasted exactly like our "tasting"), and they were eager to feed our guests!
---