Home

Gabby and Martha Hair & Make up, LLC
About this Vendor
YOU DESERVE THE BEST! We're specialists!
We're hair and make up specialists! It is our calling to help women, who can appreciate quality and experience, feel amazing and confident with their hair and makeup look for their weddings. Using our vast knowledge, highly qualified skills, and exceptional customer service, we are able to cater to the wants and needs of any bride from any race or culture. We are two loving sisters with over 20 years of experience. Professional make up and hair styling for weddings and all special occasions is what we LOVE!!! Our goal? Is for you to wear the confidence of looking Amazing! We can't wait to meet you and know more about your dream look!
Details
Contact Info

Reviewed on

1/03/2017
Liz S
I was a wedding photographer when I still lived in DC 4 years ago and I've worked w/ Gabby a few times for photo shoots. When it was time for my own wedding, I knew I wanted Gabby & Martha & didn't hesitate to contact them. Here are 3 main reasons why I think EVERY bride... Read More should go with Gabby & Martha: 1) Their expertise and top notch skills. SERIOUSLY, these women have been honing their craft since they were what, teenagers? They know what you want before you even show them, but they'll ask you out of respect anyway because they're kind and professional like that. They study your face to make sure the look you want will suit you because God knows not every look on Pinterest will suit every bride (hey, just keeping it real here). They'll work with you until you're fully satisfied, but they do their BEST work when you trust them to work their magic. Show them photos of what you want, but give them room to let them do their thing and you won't be disappointed! 2) Their relentless PASSION and LOVE for what they do. People in the wedding industry know who is truly passionate about what they do, and who's in it just to "keep the business going". I used to tell my brides ALL the time to go with vendors who keep their creative teams small because they tend to be more passionate about their work. SO many vendors in the wedding industry get burnt out easily, but not Gabby & Martha. These ladies are extremely passionate about their craft and consistently devote themselves to their clients. I didn't feel like "another bride" - I truly felt valued as a client and they took their time with me. 3) PROFESSIONALISM They're punctual, efficient with their work and always professional. Gabby & Martha are WORTH every penny! If you want to look amazing on your wedding day, I highly recommend Gabby & Martha. Their talents, kindness & professionalism are a rarity these days. Thank you, Gabby & Martha!
---
Reviewed on

11/22/2016
Leigh A
Gabby and Martha and true professionals. It's clear they've been doing this for a long time and yet they made me feel special and not just another bride. They also are on the cutting edge of design--up to date on the latest trends in hair and makeup. They both listened to my... Read More ideas and vision and executed them perfectly. and when I said I wanted a more natural look, that's exactly what they did. I just felt stunning on the big and when I looked in the mirror, I simply saw a more stunning version of myself (not some stranger). I really must also stress their proefsssonalism. They knew exactly how to schedule some 10 women the day of the event--in fact, we were done ahead of schedule. They also made my bridesmaid look spectacular. Each one of them looked like themselves but their natural beauty was simply amplified. I highly recommend gabby and Martha for your big day.
---
Reviewed on

10/19/2016
Chotima E
After several consultations with numerous beauty and health artist, Gabby and Martha offered me the best package for both hair AND makeup. 1. Quality of Service - Their quality of service is top notch. They came prepared with all their tables, chairs, makeup and hair supplies... Read More both on the trial date and on the wedding day. They used airbrush make up which stays on you for a rest of the day. The technique they used to put on lashes caused no irritation whatsoever. Not to mention that it was also raining on my wedding day and the make-up and hair for all 7 girls were still in perfect condition by the end of the night. Of course, touch ups are required here and there if you have oily skin. It is just the way the skin works. However, we don't have to patch on too much of touch ups. Light brush and powder and lip gloss will do. After working with them, you can tell that they do care about their final product. They want the bride and bridesmaid to look the best at the wedding. They also becareful that the bridesmaid will not ended up with the same hair as the bride. This is the bride special day, she deserve to look different. 2. Responsiveness - All my communication was done on WeddingWire. Either Gabby or Martha do replied within few hours. They are also available on the phone. Quick and easy communication. Love! 3. Professionalism - Needless to say, showing up on time with all their supplies ready is the first step to professionalism. They conducted themselves professionally around needy bridesmaids. We had a great time. 4. Value - I have to say with the all inclusive pricing they offer led me to book them for my wedding. Some vendors charge lashes and airbrush separately. Some vendors required you to sign their contracts before you even meet with your makeup and hair artist. They meet with you for trial and then you can decide on their service. 5. Flexibility - They are very flexible regarding timing, style, and hair dos.
---
Reviewed on

9/28/2016
Sarah L
Gabby and Martha are AMAZING! I struggled for so long in finding the perfect hair stylists for my wedding, but I knew it was fate when I spoke with these incredible ladies for the very first time! Not only did they travel over an hour to come to my own house for my hair trial,... Read More but they helped style the hair of all seven of my bridesmaids, my mother, and me! Talk about daunting - but these ladies handled it with such grace and worked their magic on all of us! Everyone looked so beautiful and we all received so many compliments from guests! I can't recommend Gabby and Martha enough. They are so kind, sweet, professional, and go above and beyond for their clients. They are truly talented artists and I couldn't be more grateful to have had the chance to work with them!
---
Reviewed on

8/23/2016
Mary F
I would highly recommend Gabby & Martha Hair and Makeup to anyone who wants to feel and look like a princess at their wedding. I have to say I was constantly amazed at these ladies' skills. They are phenomenal! And the great part too is they come directly to you. No need to go... Read More to a busy salon on your wedding day! Gabby came to my house prior to the wedding to do a hair trial and I was left in complete amazement. She has some serious skill when it comes to hair! Needless to say after the trial I was quite reassured that I didn't have anything to worry about and would be in good hands on my wedding day. On the day of my wedding Gabby, Martha, and Carla came to the hotel I was staying at to do the hair and makeup for my bridal party and I. Originally we had requested for 4 hair and 3 make up. Since they all did such an unbelievable job on our hair (Gabby & Carla) and make up (Martha) my sisters and one of my bridesmaids last minute asked if they could get theirs done too. Without blinking an eye they agreed to it and even though we were in a time crunch to catch the bus they managed to do theirs too in record time! These ladies are truly magicians in the art of hair and makeup. I don't know how they do it! The entire wedding, guests kept asking me who did our hair and make up because of what a great job they did. They are reasonably priced and worth their weight in gold. Would highly recommend Gabby and Martha Hair & Makeup!!
---
Reviewed on

7/31/2016
Aira V
Gabby and Martha Hair & Make Up is amazing! I chose them for my wedding and I have absolutely no regrets. I rated them a 5.0 because they are truly the best all around. They listened to my requests, and worked with me to achieve the look that I desired for my wedding. They are... Read More very skilled, reliable, experienced, customer focused, and friendly. They helped me look gorgeous on my special day. I have been so pleased with the results of their work that I have hired them for additional events such as, my high school reunion, formal events and relative's sweet sixteen (Quinceanero). I feel confident in their work that I have, and will continue, to refer them to family and friends.
---
Reviewed on

7/28/2016
Aubrey K
I'm proud to say that I was one of the first customers of Gabby and Martha. A close friend referred me to Gabby to do my wedding hair, and I couldn't have been more pleased. Gabby and Martha did my hair, as the bride, as well as my six bridesmaids. We agreed on an affordable... Read More price, and they came to the hotel room where we were all getting ready, thus making my wedding day so much easier! Gabby and Martha are true hair experts and artists. They are able to take a picture and turn your hair into a perfect or even better replica. I was worried about my hair falling down as we were having an outdoor wedding, and it stayed in tact the entire day. I would highly recommend Gabby and Martha for anyone's wedding hair needs. They made me feel like a special and valued client. They are also very professional and courteous to everyone in the room!
---
Reviewed on

6/30/2016
Gabby and Martha are the best! There are so professional with a stressed out Bride. They kept me come when everyone else was driving me crazy. I currently live over seas and I don't think I will allow anyone else to do my hair from now on. Thank you ladies for making my day... Read More EXTRA Special!
---
Reviewed on

6/20/2016
Kaitlyn S
I cannot recommend Gabby and Martha highly enough! Background: I'd originally gone to my regular salon stylist for a hair trial who basically slicked my hair back, threw my hair in a pony tail, curled it, and pinned it in. It was exactly what I said I DIDN'T want. I wanted... Read More something modern and elegant, but importantly, wanted to feel like I secured a hair vendor I was confident in, had one less thing to worry about, and was going to be happy with my hair for my wedding. Photos are forever, people! Enter, Gabby. I showed her a few photos of things I did and didn't like. With the memories of the bad prom hair still very fresh, Gabby was a dream. She talked through all my likes and dislikes, and incorporated all my likes into an updo during my trial that was everything I wanted. I was thrilled. The day of my wedding, she did it even prettier, adding lots of little intricacies in the curls. Gabby is a true artist and a pleasure to work with!!!
---
Reviewed on

6/15/2016
Joanne E
Gabby and Martha are amazing. Not only are they talented, they are very sweet and kind people. They want you to look as beautiful on the outside as you feel on the inside on our wedding day. I highly recommend them.
---
Reviewed on

6/09/2016
Rosaline B
Gabby did hair for a 6-person wedding party that ranged in age from 65 to 5. Each member looked perfect. The updos were amazing and could withstand the wind of Baltimore's inner harbor and raucous dancing late into the night. I was a bridesmaid and had a dress that was... Read More strapless on one shoulder. She talked through the updo options with me and gave a romantic side sweeping updo. I loved it. As for the bride, she wanted a somewhat intricate updo that involved extensions. Gabby gave her a romantic, majestic, timeless look that complemented her gown and completed her breathtaking look. Gabby was amazingly talented and kind!! I would recommend her without reservation.
---
Reviewed on

6/09/2016
They come to your location, which is a great convenient. They are gentle with you and make you feel really comfortable while doing the makeup. Very lovely ladies. Would definitely recommend.
---
Reviewed on

5/22/2016
Walsh-ington Family Reunion R
Gabby and Martha were incredible! The hairstyles the girls selected were all so different but they each ended up with a style that was better than the picture they brought in. The make-up for each girl perfectly suited their beautiful features and personalities. Thank you... Read More so much, Gabby and Martha for doing such a great job!
---
Meet The Owner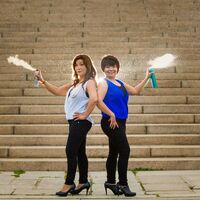 Gabby and Martha
Hi there, Ladies! I am Gabby and I am Martha! And this is us! We are two loving sisters who live for and are dedicated to our work of making people beautiful. Hair and makeup are our passion. It is really that simple! We feel we were born to do this, and we are so glad to be on this journey together. We know that in the life of every woman, there will be occasions to shine brightly—those moments that will remain in her heart forever and will be captured for a lifetime in pictures. We can't wait to complete your picture! :)