Home

Gateway Clipper Fleet
About this Vendor
Weddings with a Splash!
Romance comes alive on the three rivers. Enjoy a picturesque view of the city skyline as you celebrate your most memorable day aboard the Gateway Clipper Fleet. We promise you a most elegant and truly unique affair, perfect in every way.
Amenities + Details
Amenities
Handicap Accessible

Indoor

Reception Area
For more details about amenities, please message the Venue.
Cakes + Desserts, Food + Catering, Planning, Rentals + Equipment
Contact Info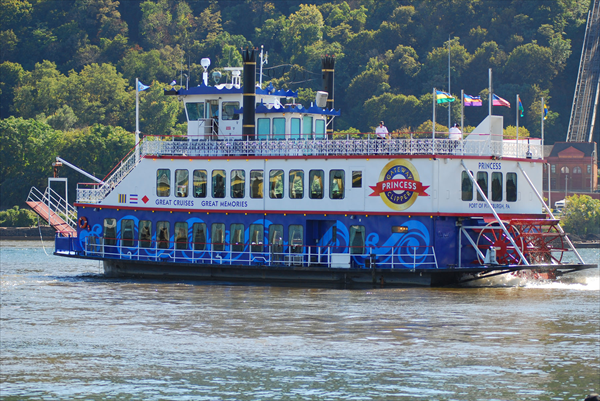 350 W Station Square Drive, Pittsburgh, PA
Reviewed on

6/17/2015
My daughter recently got married on the Gateway Clipper and it was FANTASTIC! The wedding planner, Steve Anderson was knowledgeable and great to work with. Price is very reasonable and includes many top notch items, and it's the best way to show off the city. Food was excellent! All of our guests had a wonderful time and remarked on how great this venue was. HIGHLY recommend!
---
Absolutely Perfect!
Reviewed on

11/25/2014
My husband and I recently had our wedding/reception on The Queen. Hannah was our coordinator and her and the entire staff were so professional and a lot of fun. We were shocked at how much was included in the price. Being the youngest of 4, my parents have been through many weddings and this was by far the least expensive but most fun! It was classy and elegant. Our wedding was in Sept and our family and friends are still talking about it being the best they've ever attended. Seriously, look no further. Our wedding was everything we dreamed it would be and more mostly in part due to Hannah and the Gateway Clipper staff. They made sure everything went smoothly. We would do it all over again if we could!
---
Wedding on a boat
Reviewed on

11/06/2014
Let me start this by saying Steve Anderson was/is the best! We lived out of state and only came to see the boat once about a month before the wedding. We went by word of mouth to book the venue. I was beyond pleased with Steve and the staff at the Gateway Clipper. I felt completely at ease with everything and I trusted them 100%. I knew we were in good hands. The wedding itself was directed by Ashley and she was awesome! My husband kept (and keeps) praising the attentiveness of all the staff aboard the boat. Very detail oriented and make you and your day top priority. HIGHLY RECOMMEND.
---
Reviewed on

7/28/2015
Stacy K
We held our wedding reception on the Empress vessel. It was the perfect unique venue for us to show off the city to our guests from out of town. It is also so conveniently located! We blocked off rooms at the Sheridan so our guests from out of town were able to easily fly in, take a cab to Station Square and have everything they needed as far as food and entertainment within walking distance. The convenience was also very beneficial after the reception when we went out with our guests for a few more drinks. Our guest list was about 200 so it was also important for us to have a large dance floor, but also to have things to do for guests who do not dance. I don't mean to brag, but so many of our guests that that this was the best wedding reception that had been to. It was just such a fun venue! You also do not have to worry about decorating too much as you would with a cookie cutter wedding venue because the view is so spectacular. Steve Anderson worked with us each step of the way, and was always available and friendly to help with any questions or issues we had. Our packaged included Steve's services as our event planner, a DJ (who was great by the way) from First Class Entertainment, a cake (we chose Lincoln Bakery, but Bethel Bakery is also an option), chair covers and bows, open bar, a champagne toast, cocktail hour h'orderves and dinner. Everything in the package was good quality and it was nice having a one stop shop so to speak. As someone who did not hire a wedding planner and did everything myself, it helped to have everything going through the Gateway Clipper. Both my husband and I highly recommend choosing the Gateway Clipper for your event and all of our guests would agree!
---
Fun Times and Great Memories with Family and Friends.
Reviewed on

2/02/2015
My husband Justin Walker and I chose the Gateway Clipper for our wedding ceremony and reception. Their attention to detail was beyond exceptional. Steve Anderson is hands down the best wedding planner there is. He is a wonderful caring and easy-going individual to work with and made sure our experience was stress free. He is a great asset to the Gateway Clipper. The setup and venue was absolutely breathtaking and very beautiful. Food was delicious and the cake was phenomenal. DJ Cha-Che with First Class Entertainment kept the party live and had everyone dancing the entire time. He was fun and caring. The boat was beautiful and the staff was excellent and made sure we had the time of our life. All of our guests had a wonderful time. It truly is a unique and memorable event that we will cherish forever. We would definitely recommend the Gateway Clipper for any future event or even just a night out on the town!!
---
Wedding reception
Reviewed on

11/15/2014
Lindsey P
Awesome food! Very helpful people! If something isn't going right they did something to make it right! Very fun and different! Guests will love!
---
Wonderful, Unique, All Inclusive Wedding Reception
Reviewed on

10/31/2014
Toni W
I recently held my wedding reception on the Gateway Clipper's Princess. I planned the wedding in a very short amount of time and was impressed with how Steve and the rest of the staff were able to pull things together so quickly and accurately. I enjoyed working with Steve and was beyond pleased with the reception. One of the items that made the night particularly fun and memorable was the photo booth. I have so many fun pictures of each of my wedding guests - and they also had a lot of fun taking them (at times, there was a line!). I highly recommend. My cake from Bethel Bakery was beautiful and delicious - again, I highly recommend. Kudos to the team at the Gateway Clipper for a job very well done!
---
Great One-Stop-Shopping Reception Venue
Reviewed on

10/22/2014
Rebecca A
The Gateway Clipper was a great find for our reception. They provided everything we needed for a wonderful stress-free party: food, bar service, waitstaff, tables and linens, DJ (Todd from First Class Entertainment), cake (from Bethel Bakery- AMAZING!), a hotel for the newlywed couple at the Sheraton in Station Square, and a team of knowledgeable planners to help the day go smoothly. The food was great and we were able to try everything at a tasting beforehand and customize our menu. Our guests had a great time and we had a beautiful evening on the rivers. We would definitely recommend this vendor to anyone in Pittsburgh.
---
It was wonderful
Reviewed on

10/21/2014
Ellen a
When we originally planned our wedding, we had started working with one employee, however about nine months away from our date, the employee was let go. After she was gone, Hannah took over and did a wonderful job! She came in and introduced herself and ensured everything was perfect for our wedding day. The reason I chose the Gateway Clipper was because of the value. There are so many items included in the package and it is truly worry free since you do not have to worry about coordinating vendors. I have already recommended the GCF to another friend. They made my wedding day very special!
---
Wedding Dream
Reviewed on

10/18/2014
Katie K
My husband and I really enjoyed our special day on the Gateway Clipper Fleet. Steve Anderson, our wedding planner was beyond the best thing that could have happened to us. He truly cared about making our day, our day! Not only did he plan our wedding with us, he spent the day of our wedding decorating and running around making sure we were taken care of. Our guests loved the view of the city and thought the idea of the boat was very unique. The food was amazing, the service was wonderful and the crew was fabulous. We also enjoyed our DJ-he made sure we stayed on schedule and ensured we had a blast. We loved it and would recommend the Gateway Clipper Fleet to everyone who loves the city of Pittsburgh! Best wishes!
---
Meh
Reviewed on

9/27/2014
Jess R
Our "wedding planner" was changed 3 times with in the 9 months dealing with them and on our actual wedding day the last wedding planner wasn't even there since it was a Saturday. We almost didn't have a stop to the dock after dinner for the priest and grandparents to get off because the info wasn't passed onto the girl that was helping us that day and from the beginning we had told them we wanted that stop after dinner. Every time they changed planners the information was clearly not passed along to the next correctly. There was no communication between any of the office workers at all. As for the staff on the boat the day of the wedding they we're so wonderful! Very professional! They did set up everything exactly the way I wanted and everyone there was very professional, they just lack in communication skills.
---
Reviewed on

9/27/2014
Tracy G
If you want a wedding that keeps your guests talking for weeks afterwards, usually using the phrase, "Best wedding I have ever attended..." then book the Gateway Clipper fleet. My husband and I had our wedding on the Princess and it was beyond even my biggest dreams. When I walked on that boat and saw it decorated, it took my breath away. We had our service and reception on the boat and we got married on a Sunday--Sundays are discounted, so we were able to provide our guests with the best package offered because of the discount. The package includes your cake and dj service, as well as a night stay at the Sheraton Station Square, so it really is budget friendly. Our wedding planner, Joanna, was amazing. She answered all of our emails, phone calls, etc, in a very timely manner, and was up for all of our crazy suggestions. The only "negative" that my husband and I agreed on after the wedding--we should have paid for more time on the boat. We were booked for 5 hours and between boarding, the service, dinner, etc, it went way too fast. Another 1 1/2 would have been perfect. I know it was my wedding and I know that all brides feel the same, but I had the best wedding ever. I can't imagine anyone having a more perfect wedding than my husband and I--and our guests agree with that statement. Our goal was to have the best celebration ever--Mission Accomplished! Thank you Gateway Clipper Fleet and Joanna!!!
---
We had a great time!
Reviewed on

9/25/2014
Laura Z
The Gateway Clipper was a really unique opportunity for a wedding reception. We had a fantastic time! The Clipper let us depart from the Convention Center rather than Station Square, which was very convenient. We loved the food, the DJ, the cake, and even though some guests went to the wrong dock, the Clipper went and got them! We loved the attention to detail in the entire reception, and the great way the atmosphere was handled. The staff were scarce unless needed, and they managed everything well. The only issues were with the Gateway Clipper planning staff themselves. We went through three planners since Sept. 2013 to our wedding in Sept. 2014--and not through "bridezilla" actions! They just left the Clipper and we didn't know they were gone until someone else FINALLY got back to us. We also had trouble with our table assignments--the Clipper wasn't clear, and then we wasted time fixing the tables. The Clipper can't really vary things a lot, being a boat, but it was very frustrating. Other than that, a stellar time, and well worth the money!
---
Disappointed
Reviewed on

8/31/2014
Paloma B
My husband and I decided to go with the Gateway Clipper because of the unique experience it could offer to our guests. Our experience dealing with the team at the Clipper was disappointing overall. There were multiple situations in which we were disappointed and tried to communicate that to the organization and they choose not only not to find solutions but in general to treat a paying customer with a bad attitude. Explanation below: 1. Lost three expensive items (total value worth over $500). Instead of helping they chose to write an email saying "best of luck finding your items". The staff on the boat was suppose to pack up our things at the end of the night and somehow these items were never returned to us. 2. The bar. Despite numerous communications, we ended up with a bar that wasn't what we expected due to information that was lost in translation from one sales person to another. After trying to remedy the situation the management team was rude and not helpful. In addition we asked for bar basics (bitters, etc) and they agreed to this. Nothing was there on our wedding day. 3. Change in sales team. The person we originally started planning with was no longer with the organization about 3 months before the wedding. They never reached out to make us aware of this and instead we found out when we tired to get a hold of her and got a bounce back email. This was the beginning of the problems. Generally they were not flexible and poor communicators. However, I will say the staff we had the day of our wedding were phenomenal. The food was great and our guests had a great time. The DJ was great to work with and kept the energy up. The venue provided the unique experience we were hoping for and we enjoyed our day. If you are looking for a unique experience - get the Clipper. For the money we spent we wanted a better experience with our venue, but instead they treated us like we weren't spending enough money and therefore weren't important.
---
The perfect wedding!!!
Reviewed on

10/23/2013
Hillary H
I had my wedding on the Gateway Clipper's Princess boat on 8/31/13 and it was the BEST time of my life! It was the perfect wedding! The food, music ( DJ Kevin -from First Class Entertainment who comes with the Clipper package), and everything else was perfect! Denise from the Clipper was amazing! She planned everything exactly how I wanted it and she was very nice, professional and always prompt! The Clipper also includes many thing in their package making planning super easy ( DJ, hotel for bride and groom, cake, food, alcohol, linens ect). I can not rave about my wedding on the Princess enough! Everyone said that it was the best wedding that they ever attended and they were right!!
---
Wonderful Pittsburgh Wedding!
Reviewed on

10/20/2013
Heather G
We had several out of town guests and wanted to give them a great view of the city so we decided to do our ceremony and reception onboard the Gateway Clipper! We had 100 guests so we used one of the smaller ships - the Princess. So many things are included with their wedding package (officiant, food, cake, DJ) - it took a lot of the guess work out of things and the vendors are used to working with the staff and made everything run seamlessly. The food was amazing!!! The cake came from Lincoln Bakery and was amazing too! The DJ was so nice and so much fun! We used Captain Mike to do our ceremony while parked at the point with the fountain and city in the background - it was truly memorable and everyone got to see a great view of the city! Our wedding planner was Denise Dell she was very helpful and walked us through everything we needed to figure out. The day of the event you have an onboard Wedding Coordinator that keeps everything on schedule and directs you what to do - thank goodness for her!!! She kept the show running and made sure we didn't miss anything! One concern I had going into this was having all of our pictures on the boat so we were actually able to dock at PNC park and get off the boat to take some scenic pictures around the park, on the Clemente bridge, and along the waterfront. We would highly recommend this venue for ceremony and/or reception to anyone - especially if you have out of town guests that would love to see the city for the first time!
---
Absolutely Beautiful.
Reviewed on

10/07/2013
Gina O
The wedding was absolutely breathtaking. There is no better view of the city of Pittsburgh than when you're on the water. The food was amazing. The DJ they provided worked well and played exactly what we wanted. Denise was our coordinator and she always responded to e-mails quickly. She made everything so hassle-free. The only thing I was disappointed in was the bakery that they contract with. I would recommend using your own bakery. It was perfect having an all-inclusive wedding, it took a load off of my shoulders having to find and meet with a DJ and compare prices, as well as linens, etc. The staff was great and they seemed to be having a good time themselves. I highly recommend this to anyone and cannot say enough great things about it.
---
Perfect Day
Reviewed on

6/05/2013
Darcy H
We had a lot of out-of-town guests so what better way to show off our city? We were hooked with the all-inclusive package which is so much easier and cheaper than finding vendors individually, and we were happily surprised with the great quality of each. The staff and servers on the Clipper could not have been more friendly, helpful and accommodating. The food was excellent. Couldn't have been better! I highly recommend the Clipper!
---
Wonderful Ladies' Night
Reviewed on

1/26/2013
Dani M
The Gateway Clipper staff was very friendly and professional. They truly went above and beyond in making our girls' night special aboard the boat.
---
Not what we were expecting
Reviewed on

11/13/2012
Jamie S
I am giving 4 stars because I LOVE the Clipper, but this particular event deserves no stars. Anyway, for my bachelorette party, my sister found a "Friday Night Jamz Moonlight Dance Cruise". We had issues the whole time. People were smoking pot at the front of the boat (on all levels) so the smoke carried back to us and it was skunky and awful no matter where we went. None of the crew stopped them. The food line was insane. My friends waited in line for over an hour and a half. Drinks took at least 30 minutes. It was an awful experience, but I think it was just that my sister picked the wrong cruise.
---
Great Venue if you want something different
Reviewed on

9/15/2012
Leigh Y
The Gateway Clipper is a great place for a wedding reception. The planning process is very efficient and they make sure that every last detail is thought of and accounted for. The only downside was that I was from out of town and was unable to meet with the wedding coordinator in person. We had scheduled a meeting but she cancelled. It would have given me piece of mind to have met with her in person but we were able to do all the remaining coordination over the phone and the event went off without any problems. I ordered off the Allegheny buffet and the food was so delicious. The DJ and cake which was also provided from the Gateway Clipper were both really good as well. Overall, I would recommend the Gateway Clipper for all brides that want to ensure they get the whole package in one place and want an evening that will be memorable for their guests.
---
PERFECT for a reception - not a ceremony.
Reviewed on

7/10/2012
Laura F
My husband and I got engaged on a cruise ship, so in keeping with the nautical theme we wanted to get married on a boat. The Clipper was FANTASTIC for our reception. We booked them two years in advance to ensure our date. We did have a few issues, mainly relating to the ceremony. We had a wedding of 125 guests and we told them this at the time of booking. We were not informed until 17 DAYS prior to our wedding that the ceremony space on the top deck of our boat could only seat 90 people. They thought it was perfectly acceptable to have our guests stand, which I found absolutely unacceptable. Also, we extended our reception time, but it never specified that the large sum we paid to extend our time did not include the DJ or the alcohol. Five days before our wedding an additional $1,000 was added to our bill. That being said our guests had a wonderful time and didn't even seem to mind that tight ceremony seating. They loved having the option of going out on the top deck to see Pittsburgh as they sailed by, or staying inside and dancing. I would 100% recommend the Clipper for a reception...but I wish we would have been able to book our ceremony somewhere else.
---
Wonderful venue
Reviewed on

6/24/2012
Mandy M
Ashley and Alaina were wonderful to work with to plan our day. Our guests loved the venue as well and were saying it was the best wedding they have gone to. It was a beautiful night and most of our guests enjoyed the top deck watching the views of Pittsburgh!
---
Best place I could have asked for
Reviewed on

6/19/2012
Laura G
The wedding package the Gateway Clipper was great, especially for planning on a short time horizon (I got married less than six months after getting engaged)! It reduced the number of other vendors I needed to find, while still offering me options to make my wedding absolutely perfect. They set up the catering, the bakery and the DJ, and all of the options they provided were flexible. The food was good, and the cake was delicious. I wanted a cake decorated with fondant. The usual bakery they use only does buttercream, and the Gateway Clipper gave me the option to use a different bakery (I can't remember which one it was). They were quick to answer questions via email and were helpful in my set-up. The day of went so smoothly and I would definitely recommend the Gateway Clipper Fleet for any event, particularly a wedding.
---
Bride
Reviewed on

11/22/2011
Nicole D
Very accommodating and responded back in a timely manner
---
Send Message