Home

Geneva National Golf Club
About this Vendor
Elegant Weddings - Championship Golf
Geneva National Golf Club is home to the most spectacular wedding venue in Wisconsin. With 90 feet of windows offering golf and lake views, our grand ballroom is the perfect place for your perfect day. Wedding coordinator available to plan your day to a tee.
Amenities + Details
Amenities
Handicap Accessible

On-Site Accommodations

Indoor

Reception Area
For more details about amenities, please message the Venue.
Ballroom, Waterfront, Country Club, Hotel, Restaurant, Tented
Food + Catering, Planning, Service Staff
Contact Info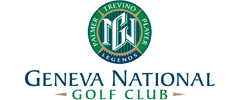 1221 Geneva National Avenue South, Lake Geneva, WI
Geneva National is the BEST!
Reviewed on

4/23/2014
Melissa B
Where do I even begin?!? My husband and I had our dream wedding at Geneva National this past weekend (April 19th, 2014), and we are still on cloud nine from how perfect our day was. We wanted something modern and intimate, but still some elements of tradition. And most... Read More importantly, we wanted it to be the best party of our lives. Geneva National completely exceeded our expectations. We knew from our first meeting with their on-site coordinator, Jenna, that we would be in good hands. We decided to try for an outdoor ceremony (they had several back up options in case of bad weather but we lucked out with a great sunny day!), followed by our reception in the Lake Geneva Lounge. The space was perfect! We loved that the room is so gorgeous on it's own that we didn't have to do much in terms of decor, the connected outdoor patio space our guests could use if they wanted fresh air, the GORGEOUS view that overlooked the lake, and the fact that the space doesn't feel too big or cause the party to be too spread out. We also loved that we got so much for our money as opposed to other venues where you have to bring in your own tables, catering, etc. They do everything in house and the prices are spelled out for you so there were never any surprises. Plus, they were always willing to accommodate any special requests we had! Our guests raved about how flawlessly the entire event went, and how well they were treated by the staff members. Our coordinator Jenna was the BEST ever! She must have received hundreds of emails and phone calls from us over the course of our year of planning, and she always got back to us right away and was so sweet! I felt so dumb calling her sometimes, asking about the littlest thing, and she never once made me feel as though I was annoying or bothering her. She was so patient and nice, and I can't imagine having to go through this process with anyone else! I wish I could have my wedding there all over again I loved everything about it so much!
---
Reviewed on

10/19/2015
Jen N
I wish I were writing a 5-star review as I am for all of my other vendors. I decided I needed to be truly honest about my experience to help future brides and their families. I hosted my "mini-destination" wedding (from Chicago) at Geneva National that included golf,... Read More staying at the inns, use of the outdoor Pavilion and Grand Ballroom. The service we were sold on was not the service we encountered. I want to be clear that I think you can have a great wedding here if you're either A) up for the challenge or B) have a wedding planner/coordinator who will deal directly with their staff. We had a lovely wedding, but it was beyond stressful and ultimately, I wouldn't recommend the venue. Although a stunning space, Geneva National seems to embody a mediocre staff with high turnover. I had heard this from two friends prior to booking it, but figured things had sorted out. We initially had Jenna as our wedding coordinator. She was wonderful as the earlier reviews suggest. When she left the venue, we were placed with someone new. While she tried very hard, she wasn't detail or solutions oriented leading to details falling through the cracks and unnecessary stress. When I expressed my concern, I had to "prove" my issues by providing emails and any written proof on multiple occasions, which I found to be completely inappropriate. In using their golf services, reception venue and inns, it's safe to say that each piece acts in a silo making it nearly impossible to have a seamless event. I had to follow up a minimum of 3x on every single detail. No matter how many times I confirmed it, they had either taken the wrong notes, not included the proper person or simply changed their answer. As an example, we rented 4 Inns on the property. It took me TWO months to get a hold of someone to pay for our rooms up front. After two months of unanswered phone calls, voice mails and emails via the Inns manager and our coordinator, they tried to charge us unnecessarily for unused rooms due to their poor notes and response times. The venue comes with a wedding coordinator, which is a major selling point. Unfortunately, that benefit did not come to fruition for us. Their coordinators don't have the staffing to support proper set-up and execution. The week of the wedding, we ended up having to pay to have a day-of coordinator come up last minute because it was clear the Geneva National coordinator was in over her head. Our hired coordinator ended up setting up our reception room (which she was just meant to be a back-up) while the Geneva National coordinator was selling the reception room to a new couple. Saying the Geneva National staff is a nightmare to work with is a severe understatement. Aside from that, we couldn't get into the inns for 2 hours after our initial check-in time. AC was broken in one inn and their fix was to open all of the unscreened windows, which lead to a plethora of bees in the house and bee stings. The food was mediocre at best. Overcooked mahi mahi and rubber filet is not what we had at our tasting. Lastly, the 8 sets of the gold flatware we rented were lost/stolen/thrown out in which Geneva National expected we pay the bill. The issues were solved, but not without intense phone calls, proof and long discussions. Buyer beware and just make sure it's worth for your event. I wish I could say it was for ours.
---
Wedding venue
Reviewed on

6/10/2015
Ashley S
This venue is absolutely beautiful ! They just redid the legends room and one of their outdoor ceremony sites. There food is excellent ! If it were a restaurant, I would go there again. The service was excellent as well! All my guests were very pleased and so was I !
---
Beautiful Venue
Reviewed on

11/12/2014
Heather C
Beautiful venue. Kelly and Alma were extremely helpful and pleasant to work with. The decor was amazing and the Wedding went perfectly.
---
So Helpful
Reviewed on

9/25/2014
Cassie Z
The venue was absolutely beautiful. The stunning views of the lake behind us during the ceremony made for amazing pictures. Our wedding coordinator went above and beyond to help set up the reception and make sure everything was perfect. She was always just a phone call or email... Read More away to answer any questions or help ease my concerns. I couldn't have asked for a better place or better wedding coordinator for our special day.
---
Absolutely Outstanding!
Reviewed on

7/06/2014
Birgit D
Jenna and all of the staff at Geneva National were fabulous. We had our wedding reception and next morning brunch at the venue. Everything was meticulously set up exactly how we wanted and everything ran perfectly. Nothing didn't go according to plan! Jenna is outstanding to... Read More work with and I would absolutely recommend to anyone!
---
My dream wedding!
Reviewed on

10/03/2013
Carly G
We fell in love with Geneva National the first time we saw it. The venue was perfect for our style of wedding, the food was spectacular, and our coordinator was amazing! The venue is beautiful and doesn't need any extra decorations. We had so many options for the food, it was... Read More very hard to decide what to serve our guests. People still tell us how good the food was at our wedding. Our coordinator took care of everything! She made sure everything happened on schedule, people were where they needed to be, and the night went off without a hitch! I would recommend Geneva National Golf Club to every bride and groom! Carly Griffis
---
Geneva National
Reviewed on

10/03/2013
Laura T
I had 100 people at my wedding, so we had it in the Geneva room. Everything turned out amazing! Jenna, the wedding planner was so organized that I didn't need to worry about anything.The venue was really beautiful. I highly recommend Geneva National for a wedding.
---
July 19, 2013
Reviewed on

8/24/2013
Laura B
Jenna at the Geneva National was the best. She is a very helpful and energetic wedding coordinator. The flowers on the grounds were beautiful and well maintained. The Grand Ballroom has a beautiful view of Lake Como. I would recommend Geneva National.
---
Gorgeous Venue and Stacey Rocks!!!
Reviewed on

7/25/2013
Mike P
I had been to a wedding once before at Geneva National and was blown away by the venue, it's absolutely beautiful everywhere you look! And planning the wedding with Stacey was an absolute breeze :) Stacey was extremely well organized from the get go and quick to answer... Read More any questions. I was very impressed by the execution of the ceremony, the food, and Stacey's ability to effortlessly accommodate all the guests! She's the real thing, and the wedding wouldn't have been the same without her :) Thanks!!
---
Amazing!
Reviewed on

7/17/2013
Courtney K
When I saw this location, I immediately had envisioned my whole wedding there. The course is so beautiful and everything is set up perfectly by the Geneva National team, especially Jenna. Jenna went above and beyond to make sure all my questions were answered and took care of... Read More everything on the big day so I had not one thing to worry about. I highly recommend Geneva National as a wedding venue.
---
January Wedding Reception
Reviewed on

1/28/2013
Katie B
We used Geneva National as our reception site and I can't say anything less then they were perfect. Working with their part planner Jenna was really easy and she was so accommodating to all of our needs. We did the couture package to do an hors d'oeuvres and cocktail reception.... Read More We can't thank the staff enough for everthing that they did for us.
---
Great Day!
Reviewed on

12/19/2012
Kelly D
We used this facility for our November wedding. Everything was beautiful. Staff was kind and helpful. We were able to get beautiful pictures outside. They were really great about letting us pick up our decorations that next morning. I know that is not the case with other... Read More vendors. We had no issues! Food was as good as it was on the day of our tasting. We had a pasta station with our appetizers. It was a huge hit with our guests at the party. It was a wonderful reception.
---
Amazing Winter Wedding
Reviewed on

12/17/2012
Nicole S
My husband and I recently had our wedding at Geneva National Golf Course. I can't say enough on how beautiful my wedding turned out to be. I know that people are usually very nice when they tell you how your wedding is, but I have yet to hear a complaint. We had a good size... Read More wedding, about 240 people. We got married, had our cocktail hour and had our reception at Geneva National. Our wedding planner Heather worked with us to help make our vision come true. We had a few problems in the beginning of the year with the switching of our wedding planner several times, but once that was resolved everything else was perfect. I would highly recommend this venue to everyone.
---
Great Evening
Reviewed on

11/06/2012
Christa B
The night of was fantastic. We were a little unhappy because we paid as part of our package price for a wedding coordinator, and worked with her for 5 months, and a month and a half before the wedding recieved an e-mail that she no longer worked there and someone else took over... Read More our file. Everything turned out well in the end, but it was un-nerving to have that happen. And, there were little things that we would have liked to of been reminded about, like when our balance was due, and our head count. It came more like, your head count was due last week and I need your balance today. So heads up would have been great. But they set up, cleaned up and put all of our belongings into a room and we collected them the next day. It worked out beautifully.
---
Love Geneva National!
Reviewed on

10/23/2012
Cathy L
Geneva National was a fantastic venue for our wedding. We had both the ceremony and reception there. The scenery was gorgeous for our outdoor ceremony (though they have good back up plan options if it rains). They have multiple room options for different sizes of weddings up... Read More to around 300 (ours was large so we were in the ballroom). Jenna was our coordinator and she was wonderful - very organized, friendly, had good ideas and was knowledgable. You knew she was there to help make your wedding perfect for you (not get the most money she could out of you). Our wedding day itself was well organized and flowed smoothly. The food was good, have a good number of options. They have packages including food, wine, bar, etc - but are flexible about substituting things and making changes (ex. we added an extra hour of open bar instead of having a champaign toast and glass of wine for every guest). The also have a shuttle and options for lodging close by, which was important for us. We had a brunch there on Sunday as well. We also had our rehearsal dinner at the Hunt Club, a restaurant affilated with Geneva National and on the same grounds - Jenna was able to coordinate this for us as well. The cost can get high if you have a large wedding (like we did - ours was just over 20,000), but doesn't have to be. Overall we had a great experience and would definitely recommend it for others!
---
Amazing Venue!!
Reviewed on

10/22/2012
Carissa D
All I have to say is Thank the Lord for Jenna!! She was an amazing wedding coordinator and put any stress at bay. She was responsive, flexible, and so much fun to work with. The venue itself was absolutely gorgeous. I had an outdoor sunset ceremony and used the Bar/Lounge and... Read More mini-ballroom area for my wedding. It worked out so well and the outdoor veranda was a hit! I will absolutely be using this venue for future events. AMAZING!!
---
Beautiful!
Reviewed on

8/14/2012
Angela D
I fell in love with this location from the start but every one of my guests complimented our choice. For our wedding it was perfect, intimate and quite lovely. Few things- we didn't take into consideration travel time for the guests- they had to go downtown through Lake Geneva... Read More on a Saturday late afternoon which made the entire event late. Not anyone's fault really just an oversight. Also- we went into specific detail about food allergies and I am not sure where it happened but there was one dish that was not prepared according to the contract. Also, half of our guests didn't show but somehow we ran out of food. I didn't get to taste everything at the reception; however the food that I did taste was delicious and everyone complimented us on that as well. They have wedding/event planners and I would have literally have died that day of stress if it wasn't for her and she was my calming saint. I found it odd that the ceremony on the grass was more to rent than the rooms for the reception but the package we used was exquisite and priced right. I would definitely recommend this place to everyone. The ambiance alone was worth it.
---
Beautiful Venue, Terrible Service
Reviewed on

6/16/2012
Julie T
Geneva National is a beautiful facility with many options for a wedding. The food was outstanding and have heard nothing but rave revues from our guests. The golf course and lake give tons of options for stunning photos. Despite the beautiful setting, the service the... Read More wedding planners provided was unprofessional and disappointing. In the 9 months we spent working with them, 3 wedding 3 different planners chose to find employment elsewhere. We weren't informed of our change in planners by the company, but heard it thru community gossip. Needless to say we had to go in and run thru our plans 4 different times. The day of the wedding many of the things we had discussed in our planning weren't done as planned or missing entirely. Our wedding planner went missing during the ceremony, causing a little chaos afterwards. I only saw her twice the entire night (while she was flirting with our guests) and then she informed at 8:00 that she was leaving for the night. We didn't get there until 530)
---
bride
Reviewed on

4/22/2012
Becky G
This venue was outstanding!!!! I highly recommend Geneva National Golf Club!
---
Our wedding venue
Reviewed on

11/23/2011
Brian M
The staff at Geneva National Golf Club were fantastic especially Andrea, she was our wedding coordinator. The day of our wedding Andrea made sure everything everything went smoothly and made sure we were happy. The venue is beautiful. It was the perfect place to get married!
---
Perfect evening
Reviewed on

11/15/2011
Morgan M
From our wedding coordinator, Jaffe, to the wait staff, food and bartenders, everyone was professional, courteous and the evening was above and beyond our wildest expectations.
---
Wedding
Reviewed on

8/31/2011
jean s
Very beautiful vendor
---
Geneva National
Reviewed on

8/10/2011
Lisa K
Geneva National was great. The only problem was that a man and woman drove in front of our outdoor ceremony in a golf cart 3 times! We didn't notice but our guests sure did. Everything else was beyond perfect.
---
Great backdrop
Reviewed on

7/30/2011
Cindy H
Great venue! Beautiful setting with great food. Signature drink was not what was promised at the tasting. Menus were not folded to my directions. Other than that no problams.
---