Home

Geraniums Red, Delphiniums Blue
About this Vendor
Beautiful flowers, individual service
Geraniums Red, Delphiniums Blue is a small wedding and event floral design studio specializing in eco-friendly, budget-friendly weddings. My goal is to see your vision and bring it to life.
Details
Aisle Decorations, Centerpieces, Flower Girl Baskets, Pedestals, Plants, Vases, Chuppah, Wedding Arch, Wedding Decoration Delivery, Wedding Decoration Setup, Decorations + Accents, Flower Crowns, Hair Accessories, Bouquet Wraps, Bouquets, Boutonnieres, Corsages, Flower Delivery + Setup, Flower Arrangements
Contact Info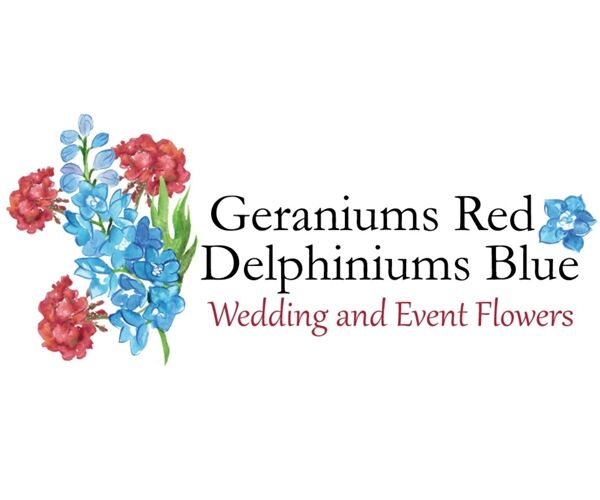 Reviewed on

7/11/2016
A <
Rue is seriously the biggest hidden treasure that ever existed in wedding flowers. Planning: Rue was completely flexible to meet me nearby work during convenient hours - a super huge help. She was always responsive and thorough, ensuring that she understood exactly what I... Read More wanted (she reviewed my Pinterest board all the time). To be honest, I didn't really see the style of flowers I wanted in her portfolio, but she was so nice, responsible, and genuinely passionate that I thought what the heck, let's do it! I am SO SO SO glad I made that decision. Rue promised she could bring my vision to life and she went far beyond my dreams. Flower quality: Flowers are fresh and super beautiful in color. Color compliments your wedding theme and brings an extra hint of pop =) Rue sources everything fresh JUST FOR YOU unlike some other florists who may own a shop and use what is on-hand. Arrangements: WOW. I was seriously blown away by Rue's talent. Every bouquet was bursting with fresh peonies and roses. Sometimes florists use cheap fillers, but not Rue: you will receive high-end flowers in the abundance she promises. She does not skimp! The table arrangements were so delicate and full. Rue even let us borrow gorgeous columns to put flower urns on for the ceremony. Rue made kissing balls and flower wands for the flower girls and orchid boutonnieres for the men (she even made a little magnet one for the baby ring bearer so he did't get pricked). My bridal bouquet looks amazing in wedding photos. It's perfect. Bridesmaids' bouquets were also full and fresh. Additionally, Rue made aisle lantern decorations with candles and flowers that gave the venue an added romantic feel. Set up: Rue is super responsible and on-time. She is actually the most amazing person because I messed up on my contract and ordered 1 too few bouquets for the flower girls and she REMEMBERED the correct number and made an EXTRA one just in case all on her own!!! Now that is someone who pays attention. After the ceremony, Rue arranged all the flowers and lanterns around the venue and decorated the cake and cake table. Again, perfection. Summary: Rue is a hidden treasure. An honest person with incredible artistic talent who will deliver you the most premium flowers beyond your dreams. I fully believe that she can create your vision. I am just going to come out and say it - sometimes people on The Knot look at the "affordability" rating and equate it with quality. Well, even though Rue is currently rated as "in-expensive", she will deliver you the most premium, high-end arrangements for which others will charge 2x. She is a hard-working one-woman show who sources everything fresh just for you. I would do it all again in a heartbeat! Thank you Rue for making my wedding perfect.
---
Reviewed on

11/03/2017
Lisa S
Rue and the ladies of Geraniums Red, Delphiniums Blue are nothing short of fantastic! As a bride with a lot going on and a busy work schedule, Rue made me feel like she had everything taken care of. We met for an initial consultation where she got a creative feel of our wedding,... Read More colors and types of flowers we did and did not like. What i loved most about Rue was 2 things - her creativity and willingness to help, and her ability to stay on budget with no surprises. She knew i wanted to dress up my cocktail hour with something great, but easy - she suggested beautiful paper lanterns and offered to come and hang them at the venue for a small fee. My guests LOVED them! My and my bridesmaids bouquet's were simply beautiful - popping of color with the perfect mix of edgy and elegant flowers. And the boutonniere were my favorite dusty purple rose with silver accents. Rue truly listens to what your vision is, and then adds her creative and professional touch. Whether you're a modern or classic bride, go with Rue!
---
Reviewed on

10/16/2017
Caitlin R
Rue was amazing! She was easy to work with, knowledgeable and her pricing is very fair. I gave her a rough description of what I was looking for (all white with greenery/succulents) and she knocked it out of the park. She was even able to incorporate the same kind of flowers... Read More my grandmother carried in her wedding bouquet, which was such a special way for me to honor her. Rue delivered the flowers to me, then to our hotel to provide the groom/groomsman boutonnieres, and finally to our venue to set up the tables. The fact that she was so flexible and easygoing really lowered my stress level the day of, which is priceless! You won't regret selecting Rue for your wedding flowers - she's a rockstar!
---
Reviewed on

10/01/2017
Jenny I
Rue was absolutely great to work with! She met with us prior to the wedding to determine our preferences. We were looking for a variety of purple wildflowers, and she put together beautiful arrangements and centerpieces. The flowers smelled excellent and stayed fresh for a while... Read More after the wedding. We loved working with Rue and are so pleased with how the floral arrangements turned out!
---
Reviewed on

8/26/2017
Jillian D
We were so thrilled with our wedding flowers and working with Rue! When I was researching I just loved the name of the shop, and was eager to meet with Rue at find out more. Rue met me at a coffee shop near my work, which was very convenient and came prepared with lots of... Read More pictures and information. She was totally on board with all of my ideas and helped add to what I was thinking too. Another florist who I had met with had basically dismissed my questions about a garland with hydrangea for the gazebo saying hydrangea would just not work for that. Rue made the gazebo look absolutely beautiful using hydrangea and other flowers! I also really loved the sweetheart table arrangement. Rue did a beautiful job and was a joy to work with (such a nice balance of laid back and kind and very organized and professional). She was also the most affordable quote we got and the most willing to go above and beyond for us.
---
Reviewed on

7/20/2017
Danielle D
Rue already came highly recommended to me by a fellow co-worker who got married. I just want to make sure that I pass the love along. She did an fabulous job on all my flowers. She really listened and was ok with me sending her a million pictures. She did my bouquet, all my... Read More bridesmaids' bouquets, the corsages for the mothers, boutonnieres, and the centerpieces. I already had lanterns for the main centerpiece but she bought 3 small glass bottles/vases of different sizes and shapes and put a different flower for each of the vases. She was even able to find some white poppy flowers for my bouquet which was really special. It was in memory of my grandfather - it meant a lot to me that she was able to do that as well.
---
Reviewed on

7/18/2017
Erika O
Rue was wonderful to work with on our wedding flowers. She communicated well with us and checked in to see about updates for flower choices for the wedding. She was able to help us figure out our vision for flowers and carry it out so they looked amazing. We would highly... Read More recommend working with her.
---
Reviewed on

6/19/2017
ashley m
Rue came as a recommendation from my sister. While my sister & i went for different floral arrangements, she did an amazing job at both!! All we knew was we wanted a very "woodland/natural" vibe & Rue made it come to life. We got SO many compliments on the boquets! I doubt you... Read More can find a better value than rue! Thank you!!!!!!!!!!
---
Reviewed on

2/06/2017
Amanda P
Rue is amazing. She was cordial, responsive, professional, and flexible in terms of what you want and how to work it into your budget. The day of our wedding, Rue delivered our flowers to our venue and set everything up beautifully. I planned an out-of-state wedding and... Read More therefore didn't have an opportunity to meet Rue in person or see any of her work first hand before the wedding. Yet she managed to perfectly capture what I had envisioned in terms of floral arrangements. Rue is reasonably priced but does not skimp on her product. I recommend her wholeheartedly.
---
Reviewed on

7/15/2016
Molly D
Rue did an absolutely amazing job with our wedding flowers! My fiance and I were trying to stick to a budget while planning our wedding, and while we had a general "look" in mind for our flowers, we had no clue which flowers would help create that look without going over budget.... Read More When I met with Rue, she was so friendly and, by looking at some pictures, understood the feel we were going for, and most importantly, said she could do it within our budget. Since we didn't request specific flowers, we weren't totally sure what to expect the day of our wedding, and we were thrilled with the results! My bouquet was vibrant and fresh and had the wildflower/rustic feel we were going for. The same thing with my bridesmaid's bouquets. On half of our tables we had three small bottles with one or two stems per bottle. We were initially worried that they would seem too sparse on the tables, but Rue picked out wonderful stems that were bright and added just the pop of color we wanted. I was so sad that we were leaving for our honeymoon the Monday after so we didn't get to enjoy the flowers for longer. However, my in-laws said that they lasted almost two weeks! Throughout the whole process, Rue was very responsive and reassuring, answering what seemed like my endless questions, some of which she probably had already told me. On the day of the wedding, she dropped the flowers off in time for my first look, and then stayed to make sure that the rest of the flowers were set up on the tables just as we had discussed. If you are looking for a creative and kind florist who won't break the bank, Rue is it!
---
Reviewed on

8/31/2015
Lindsey H
Rue did an absolutely incredible job with our wedding flowers. We had a casual, outdoorsy wedding and we were a very clueless, budget-minded couple with very few ideas about what we actually wanted. I met with Rue with a dollar amount and an unrealistic-feeling list of vague... Read More requirements, and she immediately made me feel comfortable and confident in her ability to pull off something great without pressuring me to expand our list or budget. She was extremely responsive and kept me posted on all of her ideas and shopping, and she came to set up and break down around our weird schedule. Most importantly, she was flexible and accommodating about several super last-minute additions (thanks, moms). The flowers turned out beautiful, and she made a very bare-bones space look absolutely gorgeous without taking away from the natural beauty of the area without even seeing it firsthand ahead of time. We got a TON of compliments about the colors she used and how she was able to blend the flowers into the landscape. We had an extremely positive experience working with Rue and are so grateful she made our silly camp look so beautiful!
---
Perfect for a Bride with a budget in mind!
Reviewed on

6/11/2015
Liz R
We chose Geraniums Red, Delphiniums Blue because the thought of spending multiple thousands of dollars on flowers for a wedding was silly to us, so we wanted to find a great florist with resonable costs. We found a GREAT fit in Geraniums Red, Delphiniums Blue and their owner... Read More Rue. Rue listened to what we were looking for in our wedding flowers; from bouquets to ceremony flowers to reception centerpieces - she did it all. She also went above and beyond in terms of checking in with us with ideas, being open to things we sent her from pinterest and even took things off our plate in terms of ordering all of the glass jars, buckets and decorations for our pergola. Rue handled all of the delivery, set up and clean up without missing a beat - even when the wedding before us ran over 1.5 hours late! Without stressing she got it all done and everything looked lovely. A small business with a huge heart and desire to make your wedding day a great one - and all while sticking to your budget!
---
Talented Designer, Creates to your budget
Reviewed on

10/31/2014
Lara O
DRGB, with Rue, did an amazing job. Our guests were blown away by our flowers (seriously - we heard from everyone). Rue met with us twice, learned about our goals, what we were hoping to achieve, and crafted the perfect design that surpassed our goals and came in under our... Read More budget. The best part of working with Rue is that she did a wondeful job of explaining the trade offs between flowers of different price points. She also arranged things logistically so the flowers still looked great by the end of the night. Delivery was smooth, set up was perfect, and the flowers themselves looked gorgeous.
---