Home

Get First Dance
About this Vendor
Learn First Dance that matches your personality
First off, don't panic, I'm here to help. Whether you're a pro (at drunk dancing) or aware of your two-left-feet syndrome, you know that dancing in front of others is stressful. Being the only ones on the dance floor is stressful. But it doesn't have to be. All you need is a teacher who understands that your goal is not to become Dancing With The Stars overnight, that you simply don't have all the time in the world for it. A teacher who understands that all you want to learn is the dance that is breezy, graceful and matching your personality (but not necessarily your rhythm). Dance that will make you feel proud of yourself at the end of the night…
Details
Classical, Country, Dance, Disco, Folk, Hip-Hop, Jazz, Pop, R&B, Rock, African, Arabic, Bollywood, Caribbean, Celtic, Flamenco, Indian, Klezmer, Latin, Mariachi, Persian, Polka, World Music
Contact Info

Reviewed on

9/21/2016
Anishah C
Dear Monika, Thank you so much for helping to make our first dance such a hit. Our guests went crazy when they saw us break into a routine. We are so glad that we found you. We wanted to create a routine to Michael Jackson's PYT and tried to teach ourselves since we have some... Read More basic moves on the dance floor, but we had trouble learning MJ moves. After taking 5 hours of classes with you, we felt like we had the moves down and felt much more comfortable performing in front of our family and friends. You were such a great teacher. You broke down the moves into small parts to make it easier for us to learn and you created a routine based on our skill levels. We had a lot of fun in our lessons and would recommend you to anyone looking for a private lesson. Thank you for everything!
---
Reviewed on

10/25/2016
Ashley K
You really helped to make our big day special!!! Our guests really did not expect such a cool First Dance. What a Hit!!! The looks on everyone's face were priceless and we had such a great time! Thank you for working with our crazy schedule. You are the bomb Monika!!!!
---
Reviewed on

10/25/2016
Anna K
I highly recommend Get First Dance. Monika, I must admit wasn't my first choice - me and my fiancee tried Yelp reviews and went to the instructor we found there. Disappointed with him, after wasting 3 lessons, we turned to Monika for help. As it was getting really close to the... Read More wedding (3 weeks!!), we wanted a very simple dance that we can learn in a short amount of time. Monika was extremely helpful, we didn't look like a mess on our big night. We actually surprised quite a few guests with our dance skills. 5 stars!
---
Reviewed on

10/17/2016
Ari K
Monika, I only had the chance to take a handful of classes with you before I left NYC, but the lessons were better than I ever hoped for. These classes really are for people who are absolute beginners. Unlike other beginner classes which either are way more advanced than what a... Read More beginner can take OR you just learn how to do a move without any actual training in doing it right… Monika teaches you the basics of how to move. Thank you Monika! Wish you would move to Boston!
---
Reviewed on

10/17/2016
Sara F
I had taken several beginner dance classes at studios, but always had a hard time keeping up and understanding the movement. Unfortunately, I never got much out of these classes, and always left discouraged. The first class I took with Monika was completely different. She is... Read More able to break down every movement and move at the individual pace and comfort level of each student. Her teaching method is extremely comprehensive, encouraging, and above all fun! I am thrilled with the progress I've seen in just a couple of months, mostly with the comfort I now feel in my own movement. When I leave her class, I am excited to return for the next one. Monika is incredibly skilled, as a teacher and dancer, and she instills in you the same love she feels for movement and dance.
---
Meet The Owner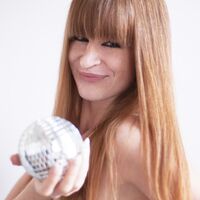 Monika Matys
I've been teaching couples for the past 12 years. What made me start? I wanted to take the stress out of First Dance. Make it more about the couple enjoying each others company on the dance floor. To simply make it more personal. In my 25 years of dance training I studied a variety of dance styles including Ballroom International Standard: Waltz, Foxtrot, Quickstep, Tango; International Latin: Cha Cha, Samba, Rumba, Jive, Paso Doble as well as Salsa, Mambo, Bachata, Merengue, Hustle, Tap Dance, Bollywood, African Dance, Belly Dance, Dancehall, Hip-Hop, Modern Dance, Ballet, Jazz and Modern.