Home

Glendale Lyceum
Book Your Wedding with Glendale Lyceum
---
A BACKYARD IN CINCINNATI, OH
About Us
Glendale Lyceum is a private, member-run social club located in a northern suburb of Cincinnati, Ohio. This venue offers an ideal destination for an exquisite wedding ceremony or reception. Glendale Lyceum was built in 1883 to promote member interaction and higher education and to offer social entertainment to both members and the surrounding neighborhoods. The stately nature of the club guarantees guests a charming and unforgettable wedding ceremony and reception.
At Glendale Lyceum, couples can choose from an array of indoor event spaces and elegant outdoor photo-op spots. Couples can choose from the following locations at the Glendale Lyceum:
The main hall
is an elegant room designed to offer adequate space for ceremonies and receptions. Its hanging chandeliers, French doors and mantles add an air of luxury to its interior decor. The main hall can accommodate up to 275 seated guests.
The ballroom
offers a mix of vintage and modern architecture and provides an intimate setting for medium-sized ceremonies and receptions. This room has plenty of lighting, making it excellent for indoor photography. Couples can choose to re-arrange the ballroom's furniture setting to make room for the first dance. The ballroom can comfortably accommodate 160 to 200 guests.
The tea room
is an extension of the ballroom and offers extra space for larger events. It has a similar design to that of the ballroom and can separately host small intimate receptions. This room has a seating capacity of 50 to 56 guests.
What You Should Know
With the help of the highly dedicated team, event planners can fully customize the booked spaces to match the desired theme setting. In addition, the staff at the venue are flexible, easy going, reliable and knowledgeable on matters regarding wedding planning, coordination and customization.
The Glendale Lyceum is available for rental to both members and non-members of the club. The venue has different rental rates for its members and non-members. Also, occupancy for the venue is limited to 300 people, including catering staff and entertainment.
The management of Glendale Lyceum has a list of preferred caterers who offer delicious meals, impeccable services and years of experience. However, couples are permitted to bring their own meals and drinks to the venue.
Glendale Lyceum has a partnership with All Occasion Rentals, which offers a large selection of china, linen, tables, chairs, flatware, silverware and stemware. Event setup, decorations, supervision and cleanup are charged for all rentals at the rate specified in the rental agreement.
Glendale Lyceum offers basic and all-day venue rental options. However, couples and guests are expected to vacate the premises by 12:30 a.m. Furthermore, current tax rates for Hamilton County, Ohio, apply for all rental charges.
Extra Perks
Audiovisual amenities
Swimming, golf, paddle tennis and tennis courts
On-site coordination
From the Vendor
Glendale Lyceum Wedding & Reception Venue
Join the long list of stunning weddings held at the historic, charming & beautiful Glendale Lyceum. Hold both your wedding and reception here, either indoors or outside in the serene wedding meadow. An historic library inside lends itself to stunning bridal photography. Founded by the Procter family for social and educational entertainment, the Glendale Lyceum welcomes you to celebrate your special day! Please review our pricing information included in our brochure below, and view our online video virtual tour. If our venue fits your vision and budget, we would love to provide you a personal tour; simply click on the Request Tour box to the top right, or visit our website at glendalelyceum.com. Cheers!
Amenities + Details
Amenities
Bridal Suite

Handicap Accessible

Indoor

Outdoor - Not Covered

Reception Area

Wireless Internet
For more details about amenities, please message the Venue.
Backyard, Ballroom, Library, Historic Venue
Bar + Drinks, Food + Catering, Planning, Rentals + Equipment, Service Staff
Contact Info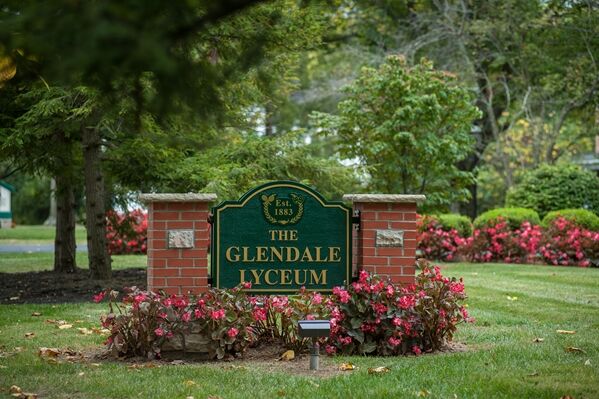 Reviewed on

10/23/2015
The first time I saw the Glendale Lyceum, I knew it would be the perfect location for our August wedding reception. We could not be more happy with our selection! The space was the perfect size, and we loved the beautiful light-filled main room. The chandeliers, french doors and... Read More mantles added touches of elegance and the side areas were ideal for the flow and format of the evening. While the space made for the perfect backdrop, it's the Glendale Lyceum team that make it the best place in Cincinnati to have a wedding reception. Cindy and Kevin were so flexible, reliable, easy going and knowledgeable throughout the entire planning. They coordinated very well with our vendors and helped us completely customize the layout and pull of our vision. We're so grateful for our experience with the Glendale Lyceum and they have our highest reccommedation!
---
Reviewed on

6/02/2015
Great location for wedding reception! Beautiful building with several different rooms and a patio for guests to mingle in. Staff is super friendly and SO helpful with anything you might need. The friendly helpful attitude of the staff is what really sold us on The Glendale... Read More Lyceum. We received many compliments from guests on the beauty and uniqueness of the building. We 100% recommend The Glendale Lyceum!
---
Reviewed on

8/07/2017
Anne F
We hosted our daughter's wedding and reception at the Glendale Lyceum. It was so convenient to have everything in one incredible venue. The ballroom was beautiful, the guests remarked on what a lovely location it was the entire evening. The variety of spaces worked very well... Read More for us. Cindy was terrific to work with. I highly recommend it!
---
Reviewed on

7/05/2017
Emily C
We had our wedding reception at The Glendale Lyceum. Cindy was super accommodating, helpful and responsive! Planning was extremely easy and smooth with her! The girls and I got ready in the bridal suite upstairs while my husband and groomsmen hung out in the pub downstairs. It... Read More was a perfect set up with plenty of space. The reception was fabulous, the space has this warm feeling that just can't be described and isn't captured in photos. We got so many compliments on how beautiful the Lyceum was. We couldn't have chosen a better location to celebrate the best day of our lives!
---
Reviewed on

11/11/2016
Erinn L
We held our wedding reception at the Lyceum, and it was everything I'd want in a venue and more! Until my wedding planner told us about it, I had never heard of the Glendale Lyceum, but I'm so glad she did, because we LOVED it for our venue. There is so much character and charm,... Read More and I'd never been to anything like it before. Throughout our wedding planning process, people would ask us what our venue was. When we told them, so many people/vendors would comment on what a gorgeous venue it was, and they were all right. Not only did we love the look of the place, but the service from Cindy and David from the Lyceum was top notch! They let us visit multiple times so we could get a good idea of the layout, we were allowed to come the day before to set up, and we could leave our stuff overnight after the reception and come pick up the next day. They worked seamlessly with our other vendors, resulting in a great overall flow for our reception and they were just so polite and friendly. The fact that we could bring in our own alcohol was also a huge plus, and saved us so much money in our budget. I really can't say enough good things about this place, and I'm so glad we chose it as the backdrop for our special day!
---
Reviewed on

7/03/2016
Elizabeth A
I was married here a week ago and couldn't be happier with the venue. It's so beautiful and unique. It's so easy to personalize the venue to your taste. The wedding coordinator Cindy was so helpful throughout the whole process. Definitely worth checking out!
---
Reviewed on

6/22/2016
Lisa A
We had our wedding reception here over Memorial Day weekend and it was lovely. Everyone that we worked with was so helpful and friendly! We had about 150 guests and that number worked perfectly to have everyone sit in the main room with still space for a dance floor without... Read More moving any tables.
---
Reviewed on

8/21/2015
Kathryn
I would recommend the Lyceum to anyone! The venue is beautiful. It has several rooms that you can use for a variety of purposes - we used the patio for games, whiskey tasting in the library, cake display in the sun room, and dinner and dancing in the main hall. They have a... Read More 'getting ready' area upstairs that is newly-renovated and to die for (think movie-set makeup mirrors and lights)! Cindy and her team are fantastic! They made everything so easy. We were able to get in early and set up - which is huge for the borderline perfectionistic bride who wants to do everything herself. I almost can't believe how flexible they were!! On top of all that, the Lyceum allowed us to work with whatever vendors we wanted. Again, unbelievable. We could chose our caterer/bakery, bring our own drinks, work with any band, and bring in specialty providers. In addition, most of the vendors we spoke to listed the Lyceum as one of their favorite places to work. Since they have such a great working relationship, I had to do significantly less coordinating. For example, we used the Glendale Florist and I didn't have to do anything beyond deciding on flowers - they coordinated delivery and set-up times! Whew! It's also worth mentioning that Cindy was great at making recommendations. From the layout of the rooms, to linens, she allowed us to leverage her expertise - most of us will only get married once, Cindy does this 20+ times a year! The pricing is great as well, it's itemized and you know where your dollars are going. I didn't feel duped - which is wonderful. If I had to do it all over again - I would choose the Lyceum in a heartbeat!
---
Unique and beautiful venue. A hidden gem!
Reviewed on

12/21/2014
Angie H
The Glendale Lyceum was the perfect location for our fall wedding! The Lyceum had the warm romantic decor I was looking for. An added bonus, Cindy and Kevin are not only accommodating but organized and laid back. No request was too much and there were no hidden fees. Everything... Read More was discussed up front and we could change our mind at a moments notice. We held our ceremony on site as well and weather was a potential issue. They let me wait until the morning of the wedding to decide how we would proceed. It was such a relief to know that I had options! Definitely consider checking out the Lyceum. It was a perfect fit.
---
Perfect Ceremony & Reception
Reviewed on

9/21/2014
Ashley H
This is a hidden gem in Cincinnati. We booked the Lyceum with more than a year before our 5/2/14 wedding. From the minute we saw the red-bricked building, we met the manager Cindy and saw the inside... both my now-husband fell in love. It was the second venue I looked at and... Read More refused to look anywhere after. I'm telling you, this place is beautiful... everyone thought it was beautiful and the pictures reflected the beauty of the building. You don't have to do too much decorating because the building does it all for you. On top of that, we were received like family and treated like family from both Cindy and Kevin. Oh, and on top of the beauty... you get to pick all of your own vendors instead of a list of vendors you HAVE to choose from. Your wedding can be your own. It's perfect. I cannot say enough about the Lyceum, Cindy, Kevin and everything that was my wedding. Amazing. :)
---
Beautiful, intimate setting
Reviewed on

1/08/2014
Elizabeth H
We had a Christmas wedding and the Lyceum was the perfect venue. The staff is extremely helpful and wonderful, and our reception was truly beautiful and perfect. I would highly recommend them!
---
just BEAUTIFUL!
Reviewed on

6/21/2013
Abby T
The Lyceum really is the PERFECT place to get married! It is absolutely stunning and Cindy and Kevin are SO HELPFUL! They were so accommodating to any of my preferences on how I wanted the room set up. They went out of their way multiple times to make sure everything was as we... Read More wanted. We were planning to have Graeter's Ice Cream at the reception and found out the Lyceum didn't have freezers...somehow, the day before my wedding, there was suddenly a freezer. These people are the BEST, really. If you choose to have your wedding at the Lyceum, I guarantee you will not regret it.
---
Most beautiful place in Cincinnati
Reviewed on

10/21/2012
Jenny C
The Glendale Lyceum is one of the most charming and beautiful place to have your wedding reception. The library, the gold chandelier, fire places, and the porch! All adds grace and class to anyone's big day! It's the perfect size for a relatively small wedding (around 130... Read More people) to give you that family coziness feel. And Cindy is just great. She will do her absolute best to make sure your night is perfect. We love the Glendale Lyceum!!!
---
Amazing venue---best in Cincinnati!
Reviewed on

7/26/2012
Jaime J
I think the Glendale Lyceum is one of the best kept secrets in Cincinnati. The venue is incredible. It is absolutely gorgeous! We were going for that modern meets country club meets Victorian feel and the Lyceum definitely has that. Cindy was by far my favorite vendor to work... Read More with. She is so easygoing and will make anything happen. The little details are my favorite parts of a wedding and by having our reception at the Lyceum, I was able to do as many little details as I wanted. Bottom line: if the Glendale Lyceum is in your budget, I would make it happen. You won't regret it.
---
LOVED the Lyceum
Reviewed on

7/01/2012
Lauren
I cannot say enough good things about the Glendale Lyceum. I feel like it is a hidden gem. My husband and I got married here and enjoyed working closely with Cindy. I do not know how she does it, but she was SO helpful and always so sweet. She was great about letting us come to... Read More see it and meeting with us. She was very accommodating and was quick to return our emails with any questions. She seemed genuinely excited for us and wanted to help in anyway she could. The others that work with Cindy including Kevin and Robert were very helpful and accommodating as well.If you are considering the Lyceum you may want to check out their Facebook page. Cindy takes pictures at each of the events and posts them to the Lyceum FB page. This was great to help get ideas and to get an idea of how to set up the floor plan for various numbers of guests, for a reception with a ceremony there or without, etc. Also, at the Lyceum, you bring in your own caterer, and also your own alcohol, which can be a budget friendly opportunity. It's not like a lot of other places that we checked into in that don't pay per head no matter how old they are, and no matter whether they will be drinking or not, and you don't have to meet a minimum. There is also plenty of parking onsite.
---
Love this venue!
Reviewed on

5/21/2012
Crystal G
The Lyceum is a beautiful backdrop for a wedding and/or reception. We held our reception there and worked with a great team. They have audio/video setup so we were able to do an introduction slideshow for our wedding party. They were so easy to work with, and they let us... Read More start dropping things off a few days early and even help clean up a little the next day. They allowed us to use sparklers for the sendoff and have a nice library area and restroom facilities. The place is so well decorated on the inside that it doesnt take too much decoration for the wedding. They also have a full kitchen for any caterers and a bar setup too. Nice little patio for drinks and appetizers. Really really love this venue!
---
Perfection With a Side of Elegance
Reviewed on

11/11/2011
Jill W
The Glendale Lyceum is a masterpiece. A country club located in Glendale, Ohio, the Lyceum's ceremony/reception venue is located in a beautiful, historic building. The staff, Cindy and Kevin, are some of the nicest people I've ever met. They went out of their way to make our... Read More day feel special and to make everything perfect. They listened and were very kind as I wrote about four hundred nervous emails between booking and event. Though it is not the cheapest venue you'll find, it is the finest. You must provide your own caterer, etc.
---
Unique and Beautiful
Reviewed on

10/12/2011
Katie Z
The Glendale Lyceum is the most beautiful, unique place for a wedding. To make it even better, Cindy & Kevin are so easy to work with and so accommodating. I couldn't have asked for a better venue!
---
An amazing place for a wedding
Reviewed on

6/09/2011
Ashley T
Cindy is very helpful, and the venue is perfect for 50-200 people. There is an outdoor area, but indoor is what we did. Everything went off without a hitch, and Cindy made sure all other vendors were where they had to be.
---
Cunningham-Caldarella Wedding
Reviewed on

11/18/2010
Paige
It was beautiful. My daughter's wedding was there and they were fantastics. Everyone loved the setting and they were very accommodating and had everything running like clock work. Worked so well with our florist, caterer, and the baker. 5 stars on everything.
---
Review for The Glendale Lyceum
Reviewed on

5/10/2010
liz c
it was small, but beautiful, not a typical reception hall. you could also bring in your own food, drinks, etc.;it would be very expensive if you aren't (or don't know someone) who is a member
---