Home

Good Earth Floral Design Studio
About this Vendor
Wedding Flowers - Style. Design. Details.
Whether your wedding is vintage & chic, romantic & timeless, or charming & rustic one thing is for sure - It's all about your story and vision! Inquire above to set up a time to chat about your lovely and gorgeous wedding flowers. Can't wait to meet you!
Details
Centerpieces, Vases, Chuppah, Wedding Decoration Delivery, Wedding Decoration Setup, Decorations + Accents, Bouquet Wraps, Bouquets, Boutonnieres, Corsages, Flower Delivery + Setup, Flower Arrangements
Contact Info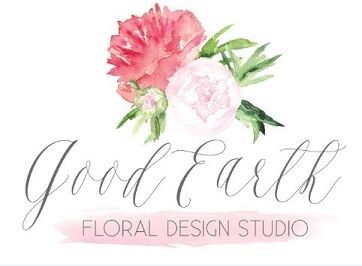 529 North MurLen, Olathe, KS
September 21, 2013 [Holly+Cole]
Reviewed on

10/17/2013
Holly Lynn W
This was my absolute favorite part of the wedding process. Working with Ashley [Good Earth Floral] was everything I could have dreamed of. She is the most creative, personable, and inspirational person I have met. Her work is beautiful! My fall wedding was at sunset on a rooftop and the arrangements added the most stunning and romantic feel to the entire evening. All of the altar arrangements, bridal bouquets, and boutonnieres were so fresh and elegant. They were the definition of perfection and exceeded my expectations. I fell in love with them from the moment they were delivered and couldn't help but capture them in every picture. Our wedding day was a true reflection of us as a couple and I give this to Ashley's passion for achieving a design that met our wedding vision and style. Ashley, thank you so much for creating such a beautiful and dreamy feel to my wedding. You have such a wonderful talent and an incredible way of making brides feel so special on one of the most important days of their life. I feel lucky to have met you and had your expertise on my timeless, romantic, and absolutely perfect wedding day. I'm blessed by the ways you use your gifts to love on people. Thanks for this! Holly + Cole Prather
---
Sammi + Brian
Reviewed on

11/06/2014
Samantha S
Ashley is INCREDIBLE at her job. She is professional, flexible and has the ability to make your wedding dreams come true! That sounds super corny, but really. She is so creative and I was absolutely blown away by my flowers and all the decor she rented for me. I received soo many compliments on our beautiful decor and I give all the credit to Good Earth! Ashley and her team will completely EXCEED all of your expectations for your beautiful day.
---
Gorgeous Floral for April Wedding
Reviewed on

10/27/2014
The moment we met Ashley we were excited about her ideas and immediately relieved that we had found someone who we felt was so capable, competent and inspired. The flowers were exactly as we expected, but even more beautiful than we could have imagined. Ashley went above and beyond by working with our caterer to arrange for linens to be delivered to her, so that she could set the tables with ease and on a more convenient timeline for everyone. We truly appreciated her willingness to do anything she could to make our big day easier. Ashley was a joy and pleasure to work with and a true professional.
---
Exceptional Florist
Reviewed on

1/06/2015
Jessica B
Ashley is amazing! My mother and I walked into her office CLUELESS about flowers, but we knew we wanted some. Ashley listened to our every idea and formed exactly what we wanted. We told her our budget and she made sure we always stayed right on track! She was so helpful. I would highly recommend Good Earth Floral to anyone.
---
Perfect Florals for an October 4th Wedding
Reviewed on

11/05/2014
Melanie L
I'm not quite sure where to begin with how happy I am with Ashley of Good Earth Floral.... Our first meeting, my vision was very up in the air and she was so kind, warm, and creative. It was very easy to bounce ideas off of each other and for her to take inspiration from things like my dress and what I wanted the day to feel like. She was able to supply gorgeous florals, unique vases, hundreds upon hundreds of candles, and our linens, all while having very good prices for her great work and professionalism.
---
Beautiful
Reviewed on

10/29/2014
Lacey T
The flowers were beautiful!
---
Beautiful Flowers!
Reviewed on

10/29/2014
Amanda S
Good Earth Floral Design was so easy and fun to work with for our wedding! They provided BEAUTIFUL flower arrangements for our big day. We received several compliments on the flowers from our guests! I would highly recommend Good Earth Floral to any future bride!
---
Wedding Florals
Reviewed on

10/29/2014
Amy S
Ashley was amazing to work with for our wedding. She respected our budget and still gave us everything we dreamed of. She provided everything (flowers, vases, votives and candles) and did all the setup and cleanup/pickup leaving us with nothing to worry about on our big day. What I really loved is that Ashley made sure that the venue looked beautiful. I noticed little touches she added to make the space look even more special. She is talented, creative and a wonderful vendor to work with for your wedding.
---
Beautiful Rainy Wedding Day
Reviewed on

10/28/2014
June 28, 2014 @ Californos in Westport We loved the flowers and greenery, arrangement of vases, candles, and greenery that Good Earth Floral provided for our wedding ceremony and reception. The bouquets and corsages were also beautiful and so fun to look at in all of our pictures. Meetings were easy to arrange - by email or phone - and the service from first contact was awesome! On the wedding day, Good Earth Floral took care of all delivery, set-up, a quick flip from ceremony to reception, as well as pick-up after the event. We didn't have to worry about a thing. We highly recommend Ashley for both for her service and her creative vision.
---
Beautiful flowers and great to work with!
Reviewed on

10/27/2014
Leah S
I absolutely love what Ashley and her team did for my wedding. I knew I wanted Good Earth Floral to do my wedding, so I actually didn't shop around for any other florists after I met with Ashley. I am very indecisive and she helped me choose the best floral arrangements for my day. People still tell me how beautiful they were! We had issues with other vendors on our wedding day, but Ashley and her team were very accommodating and worked with us. It was such a relief to have her be so patient and helpful on such a hectic day. Thank you again, Ashley! :)
---
Gorgeous work!
Reviewed on

10/27/2014
Natalie K
Ashley and Good Earth Floral was incredible to work with for planning our big day. They were responsive, flexible, and very understanding in trying to make your vision come to life. I would highly recommend them as your wedding florist.
---
Beautiful flower arragements
Reviewed on

10/26/2014
Sayo S
My husband and I found out about Good Earth Floral during the open house at our wedding venue. I instantly fell in love with Ashley's floral designs. I am not much of a creative kind, and needed some help bringing my vague vision I had of how the wedding should look like. I was absolutely stunned by how the ceremony and reception rooms looked like with her decorations, and was in love with our bouquets. Ashley was able to create exactly how I imagined those flowers to look like from our consultations. Furthermore, I really appreciated that she was able to design everything within our budget. Unlike others that we met for initial consultation, I felt very comfortable with Ashley because she was made sure that the quote she provided us was within our budget.
---
My Dream Wedding
Reviewed on

10/26/2014
Stephanie L
Good Earth Floral somehow got into my head and laid out the most beautiful floral arrangement I could have imagined. I met with her once, showed her pictures of what I liked, and continued communication on how to keep our arrangements under budget. She laid out stunning arrangements on the aisle in our church, and then reused them in our reception venue. The dining room where we had dinner was a dream come true. She used beautiful antique silver pieces and votive candles to pair with our requested peach and ivory colors. It was awe-inspiring for us as well as our guests. I would highly recommend Good Earth Floral to any bride looking to have beautiful arrangements while keeping to a budget.
---
Spectacular wedding flowers!
Reviewed on

10/26/2014
Caroline C
My husband and I got married in May 2014. After doing our research, we selected Good Earth Floral. Ashley and her team did an amazing job!! She will meet with you and go into all details as to whether you want a modern, classic, traditional etc floral theme. We wanted sunflowers with our navy blue colors. Not only did Ashley fulfill our sunflowers, she had beautiful bouquets with white roses and blue hydrangeas. Ashley knew how to decorate our reception venue perfectly with the tables and vases. Additionally, Ashley was great with her communication and promptness. It is evident that she and her team are passionate about what they do and their goal is to cater to the bride, groom, and bridal party's needs. In fact, Ashley will also work to accommodate your budget. Please pick Good Earth Floral if you are looking for a reputable florist! Caroline
---
AMAZING!!!
Reviewed on

10/25/2014
Maura B
All I can say is that Ashley was amazing. From my personal consultation at the beginning of the process, to my email showing me my complete vision, to her quickly constant emails from me at least once a week when the wedding got closer, to her working with me and my dad on payments. Everything was amazing and she made me feel so comfortable and like my flowers were going to be one of a kind and they really were. I got soooo many complements on my flowers and everything that went into it was so worth it walk into my reception and see her beautiful creations from my vision. I would recommend Ashley to any bride in the KC area. She was my savior and I'm so happy we decided to work with her. She made my day beautiful (and smell amazing haha!!!) so worth it.
---
Amazing Florist!
Reviewed on

9/30/2014
Jessica S
Ashley did a fantastic job with all the flowers at our wedding. Since I live in St. Louis and couldn't actually meet with her in person, we had to do everything over the phone and it couldn't have been any easier. I was able to convey what my vision was to her very easily and what she came up with completely exceeded my expectations. We had so many compliments on our florals and I couldn't have been any happier with them! Ashley also did an awesome job at helping me get exactly what I wanted in the price range we wanted to be in. Overall, I had a great experience with her! Very easy to work with and extremely accommodating - especially with a bride like me who likes to change her mind a lot :) and does absolutely beautiful work! Thanks again Ashley!
---
Gorgeous pink and ivory flowers!
Reviewed on

9/23/2014
Rachel V
Ashley did a remarkable job on my wedding flowers. She put together beautiful bouquets using pale pink and ivory. She used my Pinterest page to gain an understanding of what I wanted and nailed it! She's super easy to work with an absolutely sweet! Very affordable too. Highly recommend!
---
Unique Gorgeous Flowers!
Reviewed on

9/23/2014
Stephanie G
I was saved by Ashley after my first florist went MIA 3 weeks before the wedding. She was so flexible meeting with me even though she had a full schedule with other brides. Even with just one meeting, I could tell she really got my vision and knew what flowers to recommend. I was very impressed by her pricing proposal as well, she included inspirational photos of the flowers and the arrangements I was talking about so I had a visual. She made the most BEAUTIFUL bouquets that included the flowers I wanted (poppies, ranunculus, garden roses and jasmine ivy). They were so beautiful and lasted the entire day. Definitely recommending Ashley and Good Earth to my engaged friends!
---
Good Earth Florist
Reviewed on

8/31/2014
Natalie C
Our flowers were beautiful! Ashley listened to what I envisioned and she created exactly what I wanted. My bouquet was beautiful and all the center pieces looked great too. When paying, I accidentally charged the wrong credit card on PayPal and she quickly fixed the problem that day so that we could use the right card. I really appreciated her willingness to correct the issue, even though it was my mistake. My parents hosted a family breakfast the next morning and she allowed them to keep the vases and flowers to use at the breakfast and return all the vases later to her. It was really nice to be able to still use the flowers for two events, rather than just the one night. We were very happy with the flowers at our wedding, they were beautiful!
---
AMAING
Reviewed on

8/25/2014
Emily S
Ashley at Good Earth is an absolute doll to work with! Over the process of planning my wedding she was more than willing to help with the changes. She had so many great ideas to add to the overall feel of my wedding that made it that much more special and beyond beautiful. Her team came and set everything up the day of the wedding which took stress off of myself and my family-such a big plus. I wouldn't hesitate to work with her again.
---
LOVED Good Earth Floral Design Studio!
Reviewed on

7/29/2014
Brittney C
We used Good Earth Floral Design Studio for our May 2014 wedding. After our first meeting with Ashley, we felt 100% comfortable that she would create what we had envisioned. She put together the perfect plan for us, incorporating all of our ideas. Everything was gorgeous the day of! We received many compliments on the flowers and they were exactly what we wanted. They were absolutely beautiful! The wedding day was well-planned and organized, Ashley took care of everything. I would highly recommend Good Earth for your event!
---
Best Flowers in KC
Reviewed on

7/29/2014
Ann G
My husband and I were married May 2014. I had no idea where to start with florist so I got on theknot.com and looked in our local knot magazine and found Good Earth Flowers. I noticed that Ashley was awarded some recognition from theknot so I scheduled an appointment. Ashley was amazing! I knew as soon as I walked into her office that I was going to choose her for our florist. She and I connected on a design level right away and I felt like that was very important for our wedding especially because the flowers were ultimately going to be the main source of "decoration". She did all the work to make every arrangement at the wedding look like perfection and exactly what I wanted just by looking at my Pinterest boards and with a couple quick meetings! She made my dream wedding come true! I would recommend her to everyone!!!
---
Obsessed with my wedding flowers!
Reviewed on

7/26/2014
Casi
Ashley at Good Earth was hands down one of my favorite vendors to work with. The flowers were beautiful, she was always responsive and available to talk through the details, and she made my vision come to life! I couldn't have asked for a better florist all while staying within my budget. I'd highly recommend Good Earth to anyone looking for a florist!
---
June 7, 2014 [Sarah+Chris]
Reviewed on

7/24/2014
Sarah T
Ashley at Good Earth Floral was phenomenal. I wanted a garden theme wedding in an urban venue and she definitely made my unique vision come to life. Right from the beginning she seemed to know exactly what I was looking for and was so great about listening to my ideas and putting her own creative spin on them as well. She was also extremely open and flexible to any changes we wanted to make during the planning process. We received SO many compliments from our guests on how beautiful the flowers were. From the bouquets, to centerpieces, to the hanging pew baskets- she hit the mark on all of them, all while staying within our budget. I would highly recommend her to any bride!!
---
High praise for Good Earth Floral
Reviewed on

7/22/2014
Jane Saragusa S
There is no better florist in the KC area to work with than Ashley Hotka at Good Earth Floral! After meeting Ashley at a bridal show I was captured by her bubbly personality, stunning tablescape and sample books - I knew she could be an instant friend and confidant throughout the planning process. Not only that, but her prices are incredibly fair for the industry. She will dedicated herself 110% to your vision and make your wedding day PERFECT including taking on additional last minute details and executing them flawlessly. I high recommend this vendor to any bride-to-be!
---
Send Message