Home

Grandview Travel
About this Vendor
Over 25 years of experience...Let us plan for you!
Grandview Travel has been proud to serve central Ohio's travel agency needs since 1989. Our talented team of travel advisors has traveled around the world, and we love to help create dream vacations for our clients. Grandview Travel is a leader in luxury honeymoons and destination weddings, and we're happy to handle all the planning and details for you. Our honeymoon experts work with you to design the perfect trip to start your life together. Experience anything from a gorgeous view at a resort in Bora Bora, the fantastic food and wine in Italy, island hopping in Greece, cruising the Caribbean or enjoying an all-inclusive resort. Our experienced experts have been trusted by local Columbus Brides to make sure their honeymoon is an unforgettable start to their life together.
Details
Destination Wedding Packages, Destination Wedding Planning, Destination Weddings, Honeymoon Planning, Planning
Contact Info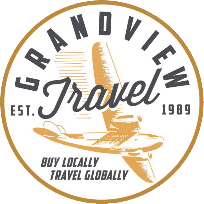 Reviewed on

11/02/2016
Gillian V
Grandview Travel was the best decision we could have ever made when deciding on our travel agent! My husband and I were looking around for a travel agent to book our honeymoon and we met with Gissele Miller - she was absolutely fabulous, knowledgeable, attentive and patient. I... Read More can't say enough good things about Gissele and Grandview Travel, they made our honeymoon planning so enjoyable and easy. Gissele booked us the trip of a lifetime to St. Lucia, it was truly picture perfect from the planning, travel and vacation part - we could not be happier!!! Whenever we had questions, wanted more options or second opinions Gissele was highly responsive and always available to us, we were spoiled by her level of service. Thanks so much for everything and making our trip amazing!
---
Reviewed on

10/26/2017
Emily T
Grandview Travel was the perfect team to go with when booking our honeymoon. Hannah did an amazing job booking our travel to Hawaii. She had recently traveled there so she knew exactly what hotels and activities to book for us. Hannah was so great to work with and anytime I... Read More had a question she always got back to me right away. Our honeymoon was an amazing trip because of Hannah! I would highly recommend her and her team for any travel!
---
Reviewed on

6/26/2017
Heather S
We are so thankful to Hannah at Grandview Travel for helping us book the honeymoon of our dreams! We had never worked with a travel agent before, but Hannah explained the process and made it incredibly easy to find a destination and resort that matched us perfectly. It was also... Read More much more affordable than any options we had found in our own research, but just as beautiful, if not even better! I have already referred two friends to Hannah, and both have booked trips with nothing but amazing things to say about the booking process and the trips themselves.
---
Reviewed on

12/12/2016
Josh C
We chose Grandview Travel due to its proximity to our home and couldn't be more thrilled with our experience. We were put in contact with Gissele Miller, as she is their wedding/honeymoon specialist. Gissele met with us multiple times to discuss possible honeymoon destinations... Read More and also what would fit best within our budget. She not only knew the resort but each option within the resort and how it would affect our experience. The day our flight was due to leave, there were mechanical issues causing the flight to be cancelled and we had to go the next day. We were able to reach out to Gissele and through her tireless efforts, she was able to work with the resort to get our stay modified so we did not lose any nights. We met multiple couples at the resort that were to be on that same flight and I believe we were the only couple to get our stay modified. We highly recommend Gissele and Grandview Travel. I can honestly say that their knowledge and efforts not only saved us hundreds of dollars due to a possible missed night but also made our honeymoon much more enjoyable.
---
Reviewed on

11/21/2016
Rachel A
Hannah was excellent and helped us plan a honeymoon that was even better than we dreamed! We went to Santuary Cap Cana in Punta Cana, Dominican Republic. The resort was superb; we never wanted for anything, and were constantly taken aback by the beautiful views, amazing food,... Read More and exciting events going on. Even while Hurricane Matthew was threatening our travel plans, Hannah was right there making sure everything went off without a hitch, and even offered to help us outside of office hours if there were issues with our flights. Thankfully, everything worked out perfectly. Our only complaint is that we couldn't stay longer! Thank you for everything and for an unforgettable trip!
---
Reviewed on

11/04/2016
Erica S
We booked our honeymoon with Hannah at Grandview Travel, she made everything so easy for us! We almost did not go on a trip as I was not excited to plan anything else after the wedding however a few emails later Hannah had us booked at the most beautiful resort Secrets Akumal... Read More Riviera Maya. Transportation to and from was so easy, the trip was so relaxing I actually felt guilty I wasn't doing anything. First time using a travel agent, I will always use them, thank you!
---
Reviewed on

10/21/2016
Shauna H
Rob planned our 10-day France honeymoon for us. He was awesome to work with and showed us plenty of options for what we wanted to do. I honestly cannot wait to use these guys again for our next trip. Highly recommend them!
---
Reviewed on

4/30/2016
Andrea D
If I could give zero stars I would. I felt extremely unprepared when leaving for my honeymoon and had been in constant communication months and days leading up to our departure. I asked when I could stop and pick up the travel package/documents and they said anytime after... Read More Wednesday. When I arrived Friday none of the documents were prepared. I even emailed 3 days before the trip and was ensured by Rob Elking, the owner, that everything was all set to go! My husband and I were supposed to leave on our honeymoon on Saturday April 9 at 7:10am. All travel documents (4 different Go-Go travel itineraries) stated our Delta flight was to leave at 7:10am. We arrived at the airport at 5:30 to ensure ample time to check-in, but come to find our flight was changed in January and Grandview Travel was notified by Go-Go Travel in March. None of our documents were updated, none of our flights were changed or checked by Grandview Travel and at 6am we could not get ahold of anyone at the travel agency to find out why we were not heading to St Lucia. After finally getting in contact with Rob after 9:30am, he kept telling us it wasn't his fault and it must have been Go-Go Travels fault. Mind you - there are NO FIGHTS available into St Lucia after 9:45am. Rob refused to take the blame or do anything to help our travel situation, when it was clearly their fault based on the documentation Go-Go Travel shared with us about the change in flight schedule. Therefore we had to change our honeymoon to Sunday - Sunday. Countless emails and phone calls were exchanged back and forth and the customer service we received was far from kind or reassuring we were actually going on our honeymoon the next day. We had to change our own flights with Delta and the helicopter ride to the resort we booked. Rob did change the dates at Sandals but none of the documents at Sandals were adjusted so we had to explain our story time after time to make sure we were getting what we signed up for. After getting up 2 days in a row at 2:30am to drive to the airport we were completely exhausted and couldn't even enjoy our first day on the island. Our returning flight has the same problem. We were put on standby with the return helicopter flight to the airport because it was not updated when he told us he changed the travel dates with the resort, returning helicopter and flights. After we brought it to his attention all he could say was "There might be exit row seating available from St Lucia today on Delta . Ask the agent and she/he can handle this." Why couldn't he just change it for us? Why do I have to go to the desk and pay to upgrade when that is the least Rob could do for us? He never once offered to upgrade our flights, pay for an excursion, or offer any kind of refund for the trouble we had to go through. Another thing I did notice was the $100 Cameron Mitchell gift card incentive to travel through Grandview Travel, I brought it to Rob's attention days before we were supposed to leave because I noticed it wasn't included in the unprepared travel documents. He mailed us $75 with a card that had 2 spelling errors, really?? Needless to say we booked through a travel agency to ensure a stress free trip for our honeymoon and it was nothing but a travel disaster.
---
Reviewed on

4/30/2016
Used Grandview Travel for our honeymoon trip to St. Lucia. We went to the airport at 4:00 AM only to find out that our flight had been dropped. Grandview travel had been notified by both gogotravel and Delta that flight was dropped and should have changed itinerary, but they... Read More dropped the ball. After 4-5 hours, Rob Elking finally got back to us on his cell phone. He was completely unapologetic, and did nothing whatsoever to mitigate the situation. We had to go back to the airport at 4:00 AM on Sunday and start our vacation a day later. Rob did absolutely nothing and acted like he did us a favor. I asked if I could speak to his supervisor and guess what his reply was? "I am the Owner". Well there you go. That definitely wasn't the last issue we had with the trip. When they shifted everything over, he lost our place on everything like we had a helicopter trip booked back to the airport, we went to the end of the line and got waitlisted. Rob, the owner did absolutely nothing to help us as usual aside from state the obvious each time to us. If you are planning a trip anywhere, don't use these guys, they are terrible; they have no idea what they are doing and could care less what people think about them. On top of that, the owner is an absolute a-hole.
---
good price!
Reviewed on

8/01/2014
Cera
we did research with the agent, found the place we wanted, got the right price due to booking early! might i add this was all done via email and phone! not many people can say that :)
---
great to work with
Reviewed on

9/06/2012
Andrea O
we booked through them and they were really great. helped guide us to chose a great destination
---
SO HELPFUL!
Reviewed on

11/08/2011
Bethany H
Tracy from Grandview Travel did an amazing job helping us to book and plan our honeymoon. My groom and I had never traveled out of the country before and they made it so easy. Then, while we were in Mexico, we received a nice card and treats from them. It was such a nice touch!... Read More Tracy and I were in contact often before the trip via e-mail. She would just drop a note to make sure things were going well. I will absolutely be booking with them for future travel needs!
---