Home

Greater Good Events
About this Vendor
Occasions with a Conscience
Greater Good Events, a fun and innovative wedding and event planning company in the Greater New York City area (technically based in Jersey City).  We design, plan and manage weddings/wedding related events of all shapes and sizes with an emphasis on each couple's individual style. Working with, speciality florists, venues, rental companies and caterers to make your wedding perfect! We're even there to help with your family. The goal of Greater Good Events is to help you plan the wedding of your dreams , while emphasizing social good. Partnering with donation food services at the end of events and giving a percentage of annual proceeds to those less fortunate. We are here to help you create the wedding of a lifetime!
Details
Engagement Party, Getting Engaged, After Party, Bachelor Party, Bridal Luncheon, Bridal Shower, Rehearsal Dinner, Welcome Party, Rehearsals + Parties, Ceremony, Cocktail Hour, Day After Brunch, Reception, Rehearsal, Wedding
A la Carte Wedding Planning, Budgeting, Day-Of Coordination, Full Service Wedding Planning, Honeymoon Planning, RSVP Tracking, Wedding Website, Planning
Reviewed on

9/06/2016
Danielle R
Ellen at Greater Good Events was a lifesaver! My husband and I had our wedding on July 9th at Waterloo Village in New Jersey and we used Ellen's day-of coordinating service. A couple of weeks before the wedding I handed over all of my day of decor requests, vendor contacts,... Read More outstanding questions and biggest fears for the wedding day, and from that day on Ellen was in control and I got to RELAX. I'm not kidding, at a 4th of July party the week of the wedding everyone kept asking me why I wasn't freaking out and how I was managing to have a good time when I was getting married in 5 days haha. It was easy though, knowing it was all planned and that Ellen would be ensuring that it all went smoothly the way I had envisioned. Ellen ran our rehearsal the night before and helped us drop off all the decor/make sure it was in the best place for the next day. The morning of the wedding, Ellen came to the hotel room we were getting ready in to make sure I didn't need anything and to pick up last-minute items that needed to go over to the venue before us. She assured me everything was going according to plan and that was enough to make sure I relaxed that morning! When we got to the venue, she made sure we had food and drinks (and champagne) and even put an iced latte in the fridge for me in case I needed a boost - which I totally did! While we were busy eating and drinking, Ellen was making sure that all my decor items were put up and the flowers were arranged exactly how I imagined them. To be honest I barely noticed anything that day (I swear getting married is every bit the whirlwind psycho day that everyone tells you it is!) but people were gushing about all the details afterwards and when I saw the photos from my photographer everything was PERFECT. If you're going back and forth on whether you need a day-of coordinator or if you're just going to DIY the whole thing, I'm telling you right now that you do not want to be worrying about whether the cocktail hour signs have been placed right or if the florist has arrived on time while you are GETTING DRESSED IN A WEDDING GOWN. Having Ellen in your corner and being able to trust that everything will be taken care of is SO worth it. After the wedding, my in-laws just kept saying over and over that having Ellen there was key, that we couldn't have done it without her. It's so true – our wedding was a million times better because Ellen was there! http://markowphotography.com/2016/08/18/waterloo-village-wedding-danielle-and-brad/
---
Reviewed on

3/05/2017
justin D
Ellen & Co. instilled a warm sense of focus, supreme attentiveness to detail and leadership awareness, from the onset. She made us feel like the only clients in the world since our initial chat, until the lead up of the event. She created value and impact through a variety of... Read More negotiations with the venue and vendors, really left us saying wow, can't imagine this process without her. Then event day approached, Ellen and Team were up to task in orchestrating behind the scenes and taking charge, where needed. They ensured our vision was realized and execution of the most meaningful events, were without obstacles. Best part, they were easy to work with for everyone...incredibly warm, helpful, ego-less disposition, focused on creating perfection. The team is kind, patient and versatile to their audience, with the primary objective to "GSD" (get sh*t done). They dominated our overall expectations and would recommend to anyone a million times over :)
---
Awesome and friendly planner!
Reviewed on

11/27/2015
We are so lucky to have found Ellen to help us with a graduation event for a new nonprofit! Ellen was courteous, understanding, tireless and incredibly helpful in all aspects of our event's planning, execution and follow-up. I am certain Ellen's skills in coordination,... Read More planning, sourcing and budgeting transfer to weddings, too! We highly recommend Ellen for any type of event - she is organized, filled with ethic and is a joy to worth with! Our organization will be certain to work with her again when the next event arrives.
---
Reviewed on

1/06/2018
Rachel P
Ellen was a lifesaver. Upon meeting her, she immediately put us at ease. She was super flexible and open to taking phone calls at odd hours across timezones (we live in CA, but planned our wedding in NJ). Having someone on the ground during the last few weeks made our planning... Read More process go much more smoothly, and it was great to have someone who could follow-through on last minute vendor research, booking, and coordination. Overall, Ellen followed our style and let us drive the process. She was thorough and made sure we did not forget any key steps. She is well-versed in a wide range of Jewish wedding customs and traditions which made venue/vendor communications easier. She went above and beyond and even assembled our centerpieces morning-of!
---
Reviewed on

11/29/2017
Megan F
We began looking for a wedding coordinator at the very last minute and came across Greater Good Events. Ellen and her team were exceptional and went above and beyond all of our expectations. She dealt with a challenging venue coordinator and was able to secure last minute... Read More vendors (all with great prices as well!). I don't know how we could've done it without her and would highly recommend her for all events. Thank you Ellen for making our wedding dreams a reality!
---
Reviewed on

10/17/2017
Allysa T
Ellen and her team absolutely blew us away on our wedding day! They went above and beyond to make sure not only us but ALL of our bridal party and guests were taken care of! We had 180 guests with a church ceremony at 3PM and reception at 7PM. Here are a few examples of how she... Read More and her team made not only the day but the lead up to the wedding absolutely stress free: Recommendations - Although we hired her for day of coordination, she was helpful throughout the whole process. We had hired her about a year before our wedding. After vetting 10 photographers and 5 florists on my own via internet searches, I asked Ellen and ended up using her recommendations for photographers and florists. She knew exactly what we were looking for that I couldn't find on my own search after sifting through seemingly endless vendor reviews. Vendor Meetings - The month before the wedding she gathered and compiled the information for all of our vendors. She even attended the meeting with our venue to decide on cocktail hour, dinner, linens etc. One of the cocktail hour dishes she suggested ended up being my mother in law's favorite! Rehearsal - One of her team members who was also at the wedding attended our dress rehearsal at the church to make sure everything was settled and the final details were taken care of. Wedding Day - Ellen came right before we finished getting ready and of course my MOH unknowingly cut her finger and had drops of blood on her dress. Ellen took care of the dress and her finger. She also made sure everyone (bridal party, parents, vendors, guests etc. )was where they needed to be. Some notable things were escorting my husband's elderly great aunt to the bathroom and cleaning up our getting ready room for us to hang out in between the ceremony and reception. Her team even packed up the getting ready room at the end of the night so all we had to do was pack the cart full of gifts, cake, and decorations into the car the next day. We were so relieved that was taken care of since we were out until 3 in the morning for the after party and had to go to brunch and catch our honeymoon flight! We didn't have to think about a single detail and could fully enjoy each other's company. It's your wedding day and the last thing you want to think about are trivial details when everyone you love is gathered to celebrate you and your partner! Hiring Ellen and her team is an absolute necessity and was absolutely worth it!
---
Reviewed on

7/23/2017
Alexandra S
Ellen and her team were amazing! She made sure our wedding day ran smoothly and was very helpful in the weeks leading up to our wedding. She made us feel at ease and went above and beyond what we were expecting in her services.
---
Reviewed on

5/18/2017
Terri J
What can I say about Ellen (and her assistant Rachel) other than they saved the day. I hired her as my wedding-day coordinator but she not only helped me with items leading up to the day, but also the day after. Of course there would be a freak rainstorm all day the day of my... Read More wedding which caused all timelines and plans to go completely out the window. I know for a fact that without Ellen and Rachel there, the day would have been a complete mess. They made sure everything went as smooth as it could, running around in the rain and getting soaked. And despite all the changes and chaos, they made things work, and I can't tell you how much that made me feel better as the bride. I highly recommend Greater Goods Events as Ellen is not just a great coordinator, but a really wonderful person. THANK YOU!!!
---
Reviewed on

3/22/2017
Connie J
I contacted Ellen when I was feeling the most alone during my wedding planning process, when I felt so strongly that the event coordinator who was assigned to me by my wedding venue did not have my best interests at heart, and I'm so so glad I did! Ellen was that rock during... Read More the chaos of my wedding planning process, and helped me get together those last minute details that I just did not know to think of. Her day-of-coordinating service allowed me to have some peace the weeks leading up to the wedding day, and on the day of, despite the fact that we had a snow storm and the wedding had to be delayed, she was there to make sure everything ran smoothly. I am so glad that Ellen was there to take care of the vendors, to make sure that everything was as it was supposed to be, to take care of the little things during the day that in the whirlwind of the wedding, would have been impossible for me to remember or take care of myself. Having Ellen as our day-of-coordinator was one of the best decisions we made for our wedding day, and I can't imagine what I would have done without her guidance!
---
Reviewed on

2/14/2017
Rachel H
Ellen was our coordinator for our wedding. She was amazing from the day I first spoke with Ellen I knew she knew what she was talking about and everything would be above expectation. She helped give me ideas on how I could add special touches to the day. She also worked very... Read More closely with me and all the vendors. Once I hired Ellen I didn't have to worry about any of the vendors showing up on time or any other issues that could have happened. Her and her team took care of all issues that I didnt even know went wrong during the day. If I had any question or suggestions Ellen had already taken care of it. I plan to hire her again for any major event down the road and would recommend her to anyone. If you don't go with Ellen you are making a mistake. She is professional, organized, and GSD (gets shit done)!
---
Reviewed on

11/02/2015
As a close family friend at the wedding, I can say that Ellen made the event fun, beautiful, and appear seamless! It was a great event, with so much less stress for all of the family involved. She handled all of the last minute changes with ease, having anticipated these far in... Read Moreauyfcbefvrafaxtfuutwwtrufxwrzdburayxxw advance. She was readily available throughout the entire week and was always a phone call or text away! Plus it felt good knowing that the wedding wasn't going to be wasteful, with any leftover food going to a good cause and using environmentally friendly practices throughout.
---
Reviewed on

8/20/2015
As the mother of a difficult and finicky bride, I worked with Ellen Hockley as a consultant, and what a huge help she was. She was able to help guide us in everything from invitations to logistics, from food to room setup, negotiating hotel blocks for the guests, even the band... Read More and room arrangements. Ellen is warm, kind and extremely well organized as well as experienced and well informed. I would not hesitate to recommend her for any event large or small.
---
Meet The Owner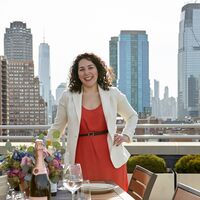 Ellen Hockley Harrison
With over 10 years of experience working in hospitality; ranging from food service and catering to direct event management and execution, Ellen Hockley, founder of Greater Good Events, took her passion for events on a personal path, and built an wedding and event planning company what she believed to be the missing link: sustainability. Greater Good Events is committed to helping couples make the wedding they could have only ever imagined, while fostering a sense of service. We make your dreams come true all while giving back to our community!