Home

Greystone Mansion
About this Vendor
Greystone Mansion
Say your wedding vows in Greystone Mansion's beautiful garden and then continue the celebration in our spacious and elegant ballroom! Greystone Mansion is the perfect venue for your Northern Michigan Wedding. Our all-inclusive wedding package, makes wedding planning easy and stress free!
Amenities + Details
Amenities
Handicap Accessible

Liability Insurance

Indoor

Reception Area
For more details about amenities, please message the Venue.
Bar + Drinks, Food + Catering, Planning, Service Staff
Contact Info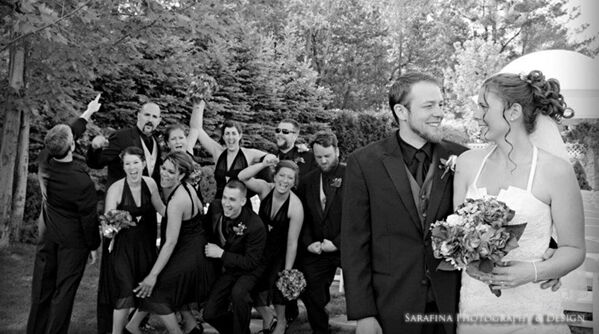 13996 Honor Highway, Traverse City, MI
Outstanding Venue
Reviewed on

5/22/2014
Katie p
They had a HUGE food selection to choose from. We attend the open houses to help decide which dishes to pick. THe staff was awesome and friendly, the owner was SUPER helpful in helping us via suggestions or examples from previous weddings. The DJ came with the venue which wasn't my prefered arrangement, however he ended up being AMAZING!!! Overall I would recommend this place to anyone. 10/10.
---
PERFECT reception
Reviewed on

10/22/2013
BriAnn S
Bob and Jo went over the top for my husband and my wedding reception at their Honor reception hall. They accommodated us in every way possible and made every detail come to life :) The food was fan freaking tastic and we highly recommend the Mac and cheese!!!! The DJ had the floor full all night for every music preference and era of guests. A+ all the way and Thank you SO much!!!!
---
Beautiful Outdoor Wedding
Reviewed on

10/01/2013
Nicole B
Everything for our wedding was perfect! Bob and Jo are so helpful and flexible with planning. We planned it from out of state (dealing with a three hour time difference) and they made it a breeze! They cover everything, lay out all pricing and extras in the package, and are happy to answer any questions. The value is incredible with pretty much everything included (which again, planning from out of state was a blessing!) Their entire staff is friendly and helpful. LOVED the private bridal suite! Our wedding ran perfectly (thanks to our day of coordinator - included!), was everything we hoped for, and our guests had a wonderful time. We got tons of compliments on the food and the DJ. The attention to specific things we asked for was impeccable and the location is so beautiful! The gardens are amazing, and it is a short shuttle ride (which you can add on for a very reasonable price) to the beach (gorgeous beach pictures!). We also loved that we could bring our own alcohol (used Honor Family Market and highly recommend). This allowed us to have a Michigan themed bar featuring all Michigan beers and wines. Plus, this made the bar cost much cheaper and we got to keep left overs! I also loved that we were the only wedding going on. It felt so personal and so special. We could not have been happier with any aspect of the wedding on their end. Thank you to everyone at Greystone Mansion, we would do it all over again!
---
Beautiful Yet Disappointed
Reviewed on

7/27/2015
Heather F
First of all, my wedding was beautiful, & Greystone is a gorgeous venue. Food was delicious & fun was had by all. The convenience of having the venue do the catering, DC, & many reception details was perfect. With that being said, when I initially was considering Greystone, some of the biggest selling points were the convenience of an inclusive package & how flexible & easy Bob was to work with. In the weeks leading up to the wedding, Bob's willingness to work with us decreased. During our meeting 3 weeks prior, he was strongly encouraging us to organize the room & include elements with which I was not comfortable (e.g., a fog machine use on the dance floor & placing the band in the corner with tables between them & the dance floor). The day was beautiful from my perspective & the on-site coordinator was extremely accommodating for me; however, after the fact I learned that both Bob & the on-site coordinator were quite rude to multiple family members & friends who were assisting with setup. Finally, the DJ, John, was terrible. We had hired a band, & thank goodness! For the first several seconds of the Daddy-Daughter dance, the TV screens sat at a menu while the song played instead of beginning the carefully constructed photo slideshow, he did not play the songs we asked, & one song was clearly played from youtube as there was a commercial that played prior to the song beginning. I think this is completely unacceptable from a venue wanting to be the best in Northern Michigan. Overall, I think that these issues were not apparent to almost everyone there; however, it was extremely disappointing to hear negative feedback from those close to me.
---
Reviewed on

6/19/2015
Emily M
We planned a wedding out of state and They made it so easy! It's great that it's an All inclusive wedding package. We only had to worry about the cake and photographer. The food was to die for! You have to get the mac n cheese! Nothing that we ordered was nad. Also they package the left over food so you can bring it home! They really went out of their way to make sure your day is perfect. The dj was awesome too! Wish I could remember his name because he did such an awesome job keeping dacing going all night long! We got married outside and the service was beautiful. The venue is beautiful inside and out. If your thinking of booking a wedding you NEED to just book greystone. You won't be disappointed :)
---
Amazing!
Reviewed on

11/08/2014
Cassondra M
Our wedding was in late October, and was absolutely wonderful! The Greystone Mansion provides top quality services such as wedding rehearsal/day coordinators, Catering (with amazing selection of foods for the buffet), Glass, China, and Color coordinated table cloths for the Table sets, Decorations including candles and table centerpieces, and Inside and Outside ceremony site, Ballroom, Bartender, DJ service (which was also perfect!) and the owners are easy to contact and easy to talk to about planning your wedding, via Email, Phone and Text. Everything was included in an easy package! All we had to provide ourselves was the minister, cake and photographer. Beautiful outdoor fountains and landscaping for photos, a bridal suite for pre-ceremony and reception use, and a room for children to play with toys. We had around 90 guests and it was very comfortable, it was not crowded at all. There are several near by hotel/motels/cabins/campgrounds for out of town guests. I highly recommend this venue/catering/DJ and ceremony site for your wedding and reception! Great value compared to other locations in the Traverse City area/Northern Michigan.
---
AND WHAT A WEDDING IT WAS !!!
Reviewed on

10/20/2014
If you want an uncomplicated wedding from start to finish this is the place! I live down state and Bob the owner made it so easy to do everything. I went in one time to look at everything then handled the rest with him over the phone and through email. It was very easy and not stressful at all. It is absolutely beautiful inside and if you choose to get married in the garden (which we did) you shouldn't even have to buy any extra decorations or flowers. They included much more than other halls, the DJ was included as well as most of the decorations. Kay the wedding coordinator was amazing! She went above and beyond for us. I didn't have much to add to the reception and she added everything she could think of, from lights behind our head table to adding to the center pieces, and even getting us cupcake stands for our cupcakes (we had cupcakes instead of a cake). She made the entire day run so smoothly. The other help was very nice as well. We actually didn't even try the food before the wedding either but luckily it was so good everyone loved it. All weddings can get expensive though and if you choose to add the other things they offer the price can add up. We only paid for 100 guests and I was very careful and didn't add very much extra stuff. Alcohol also isn't included. They also had some rules that I wasn't expecting like no bubbles or confetti or rice to shower the bride and groom with after the wedding, not a big deal but just fyi. We also had a candy table and after we had already bought the candy for it found out we couldn't have gum. Just be sure to check and see what they don't allow, I don't think its much just stuff that might make a mess.But overall it was an amazing day I have no complaints it couldn't have been better. I would absolutely recommend this hall to other brides!
---
Must have
Reviewed on

10/12/2014
We couldn't be happier and very glad to have chosen them!
---
The best wedding venue in Northern Michigan
Reviewed on

10/08/2014
Wow, what can I say! Bob and jo made our wedding day absolutely perfect. The atmosphere of this venue is very romantic and classy. Jo had everything planned and executed without a single issue. The ceremony was outside and the gardens and landscaping is gorgeous! They even have an indoor chapel in case of bad weather, they've thought of EVERYTHING! Our reception was awesome, Bob and Jo kept on top of everything and made sure at all times we were enjoying our day. The food was ridiculously good and the service by their employees was exceptional. I cannot say enough good things about this venue and the owners. You will not go wrong having your wedding here, they have it all!!
---
Beautiful Venue
Reviewed on

10/06/2014
Karen K
One of the most beautiful places in the area for a wedding. We have been to many weddings. Greystone Mansion is elegant. The food was amazing.
---
A Fairy Tale Wedding
Reviewed on

9/22/2014
Our daughter dreamed of a fairy tale wedding, but even if she hadn't, when we walked in that room it seemed like it was a dream, it was that beautiful! The setting is so elegant and Greystone makes the room come alive with detail. White table cloths with lavender sashes, candles floating in tall cylinders of water, candelabras on the head table with garlands of pretty lights are just a few of the beautiful decorations to make that night one she will never forget! The food was delicious and the guests were raving over it. We enjoyed several appetizers while the wedding party were out taking pictures and especially liked the stuffed florentine mushroom caps, excellent! The mac and cheese is creamy and delicious, a must order, as were the stuffed shells and cherry glazed carrots, cherry bbq chicken and well everything we ordered was delicious! It was all served on beautiful china, extra nice! A wonderful perk is that Bob packages up all the leftovers for you and we were able to enjoy a post-wedding supper with the bride and groom and some of their wedding party that were still in town. We all had a wonderful relaxed dinner and could enjoy the wedding supper all over again, a special treat for the bride and groom who were too excited and therefore barely ate at the wedding. We are so blessed to have such a beautiful and affordable venue for an event that lasts a lifetime in our memories. The venue is high style and budget friendly. Bob generously allows you to bring your own alcohol, but provides full bar service to pamper your guests. When I looked up other sites they charged $70.00 just for one bottle of champagne! With the ability to bring our own, we had lots of fun wine tasting on the peninsula and then bought our unanimous favorite sparkling wine, Brix, from Bowers Harbor Vineyard for the toast. We went the extra for glass flutes, as a special toast is just not right in plastic! The layout of the room, the service, the beauty of the venue, was all so perfect it was our first stop and our last. We never had to look further and we are not sorry we didn't. Our only regret is that it rained and we could not utilize the beautiful garden for the ceremony. But Bob and Kay were quick with the backup chapel and it was lovely. Thankfully the sun was out later for pictures in the garden. It was a turnkey wedding that gave us a relaxing evening and the guests could enjoy the party without concern about driving home as we enlisted the services of the shuttle to see them safely to the hotel. Many thanks to the shuttle driver, the wedding party said he was so nice!! Kingsley Cakes made a beautiful, delicious cake and Ron Getz played amazing guitar. The Blossom Shop, always our favorite florist, did not disappoint us; the flowers were beautiful. And our photographer, Cindy K Hughes, knows the area well, is great fun to work with, and her engagement photo shoot was so nice that I can't wait for the photos! I highly recommend them all for your own event needs. Yes, it was a fairy tale wedding! Thank you all it could not have been more wonderful!
---
loved them
Reviewed on

9/19/2014
charity c
I enjoyed the convince of not having to do anything myself and the pampering attitudes of the staff!
---
The best night ever!
Reviewed on

9/02/2014
Elyssa S
Greystone's beautiful garden was the first thing that caught our eyes. Everything was so beautiful outside from the fountain to the flowers. The inside of Greystone was spectacular. It was very clean and tidy. Owners, Bob and Jo were very great with communication with us and accommodations as we traveled to make Greystone our place of choice. The staff was more than perfect and helped us with our every need. Everyone was full of smiles and joy. The food was spectacular as well. Very very very great. We got chicken piccata as one of our entrees and it was perfect. Kay was out coordinator and we were so thankful for her. She was there for everything. The DJ was also incredible! He was able to read our guest perfectly. Everyone was dancing all night. If I could get married like that all over again, I wouldn't change a thing. It was so perfect. We would absolutely recommend this beautiful venue for any special occasion.
---
Bob and Jo are terrific
Reviewed on

8/27/2014
Brice G
We had our wedding at the Greystone Mansion in early August. From the beginning Bob and Jo were such great helps. Bob helped us book our honeymoon and literally spent hours on the phone with me to find the perfect location with the best deal. When we showed up for the rehearsal the day before the wedding the venue was set up for us. It was beautiful, all the flowers and bushes were full and green. The inside was magnificent, everything looked so sharp and picturesque. The wedding day was just as good, we didn't hear one complaint beside our ceremony took to long due to people speaking during the wedding. BUT that all worked out because people were ready to drink and party by the time it was over. All in all, we had a blast, and so did our guests. Bob and Jo will take great care of you and make you feel like part of the family when its all said and done. They definitely have this down to a "T" and I would recommend booking your venue here in a heart beat, you will NOT be disappointed. THANK YOU SO MUCH BOB AND JO!! Sara and I love you two.
---
Greystone is Fabulous
Reviewed on

8/21/2014
Jane D
Greystone Mansion was wonderful.
---
a lot of hype.
Reviewed on

7/23/2014
We had a lot of people tell us how amazing greystone was especially the food. It was a nice venue and well taken care of. The food left us high and dry though. It wasn't very hot and we were the first ones served! Also it just wasn't as great as you would expect it to be especially since they've been doing it for so long. We just didn't see it as worth the price.
---
Loved It!
Reviewed on

7/21/2014
Sierra S
Greystone Mansion was perfect. We received many compliments throughout the evening at how beautiful the venue was and what great service they provided. A few of the engaged couples were eyeing the venue up for their weddings within the next couple years. I would recommend Greystone to anyone!! Bob, Jo, and Kay were great to work with! I didn't feel like our wedding was just another wedding there. They really wanted our night to be perfect. Again, I would, and will, recommend them!
---
A beautiful day
Reviewed on

11/21/2013
Jess M
This place was awesome for the small ceremony that we wanted to have. We only used the chapel, but it more than exceeded our expectations. Bob (the owner) made sure that we were well taken care of. I enjoyed that we had the option of indoor or outdoor for our ceremony, and the courtyard outside was beautiful for pictures. A little hard to find it on Honor Hwy., but aside from that, it was great.
---
Above & Beyond
Reviewed on

9/20/2013
I can not say enough good things about Greystone Mansion. They made our wedding a truly memorable and nearly flawless experience. The only thing that I have to say that is remotely negative, is that the food could have been better. Although, I tend to be a pretty harsh critic as I am a chef and critiquing food is part of my job.
---
Wedding
Reviewed on

9/10/2013
Miranda G
Everything went perfect that day. It was a little frustrating when we arrived back from pictures no one came out to get the entrance started we had to send someone in to go find the wedding planner. Otherwise from the awesome food to the great DJ we had an amazing night!!
---
Greystone Mansion - Honor, MI
Reviewed on

8/15/2013
Jo and Bob were a delight to work with! They provided expert advise, were always professional and worked very closely with the bride and groom, my husband and myself to provide a wedding that was everything we wanted! The hall was elegant and the food exceptional! I highly recommend Greystone Mansion - the inside and garden area are exquisite! Our guests were also very impressed!
---
Everything I had Dreamed of for my Wedding Day
Reviewed on

8/08/2013
Melanie M
Greystone Mansion by the second time we had visited was like family. They treat you like family from the minute you step into their beautiful venue in Honor, MI. My husband and I knew we wanted something upnorth, elegant, classy... but also affordable and Greystone was able to offer all that for us. We can not say anything but fabulous things from the owner Jo and Bob, to the wonderful wedding planner Kay. At anytime I would call in the past year they were there to answer my calls to help out with planning. If you are looking for a worry free wedding that will be affordable yet elegant this is the place to go. The amenities they offer from the shuttle service to the fabulous catering, there is NOTHING bad we can say about this place. Thanks again for everything Greystone you guys were a breeze to work with and I would definitely suggest any couple looking for an upnorth wedding to you guys!
---
Wedding/Reception
Reviewed on

8/02/2013
If you're looking for a venue that includes both the ceremony & the reception & don't want to travel far, this is the place to go! Mr. Sika was a tremendously amazing person to work with. Especially seeing as my husband & I are both active duty military! He & his team of professionals worked with us, despite the distance we are from our home state. We couldn't have asked for anything more! Kay was a terrific wedding planner & was good at calming any jitters you had; even at 11 pm! I highly recommend this venue for weddings/receptions.
---
BEAUTIFUL, AMAZING
Reviewed on

1/26/2013
Rachel R
Our wedding was at Greystone Mansion in Honor, in September, 2012. All I can say is that it was perfect! They were so easy to deal with, and the décor was absolutely stunning. The food was amazing! So many complimented on how great it was. In addition, the staff was friendly and very attentive. I cannot say enough about Greystone Mansion, everyone should consider it for a wonderful wedding day come true!
---
AWESOME
Reviewed on

9/10/2012
kay s
I cannot say enough about this venue, from the owners Bob and Jo and the wedding coordinators and staff. The garden setting is so beautiful and the food was loved by all. The Dj had everyone on the floor dancing. Thank yu so much for making my daughters wedding so wonderful. I highly recommend Greystone mansion to anyone wanting a stress free wedding
---
Send Message