Home

Hair & Makeup by Lindsay Shank
About this Vendor
Hair & Makeup by Lindsay Shank
On location hair and airbrush makeup services for your big day!
Details
Beauty Group Bookings, Hair + Makeup Trials Available, Hair Stylists, Airbrushed Makeup, Eyelash Extensions, Makeup, Makeup Artists, On-Site Hair + Makeup, Spray Tan, Beauty

Contact Info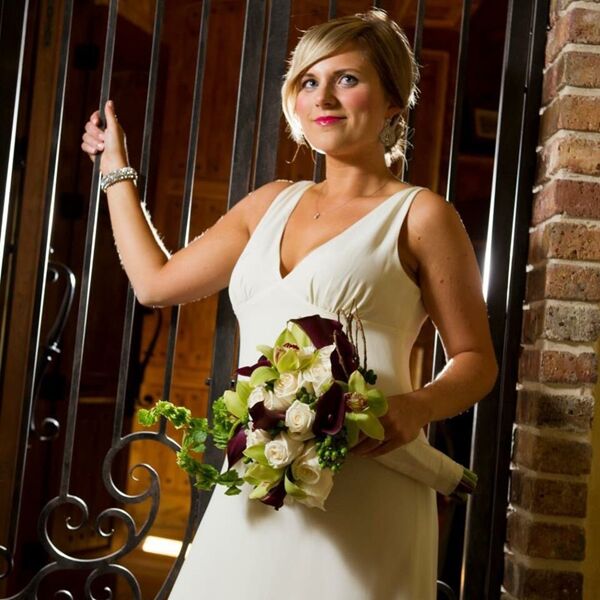 Reviewed on

1/07/2016
Danielle S
Lindsay was one of the best decisions I made throughout the wedding process. She did my hair and make-up for my engagement photos, my hair for my bridal shower, and my hair (as well as all my maids' hair) for the wedding. She was affordably priced, professional, easy-going, and... Read More --best of all-- great at hair and make-up! I got so many compliments every time she did my hair and make-up, and I even had a recently engaged friend who attended my wedding say, "You had the prettiest hair I had ever seen on a bride! Who did you use?" That was a great compliment! Thank you, Lindsay, for everything! P.S. Lindsay is now my every day hair stylist, so if that's not a ringing endorsement, I do not know what is. She gave me the cutest post-wedding bob. She's the best!
---
Reviewed on

11/01/2016
Joni M
There is a word limit on this, so I can't gush as much as I would want, but Lindsay is WONDERFUL. She came to our hotel, and was so prompt, knew her time limits perfectly, and finished two brides and two bridesmaids exactly on schedule. She did makeup for all four of us and... Read More since none of us really wear makeup all that often, she ran with it and was able to make looks that fit us all perfectly as well as working well together. She did hair for myself (bride) and one of our bridesmaids, as well. I had a hair trial with her prior to the wedding and she was amazing then, as well. But the day of, she had taken the time since the hair trial to not only remember what I had liked but also to think of ways to make it even better, and it SO was! I thought I loved my hair at the trial, but I had no idea how much more, even, I could like it that day. She also did a wonderful updo for my bridesmaid that held up all night. She was kind and funny and understanding of the fact that I twitch whenever I get eye makeup done. Basically every good thing you could want from probably the first professional you'll see on your wedding day. She set the tone for a great day, and I couldn't be happier about choosing her.
---
Reviewed on

1/13/2018
Shannon B
Lindsay did the makeup for me and all of my bridesmaid for my wedding in August. I was referred to her by a friend and I am so glad that she was available on my wedding day. I gave Lindsay little to no direction for what I envisioned for my makeup and she took that and did... Read More exactly what I had hoped for. All of my bridesmaids were so happy with how their looks turned out and they raved about how skilled Lindsay is. I have recommended her to all of my friends who are getting married in Omaha because I know they will not be disappointed!
---
Reviewed on

10/16/2017
Jen H
Lindsay did such an amazing job with my makeup and hair. I used air brush and it looked great all day and night. Since I live out of state, I was unable to do a hair trial. It didn't matter though because she did such a fabulous job of creating my vision. She also was VERY... Read More flexible and relaxed with last minute changes as well. I had quite a few bridesmaids, and her and her assistant worked efficiently without sacrificing quality. I loved that she traveled to the hotel too, made it so easy and convenient for us. She is also very affordable for all that she has to offer. I would highly recommend her!
---
Reviewed on

10/06/2017
Sasha C
Lindsay did an excellent job. My hair and makeup were flawless. She even changed time and place for me at the last minute. I would highly recommend her to any bride or person in need of a great stylist.
---
Reviewed on

9/27/2017
Bridgette W
I loved that Lindsay travelled to where we were getting ready so we didn't have to worry about running around that morning. I never wear makeup, except for mascara, and she made my make up look natural. It stayed on all day and I love the way it looked in my pictures!
---
Reviewed on

9/20/2017
Monica R
Lindsay is absolutely amazing. I went to Lindsay to do my trial hair and makeup and she did such a great job that I actually started going to her for all my hair needs(cuts and colors). But most importantly, she did such a amazing job on my wedding day that I have never looked... Read More or felt so beautiful. I honestly don't think I would have enjoyed my wedding day as much without how perfect Lindsay made me look!
---
Reviewed on

9/20/2017
Timaree C
Lindsay did such an AMAZING job on all of the bridesmaids hair for my wedding! She is super sweet and extremely professional. She made the getting ready process a relaxing and fun experience for everyone. All of the ladies loved working with Lindsay; their up-dos looked... Read More fabulous! Thank you Lindsay for all that you did for me and my gals on my wedding day!!!
---
Reviewed on

6/25/2017
Sarah M
My look was amazing an classic like I wanted and I got compliments all night on how beautiful I was and she captured exactly what I wanted.
---
Reviewed on

6/19/2017
Tara H
Lindsay was amazing and SO flexible and patient and kind! My step sister backed out last minute and she was available. I'm shocked because she was the best! My girls also looked awesome! It was very nice to have her relaxed demeanor mixed in with all the excitement! I wish... Read More I could give her 6 stars! Note: I feel like some vendors these days bug you about giving online feedback. Lindsay didn't bring it up at all. Just a heartfelt review!!!
---
Reviewed on

6/13/2017
She did my wedding hair and my bridal party's. She was super easy to work with. We had some small changes from my trial hair to the wedding day and she was very accommodating. She was very prompt on the wedding to help make sure everything ran on time. I would use her again... Read More and recommend her to others.
---
Reviewed on

6/05/2017
Laura B
Bottom line up front: Lindsay is a professional, and I would highly recommend her for your event! General: Lindsay did airbrush makeup and lashes for my wedding. On the day of the event, Lindsay started at 9am and finished doing airbrush makeup for 7 ladies by 3pm. During that... Read More time she also provided me with touchups after eating lunch and going outside for a bit. She was professional, prompt, personable, and very good at what she does. Communication was great from the beginning and I was able to do a trial beforehand. As the bride I never felt rushed, always felt listened to, and -as someone who rarely wears makeup - felt like I was in safe hands. Price point: Started at $60 for each person with $10 for lashes. The trial was at a slightly discounted rate. I feel like I got what I paid for. I felt beautiful and everyone else involved also looked amazing!
---
Reviewed on

5/09/2017
Kayla B
Lindsay is great! After the first makeup trial, I decided I wanted a more neutral look. I let Lindsay know and we set up for a second trial. I loved my makeup after that. The days leading up to the wedding, Lindsay reached out to get final information on where we'd get ready.... Read More She's also so thoughtful! On the biggest day of your life, the little things matter- on her way to my hotel to do my makeup, Lindsay stopped at Starbucks and went out of her way to see if I needed anything while she was out! So great! I'd highly recommend Lindsay to anyone.
---
Reviewed on

5/09/2017
Rachel R
Lindsey was awesome in both my hair trial and my day of hair!! We ended up changing up the look a little on the day of and I couldn't have been more happy with it! She was so easy to get a hold of and reasonable!! And she is so sweet!!!
---
Reviewed on

11/29/2016
Kara S
HIGHLY recommend for bridal makeup and hair! She made me feel so beautiful and was so easy to work with!!!
---
Reviewed on

10/20/2016
Shelbie S
Lindsay came out to our venue the morning of the wedding for the bridesmaid, mother's, and my hair. Everybody looked so beautiful! My hair stayed in all night and looked gorgeous. I can't thank Lindsay enough for her beautiful work!
---
Reviewed on

10/10/2016
Haleigh B
Lindsay is so awesome! She is so sweet and nice. She did an absolutely wonderful job on my hair and my bridesmaids hair. My mom got her hair done at another salon and didn't like it. Lindsay fixed it and it looked beautiful. I still go to Lindsay for my haircuts. She's amazing!!
---
Reviewed on

8/30/2016
Nicole S
Lindsay did a wonderful job on my wedding day up do. I'd changed my style a week before my wedding and did another trial run and loved it! BUT - the style even exceeded my expectations on the big day. I received a ton of compliments the entire evening.
---
Reviewed on

8/10/2016
Hannah P
Lindsay did an amazing job on our hair for my wedding day! She had to do 9 updo's and we finished an hour ahead of schedule! She's also incredibly easy to work with. I'm going to go to Lindsay for my regular hair cuts for now on!
---
Reviewed on

7/23/2016
Kellie J
Lindsay is super talented and has the perfect calming personality to do hair and make up on the big day! She was extremely sweet, easy to work with, and made all of us feel so beautiful and relaxed! It was my mom's first time ever having her hair and make up done and she... Read More couldn't stop raving about how wonderful she felt. Lindsay, thank you so much for making my wedding day that much better!
---
Excellent Makeup Artist
Reviewed on

1/21/2016
Kelly S
I hired Lindsay to do my makeup as well as my bridesmaids for our big day. She did an amazing job! I highly recommend her!
---
Lovely!
Reviewed on

1/08/2016
Christie G
Lindsay turned me into such a beautiful bride on my wedding day! I look at the pictures and just love what she did! Thank you!!! Highly Recommend Lindsay:)
---
Great Hair Artist!
Reviewed on

9/03/2015
Kavitha D
I hired Lindsay to do my hair, as well as hair of my bridesmaids, for my wedding. Everyone was really pleased with how our hair turned out, and she charged very affordably for each of her styles. In addition, she was able to travel to the house where we were getting ready, which... Read More was very helpful. I highly recommend her!
---