Home

Happy Day Media
Details
Artistic, Dramatic, Modern
Bridal Portraits, Day After Session, Engagement
Getting Engaged, After Party, Rehearsals + Parties, Wedding
Destination Wedding Packages, Destination Weddings, Online Proofing, Digital Files, Printed Enlargements, Wedding Albums, Photo, Second Shooter Available, Social Media Sharing
Contact Info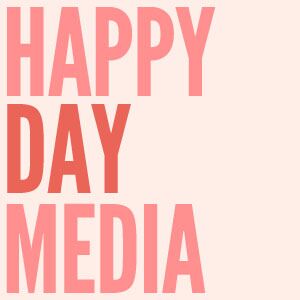 Reviewed on

12/04/2017
Robert A
I will forever remember my wedding day like it was yesterday thanks to Happy Day Media. On my big day, I wasn't really sure what to expect. It was all sort of a blur from the moment I woke up. Luckily, Andy and Carrie were all-pro and stepped in to answer my every. single.... Read More question—seriously, there were probably like 2,000 of them. To just call them photographers, would be a complete understatement. They both went completely out of their way to make my wedding a smashing success. What really made Andy and Carrie a special duo was their quick-wit and quirky creativity. Of course, we got all of the ordinary photos, but our dream team photographers were so fast to add their own personal twist and humor into every series of shots we took. Amongst my favorite photos were those of me and my groomsmen. Andy was so great at bringing out of our laughter and capturing genuine moments that perfectly encapsulated the friendships I've had for over a decade. Truly, there's nothing more special than sitting down with my wife and looking through the stories, moments and happiness snapped by the Happy Day Media badasses. The candid shots, the people, and the laughter they captured is something we'll forever be grateful for.
---
Reviewed on

12/03/2017
Colleen O
When we were shopping around for our wedding photographer we found that a lot of photographers had a "style" they liked to stick to and weren't given a lot of input. We met with Andy and Carrie over video chat but immediately hit it off with them as people who were professional... Read More but also personable. They started with a lot of questions about us, how we had met, what we did for a living to get a feel for who we were and what kind of photos we were looking for. Leading up to the wedding they were incredibly responsive and made some suggestions when we asked for them about different types of photos and what we did and did not want to capture during our day. Having just gotten back our proofs I can tell you that Andy and Carrie absolutely nailed our style, sense of humor and what we wanted to capture for our wedding day. I have no doubt in my mind that I will recommend them to anyone I know who's in the market for a photographer.
---
Reviewed on

11/19/2017
Jacquelyn G
We had the pleasure of working with Happy Day Media for our special day. As we reviewed several portfolios and websites for local photographers, Happy Day Media's work immediately caught our eye. Their unique and artistic approach to photography was exactly what we were in... Read More search of to capture our wedding day. In choosing our wedding team, it was important to us that they have warm energy and personalities that blended well with ours. When we met with Andy and Carrie in person, it felt as if we were meeting with good friends. It was an immediate connection and their amazing work spoke for itself. Some of the shots that caught our eye were how Andy and Carrie play with light so beautifully, how they capture candid moments, and how their true artistry shows through their different approaches to photography. Andy and Carrie took the time to get to know us as a couple and utilized these individualized details to create our wedding day photo shoot. During the photo shoot, we were at ease and enjoyed every moment of being the subjects of their artistry! We could see, with every shot, how they incorporated our energy and personalities as a couple. One quality that stood out most during our wedding day shoot was how Andy and Carrie could spontaneously identify something in our surroundings to use creatively in a photograph. Even their attentiveness, such as fixing fly-away hairs and carrying our makeup kits, was much appreciated. In addition, Andy and Carrie blended so well with the rest of our wedding team because they are so easy-going and great to work with. My wife and I are still trying to figure out how Andy and Carrie became ninjas after 8pm, as they captured all the dancing/partying/special moments without being seen!! Our guests and wedding party commented how amazing our photographers were throughout the night and how Andy and Carrie were present without being noticed. We were so excited to work with this dynamic duo and so thankful Happy Day Media captured all the moments of our special day!
---
Reviewed on

7/07/2017
Mindy W
We could not have asked for better photographers than Andy and Carrie. From the beginning, they met with us to discuss what was most important to us about the photos and they worked incredibly hard to deliver. We were thinking of skipping the engagement session but they talked... Read More us into it and I'm so glad they did. They were helpful, very responsive and provided guidance on outfits, where to go and anything else we had questions on. For the wedding day, they captured so many incredible shots and delivered photos that were true to us as a couple. We tried out their gif photo booth and it worked great! I'm so thrilled we chose them.
---
Reviewed on

6/23/2017
Taylor A
Andy and Carrie are two of my FAVORITE people! They were so incredibly fun to work with and not to mention, take the most amazing pictures. I just received my wedding photos back and I cannot thank them enough for capturing the most amazing moments. From getting ready, to our... Read More first look, to our vows in the church, and on the dance floor-EVERY SINGLE PICTURE is perfect and they truly captured the entire vibe of our special day. Seriously-go with Happy Day Media...you will be so glad you did!
---
Reviewed on

6/22/2017
Lori K
I have been so busy staring at my wedding photos for the last month that I completely forgot to write this review! (Sorry, Andy & Carrie!) When I got engaged, finding a great wedding photographer was my #1 priority. I have seen wedding photos before that were very staged and... Read More boring, and I knew that was not going to work for me. My husband and I went through all the photos on HappyDayMedia's website and loved their work. Their photos were creative and beautiful and we couldn't wait to meet them. Then we met them and found out that they are the sweetest and most sincere people ever, who are also super talented. Andy & Carrie shot our engagement and wedding photos, and we love them all. Seriously, it's embarrassing how much we love them. We had 4 photos on our Save the Dates because we couldn't decide on just 1. On our wedding day, Andy & Carrie took tons of photos that captured the vibe of our wedding, while being professional and fun. My husband and I felt like our friends were taking our photos, not just someone we hired. They made our venue look new, even though they have done other weddings there, and they are very patient with huge families or a father who doesn't like taking photos! They are amazing and I can't say enough good things about them. My husband and I are so happy we found HappyDayMedia and recommend them to anyone looking for a photographer!
---
Reviewed on

5/18/2017
Carrie G
Andy and Carrie are true artists! We LOVE our wedding photos so much -- we are having the hardest time picking which are our favorites. From first meeting them to working with them on the big day, Andy and Carrie have been professional, calm, cool, collected and made our special... Read More day SHINE!!! We couldn't have asked for anything better! TRULY SPECIAL TALENTED HUSBAND & WIFE TEAM. Thank you for your amazing eye, calm energy and warm demeanor. Thank you for making our wedding day last forever!!!!
---
Reviewed on

4/23/2017
Leeann G
Andy and Carrie are amazing! My husband and I are not the most comfortable in front of a camera, so when the time came to search for a photographer for our wedding, we were both nervous. We loved the style of photos that we saw by Happy Day Media, so we decided to reach out. I... Read More knew from the first meeting that they were the right choice. We met for a low-key, no pressure drink and ice cream to talk about what we wanted out of our photographer. Andy and Carrie showed us their work and they were just so NICE and friendly. The package we booked included engagement photos, which I highly recommend. It was a nice way to loosen up in front of the camera. Even though we chose a HOT day, the pictures are fantastic, and they had us laughing the whole time. I also chose to add a bridal portrait session to our package and I'm so glad I did. I love that I have so many pictures of all of the details of my dress and accessories, and it was a great reason to have my hair and makeup trial. Finally, Andy and Carrie were amazing on our wedding day! They were able to capture so many candid shots that I know we will cherish forever in addition to the posed family and friends' photos. I never felt uncomfortable about being photographed because Andy and Carrie make it feel natural. We will definitely be using them as our photographers in the future.
---
Reviewed on

1/11/2017
Melissa H
Andy and Carrie photographed a wedding I was in three years ago, and I immediately made a mental note to reach out to them when I got married. I just remember her wedding as being so chill and fun, and it really came through in the photos. When my husband and I got engaged, Andy... Read More and Carrie were one of three photographers that we contacted for a quote. Their personalized level of service, and honestly their reasonable prices, blew the other two out of the water. HappyDayMedia did our engagement session in Austin, where we got engaged, and traveled to Dallas for our wedding. I'm not a person who particularly likes being photographed, but this duo made everything so comfortable and fun that you forget you're in the middle of a photoshoot. We all laughed and joked the entire time. Out of my cousins and siblings, 4/6 have had photographer horror stories, and I am so glad to say I am not one of them! Andy and Carrie are extremely personable (it felt like they were any other guest at my wedding) and professional. AND...the pictures! Our photos are breathtakingly beautiful, and not just of my husband and I--they captured wonderful pictures of our family and friends at our reception. It's been three weeks and I still can't stop looking at them. I could not recommend HappyDayMedia more highly!
---
Reviewed on

7/17/2016
Alyssa H
When we were searching for a photographer, we knew we wanted someone that could capture our big day in a meaningful and creative way - not only who could catch all of the best moments but encapsulate them in a way that told our story. That is exactly what Andy and Carrie did.... Read More There are not enough words to describe how incredible they are! From the moment we met them, throughout the entire process - from booking, to engagement photos, to the big day and the days to follow, this wonderful duo has continued to amaze us. Not only are they brilliantly talented (seriously, the final photos are out of this world!), but they are two of the sweetest most genuine people we have had the pleasure of getting to know. As a bride, managing all of the many vendors can be exhausting, but Andy and Carrie made the entire process so blissfully enjoyable and laidback. On the big day, when my nerves were at an all time high, their smiling faces and positive attitude warmed by heart and eased my soul. Guys... I could keep going. But plainly put, for anyone seeking a photographer - book this couple, you won't regret it. They have blessed us with moments and photos that we will cherish for a lifetime.
---
Reviewed on

5/25/2016
Cheryl M
Without a doubt, Carrie and Andy are the MOST amazing photographers on this earth. A creative, patient, fun, lovely couple who documented our daughter's wedding like no one else could have. Every picture is incredible! They live in Austin, but are happy to do jobs in Houston. We... Read More are so happy we found them! They gave us the most beautiful images that will always remind us of the perfect day! Look them up! Thank you Carrie and Andy!
---
Reviewed on

1/24/2016
Jennifer S
Carrie and Andy were amazing!! They made my husband and I feel special from the moment we decided to book them as our photographers. We felt so comfortable with them on our wedding day, and we had so many guests tell us that our photographers were smiling the entire day. The... Read More pictures were absolutely breathtaking and we will treasure them the rest of our lives!
---
They Captured The Most Perfect Memories
Reviewed on

5/02/2015
Lisa L
I LOVE Andi and Carrie. They did our engagement, wedding and my bridals. Such a wonderful job. The pictures were all beautiful. I can't stop looking at our wedding pics. I can't believe the shots that they caught. My family and friends loved them too. Everyone at the wedding has... Read More told me how nice and friendly our photographers were. Also, we received all of our pictures back with really good timing.
---
Cute couple, great memories
Reviewed on

4/13/2015
Debbie B
I absolutely love the photographs from my wedding. I keep looking at them over and over. :) Andy and Carrie worked with my budget and gave me everything I needed for fantastic photographic memories. They are a super nice couple, very unobtrusive photographers and really... Read More delivered on the goods!
---
Best Photographer to Capture Your Special Day
Reviewed on

11/05/2014
Jenna G
Andy & Carrie with Happy Day Media came to the Riviera Maya, Mexico with myself, my groom, and 75 of our guests. We had also used HDM for our engagement photos so we knew in advance exactly the high quality of photography we would receive. But man were we blown away when we... Read More received our wedding pictures back.... Our wedding was out of a fairy tale and we were so blessed to have Andy and Carrie there to literally capture every single moment of our wedding day. I was so impressed that they seemed to be in a million places at once. They captured all our favorite memories and more. They have such a creative eye when it comes to photographing the bride and groom, it's incredible the angle, lighting, and surroundings they envision that turn out to be phenomenal. Not only that but their turn around was so quick! They took tons of photos but managed to review and edit each and every one of them with care and detail and all in an extremely timely fashion. I will ONLY recommend Happy Day Media as a photographer, the are unbeatable in service, quality, and product. We love you guys! The Edges
---