Home

Happy H Ranch
Book Your Wedding with Happy H Ranch
---
A BALLROOM IN COMFORT, TX
About Us
Nestled deep in the magnificent Texas Hill countryside, Happy H Ranch is the perfect backdrop for a rustic outback wedding. Only a short drive away from Austin and San Antonio, the family-owned venue brings the beauty of a remote location a bit closer to home. Acres of immaculately maintained flora and fauna meet luxurious amenities for ultimate comfort and relaxation. Three premier event spaces are available for the wedding day:
Forgiveness Hill. This space looms high over Kendall County like a venue on top of the world. The idyllic country vista contrasts beautifully with a striking 75-foot-tall Christian Cross, which towers mightily against the blue Texas sky. Couples tie the knot beneath this awe inspiring, one-of-a-kind structure for truly remarkable first-look photography. After dark, attached modern floodlights add a magnificent ethereal glow. Alternatively, the adjacent Big Sky Chapel venue offers a modestly elegant indoor alternative.
The Hitching Post. This area offers a different kind of Hill Country view, overlooking the rolling hills and valleys the Texas countryside is known for. Over 300 guests are seated in rows to watch couples tie the knot, framed against a unique skyline. The vintage hitching post itself is a fun prop for playful bridal portraits.
The Barn Event Center. This space is the perfect space for a boot scootin' wedding reception the size of Texas. With banquet seating arrangements, dance floor space, bar area and full prep kitchen, the multi-function hall is equipped for all kinds of wedding day fun.
What You Should Know
All wedding and reception packages include the following:
Personalized ranch access to selected event sites on the wedding day
An experienced venue manager on-site during the event
Round reception tables, seating 10 guests each
Rectangular tables for cocktails, cakes and gifts
Ivory or white floor-length table linens (round and rectangular)
Plush white wedding chairs
White or burlap aisle runners
Decorative shepherd's hooks
Bride and groom dressing rooms
Full setup and cleanup of event seating
Spacious guest restroom facilities
No catering services, beverages or service staff are included in the package. A list of recommended local vendors is provided. Approved catering staff will have full access to the commercial catering kitchen on-site. Happy H Ranch will organize a TABC-licensed bartender and security supervisor, depending on the guest count and whether alcohol will be served.
Extra Perks
Couples booking at the Happy H Ranch may expect the following extras:
Conveniently close to several local accommodations
Fully family-owned and operated for generations, bringing personality and storied history to the venue
One-of-a-kind giant cross sculpture
Spiritually significant architecture
Just minutes from Comfort, Boerne, Fredericksburg and Kerrville
From the Vendor
Happy H Ranch...Where Your Special Event Happens!
Surrounded by the magnificent skylines and breathtaking views of the Texas Hill Country, Happy H Ranch is the perfect idyllic setting for your rustic, romantic wedding. We are only minutes away from Comfort, Boerne, Fredericksburg and Kerrville and a short drive from Austin and San Antonio.
Amenities + Details
Amenities
Handicap Accessible

Liability Insurance

On-Site Accommodations

Indoor

Reception Area
For more details about amenities, please message the Venue.
Ballroom, Farm + Ranch, Park
Contact Info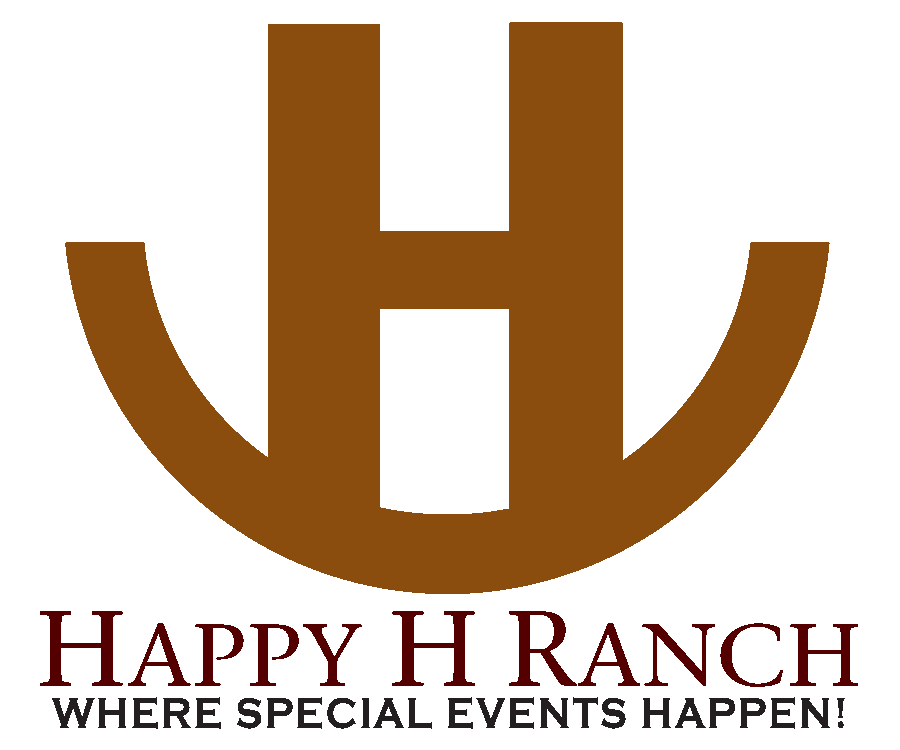 Happy H Ranch is the Perfect Wedding Venue!
Reviewed on

11/05/2013
Julie D
Happy H Ranch is the perfect wedding venue for anyone wanting a nice outdoor wedding in the Texas Hill Country, especially if you have a large guest list. The venue can accommodate a wide variety of themes (mine was a simple, but elegant, somewhat rustic, country theme in... Read More March). The staff is amazing and works very hard to make sure your wedding is exactly how you want it. Bud and Julie set up and take down the tables, chairs, and linens (if you use their white linens, which are very nice). They clean the place up, if it's windy, cold, or rainy they have a plan, they are super friendly, and really listen and do their best to make your wedding day extra special. Brenda is the wedding coordinator. She is fantastic! She deals with schedules and vendors and will make sure everything is on time, in order, and where it is supposed to be. Mrs. Vadnais takes care of the business side of things, making everything nice, easy, organized, and stress free. Also, they have a bunk house for the ladies to get ready in (it is really nice!) and another area for the men. My husband and I were very, very happy with how everything turned out. I highly recommend Happy H to everyone looking for a great venue and like working with great people. To the Happy H bunch: We can't say thank you enough!!!!!
---
AMAZING VENUE
Reviewed on

10/12/2013
Rebecca F
We got married on 9/28/13 and I cannot say enough about Happy H Ranch. This is truly an amazing and beautiful place for a wedding or any event. If you are looking for a gorgeous setting with a rustic feel, this is the place for you! Bud, Julie, Brenda, Denise and their wonderful... Read More staff at Happy H are totally awesome! They are so kind and willing to help to make your day perfect! They take all the stress away from you on the day of the event. They promised no rain, and as it was thundering a couple hours before the event and raining off and on, I have to say I had my doubts, but they were right, it did not rain! :) Everyone at Happy H is so nice and courteous and willing to help with whatever you need! I highly recommend them and the staff for your next event, whatever it may be!! Thanks for an awesome day for our wedding!!! You're GREAT!! Thanks again for all of your help!!
---
Reviewed on

4/26/2017
Devin S
This venue is beautiful. My photos are breathtaking from the views of this place! Deer come up right to the side of the building where you can see them. Bud, Julie and their team help you to coordinate the entire event to make sure everything runs smoothly and do much of the set... Read More up like tables and chairs so you don't have to! The venue is one of that larger ones I have found which was great because I needed a place that allowed for a large dance floor for the grand march. Ill never forget how beautiful my wedding was here.
---
Reviewed on

4/18/2017
Chantel R
I wish I could have a wedding there every month! The views are stunning and breath taking and so peaceful! Not to metion the owners Bud & Julie are AMAZING!!! They are down to earth and so much fun to be around! Every staff they have starting from the set up, tear down, to the... Read More event coordinator were also so very polite and as sweet as can be!! They are all so bery helpful and want to make sure you and the whole wedding party are relaxed and at ease, including making sure all the guests all feel at home!! Again Thank you so much for making out wedding day PERFECT!! Chantel & Anthony Rubio 4-8-17
---
Reviewed on

3/12/2017
Macie J
If you're looking for a fun, laid-back place to get married, Happy H is the place to be! Bud and Julie (the owners) are very easy-going and extremely helpful throughout the entire planning process and day of! They helped plan, set up, and tear down. Another thing I loved was... Read More that we were able to go decorate all day on Friday before our Saturday ceremony so nothing was rushed and I could help. It rained all day on our wedding day and we ended up having to do the wedding inside of the barn. We were planning to have it at the hitching post, but it still turned out perfect inside of the barn (and still beautiful)! They will also spread out corn for your guests to see the deer which is really neat. Pick Happy H, you won't regret it, I promise! 😊
---
Reviewed on

1/18/2017
Katlynd I
Happy H Ranch is a perfect venue for a wedding in the Hill Country. The whole process with this venue was smooth and the outcome was incredible. Bud and Julie Hughes and Natalie Hart made this experience so amazing with their hospitality and warm personalities. It was affordable... Read More for the amount of people invited and amenities included. The countryside views are still being talked about by all my guests. I can't say enough nice things about the owners, venue, and beautiful views. It was the most memorable and incredible experience at this venue.
---
Reviewed on

9/17/2016
Stephanie W
Wow is all i can say ! Words cant begin to describe the caliber of Bud , Julie and the Happy H ! Simply amazing love and care goes into everything they do ! Ive never seen more loving hospitality from a facility and its people before and would highly recommend the venue to... Read More anyone ! 5 stars isn't even close enough to the rating they should have ! And a fair warning to all You won't be able to leave there without making two Amazing new friends !! Simply put hands down Thee Best venue in Texas !! From the views to the friends you cant beat the Happy H !
---
Reviewed on

6/14/2016
Amanda K
My husband and I just had our wedding on May 21st and we LOVED Happy H Ranch! Trying to decide on the perfect hill country wedding venue was a stressful process while planning our wedding. I had toured 5 other popular venues debating on which was the "perfect" one; but when my... Read More husband and I saw the breathtaking views at Happy H, we were sold. It only got better as we got closer to the big day, as Bud and Julie are AMAZING people to work with. Julie was so great at communicating and willingly allowed me to come out to the ranch on multiple occasions while trying to finalize wedding details. They know what their doing and are very easy going. Our pictures turned out great with the beautiful landscape behind us. Out of town guests were blown away by the venue, they had never seen anything so perfectly "Texas". Our only tiny (and completely uncontrollable) minor issue was the Texas heat since the barn did not have AC. They did have large fans for the barn though and by the time the sun had set, there was a nice breeze blowing through. We danced so hard that the heat from the dance floor was indistinguishable from the climate. We seriously cannot say enough good things about this place though. We're ready for Bud & Julie to adopt us or at least let us move into their cute little bunkhouse on the property ;) (which is also the perfect place for bride and bridesmaids to get married). We HIGHLY recommend this venue!! Thanks again, Happy H, for making our special day all the more perfect!
---
Reviewed on

4/21/2016
Jillian V
I cannot say enough wonderful things about Happy H Ranch! From the stunning hill country views, to the venue, to the amazing staff, I could not have chosen a better venue for my wedding. I looked all across the Texas Hill Country and came across Happy H Ranch. It had exactly... Read More what I was looking for. A place for all of the wedding party to get ready, beautiful facilities looking over the hill country and a rustic, yet romantic feel. From our first site visit you could tell that the owners Julie and Bud take pride in their venue and go above and beyond to make all of their clients happy. Through the wedding planning process they were right there to help me create the wedding of my dreams. Julie was always responsive to my questions, requests and ideas and went above and beyond to make sure myself, my soon-to-be husband and all of our families were taken care of. One of the many benefits of holding your wedding at Happy H Ranch is that your event will be the only one that weekend. This allows you to take your time and not be rushed setting up additional decorations and personal touches. All of the kids and their parents loved seeing the hill country animals come up to the reception area, not even phased by the party that was going on. One of the comments I got the most following the wedding was guests asking if we had paid extra to get all of the "critters," as they call them at Happy H, to come up to the reception area. My response was always "no, that's just how amazing the venue was." I cannot say enough wonderful things about Happy H Ranch and the wonderful family that runs it. My husband and I are so blessed to have shared our special day there and I hope we can find a reason in the future to host another beautiful event at Happy H Ranch.
---
True Hill Country Setting
Reviewed on

12/25/2014
Remi L
Happy H Ranch, run by Bud and Julie Hughes, is truly a gem in the Hill Country. The venue provides a range of options for weddings, as well as other events. The first thing that truly stands out is the option to have access to the ranch for the entire weekend. Being able... Read More to set up the Friday before (for a Saturday wedding) and collecting items before noon on Sunday helps take the stress off of the actual day. The event barn, hitching post, and even Forgiveness Hill (where the massive cross sits) are package options for ceremony sites, as well as reception sites. Happy H provides a venue manager to help coordinate vendors the day of, as well as working with the wedding party in planning the details of the event day. The list of preferred vendors helps narrow down the large list of San Antonio vendors to ones that are familiar with the ranch, as well as conveniently located near the ranch (Comfort, Boerne, Fredricksburg). The natural landscape provides a beautiful panoramic for guests, and amazing backdrops for photos. All in all, the venue is truly beautiful with top-notch managers!
---
Absolutely Perfect!
Reviewed on

3/17/2014
I cannot say enough about how great the Happy H Ranch was for our wedding. It is absolutely beautiful, we got married on March 8, 2014 and it rained but the Happy H had a prefect contingency plan that actually turned my wedding into something better than I had planned... Read More originally! When I found Happy H online and called the venue I could instantly feel how much Denise and the owners loved their venue and wanted to share it with us. We absolutely fell in love with the location. The scenery of the Texas hill country was absolutely beautiful and the wildlife around the venue was the icing on the cake. We were looking for a barn style wedding and though the venue was not an official barn it was absolutely perfect and had the rustic yet elegant feel we were looking for. Bud and Julie the owners were wonderful! The cross on top of the hill is beautiful especially when lit up at night. We decided to get married at the hitching post with the reception in the event center to follow. We also decided to have our rehearsal dinner catered in at the event center on the ranch the night prior to our wedding. The planning process is always busy but Denise (the event coordinator) was very helpful and accommodating and told me it is your day and we will do whatever we can to make it exactly what you want, and she absolutely delivered on that promise. Our rehearsal dinner was catered in at the event center and it was really nice to be able to do our rehearsal and turn around and walk to the event center for our dinner. I think it was the best decision since there are not really any large locations in Comfort to accommodate a rehearsal dinner. On the day of our wedding it was freezing and raining, the decision had to be made to change the location of our wedding ceremony into the event center rather than outside at the hitching post. The event center has one wall that is completely open and overlooks the beautiful hill country. I was disappointed at first but they told me that they have clear plastic that they pull down to block the wind from blowing into the event center. When I heard that I was freaking out because in my head it was going to be that ugly thick plastic that a lot of restaurants have that when you try and look through it is warped and hurts your eyes to try and see what is outside. But when I walked out for the ceremony I could see the hill country that I feel in love with when we found Happy H perfectly, like looking through glass, I was ecstatic! It actually was perfect, even better than having the ceremony outside and the reception inside. Our wedding ceremony happened in front of the huge fireplace and you could still see the hill country. By having the ceremony inside the event center it really helped fill the space inside the event center since we had 100 guests. Bud (the owner) made sure that my guests didn't freeze by making sure the fire in the fire place stayed lit, the heaters stayed on full blast, and even brought in an extra heat source that we weren't expecting that really made it comfortable inside the event center. The ceremony and reception was perfect and turned out even better than I could have ever imagined. I truly believe that it was thanks to God's beautifully designed hill country and the wonderful hearts and dedication of Denise, Bud, and Julie that made our wedding one that I will always remember!
---
Amazing Venue
Reviewed on

12/18/2013
I knew from the first time I went to look at this venue that this was going to be the place I got married. My husband and I both love the Hill Country, and Happy H captured it beautifully. We were married at the hitching post which had a background of the hills. After the... Read More ceremony we went on top of the hill and had pictures taken at the Cross. Bud and Julie were wonderful. They were very accommodating and helpful with any questions we had. On the day of the wedding Bud, Julie, and staff were able to keep things going very smoothly, which helped me stay calm. All of our guests complimented and wanted to know how we had found this beautiful place. I would definitely recommend this venue to anyone that is looking to have an outdoor wedding that captures the beauty of the Texas Hill Country.
---