Home

Haute Bride
About this Vendor
Haute Bride™ Flagship Salon
Located in Los Gatos, we carry fabulous designers such as Amsale, Hayley Paige, Tara Keely by Lazaro, Matthew Christopher, Augusta Jones, Modern Trousseau, Jinza, Stephanie James, Victor Harper, Judd Waddell and Mikaella.
Details
Wedding Dresses, Dresses, Fashion
Contact Info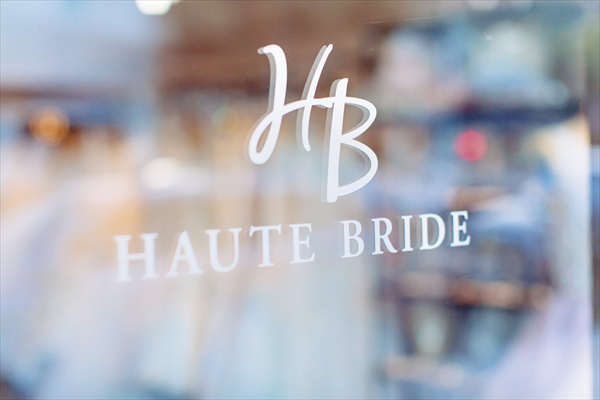 40 N Santa Cruz Ave , Los Gatos , CA
Gorgeous!
Reviewed on

8/16/2013
Lorena
While shopping for my wedding dress, I visited a total of four bridal salons and I probably tried on a total of thirty dresses. Haute Bride was the last place I went to and by the time I made my appointment there, I already had a clear idea of what fabric, silhouette and color I was looking for. Plus, I had my eye on a particular Tara Keely dress that as it turned out, Haute Bride was one of just a handful of bridal salons in the Bay Area that carried it. But before I go on about my experience,I must say that they did such a wonderful job with the decor of the space. It's small but they made great use of the space and the fact that it's small makes it feel more private. It truly is beautiful. It all just added to my excitement. My consultant, Mimi, helped me pick out six exquisite dresses which all somehow fit amazingly on me--even the Tara Keely one I had my eye on. However, when you find the one, you just know it's The One and mine ended up being a GORGEOUS Agusta Jones number. I didn't cry or scream--I just felt that it was my dress. From there on out, the staff helped with the process of ordering the dress and making sure it would come on time. They were so great every time I went in for a fitting. It was definitely a pleasant experience and I'm so very thankful that they helped make it that way.
---
Great Bridal Boutique
Reviewed on

9/19/2013
Barbara M
This was our second stop and our last. We loved the size of the shop, small and quaint, but enough room for the bride and her entourage to feel comfortable. The staff was very helpful, and never made the bride feel uncomfortable, and there was no pressure to buy at all. They also carry a lot of accessories from belts to jewelry so you can pretty much get everything you need right there. They also use a local seamstress for alterations so you don't need to worry about either. Would highly recommend as a go to place on your list of bridal shops.
---
Love everything about Haute Bride!
Reviewed on

12/08/2011
Sarah F
After going back there for multiple appts, this place now feels like a second home. I love the staff, the options, the pricing and the overall experience. The one thing to be aware of is their alterations can be more expensive than originally quoted.
---
Reviewed on

7/19/2015
Erin M
I had an AMAZING experience finding my wedding dress and jewelry at Haute Bride! After a less than stellar experience at some of the bridal shops in San Francisco, a Los Gatos native friend turned me on to Haute Bride, and I am so glad she did! Molly was a fantastic consultant; she had me in close to 10 dresses, and even more of the beautiful, handmade sashes. She was so patient while I hemmed and hawed (everything is so beautiful, it's a hard decision!). I had my "Say Yes to the Dress" moment in Hayley Paige's Kira gown, which I wouldn't have tried if not for her encouragement. I came back for a bridal sash and earrings, as well as earrings and a bracelet for my rehearsal dinner. Living in San Francisco, they were so sweet to offer to mail the jewelry to me and save me a trip! I felt so gorgeous on my wedding day! The tears in my husband's eyes said it all.
---
Reviewed on

7/16/2015
Elaine B
Haute Bride - Thank YOU all for everything. I got my dress, Hayley Paige - Guindon, my earrings, bracelet, sash and veil all from Haute Bride and I could not be happier with how everything came together. I could not stop twirling me dress all night! I never could have picked out all the accessories without the help of the lovely girls at Haute Bride. We were so happy, we went back with my mom to get her mother of the bride jewelry, which was gorgeous as well. Not only were you guys always so helpful, everyone was willing to work with us and get everything in with plenty of time to relax before the wedding. Haute Bride was by far the best bridal salon I could have imagined with the sweetest employees.
---
Upscale Boutique Experience
Reviewed on

7/05/2015
Caroline C
Molly of Haute Bride made my wedding dress selection such a wonderful experience. I already knew which dress I wanted but I specifically went to Haute Bride for a trunk show at which I could meet the designer. The designer seemed to be a close friend of the store employees because they all just seemed to enjoy each others company so much! The girls at the salon were incredibly nice and though I had to go to this appointment alone, they made me feel like I was surrounded by girlfriends. They helped order my custom sized dress and shipped it to their store for me to try on again before sending it to my parents in Massachusetts. The store itself was gorgeous and perfect if you are looking for an upscale boutique wedding dress experience.
---
Reviewed on

6/08/2015
Christina C
I love Haute Bride! First of all, the store itself is beautiful and really darling, and it's a space that you'll enjoy being in, and actually feel like this is a special shopping experience. (As opposed to another popular store in the area in the Pruneyard that shall remain nameless, that feels overly crowded and dumpy inside.) I admit I was hesitant at first because I thought that the dresses would be way out of my price range and perhaps the staff might be used to catering to a "higher-end" clientele than myself, and that I may not have a good experience. But, I am so glad I cam here because my experience was not like that at all, and was nothing but great! I made several visits before making the decision to purchase, and everyone was friendly, helpful, and patient. After ordering, Molly was the best as I made more visits into the store before the dress came in to match my jewelry and veil. They carry really beautiful gowns from a variety of top designers (and one of the only nearby that carries Matthew Christopher.) If you're on your search for a wedding gown, make an appointment, it's worth a visit!
---
Haute Bride
Reviewed on

1/06/2015
Lauren
I really did not want to spend that much money on my wedding dress. The gals at Haute Bride were very understanding of my budget and only showed me dresses that fit my budget. They were patient with me, as I tried on more dresses than the average bride, I'm sure. I loved my dress selection and ended up buying all of my accessories from Haute Bride as well. The perfect place for finding your dress.
---
Molly was awesome
Reviewed on

12/17/2014
Beth M
I wasn't looking forward to searching for days, weeks, etc. for a wedding dress -- Thank god for Haute Bride. The second place I went to, and they had a perfect dress for me. I'm not the type to like lace, beads, frills. I wanted simple and elegant. Molly showed me the Matthew Christopher "Lunette" and it was perfect. It showed up on time, with no stress. Definitely a great experience.
---
Loved shopping at HB!
Reviewed on

12/17/2014
Victoria F
Haute Bride is amazing. They have such a beautiful selection of gowns and accessories. And they will customize for you! I saw a belt that I loved, but wanted it as a head band...done! I was amazed at the prices too. Of course I fell in love with a gown before checking the price tag, but my heart didn't break when I did! The staff was so friendly and helpful, Molly helped me and made me feel very comfortable. I had a blast shopping for my dress!
---
Beautiful Gowns - Beautiful Shop
Reviewed on

11/13/2014
Jenelle L
I've had two friends get their gowns at Haute Bride, so when it came my turn to pick a dress I knew this was the place to go. I worked with Julie, who also had helped my friends pick out their dresses. I had seen her listen to what the bride wanted and pick out the perfect dresses. She did the same for me. What I love is that she asked for my budget and if I picked out a dress that was outside that number she was sure to let me know and double check that I wanted to try it on. I literally loved EVERY dress I tried on. I placed an order for my dress last week and I cannot wait to wear it on my big day. The shop is adorable, and also has bridal jewelry. I didn't look at the jewelry. I was focused on the dress so I can't speak much about that although I know my friends loved what they ordered.
---
loved my experience
Reviewed on

11/13/2014
Melissa M
When I got engaged I was not sure what type of dress I wanted for my wedding day. The Haute Bride team spent time to have me try on different types of dresses and really made me feel special. Julie was the sales girl who helped us, she pulled dresses that were similar to what I liked. The last one I tried on, which was the dress I ended up getting, was not one I would have pulled myself but she saw my vision. This location in GORGEOUS and a great group of women who are all very helpful!!! I would highly recommend everyone try on dresses at Haute Bride, by far the best bridal store. My entire family is talking about buying jewelry from them as well. If you are looking for a wedding dress or jewelry this is a have to!!!
---
love
Reviewed on

9/25/2014
Brooke
beautiful, unique bridal jewelry
---
Beautiful bridal shop
Reviewed on

9/24/2014
Meghan R
I bought my dress, veil and jewelry from Haute Bride. It was an incredibly pleasant experience trying on gowns in their beautiful store. When my dress arrived, it was a different shade than the one I tried on in the store, which didn't sit well with me at first. They neglected to mention the sample dress in the store was old and that the sun had changed the original color to more of a cream, champagne (which I liked). That would be my only piece of advice to other brides. Make sure you ask about the color of the dress compared to the sample. They are known for their jewelry and accessories and while they're quite expensive, everything is handmade and absolutely gorgeous. They didn't have the exact matching pieces I was looking for so they had a new set made for me and in a short period of time, which I really appreciated. Overall, a really great bridal shop and highly recommended.
---
Custom-made necklace broke DURING wedding
Reviewed on

9/09/2014
Jennifer J
Bottom line -- the custom made necklace I ordered here shattered to the floor in the middle of my wedding. Don't get your jewelry here if you plan on making it through the wedding with it. I bought a custom-made necklace and earrings for my wedding here. They looked beautiful when I picked them up and tried them on in the store. BUT, one week before my wedding, my friend asked me to try on the necklace for her. Thank goodness she did, because we realized that as soon as I moved around, the necklace flipped over, showing the back of the pendant. I took it back to get it fixed -- which they did, but was a stressful errand to have to run four days before the wedding. Then in the middle of my wedding, right after the 1st dance, my necklace shattered to the ground. The weight of the pendants broke the chain, apparently. Haute Bride reimbursed me but obviously this did not make up for what I was hoping would an heirloom piece breaking, having to spend time at my wedding trying to scoop up the necklace and fix it, and having no necklace to wear for most of my wedding.
---
One of a Kind Bridal Salon :)
Reviewed on

8/27/2014
Faye M
Going to Haute Bride was probably the best decision I made while wedding planning. They carry the most gorgeous wedding dresses and their jewelry designs are out of this world!! I found my dress during a trunk show where I got to meet the designer, Hayley Paige. Since I brought my mom and mother-in-law dress shopping she and Lindsie, the salon owner, were like substitute girlfriends giving advice and helping me try on dresses. They were so sweet and it made for such a wonderful experience! When I went back to pick out accessories the stores manager, Molly, was so helpful in finding the perfect hair piece. She even went as far as creating a custom piece with elements from different designs I liked. I could not say one bad thing about any of the employees I encountered there, they were always so courteous! They were very accommodating and kept clear communication throughout my LONG engagement/wedding planning process. I have never felt more beautiful then I did on my wedding day! I also bought my MOH her gift from Haute Bride and can't wait to get more jewelry from their "Cocktail Bling" line in the future! Thanks so much to Lindsie and the rest of the Haute Bride Crew!
---
Beautiful Dresses, Gorgeous Jewelry , Perfect Veils
Reviewed on

7/25/2014
I can't begin to tell you what an absolutely amazingggg experience I had shopping at Haute Bride for my wedding dress!!! Finding the perfect wedding dress for me was quite the journey! I live in Texas and tried on a total of 100 wedding dresses!! Nothing I found here felt totally right. Thankfully I learned about the amazing Matthew Christopher and knew that he was the designer for me!!! I did my research and found an amazing bridal salon in the Bay Area that carried Matthew and had so many amazing designers and incredible jewelry too!! I made an appointment as soon as I knew I was going to be in the Bay Area for Thanksgiving. I felt confident that after visiting Haute Bride, I was going to be able to tell family and friends I found THE ONE!!! Day of Appt, I went into Haute Bride and met the incredibly sweet and understanding Molly!!!! Molly understood everything that I was looking for!!! She knew I liked Matthew and once she knew my style and how things were fitting we were able to narrow the dress down to a couple!! I was only in town for a couple of days so we set another appointment to do a final try on so I could sleep on it and be totally sure about my choice! Molly went above and beyond in so many ways! Once I made my choice on the dress, Molly helped me start considering what type of jewelry would look incredible, we even figured out what type of veil would complete the look!!! Molly did such a great job on measuring me for my dress that I didn't even need to get alterations done on the length!! Working with Haute Bride and Molly, I never once felt any concern about the dress shipping directly to me in Texas. Molly was always on top of everything from start to finish!! Whenever I had a question about anything she would email me or call me! She even reached out to the designer's POC to answer any specific questions about my dress! She honestly put me at ease through the entire process and gave me the experience that I had always wanted since I starting looking for the dress!! I fell in love with Haute Bride for so many reasons!!! I'm a fashion girl and Cali girl at heart! Haute Bride was able to give me the look I wanted by giving me options I couldn't find anywhere else! The dresses I tried on at Haute Bride actually felt like dresses that I could wear on a red carpet, which was the exact look I was going for! I highly recommend you check out Haute Bride regardless of where you live!!! It was everything that I ever wanted and more! One more note about Matthew Christopher - He designs his dresses with a woman's figure in mind! My dress came with built in cups and doing custom measurements helped the dress look like Matthew designed it for me himself! Stop reading this review and make an appointment at Haute Bride!!
---
We worked with them and was very impressed
Reviewed on

7/09/2014
We had the pleasure of working with them at their latest trunk show and everyone was friendly, the shop was great and the dresses were amazing!
---
Sample Sale
Reviewed on

12/29/2013
Lisa M
I was able to find the dress I was looking for at a great price at their sample sale.
---
Loved my dress but spent a ton of $ on it!
Reviewed on

10/30/2012
Jennifer D
Haute Bride moved from SF to LG during my search, and truth be told, I preferred the SF location. But service was great overall and the quality and the selection they have are excellent. My only beef would be that I had a little attitude from the sales associate on the floor when I went to pick up my dress - the owner and the manager are awesome though!
---
Exceptional Boutique!
Reviewed on

10/11/2011
Lydia A
My experience with Haute Bride has been so wonderful, I'm looking for any excuse to keep coming back (renewal of vows, anyone?)! I originally found out about HB through Yelp and decided to make an appointment. My bridal consultant, Veronica, was able to book an appointment for me for the following day! Veronica was the perfect sales consultant. She was awesome, patient, knew what I was looking for, and recommended a sexy, unique Matthew Christopher gown that I ended up falling in love with! HB is the only store in the city that carries his gorgeous dresses, so I'm really glad I went to the store. Veronica did not pressure me to buy that day, which I really appreciated, as I did not want to make the decision so soon. I returned a couple days later, after checking out a Priscilla of Boston sample sale, certain that I would not find anything like the Matthew Christopher dress! The dress was amazing, as was my experience with Veronica! I should say that I also liked a few other dresses they carry by designers Mikaella and Modern Trousseau. I also wanted a custom couture necklace made and had an amazing experience working with Lindsie, the store owner and jewelry designer of Haute Bride. The necklace turned out beautifully and I cannot wait to wear it again and again! It is stunning. In fact, all of the bridal jewelry looks amazing and the store sells beautiful cocktail jewelry as well. I've been back to the store several times, to look at veils, buy my bridal earrings etc. and I've always felt welcomed! Even when there was a small issue, Lindsie more than made up for it and showed what a true professional and wonderful person she is. She went above and beyond and provided exceptional service. I highly recommend Haute Bride to any bride, bridesmaid or woman who is looking for unique, sparkly jewels!
---
Sparkles and Veils!
Reviewed on

10/07/2011
Cassandra E
I came in here for two reasons, one, I wanted a specific veil that they carried, and my friend Michelle is friends with Lindsie, the owner. Well-I got a better veil, one designed by HB and a pair of amazing sparkly earrings. They were so fun to work with and were so sweet to my grandmother who came to my appointment although she is 91 and can barely get around. I was just there for accessories, but they treated me and my family with the same courtesy as the girls who were dress shopping. I would recommend them to anyone.
---
Beautiful Jewelry!
Reviewed on

7/11/2011
Jessi R
I bought my jewelry from a wedding boutique, the Bride to Be. They had a trunk sale for Haute Bride, so I found a bracelet and earrings and spent a little more than I would have originally liked, but I thought that they could become heirloom pieces that my children could wear, etc... I loved each piece and it went perfect with my dress, but towards the end of the reception, someone brought my bracelet to me explaining that it had fallen off! One of the little rings had broken and caused the whole thing to come off. I'm glad this happened after pictures and anything too important, but I am a little disappointed in the quality. I will be returning it to the boutique to have them fix it. Also, a few of the gems are now missing, so that made me a little upset as well. For the price, they should last for years.
---
Sample Sale Success
Reviewed on

5/13/2011
Ginger A
I got my dress here in 1 day in 1 hour, easy as can be
---
Haute Bride
Reviewed on

11/05/2010
reina w
Service here is great even though i hit a couple of little bumps in the road. From the first time I walked into the store the sales associates were very accomodating. They allowed me to try on a bunch of different dresses and even wrote down the designer, style, and cost of my top three choices. There was never any pressure to make a purchase which was nice. One of the small problems I had was trying to schedule an appointment to get my dress fitted. I called the store a couple of times and left a message. I spoke to one associate who said she'd call me back within an hour and I didn't hear back from her. It seemed almost impossible to make an appointment over the phone for my alterations. I ended up driving from Antioch to San Francisco to speak to them in person and that's when I was finally able to get my appointment made. Other than this problem, service was impeccable. They were super patient when they were showing my mom how to tie the sash in a perfect know and were also great at showing us how to bustle and attach the skirt (even though we had a hard time figuring it out on the day of).
---
Send Message