Home

Heartstrings Bridal
About this Vendor
Exquisite bridal fashions at the lowest prices!
Heartstrings Bridal is a full-service bridal shop that offers an amazing and wide selection of wedding dresses, bridesmaids, mothers and tuxedo rentals. Heartstrings also offers a variety of rentals including: chair covers, candy bar and assorted linens. Appointments are required: 952-932-9090.
Details
Bridesmaid Dresses, Flower Girl Dresses, Wedding Dresses, Dresses, Alterations, Fashion
Contact Info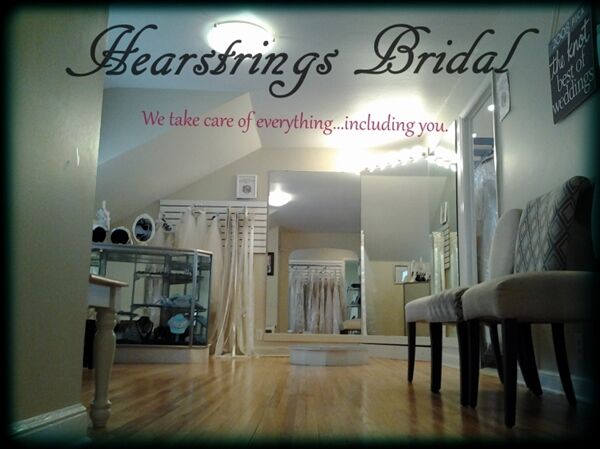 1605 Mainstreet, Hopkins, MN
Joanna (Johnson) Reich.
Reviewed on

5/27/2015
Heartstrings Bridal was outstanding to work with! I was in the Minneapolis/St. Paul area over Christmas and only had a short time to look for dresses with my relatives who live there. They booked us a spot and we had an incredible time looking in their cozy little boutique style shop. We were the only ones there, so it was super individualized and memorable. Brittney was the attendant who helped me, and she took so much care and attention to detail. I fell absolutely in love with the dress I found there; when it came in they stored it at the shop for me until I could make it back to the area, and when I had time for alterations they were super accommodating - making sure I was able to get everything done over another short weekend trip. These people will make this part of your wedding planning so easy and SUPER special. They are AMAZING to work with! I HIGHLY recommend.
---
Awesome!
Reviewed on

1/22/2013
Brittany M
After a few terrible experiences, going to heartstrings was a breath of fresh air! So many beautiful dresses! I had a hard time choosing just one!
---
Very helpful and efficient
Reviewed on

11/10/2012
Jodi G
I said yes to the dress! They are a very small shop with extremely nice and helpful. I also received a credit towards anything in their store when I bought my dress. I used the credit to buy an outrageously priced headpiece which i really loved!
---
Great Experience All Around - Beautiful Dresses & Awesome Staff!!!
Reviewed on

12/24/2014
Ashley C
When I had a crazy fiasco a month before my wedding with my first wedding dress that I purchased somewhere else I called Heartstrings and they were like come on in we will help you find something. When I went in the sales woman was so helpful and I found a new dress off the rack and it was so perfect for my wedding day and I bought it picked it up the next day!!! The customer service and sweet attitude is amazing! I got my bridesmaid dresses from here too and with having 3 out of 5 bridesmaids out of town the process went very smooth. The boutique is super cute too and it's a fun experience to try on dresses here. I would highly recommend them to get your wedding dress and bridesmaid dresses at!
---
Very nice place to shop
Reviewed on

10/23/2014
Michelle B
Went to 3 salons to find a dress. I thought Heartstrings by far had the best selection. They were really great at listening to what I wanted and helping me find a dress. I love the dress I found here. The only one negative is I think they ordered the wrong size and I paid a lot to alter the dress.
---
Indecisive bride
Reviewed on

6/13/2014
Tracy H
Very impressed with Heartstring's and staff. The ladies were very welcoming and helpful throughout the entire process of picking out my gown and bridesmaid dresses. I ended up buying a gown, and when it arrived I didn't like it - so although I couldn't return it (which I was completely fine with) they immediately jumped right in and helped me find "THE gown for me." They also price-matched my bridesmaid dresses because a shop in town had them listed cheaper. Great experience with them.
---
Adorable store and wonderful Experience
Reviewed on

1/17/2014
Alyssa D
Don't be fooled by the small size of this bridal store - they offer a great experience and large selection of dresses that trumps most larger and glitzier stores. I went to Heartstrings no less than three times before I purchased my dress. At the first appointment, they start by letting you browse through their dresses and use colored pins to select six dresses that you want to try on. It is fun and interactive - I even gave my mom a few pins, which of course she appreciated! Dress after dress, I was in love and my consultant was very helpful and supportive throughout. I wasn't ready to purchase after the first appointment as I still wanted to check out another store or two, but in the end, Heartstrings had the best selection and had the dress I wanted. I came back for a second time to try on my favorite dress again, but then got cold feet. My consultant never pushed me to buy and rather encouraged me to take my time. When I came back for the third time, I was again greeted with patience and eventually said YES to the dress. I highly recommend heartstrings not only for their overall experience, but for the discounts they offer. With my purchase, I got a $100 store credit to which I used towards chair covers and sashes. Which by the way, they also happen to have the best prices on cash covers in town.
---
Winter Wonderland
Reviewed on

1/11/2014
Amanda
I found my dress at Heartstrings Bridal. It was the first wedding dress I had ever tried on and I still am in love with it. I loved the one on one attention Heartstrings created for me during my search. I would definitely recommend for wedding dress shopping. I also went in months later for bridesmaid dresses and was not impressed with the service - I wouldn't recommend for bridesmaid dress shopping.
---
Great service and value
Reviewed on

10/25/2013
Laura L
Great shopping experience, so many beautiful options within a reasonable price range. Great service!
---
Cute little shop
Reviewed on

10/15/2013
Sarah
I got my dress from here and LOVED it. It was classic but unique. They had a pretty good variety for a very small shop. It was nice to be one of 2 brides there vs. a large store with lots of brides.
---
Great shop, nice variety of dresses!
Reviewed on

10/07/2013
Tanya S
Heartstrings was the first place I went to try on dresses. I've been to other shops before that were full of brides, mothers, bridesmaids... so I was prepared to be a little on edge. Instead I had one person working with me, just one other bride there, and plenty of space and time to browse all the dresses they had. I did try another shop that day, but I ultimately ended up back at Heartstrings where they patiently let me try on the 2 dresses I was deciding between a dozen times. I coudn't have been happier with the dress I chose and the experience I had that day.
---
I loved my dress!
Reviewed on

8/06/2013
Debbie J
My dress couldn't have been more beautiful. I came to Heartstrings Bridal with the exact dress I was looking for, they made the entire process very comfortable and easy. Plus the price was exactly the same if not a bit cheaper than other places who carried my dress.
---
Only shop to help me find THE ONE
Reviewed on

7/23/2013
Nicole N
I found a dress i loved on pinterest, and little did i know at the time, that was the dress i had to have. i tired on literally over a hundred dresses at places all accross the state and hearstrings was the ONLY place that could actually help me find it. It was a Maggie Sottero and i LOVED IT!
---
Wish I Had Found THE Dress Here. Great Experience!
Reviewed on

7/02/2013
Mari K
I didn't end up purchasing my wedding gown here. I just didn't find one that was quite right fo rme. But I had a wonderful experience trying on gowns here. The consultant I worked with was friendly and helpful. The best part was that it was a very low pressure appointment. I went to 6 different bridal stores looking at gowns, and this one had the best vibe by far. Trying on dresses was fun, not stressful! There were many different styles to pick from and you go to walk around the store and pick the dresses you wanted to try.
---
nice staff nice layout if its not busy
Reviewed on

6/26/2013
JennyJo H
the staff there were very nice and didnt seem to be annnoyed with how many dresses i was trying on! they wont let you take a picture of a dress that you like but havent bought they have a nice mirror and step to see yourself but there's only room for one so if anyone else is there, youll have to share
---
The Greatest Bridal Shop Ever!!!
Reviewed on

3/19/2013
Angie G
This is the greatest bridal shop ever!!! I have been a maid of honor 5 times and finally it was my turn to be the bride. I went to other bridal gown shops and felt pushed into buying something right away. On a whim I went to Heartstring's bridal and it was the best decision I made. I was looking for a dress and they did not have it but said they could find it so I could try it on. While I was there I tried on some other dresses I thought I would like and Tyler made me try on this one dress that I was very unsure about. Well on my first trip there I decided that the dress he picked was going to be my "back up dress" in case the other one they were getting for me did not work. A few weeks later I went back and tried on the dress they had found for me and I still went with the dress Tyler picked for me. Everyone there was soooooooooo nice and friendly and Tyler was fantastic. He assisted in picking out my earrings and bracelet that I wore on the wedding day as well. Without Tyler I have no idea what dress I would have picked. I would definately go to this bridal shop!!!!
---
Dress
Reviewed on

1/31/2013
Amanda
I had first went to the The Wedding Shoppe Inc in St Paul.. the help wasn't the greatest, but we thought we had found the dress.. then we went to Heartstrings and had an appointment with Vanna. We had first over looked the dresses, and when Vanna came upstairs I told her if she thought of a dress to pull it and I will try it on.. She pulled the absolute beautiful Mori Lee dress I put it on and instantly fell in love with it! She knows what I wanted and you can tell she enjoys what she does! Vanna is awesome!
---
great selection.. great people
Reviewed on

11/06/2012
Alicia T
I am one of those weird brides who didn't know what kind of dress I wanted to even try on. Vanna and the team at Heartstrings were amazing for me. They helped find the most perfect dress for my big day!!!
---
Absolutely Wonderful
Reviewed on

10/28/2012
Britta B
Heartstrings did an absolutely wonderful job working with me. I was moving outside of the country and I needed to buy my dress before leaving. Within a week I was able to make two appointments to try on dresses and get the dress I chose, fitted. They were very friendly and gave great, honest opinions on style and fit. I received so many compliments on my wedding day. I would highly recommend Heartstrings for any bride to be!
---
LOVED IT! Tyler rocks!
Reviewed on

10/27/2012
Shantae S
I had the privilege of working with Tyler at Heartstrings. He was AMAZING! He was so much fun and had us laughing every time I was there. All of the staff was wonderful and helped to make dress shopping stress free and provided such an amazing experience. The shop itself is small, but adorable! They have a TON of dresses to choose from. Tyler, bless his heart, pulled and yanked me into 9 corset-back dresses and did a fantastic job (he was sweating by the end of my appointment!). When I found "the one" (Harlow by Maggie Sotero) he made me feel so beautiful. I went back to get my veil and, again, Tyler was extremely helpful. He was able to give me hair, jewelry, and make-up tips as well which helped out a ton! Thank you SO much Heartstrings for helping me with my most important accessory on my wedding day!
---
Great experience
Reviewed on

10/02/2012
Molly D
I had a fabulous time here but I think that's partially because I played by their rules! Make an appoi tment and announce when you are coming after you purchase your dress for the best service. My family came with me to help and they were all welcomed warmly when they arrived. No frills like Champagne but quality service and the best prices for superior dresses.
---
Great service
Reviewed on

9/24/2012
Kristina P
We went through Heartstrings for my wedding dress, the bridesmaid dresses and the tuxes. Everyone there is extremely nice and eager to help. Their service is great. My only complaint is my alterations. If I could have taken out a rib it would have been fine...but I can't so it kind of crushed my bones.
---
Great customer service
Reviewed on

8/18/2012
Marie G
I'm not surprised I finally picked a dress at Heartstrings because they made sure I received one-on-one attention for my appointment. I was the only one in the shop which I think made me so much more comfortable in making my decision. I was engaged and married in just 6 months so they were able to sell me my dress off the rack with a 20% discount which helped the wedding budget too!
---
Bridal Dress
Reviewed on

7/31/2012
Heidi N
The people were very nice and easy to work with, I got my dress and all my bridesmaids dresses from here and they were all excellent quality and not overly expensive.
---
Loved my Dress
Reviewed on

7/30/2012
Krystle N
Heartstrings was awesome. They have a great selections of dresses and accessories. And the staff was so nice to work with.
---
Send Message