Home

Heather Bee Photography
Contact Info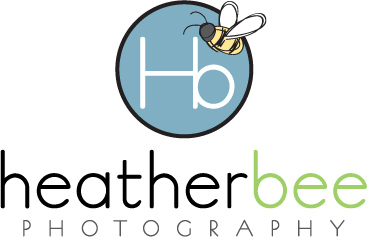 Amazing Photographer Who Captures Wonderful Memories
Reviewed on

3/19/2014
Sumner M
Someone once told me that in planning my wedding, I should choose three things that mean the most to me and focus on going all-out for those. Photography was my #1 and Heather Bee Photography exceeded my greatest expectations! From the first time I met with her to discuss... Read More possibilities and packages to our meeting just a few weeks ago for the delivery of our beautiful album, Heather was simply amazing. Our engagement photos and our wedding photos were simply stunning, not only because of her talents, but also because she took the time to get to know my husband and me so that the photos were truly personal. We continue to get compliments on the photos and Heather herself from guests at the wedding. We've heard multiple times, "Your photographer was awesome!" As for the nitty-gritty… Heather was fantastic in that area as well. She was very communicative and was always happy to answer any questions we had or to work with any ideas that popped into our brains. When our photo package wish-list fell between two of her standard packages, she helped us craft our own that took elements of both without batting an eye. I've heard so many people say that even months after their wedding they are still working on their albums, but Heather was diligent in making sure that we stayed on track so that we'd have our album in hand only a few months after the wedding. I highly recommend Heather Bee Photography for weddings. She captured so many wonderful memories and she'll forever remain an important figure in our lives when we look back on our big day because she truly helped to make it the amazing occasion it was.
---
Excellent Photography Skills
Reviewed on

11/27/2013
Georgiana H
Heather Bee Photography is truly excellent. Love all her work. Very dedicated and professional with her photography. I highly recommend her work!
---
Simply Amazing Photographer
Reviewed on

11/03/2013
"It was so great seeing you tonight. Reese and I had such a blast as usual whenever we get together. Thank you, thank you for our beautiful album. I can't stop looking at it. The photos are simply gorgeous! You are truly talented and I'm so thrilled you were the one to capture... Read More our precious memories. From our engagement to wedding, you have shown nothing but the utmost care and professionalism. You have gone above and beyond what a photographer should do because you personalize yourself with every client. You take a lot of love and pride in what you do, and it TRULY shows in the work you produce. What can we say, you're the best and you'll always be a special part of our marriage :). Xoxo - The Van Wyens"
---
The only photographer you'll ever need
Reviewed on

1/20/2013
Marcia K
I knew photos were going to be an important part of our wedding, and Heather Behlendorf at Heather Bee Photography is absolutely the best. Her prices are extremely reasonable for what she offers, which is everything! She got to know my wife and I personally and I really believe... Read More that made our photos that much better. Heather insists on doing engagement photos. While at the time I didn't think they were necessary, I'm so, so glad we did. My wife and I had our engagement photos taken at Camden Yards in Baltimore (we're both Orioles fans). The photos were stunning! My wife cried after seeing the engagement photos AND the wedding photos and, let me tell you, those were tears of enormous joy. Heather is an extremely talented photographer. Heather is wonderful to work with and she has been a joy getting to know. Finding a great photographer who's there to make every one of your photos fantastic memories can be difficult - but there's not a day that goes by that I'm not thankful we chose Heather Bee Photography for our wedding. My wife and I encourage you to get to know her and see for yourself. You won't be disappointed.
---
Our Best Vendor - great value, excellent service
Reviewed on

1/05/2013
Taylor F
Heather Bee was hands-down our best vendor. She is proactive, cheerful, has a great eye, is right in the middle of the fairway in terms of prices, and has super fast turn around time. She lives in Alexandria and knows DC very well, and is really helpful in getting those iconic... Read More shots you want. She is also extraordinarily accommodating - We first interviewed her while she was on vacation in CA, then planned the engagement shoot around a very tight schedule. We got great results during the engagement session (essentially a rehearsal of how to be in a photo shoot) and the wedding day went great. We chose her based on her pretty, natural, but still very saturated color work, and the fact that there was a little bit of fantasy/romance to her shots. We got our final pictures 2 months after wedding day, as promised, and the album she hand delivered after a simple creation process. I cannot recommend her enough. Seriously. She's great and your parents will get along great with her too. If you call her, tell her I sent you! She'll roll out the red carpet.
---
Best investment
Reviewed on

1/05/2013
Carolyn D
I should begin by saying that the photography aspect of the wedding was a huge concern of mine. The search for a great photographer in the DC area is a tricky one, given how expensive most photographers are. But Heather's pricing plans were refreshingly affordable. I became... Read More interested in Heather's work after seeing a friend's engagement pictures on Facebook. Upon meeting her, I was taken by her vibrant personality and her professionalism. But the moment when I felt happiest to have her as my photographer was during our engagement photoshoot. Heather requires this as part of your package so that she can get to know you as a couple (and so you can get to know her), and it was honestly the best experience. I am EXTREMELY camera shy,and I generally hate the way I look in pictures, but she made me feel so confident and comfortable, that I actually had FUN. On the day of the wedding, she was unobtrusive, but she got the most beautiful shots - photography was "my thing" that I was most concerned about for the wedding, and Heather nailed it. We saw our photos in a timely fashion, and she even created a mock-up of the wedding album for us - awesome, considering the number of photos my husband and I would have had to wade through in order to do that! She even sent us a Christmas ornament with one of our pictures in it - so cute! I could not give her a higher recommendation, for being so professional and thoughtful, for making me feel confident in front of the camera, and for producing such amazing work at a very reasonable price.
---
Heather Bee it!
Reviewed on

1/04/2013
Keri H
My husband and I were very happy with our wedding planner's photographer suggestion, Heather Bee. Heather was fun to work with and the photos were amazing. Our wedding and reception were at a winery. Heather really captured our vineyard theme and our love for one another. She... Read More was flexible with pricing and our wedding album is gorgeous. We recommend Heather B. You won't be disappointed.
---
Awesome Photographer
Reviewed on

6/19/2012
Thaddeus H
Heather Bee is an awesome photographer! She really got us by her site first then when we met her it was her personality! She took our vision and just made it a reality. She has really impressed us! I believe that she is the best photographer we have ever seen. She is the total... Read More package!
---
Great Wedding Photographer!!!
Reviewed on

3/12/2012
Melissa N
Heather was very helpful throughout the wedding planning process. She visited the site with us as she had never been there to get a feel for the location. She was responsive to our emails. We could not have asked for more in the delivery of our photo albums. Her wedding packages... Read More were diverse and we were able to find something that was well within our budget and we were able to upgrade (in terms of album size). On the wedding day (and engagement shoot), she was pretty good with getting us to relax and act natural (and essentially forget she was there) because of which, our photos look less posed and more intimate and pleasant. The only negative was that we didn't get all of the shots we wanted from our shot list, but part of that was due to the weather and the time constraints from the venue.
---
The wedding photog you've been looking for!
Reviewed on

2/16/2012
Susan F
We interviewed several photographers--all of them very talented--but clicked instantly with Heather. She is absolutely an artist and creates beautiful memories on film (um, on digital files?!), but she is also relatable, and warm, in a professional way. I'm not very comfortable... Read More being the center of attention and the focus of photo shoots, but Heather helped me relax, showed me what to do, how to stand, etc. She also managed to get priceless smiles from the young ring bearers and flower girl--not an easy feat! One very special memory from my reception is of dancing alone to a song. (Really, not as sad as it sounds! EVERYone had danced for 20 songs straight; I was the only one still standing!) It was one of my fave country songs, and Heather marched right over and danced with me a little, spinning me a few times! It was indicative of Heather's attitude through our engagement session, wedding prep, and The Big Day--Heather treated our wedding as if it were the one and only wedding that ever existed. I didn't feel like I was just another client added to the portfolio, or that some random person was photographing the most amazing day of my life, or that she just wanted to get the job done and rush home; it was special and personal. As it should be. We get so many compliments on our photos--and I can tell they're not obligatory oohs and aahs. Heather is wonderful. She's talented, fun, and always on the ball. (Brides, Grooms, and Planners--she responds to emails QUICKLY! A rarity for a lot of wedding vendors, unfortunately!) This is the photographer you've been looking for. You can trust your Big Day to Heather!
---