Home

Hello Beautiful Bridal & Formal Wear
About this Vendor
Shop Hello Beautiful Bridal & Formal Wear Today!
Hello Beautiful Bridal & Formal Wear is a full-service bridal and formal wear shop nestled in the heart of the Midwest. Guests will shop a variety of styles for bridal, maids, flower girls, social occasions, tuxes and suits in a fun and modern environment. Hello Beautiful Bridal & Formal Wear offers professional alterations in-store to create the precise fit for your attire. Also, if you need someone to help you officially say "I do", two professional officiants are available to help create your perfect ceremony. Enjoy an experience totally focused on your vision, your style, and your big day. Be Your Own Kind of Beautiful!
Details
Bridesmaid Dresses, Flower Girl Dresses, Mother of the Bride Dresses, Shower + Party Dresses, Wedding Dresses, Dresses, Alterations, Bridal Stylists, Custom Designs, Dry Cleaning + Preservation, Group Discounts, Plus Size Available, Private Appointments Available, Rentals, Fashion Services, Fashion

Contact Info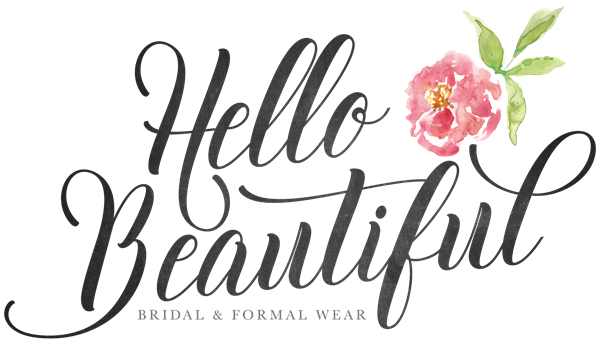 Reviewed on

10/25/2017
Kayla K
Megan and Jenna were so helpful for all of our wedding needs! We purchased my dress and all of the bridesmaids dresses through their store. They also officiated our wedding and everything turned out absolutely perfect! They were so flexible meeting with us and helping us come up... Read More with the perfect ceremony! Thank you so much ladies!
---
Reviewed on

10/12/2017
Andrew C
Hello Beautiful is the best in the Tri City to get a tux or wedding dress. My guys rented tuxes from them as well as my wife wedding dress and let me tell you she couldn't have looked more amazing. Thanks again Megan and Jenn for all your help.
---
Reviewed on

10/18/2016
Bridget V
Megan and Jenna at Hello Beautiful were such a joy to work with! They always made me feel comfortable and cared about which was nice since planning a wedding can be stressful. We did the tuxes through them too from Tip Top Tux and it was so easy and nice to have it all in the... Read More same spot! Highly recommend this place to engaged couples!!!
---
Reviewed on

1/12/2018
Hannah F
Absolutely LOVED my dress! The team was so cooperative and added long sleeves to my dress! They turned out great!
---
Reviewed on

10/30/2017
Denna P
Hello I met Jenna husband at my moms house as he is there swans man and he told me to go to his wife and sister in law bridal shop so I did I found my dress that I had of my dreams megan and Jenna were so helpful with so much and made my day up to the day of so memorable and... Read More will never forget...they are awesome ladies to work with and the make you feel so very special in so many ways...we went to Vegas and thanks to Megan for giving me all the information she did for Vegas as who to get ahold of and that is who we went with and the minster was so very greatfull she sent me his way..Both Megan and Jenna were so helpful and made my dress just perfect and help me with other details for my wedding...I would send anyone to there shop for a wedding dress prom or homecoming they are all so fun to work with and have a good time with you as well...I was so very pleased that I went to them for my wedding dress!!!
---
Reviewed on

10/30/2017
Amber M
My experience with Hello Beautiful was absolutely amazing!! From me being so indecisive, and them being patient with me while I went back and forth. . My bridesmaid dresses turned out beautiful and fit us girls perfectly. Also a huge thank you to the girls at hello beautiful... Read More to helping me fit into my dress and making my dress work when I found out I wad going to be 27 weeks pregnant while getting married! It was a tight squeeze but they made it work and it looked fabulous! They also did something so very thoughtful, we had lost a child at 20 weeks a year before getting married.. and they included a blue heart stitching with his initials inside my dress by my heart. The gesture was beyond amazing, and so near and dear to my heart. I would recommend anyone and everyone to shop at Hello Beautiful, so many great choices (all beautiful dresses) and wonderful employees!
---
Reviewed on

10/30/2017
Jordan Q
Hello Beautiful went above and beyond my exceptions while hunting for the perfect dress! They helped my vision come to life with my dress and my brides maids for the perfect outdoor wedding. My husband also choose Hello Beautiful for his tux and groomsmen. Megan and Jenna were... Read More so helpful to make sure everything went together beautifully. I have recommended all of my newly engaged family and friends to shop this amazing store!!
---
Reviewed on

10/30/2017
Mackenzie M
I had a wonderful experience working with Hello Beautiful Bridal & Formal Wear picking out bridesmaids dresses with my sister-in-law. They were able to find exactly what we were looking for to dress the wedding bridal party! They have a great selection of gowns to choose from! I... Read More would definitely recommend Hello Beautiful Bridal & Formal Wear.
---
Reviewed on

10/26/2017
Alyssa S
Megan and Jenna were absolutely amazing when it came to officiating our ceremony! They kept in contact with me and asked for my input through every part of the process. I have had so many people tell me how wonderful the ceremony was. I've been told it was very well done! I... Read More would absolutely recommend them to anyone that is looking for an officiant that can provide you with exactly the kind of ceremony you are dreaming of!
---
Reviewed on

10/25/2017
Kassie S
Megan and Jenna were awesome to work with and made sure everything was perfect for all the guys tuxes! They were super helpful with the kids and took their time with our group each time we were there!
---
Reviewed on

10/11/2017
Casey S
The ladies at Hello Beautiful have done a really nice job every time I needed a suit for events. I'll keep coming back because they always make me look good.
---
Reviewed on

10/06/2017
I have rented tuxes and suits from Hello Beautiful multiple times. I appreciate that they make sure I have a great fit for me. They do a really nice job there.
---
Reviewed on

6/14/2017
Caitlin T
Hello Beautiful has a great selection of stylish, modern dresses! The owners were very helpful and were able to help me find the perfect dress for my wedding! I wish that they could have done in-house alterations on the dress, but they gave good recommendations for seamstresses... Read More in the area. They also steamed my dress for free before the wedding!
---
Reviewed on

9/01/2016
Zack J
I am writing this review because picking out your wedding dress is a BIG DEAL and you want to make sure it is in experienced hands for alterations. That was not the case in my situation. I will start at the beginning, which was a wonderful experience. Living out of state, I was... Read More really set on getting a dress in Kearney because my mom, who has cancer, lives in Kearney and cannot travel. The owners were considerate and patient with us while I picked out the dress I wanted, which was in April 2016. At the time, the dress I wanted did not fit me where it clasped across the back, so they suggested ordering 2 sizes bigger. Note: I did say I planned on losing weight, but they convinced me that I really needed 2 sizes larger (size 16). A few months later (and 10+ pounds lighter) I flew in to try on the dress they had ordered. The dress was huge and I felt like I was drowning. At that fitting, they suggested putting in D cups to fill in the empty space between my body and the dress, then convinced me that with some quick-fix alterations, it would fit the next time I came in. I again expressed concern that it seemed way too big for me. This was PRIOR to any alterations. Since this is their profession though, I trusted their judgement and felt that they had the means to alter it, correctly. I came in a month later to find they did half of the alterations that they said they would. Unfortunately, the alterations that they did complete were awful. The back of the dress hung on me. I could fit both my arms in the back of my dress where it zipped up. When I sat down, my underwear was visible it was so saggy. They claimed it should "fit loosely" and that was how it was supposed to look. I requested to try on the original dress that I fell in love with the first time (a size 12) again...only to find that it fit me like a glove. I asked if there was any way I could exchange/swap their 12 for the 16, but I got a blank stare and a response of, "This is your dress, we can't sell it to anyone else because we already altered it." AKA, we messed up the alterations so badly we can't reverse them and sell it to anyone else. I was charged $100 for "alterations" that were a complete disaster. There was no sympathy from the person who did my alterations. Even after our wedding, I am affected by the experience and hope that this does not happen to anyone else. My request to the owners of this establishment is to not advertise or tell Brides-to-Be that someone on staff can do alterations when they clearly are not experienced or capable of this. The seamstress that I found, last second, had to take all of their "alterations" out and start from scratch. Seeing my dream dress all cut up in front of me, 5 days before the wedding, was traumatizing. She is a life saver and was able to alter the dress appropriately so it actually fit. It would be appreciated by future brides to give them a recommendation of someone in town to do their alterations, especially with how meaningful and expensive wedding dresses are. They have beautiful dresses here and the ladies know their fashion, but I would avoid alterations here at all costs!
---
Reviewed on

6/21/2016
Allison D
Every time I walked into the store I was greeted by one of the girls! They made me feel beautiful and important!
---
Reviewed on

6/12/2016
Ashley B
I purchased my bridesmaids dresses and rented the tuxes here for wedding this past April. The girls here are very knowledgable and helpful! They answered all my questions and kept me in the loop about everything. They are flexible and made changes without hesitation if I changed... Read More something. Very happy with this store and definitely recommend to others!
---
Reviewed on

4/24/2016
Alexis P
These girls are great to work with! They were very patient with me when choosing a wedding dress, as I am very indecisive. They were easy to work with when it came to bridesmaid dresses as well! I love that they have an affordable line of maids dresses that still look great. I... Read More am so happy with their wonderful customer service! Highly recommend!
---
Meet The Owner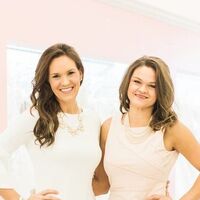 Megan + Jenna
Megan and Jenna have partnered together to provide Nebraska with a fun and modern shopping experience for life's biggest events. They share a passion for helping shoppers envision their big day from start to finish! Born and raised in Kearney, Nebraska, the sisters love owning a business in their hometown and working with shoppers from miles around.