Home

Heritage Hotel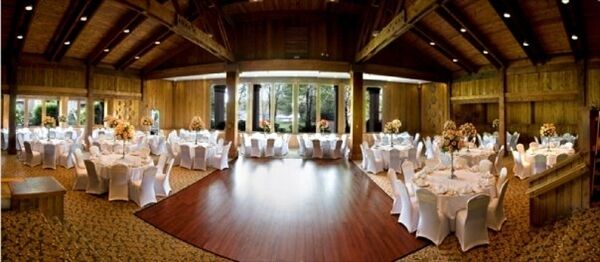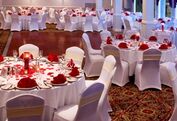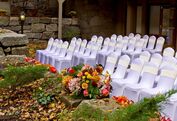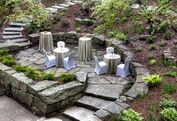 About this Vendor
Your Ultimate Wedding Weekend Destination
There's that universally magic word: Wedding. Visions materialize, dreams take on a reality--pinks and white and champagne; flowers, music--lots of music...just from one word--Wedding. Your desire for magic is our inspiration at the Heritage, and in our hands, it all magically happens.
Amenities + Details
Amenities
Handicap Accessible

On-Site Accommodations

Indoor

Reception Area
For more details about amenities, please message the Venue.
Contact Info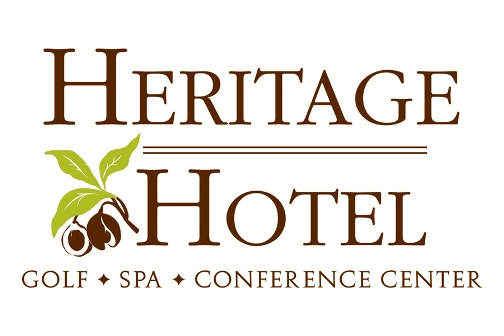 522 Heritage Road, Southbury, CT
Heritage Hotel
Reviewed on

12/18/2013
Michelle P
Jen, Chris, and every staff person we interacted with were absolutely amazing! They took care of everything for me, including a mix-up with the cake vendor included with the venue. Dinner was fantastic and every single little thing was taken care of for us. They even had staff... Read More attending to the fireplaces in the lobby that my guests who stayed the night before were sitting by to catch up - every hour, all night! I could not recommend a place more!
---
Couldn't ask for more!
Reviewed on

11/06/2012
Victoria T
We had our ceremony and our reception at the Heritage Hotel in October 2012 and we could not be any happier with the service. Our contact person at the hotel was Chris Allen and we have nothing but wonderful things to say about her. During our first meeting at the hotel,... Read More we were impressed with Chris's knowledge of the facility and the wedding industry. She answered all of our questions in a thoughtful manner. She researched and responded to our questions that she could not answer on the spot. Chris's attention to detail throughout the process made our experience wonderful. Chris also responded to all of our questions almost immediately. She worked very hard to help accommodate all of our needs. The day of our wedding at the Heritage was wonderful. The staff was more than willing to accommodate us and our guests. Everything went extremely smooth. Chris's continued attention to detail made the day so much easier. Following our ceremony, she was really great about getting the bridal party food and drinks during pictures and the cocktail hour, which was truly appreciated! We could not have asked for more from a ceremony and reception venue. Everything was well taken care of and we really appreciated everything that the hotel did throughout this process. We would recommend the Heritage Hotel to anyone!!
---
Venue
Reviewed on

12/18/2011
Jen k
The day was amazing! The best part there was no driving for out of town guests with the hotel right there. Everyone at the heritage was very helpful and made my reception look beautiful. Jen helped me through the entire experience she answered all my questions and made my vision... Read More come true. The have great packages to choose from and the hotel has alot to offer.
---
Reviewed on

8/05/2015
Naomi T
Ok. I can't say enough about my wedding at the Heritage Hotel 7/24/15. AMAZING!! Five years ago, I went to a wedding here for one of my friends. I was very single but I said if I ever get married, I want it to be here. Well, five years later that dream came true. I instantly... Read More fell in love with the rustic, elegant feel and everything else followed. Brides, if you feel overwhelmed by this process, book the Heritage. They are so knowledgeable, they help you every step of the way, and it was just simply seamless. They also gave us great recommendations for vendors. We had TONS of out of town guests stay there (70+) and some from England! They couldn't stop commenting about how amazingly they were treated and how wonderful the service and hotel were. They also did our rehearsal dinner the night before by the pool which was awesome. And let me tell you, the guests loved the after party at the bar in the hotel and only having to get in the elevator to go to bed! Best wedding ever. Thank you Chris and Jennifer!
---
My Daughter's Wedding 11/8/2014
Reviewed on

11/10/2014
donna c
The Heritage Hotel is top notch! They did such a beautiful job, all my guest raved about the reception room and food. The hotel itself is beautiful. The staff goes the extra step to make your stay special. The rooms are clean and the beds are very comfortable. The food is... Read More delicious and they are able to accommodate every allergy and dietary restriction. The wedding planner Jen is super. She works closely with the bride and handles every detail. Jen was a joy to work with , she truly made my life easier. It was a beautiful night . Thank you Heritage Hotel Staff for making our wedding such a wonderful event.
---
Yay!
Reviewed on

10/29/2014
Crystal S
Everyone had an amazing time at our wedding and I know that it was partially due to the lovely venue and staff at the Heritage. We had our ceremony, reception, and block of rooms on site and each one is was great. The bridal sweet was beautiful and great for the girls to get... Read More ready and for my husband and I on our wedding night. We used the largest room, 8 Mile Brook and it was perfect for our guests. Food was delish, cooked well, and service was great. We loved that this venue had experience and expertise with weddings without feeling like a "wedding factory." We would recommend the Heritage to anyone!
---
Picture Perfect!
Reviewed on

10/27/2014
h b
We got married and had our reception at The Heritage Hotel this October and everything was perfect! The day/ night of the wedding Chris Allen was with us and she made sure everything was perfect from the ceremony timing to whatever my husband and I needed was covered. All the... Read More staff at the hotel were great from the pub staff, the front desk, the catering staff for the wedding and even brunch. Everyone was helpful and friendly. It really was a great experience. The food was great and the garden was beautiful for the ceremony. We booked our wedding with the Heritage through the director of catering, Jennifer Giuliano. Jennifer was amazing throughout the entire process. She answered any and all questions and made things happen during the year plus it took to plan our wedding. Jennifer was also very calming when the wedding nerves started to come. She was beyond helpful and comforting. I can not say enough to describe what a pleasure it was to work with Jennifer. I highly recommend the Heritage Hotel for your wedding!! Our guest all complimented the venue ( Eight Mile Brook and the Garden). Our wedding was perfect!! Thank you to all the Heritage Staff, especially Jennifer for making our special day so perfect!
---
Beautiful
Reviewed on

7/30/2014
Teri M
The Heritage is beautiful and the staff there are pros.
---
Memorial Day Weekend Wedding 2014
Reviewed on

6/11/2014
Sarah H
I'll admit, I was pretty nervous to find out we were the 3rd of three weddings in one weekend. However, everything went off beautifully! Chris and Jennifer were wonderful, no detail was too small and every question we had was addressed; we really felt like we were the only... Read More wedding that weekend. So a quick overview of what was important to us and why we chose the Heritage Hotel: 1)Location: we wanted a venue where we could have our ceremony, cocktail hour, photos and reception all in the same area and not be stuck with your standard 'ballroom' reception hall with crystal chandeliers etc… Heritage Hotel delivered big here! Not only is the outdoor ceremony space BEAUTIFUL but they also have solid backup plans in case of inclement weather which made me feel so much better since it was showering off and on all weekend. The reception area is gorgeous too! Definitely a little more rustic with exposed wood beams but with their little touches – votive candles and twinkle lights around the edge of the room, crisp classic white linens and covered chairs – it still had an upscale feel and huge windows to let in lots of natural light and the beautiful scenery. It was exactly the non-traditional and still classy look we wanted 2)Lodging: my family is on the west coast, his in on the east so we had a LOT of family traveling and it was important to us that we have somewhere for all of them to stay. The Heritage Hotel set up a room block for us no problem. The rooms were pretty standard (though they didn't have a mini bar which we thought was weird), what really sold us was all the amenities. Between the pool, tennis courts, golf course, walking paths, spa, fitness center and all the gathering places to hang out with friends (or hold Greek dancing lessons!) our guests had plenty of entertainment to choose from 3)Value: we search PA, NY, NJ and CT for wedding venues and we found the Heritage Hotel to be the most reasonable. What made it really easy was that pretty much everything we wanted – stations dinner, open bar and wedding cake were included in their package price. Plus the vendor they use for the wedding cake was TOP notch! Seriously, I've never heard that many compliments about wedding cake before 4)Staff: being from out of state I knew I was going to need a lot of help, planning, finding local vendors and such. From the moment we talked to the staff at the Heritage Hotel I felt at ease. Chris and Jennifer did an AMAZING job! Especially when it came to dealing with all the 'requests' from my mother in law – they were rock stars! 5)Food: wasn't that important to me and was a little awkward since they were changing chefs when we booked and they don't do tastings for station dinners. We ate at their pub and thought it was good but we were blown away by our wedding dinner, it was AWESOME! Tasty, fresh, perfectly seasoned, we got a lot of compliments on quality & quantity 6)Environmentally Friendly: we're both pretty Eco-conscious so it was important to us that is we were spending this much money it be as 'green' as possible. Knowing that the hotel was working on getting green certified and that the chef sources as much local, seasonal and sustainable food as possible made us feel really good about choosing the Heritage Hotel. Overall everything was beautiful and well beyond anything I had ever imagined our wedding day would be. We couldn't be happier and are so glad we chose to go with the Heritage Hotel for our big day!
---
Awesome, Unrated Wedding Venue!
Reviewed on

5/17/2014
Angela C
This was the perfect venue for us. Most of our guests were from MA or NJ, so it was right in the middle and since its a hotel, everyone could stay right on site. The rooms are big and clean, and staff is super friendly. Our reception was in 8 mile brook, which has such... Read More unexpected ambiance for a hotel ballroom. Lots of exposed wood and a fireplace give it a warm, rustic feel. Jen and Chris - the wedding coordinators - are awesome and super friendly and helpful. Overall, our experience was great and I encourage any bride looking for a helpful venue that comes with everything you need, including a beautiful setting (!), to consider the Heritage!
---
loved the setting, but that was it
Reviewed on

9/22/2013
Cecilia A
Unfortunately, Jen was away on leave during my interaction with Heritage. Most of my communication was with the maitre d- Chris. I was disappointed with my overall experience with the hotel. There were several things that were not delivered. For example, the staff completely... Read More groomed the garden, the day before the wedding. There were areas where plants were visibly viable but cut. I was there a week prior and the garden was green. I was forced to buy a lot of mums last minute to make up for it. Cocktail hour was to be 6 passed hors d' oeuvres and two stations. My guests complained that there was always a line to the stations. Barely anyone noticed the passed hors d' oeuvres. The food was sub par. Veal and salmon were overcooked. Potatoes were undercooked. There was supposed to be wine bottles with service at each table, this didn't happen. They did one wine pass for dinner. I had specific directions for my centerpieces, it was done wrong. Thankfully, my maid of honor had to go down for something else and it was corrected prior to the reception. Chris called me about an hour before to tell me all "the things that are going wrong". (minor issues but were presented in a way that stressed me at a time I didn't anything else. Chris was supposed to be my bridal attendant. I saw her thrice, while we were sitting for dinner. (Bride and groom never sit). After that, I had to actively seek her out. They switched the table arrangements, so my husbands family was placed in the back corner!
---
My Wedding
Reviewed on

8/13/2013
Katt B
Chris was absolutely wonderful and very helpful throughout our entire experience!! Wonderful place to have your special day!!!
---
A great day with a few bumps
Reviewed on

7/23/2013
Jacqueline D
Our wedding was 7/6/13. It was an incredibly hot day. When we got to the reception site we immediately started taking pictures. I would have been nice if our maître-d offered us water or some sort of beverage. it wasn't until around 5:30 that she brought us to our hospitality... Read More suite. At that point there was a nice spread of beverages and platters. During this time, our guests were at a cocktail hour where there were two platters as well as hot appetizers. The appetizers did not come very often and my mom had to go to the kitchen and complain. When we first signed a contract we were promised each person attending would get 8 of each app, this didn't happen. The bridal party only received a couple appetizers as well. When we entered the room it looked beautiful. The Heritage did a wonderful job decorating and making the room look warm and inviting. We were promised candles along the edge of the room, this didn't happen. The room was also very warm, their AC was struggling with the oppressive heat. During the reception, our maître-d did a wonderful job making sure we were taken care of. She asked about drinks often and was in communication with all the other vendors to time things well. I noticed during dinner that some of our tables were finished eating while others hadn't gotten served yet. I think they should have a few more people working the events this way service would be faster. Nearing the end of our reception, we wanted to extend it an additional hour. The Heritage wouldn't let us. They said they needed to know a week in advance, however, I remember being told that we could notify them night of. This was extremely disappointing, because we were having such a wonderful time. Overall, I had a great time. I know I mentioned some things that went wrong, but they didn't take away from our day. The Heritage did do a great job and after all is said and done, I'd have my reception there again in a heart beat.
---
Way Beyond Everything We Ever Dreamed
Reviewed on

3/14/2013
Lindsey K
When we first decided to have our wedding in Connecticut, to appease my parents (because I grew up there) versus having it in cheaper Buffalo where we currently live, I was thoroughly discouraged at the lack of venues in the area...until we stumbled upon the Heritage Hotel.... Read More Initially just stopping in to assess lodging options, we fell in love with the entire place! A party is what we wanted and a party is what we got! Three Mile Brook was everything we wanted for our reception: vaulted ceilings, rustic feel, roaring fireplace, antique piano for our cake, expansive windows looking out to the snow falling, grand staircase for the entrance. On the day of the wedding in February, it was perfect. No one can explain the feeling that you have when, after months of planning, you look out over into your reception and see all of your hard work payoff. The staff did a better job setting up than we could have ever dreamed. It was truly amazing, it was magical. Planning a wedding from a distance was incredibly difficult but Jennifer Giuliano made it possible. She listened to all our our ideas and turned them into reality. She never told us "no" and made us feel like we were really getting everything we ever wanted, and we did! She arranged everything from contracts to rooms to our homemade beer being on all the tables! Chris Allen also worked with us as our day neared and was the one on-site on our wedding day from the start until the last guest crawled up the stairs. All I can say is that Chris made it all happen and come together. She is the ultimate lifesaver! As for the food...we are still hearing guests comment on how they have never had such great food at a wedding before. Even our extremely picky, world-traveler friends could not get enough of the the fresh raw bar and perfectly cooked meat! The layouts were absolutely beautiful, too. Our wedding party had their own suite with a full display of food and drinks on ice. When we went out with our photographers to do our own pictures, they brought a whole tray just for us...definitely much needed and appreciated! We also decided to continue our reception in Shadrach's Pub just steps from the reception afterwards. We worked with the chef to bring in some of our Buffalo favorites for late-night snacks and it was awesome! And for a very great price, too! Sunday morning we had a brunch downstairs. The food was delicious and my husband is still raving about the eggs, bacon and salsa! The best, most endearing part was that most of the decorations from the night before had been brought into the room...so special and unexpected! A very nice touch to relive the memories from the night before! For our guests, it was a true luxury to have all of the events in one spot, from being all together at the pub Friday and Saturday night to stumbling down to Sunday Brunch. It sure beat dealing with the hassle and cost of transportation for everyone. People came as guests and left as new family and friends. It truly gave us the feel of a "destination wedding" without leaving my home state! The Heritage knows how to do weddings. They know what works and what does not. Do not be afraid to ask for something because they will bend over backwards to make it happen and at a fraction of the price of other venues in the area! Trust them with your wedding and, I promise, you will not be disappointed. It was the best decision of our lives, aside from deciding to marry each other :)
---
Nice rooms, HUGE bridal suite
Reviewed on

2/24/2013
Abbie C
The guest rooms, though small, were nice and clean. The executive suite was HUGE, perfect for all of the bridal party to get ready in and take pictures. The staff was super helpful at every turn, from delivering welcome bags to our guests to helping with last minute needs. The... Read More hotel bar was also nice, though closed a little too early for our after party needs. The only major drawback was the fact that the suites are on the complete other side of the hotel from all the other rooms, so trips between took a long time.
---
Nice.....
Reviewed on

10/18/2011
Jennifer S
We used the Heritage as our wedding venue and also for accomidations for the wedding. First let me say that the wedding planner, Jennifer and Maitre D, Chris, were great. Jennifer always got back to me promptly with any questions I had and was super nice throughout the whole... Read More process. She and the Maitre D Chris, were both there the day of the wedding to make sure things went off smoothly. Now onto the venue, yes, The Heritage is a great place for a fall wedding. We had our ceremony in the rock garden where the leaves had not been blown out since last year. Part of the Heritage building itself is rotting in the corner of the building. Did anyone notice the day of the wedding? I am sure they didnt, but I did. You do have to bring things into the rock garden to spruce it up. I brought in mums, pumpkins, hay bails and a ton of candles which the staff did set out for me. (and they cleaned them up after the wedding which was super nice). The steak was overcooked for our guests. We heard nothing but praises about the chicken and salmon. The bakery that the facility uses, Edible Dreams was responsible for making our cake. We chose spice cake to go along with our fall theme. Only one layer of the cake was spice cake, and the rest was vanilla cake. I was not thrilled about that. In addition, we had wedding crashers in our ceremony, separate crashers in our photo booth and a random person signed my guest book. All in all, it was a beautiful wedding. I am sure as the bride, I am the only one that noticed the small things. It was difficult for us to find a venue that would allow 118 people on a Saturday night and that is how we ended up at The Heritage. At $100 a person, I would have expected the steak to be better, but it is wedding food and they were making 70 of them at once. I gave the overall rating of a 3 instead of a 5 due to the conditions in the rock garden, the overcooked food, wedding crashers and my friend who had to leave the hotel at 4 AM due to a leak in the room above her. The Hotel did refund her money and gave her another night free to stay. In addition, my mother paid for my room on Friday night and asked the hotel staff to let me know upon my check out. When I checked out I was told it was paid for, but they did not know by whom. In the end, I would give the venue 4 stars, because of it's New England charm (however, you do have to spice it up a bit yourself which can be done fairly cheap with some mason jar candles and flowers) and the hotel a 3 for the service. The hotel it self is a bit run down, but otherwise is nice with nice facilities.
---
Garden Room at Heritage Hotel was AMAZING
Reviewed on

2/03/2011
Katherine L
Jennifer is the coordinator and she was amazing! I had as many meetings as I wanted. I gave her all my centerpieces, decor, etc. the day before and it was EXACTLY how I wanted it! I loved the venue with the outdoor terace and it had great food! I could not ask for more!
---
Relax, they'll take care of it..
Reviewed on

1/18/2011
Taylor S
8 Mile Brook is a great room and Jennifer, the onsite event manager, follows through perfectly! You will not be disappointed when working with the Heritage.
---
had my baby shower here
Reviewed on

10/13/2010
jessica g
staff very friendly, food is pretty good, some areas of hotel need updating
---
PERFECT!!
Reviewed on

9/27/2010
Danielle S
Every member of the staff really went above and beyond to help make this day perfect including making sure the lobby was cleared out so i could stand inside and wait to be called out with out having a lot of people milling around. everything was so perfect!
---
Review for The Heritage Hotel
Reviewed on

5/10/2010
Jamie B
Hotel and reception in one place
---
Send Message