Home

H.J. Benken Florist & Garden Center
About this Vendor
H.J. Benken Florist & Garden Center
Greater Cincinnati's largest premier florist and garden center. Please visit our website or give us a call.
Details
Centerpieces, Plants, Vases, Chuppah, Decorations + Accents, Bouquet Wraps, Bouquets, Boutonnieres, Corsages, Flower Alternatives, Flower Delivery + Setup, Flower Preservation, Flower Arrangements
Contact Info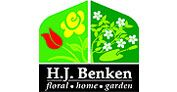 6000 Plainfield Road, Cincinnati, OH
Flowers were beautiful!
Reviewed on

10/24/2013
Brittany S
We used H.J. Benken for our September Wedding. The staff was fabulous to work with, and very helpful! Our flowers turned out great, and I was especially impressed with what they put together for our Ceremony (as I basically left it up to them based on our personal flower selections). There was one issue with our cake topper but the delivery woman was very quick to fix it and you would have never known the unwanted flowers in the arrangement were ever there! Thank You!
---
Beautiful Flowers for a Great Price
Reviewed on

9/23/2013
Mandy M
I was hesitant to go with H.J. Benken since they are so well known in Cincinnati-I was really nervous that they would be super duper expensive for what I had available in my budget. However, after comparing their prices to (get this) KROGER'S FLORAL DEPARTMENT, Benken had more bang for my buck! The wedding coordinator there was incredibly helpful with working within our budget, and had lots of fun and creative ideas for complimentary colors, types of flowers, etc.
---
HIGHLY RECOMMENDED!!
Reviewed on

6/11/2013
Kayla
Somehow I forgot about flowers, and I only had a little over 2 months left until my big day... I called H.J. Benkens Florist and they fit me in for an appointment the next day! We picked everything out right there. I was told I'd get my quote within a week, but it was in my inbox the very next morning! I was not only impressed with the beauty of the flowers, bouquets, etc...but floored at their professionalism. The day-of delivery came right on time (with a few minutes to spare!) and we got dozens of compliments on the bouquets all day. HIGHLY RECOMMENDED!
---
Reviewed on

7/26/2015
Emily M
Totally get your wedding flowers here!! The entire staff made the process of getting my wedding flowers way too easy for me!! They were very fast on responding to emails and setting up additional in-person visits for me! The flowers were GORGEOUS!!!!!! Must use!!!!
---
Reviewed on

5/31/2015
Vanessa W
Robin and the Benken's team did an amazing job bringing my vision to life for my wedding flowers! I had a very specific idea in mind of what I wanted and Robin worked with me to make it happen. She even texted me a picture of my wedding bouquet on the night before the wedding, which I loved! And she called me the day after the wedding to make sure it went well. I was touched and would definitely recommend their wedding services! Thank you Robin!
---
Reviewed on

5/10/2015
Kelsey P
I was extremely happy with H.J Benken. I absolutely loved the flowers! The staff at Benken were great and extremely willing to do whatever they could to make sure the wedding was perfect. I was blown away with how beautiful the centerpieces and bouquets were. H.J. Benken was the perfect florist and I definitely recommend them.
---
Perfect!
Reviewed on

12/27/2014
Michelle M
At our consultation appointment, Robin was very helpful and patient in giving us guidance on which flowers would be good with our colors and season. They are reasonably priced and are able to provide beautiful alternatives to those on a budget. For example - If you have a family member or friend that can pick up the flowers, it will save 10%! When I called to make changes, Robin was quick to respond. I received a call from Robin the day before our wedding that she was not happy with the quality of the flowers that came in, so she was making some changes. It meant a lot to know she cared enough to send back the flowers so the quality was good! Everything turned out beautiful! Highly recommend :)
---
Stunning! Absolutely Stunning!
Reviewed on

11/20/2014
Lauren R
I showed up with a reference picture and they made it into something that was truly stunning and absolutely gorgeous. My flowers took my breath away. The staff truly know their stuff and they are so easy to work with. They truly make sure that you are getting exactly what you want. You get your money's worth when you go to H.J. Benken.
---
Wonderful
Reviewed on

9/16/2014
Kiran K
Robin helped us pick out the perfect flowers and customized them to fit our needs. The pickup/return of the vases after the wedding was also included, which wasn't the case at some of the florists. Thank you!
---
Amazing!
Reviewed on

9/02/2014
Our wedding flowers were everything we expected and more. Robin was wonderful to work with. She made us feel very comfortable and helped make the flower process so very enjoyable. The end result was amazing and the service was on time and perfect. I would recommend them to all future brides.
---
Beautiful flowers!
Reviewed on

6/15/2014
Leah R
Benken's provided my personal flowers and also the centerpieces for the reception. The bouquets turned out so wonderfully and they exceeded my expectations. Robin was wonderful to work with, and anytime I needed to make adjustments to my proposal, she was very quick to respond to my needs. The flowers are very high quality, and almost a week and a half later, my bouquets are still looking very much alive. We picked the centerpieces with the hydrangeas and candles and they worked so beautifully with our venue and our theme. The gentleman who delivered the flowers was also very easy to work with and he was very punctual. I would definitely recommend Benken's to anyone getting married in the Cincinnati area!
---
Purely Beautiful
Reviewed on

6/03/2014
Emily A
We booked The Oasis for our reception venue and with their wedding packages you get fresh flower centerpieces from HJ Benken. My mom was excited about this in general and even more excited that it was HJ Benken because of their awesome reputation around town. We went ahead and did all of our flowers through them. Our meeting with them went so well. There is a book of about 25 set centerpieces that you choose from for the reception and some people may feel limited by this, but I felt like there were plenty of choices; multiple designs, heights, etc. were covered in these set options. I ended up choosing 2 different options to do on every other table - half tall, half short. They worked with our wedding colors and showed me a flower close to the shade of blue we were going with. This flower was perfect for the tall centerpieces while I used white gerber daisies (my favorite flower) for the short centerpieces. Picking out the bouquets was just as easy. I knew what I wanted for the bridesmaids so that was quick. Then I had a picture to share for my bouquet inspiration. They started naming flowers that would make up my bouquet and knew exactly what they were talking about. I said sure, sounds good :) haha. Then I mentioned possibly wanting white hydrangeas for the boutonniers to match the bridesmaids' bouquets. They talked through it with me and shared their knowledge and advised against it because they aren't a strong enough flower necessarily for that. They are delicate flowers. I understood and didn't want the flowers drooping at all so we went with ivory roses instead (my bouquet was going to have roses so it all pulled together still). Everything turned out perfectly. My bouquet was identical to the picture I showed them. It felt light which was awesome - some bouquets can get sooo cumbersome and heavy. Mine was just right! The bridesmaids hydrangea bouquets were full yet light and just gorgeous against the blue dresses. My only complaint is that the flowers arrived 2 hours earlier than my scheduled delivery time. Luckily it was a cool day and we have a basement storage area that stays quite cool. We put the flowers in there until we were ready to leave and it worked out for us.
---
Felt ignored
Reviewed on

1/22/2014
Andrea L
My fiancé and I made an appointment because our venue's price included centerpieces from HJ Benken. It was our first time meeting a florist and we expected to actually see the flowers, but we could only look at pictures of them. She spent the entire time trying to force us to use roses or daisies (both of which we didn't want) and we felt like no one would listen to us. We ended up picking centerpieces out of frustration and then I called and canceled the order the next day.
---
Florist
Reviewed on

4/22/2013
Stephanie S
We used HJ for our centerpieces through the Oasis as well as personal flowers. The arrangements were beautiful. They also work with you to get the flowers you want at a good price.
---
Perfectly simple...
Reviewed on

4/18/2013
Kristen P
All we wanted was a natural simple setting and HJ Benken did exactly that. They had beautiful flowers all over the greenhouse and worked with us to create centerpieces that were within our budget and exactly our style.
---
wedding flowers on 11/17/12
Reviewed on

1/16/2013
Ashley B
I worked with Ashley Nienaber from Benken's who was amazing! I was not sure what kind of flowers I wanted, but at my consultation appointment she took my ideas and created the perfect mixture of flowers for me. The company was great about staying organized and sending me email reminders when payments were due. This was a vendor that I felt I could trust to deliver beautiful flowers for my wedding.
---
amazing flowers, even better service
Reviewed on

12/05/2012
Sara R
Our experience at H.J. Benken was wonderful from the start. Ashley met with my fiance and I and helped us navigate what we wanted and what we could afford. She was very knowledgeable about all kinds of different plants and flowers, very patient with us guiding us though all the details, and cheerful every time we talked. You can tell she loves what she does. She was wonderful in keeping the lines of communication open and letting us know when she would be there and what to expect. On the day of our wedding, Ashley was there and very professionally and artfully she set up our many displays. I was most impressed by her while she was trying to set up a floating island display for us. Although she had never done one before, she was excited about the challenge and ended up climbing across this dock and over the water to get it put in place just so. Her attention to detail and her drive to get everything perfect for our big day have ensured that we will definitely be using H.J. Benken for all our future floral needs. Oh, and as I am writing this it has been a month since our wedding and our centerpieces are still alive and brightening up our table.
---
Flowers
Reviewed on

10/28/2012
Lesley D
We loved our flowers for both the ceremony and the reception... Ashley was great to work with and everything turned out just like we wanted it to!
---
Beautiful flowers
Reviewed on

9/27/2012
Gabriella I
I was more than pleased with the bouquets and boutonnieres I received from H.J. Benkens. While I had a vision for my bouquets, I let them use a lot of their discretion and creativity and the result was lovely! I was pleasantly surprised by the final result of my bridal bouquet and the other small pieces used throughout my reception hall that I had asked them to create. Overall, their customer service was wonderful and I loved visiting to get a chance to smell all the flowers in bloom in the garden center during our meetings.
---
Beautiful, but Pricey
Reviewed on

9/24/2012
Sheilia S
I discovered H.J. Benken at Wendy's Bridal Show. Their display was mostly Orange flowers, which is what I wanted for my August wedding. Their facility is bright and beautiful. We were a little upset that we had to wait 1/2 hour to see the florist, even though we had an appointment and were on time. Besides that, the woman we met with was very sweet and helpful. She showed us some beautiful designs, however, in the end, they were unable to come up with what we needed at a price that would fit our budget.
---
Gorgeous
Reviewed on

8/26/2012
Allison Y
My flowers were gorgeous and my service was friendly and helped me a lot.
---
Beautiful work!
Reviewed on

7/25/2012
Courtney V
We loved H.J. Benken's work. We had additional interior landscaping done with some trees and plants, they did a fantastic job! It was exactly what we imagined it would be.
---
Beautiful!
Reviewed on

7/03/2012
Elizabeth S
I loved the creativity and passion that Benken has to offer their brides. My flowers were gorgeous! Thank you!
---
A little expensive, but beautiful
Reviewed on

11/23/2011
Amy D
They were very willing to work withour budget and had some great tips and ideas for us to use for some DIY things. They helped us come up with ideas for centerpieces that we bought elsewhere to save money. The flowers were beautiful, but I was expecting a lot more for the price.
---
Amazing work
Reviewed on

11/19/2011
Jessica B
The design team and Benken completely blew me away come wedding day. My bouquet was amazing and so were my girls. Their attention to every detail was obvious. I had small hairpieces done for my braids maids and they were beautiful but sturdy. They held up the whole night and they were orchids!
---
Send Message