Home

Holiday Inn Countryside-William Tell Banquets
About this Vendor
Holiday Inn & William Tell Banquets Country Side
William Tell's newly remodeled facility & adjoining hotel is one of the most exciting venue's in the western suburbs. Our wedding coordinators will help you plan a perfect day. World class cuisine & service will insure an experience that will impress your guests & create a memories for a lifetime.
Amenities + Details
Amenities
Indoor Ceremony Area

Kosher Available

Liability Insurance

Liquor License

On the Water

Onsite Catering

Onsite Overnight Accommodations

Onsite Parking

Onsite Wedding Consultant

Outdoor Ceremony Area

Outdoor Reception Area

Outside Caterers Allowed

Site Fee

Tented Area

Valet Parking

Wheelchair Accessible
For more details about amenities, please message the Venue.
Banquet/Reception Hall, Hotel/Resort
Contact Info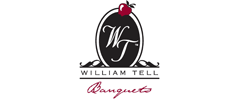 6201 JOLIET RD, COUNTRYSIDE, IL
So Happy
6/28/2014
Pamela K
Our wedding at the William Tell was great! Michelle who is the catering and sales coordinator was fabulous and so easy to work with. The food was fabulous! All of our guests commented on how great the food was. The only thing that was a little disappointing is they forgot to put out my favors, so they had to scramble to do that while our guests were there. Also, the room was a bit warm. It was a hot and humid day, but everyone was commenting on how warm it was. Lastly, at the end of the night, the only way for us to get to our room in the hotel was to go through the other banquet room or outside and around the building. With a large cart with gifts and things from our wedding, through the other banquet room was the only way to go. Since the other reception didn't end until a 1/2 hour after ours, we had to sit for and wait for almost :45 minutes before we could make our way to our hotel room. It was quite awkward going through the other banquet room when the other wedding guests were still there. In the grand scheme of things, this was minor. All in all we were very happy with the outcome. Thanks William Tell and Michelle for making our evening fantastic!
---
Great reception!
6/21/2013
Denise T
We loved everything!
---
Great time!
6/15/2013
Melissa S
We used the William Tell and had the Atrium Room for our wedding. It is the room with a fireplace, loft, and outside area with a gazebo. So much space and a great set up. Food was excellent, we received many compliments from family and friends about the delicious food. We worked with Sue and Michele, who were both wonderful and promptly answered any questions we had. The block of rooms we had were very reasonably priced (89.99 for a room!) and we had no issues with the hotel side either. Overall, a great experience and I would highly recommend them!
---
I had no problems!
6/02/2013
Andie E
William Tell Banquets was great to work with. I always knew my questions would be answered, and everything was always explained to me clearly. We only had our reception with William Tell, and it was perfect. I have no complaints whatsoever. The food was great, the service was outstanding, and it was overall a great time! We used the Terrace Room (max of 180 people), and it's nice because it has it's own separate parking lot off of the entrance to the room. It's connected to a hotel, so out of town guests can stay there with a discount because they went to a wedding through William Tell. There was a locked room for gifts, which I thought was great. You just need to designate someone to take the gifts to the room as they come in. The girl I was working with completely forgot about a family vacation she had on the weekend of my wedding, but she did a great job filling in another woman about our wedding. The woman who took over was wonderful, and did a great job making sure everything went smoothly and even came up to me a couple times to make sure I was having a good time. I would recommend using William Tell Banquets! Blessings on your wedding day!
---
Beautiful
5/18/2013
Kristin H
Location was great, food was great. I paid for chair covers that were never rented (only 4, but still)The server left the kitchen sheet cake out for most of my event had my last name written on it, looked very tacky. I was passed around alot.
---
Horrible customer service
9/08/2012
Kelly L
I reserved a block of rooms for my wedding here, including mine for the night of the wedding because they offer a free shuttle bus. I called a week and a half before the wedding to confirm everything and se up shuttle times. We also asked if someone else could check a couple of us into our room earlier, we were told yes. I also told the girl oh wait! You never got my credit card for the room. She said oh thats because the bride and grooms room is comped. Awesome! I was excited. Well the wedding came, the shuttle took my guests to the wrong banquet hall on the way there, resulting in my mother in law being late. The hotel would not let the people check us in like we were told. My sister, a bridesmaid, had to leave the reception early because they wouldn't let her son check in like we were also told. I got to the hotel to check in, as the bride, they didn't have my reservation!!! I booked it about 6 -8 months prior! He gave me another room, no problem. We get to our room and the front desk calls telling me they need a credit card for the method of payment. I told them their employee told me it is comped. It was a huge argument, telling me they do not comp off site weddings. Not my problem, their own employee told me it was!! I was livid! The manager kept telling me to go relax and be with my husband, I said no, if this isn't taken care of I'm leaving right now, I am not staying here. She kept telling me sales people would be there in the morning and they'll figure it out. They figured out NOTHING! They were incredibly ignorant and said no, we don't comp off site weddings, we aren't comping it. They were sooooooo rude and unaccommodating. Awful customer service. I will do my best to make sure no one I know ever stays here! Absolutely ridiculous. The employee who told me should be at fault, not me.
---
This was the Place! great, fun, great service!
9/02/2012
Domonique W
William tell was not only affordable, their staff was the best vie ever dealt with. I plan events and have done many organizational things and customer service is very important to me. First and foremost, were military and had to move from Chicago during our engagement and they were there for us every step of the way. But all my thanks and love go to Jessica B. She and I had a great connection and understanding of what I wanted and when your planning your big day thats what you should look for. Dedication, consideration, understanding, and just keeping it real. Everything was PERFECT! Our day couldnt have been better, it was in the fall so the flowers outside were perfect, the reception and bar styling was just as we expected. We loved and enjoyed every minute of our time with them
---
One of the best meals of my life!!
9/01/2012
Jessica H
Catering was included with our reception at the William Tell. We received so many compliments on how great the food was. We had the Dynasty Family Style, and it really was one of the most delicious meals I have ever had! The food almost seemed to melt in your mouth. I didn't get a chance to sit down and really enjoy the meal (like many brides, I was a little busy at the time!), but we did really enjoy the food at our tasting, and we'll definitely be making return visits to the William Tell Restaurant.
---
Beautiful Venue, Hotel Ok
6/16/2012
Megan M
We were extremely happy with our room and service that we received at William-Tell. They even set up the room for no charge. The hotel was ok though. My guests had trouble booking under our room block and had several complaints about the room the night of the wedding including dirty rooms and sinks that wouldn't drain.
---
Love the William Tell!
3/23/2012
Kate B
When we walked into the William Tell, we pretty much knew we wanted to have our reception here! The Atruim room is beautiful and gives an excellent feel to the day! Michelle, our coordinator, was fantastic. She was quick with answers to all of my questions and made me fell so comfortable and prepared for the wedding day! I couldn't have asked for better service. The food was excellent, absolutely delicious! We got everything we wanted and couldn't have asked for a better day!!
---
Great Experience
12/10/2011
Rebecca K
Best venue to have a wedding. It is unlike the usual banquet halls, and the beautiful stone fire place made a great backdrop for pictures. The food was fantastic. Overall, this was the best experience in our wedding planning!
---
Great night at WT
9/17/2011
Caroline F
We had our wedding and reception at the William Tell. The staff were awesome, venue was beautiful. It was great to have everything in one place, just make sure you are organized because the staff (great as they are) kind of leave a lot of things up to you.
---
Great food and service!
10/15/2011
Jessica B
Staff at William Tell reviewed every detail with me, food and service at our reception were excellent.
---
Awesome!!!
8/27/2011
Shawnda M
The venue was absolutely fabulous. The staf was top notch. Michelle the manager mabe me feel like a VIP bride. The food was great. The accomadations were okay. We really got our money's worth.
---
Amazing Room and Amazing Night
4/30/2011
Lynn
We used the Atrium room and our vendor was Candice Collins. Our night went perfectly. Candice, our vendor, was extremely helpful in planning and returned phone calls promptly. Although she was not able to be there the night of the wedding, Candice had another vendor there and everything went perfectly. The food was not only good but amazing. We received compliments about the food and the room and even the hotel. I highly recommend the William Tell. I rated the service slightly lower because Candice was not able to be there night of. She did have another vendor there and everything went perfectly but we did not find out that Candice would not be there until that night. It wasn't a problem but I would have rather find out prior to that night. Another bride may not have been as understanding.
---
Oh, What a Night!
3/05/2011
Maria C
I had never been to the William Tell before I began planning my wedding, but wanted to find a place that is memorable and different from the traditional banquet hall space. We found that place in the Atrium Room at the William Tell. The room is huge and so unique. It offers 3 fireplaces, two levels, and is surrounded by big glass windows which make the room feel airy and connected with the beautiful surrounding nature. Michelle is an excellent coordinator and she will make sure that every single detail is taken care of so that your special day is amazing! The best part of the William Tell is its convenience. There is free parking and a Holiday Inn attached so you can walk to your room at the end of the night. Stanley's Lounge is in the facilities should you wish to enjoy an after-party with your guests. There is also an incredible Sunday brunch with unlimited champagne to start your honeymoon off just right. And be sure to visit the Holidome with an Olympic-sized pool, game, room, sauna, and two hot tubs! Go check it out. You will be amazed. Our guests commented on the beauty of the reception space throughout the entire evening.
---
Great!
12/31/2010
Julie H
We had our wedding in the Atrium room which was beautiful! Although it is more appropriate for a winter wedding, which we had, it is the best room that they offer. The service was great and Michele who was our coordinator was awesome. The price was affordable and it was perfect!
---
Not much help
10/02/2010
Amanda B
My wedding was yesterday and I met the girl that was to be assisting me that day. When I first signed there my coordinator at the site was AMAZING and a big part of why I picked it... (that and the gorgeous set-up of the atrium room). Unfortunately she left, for good reason and new management gave me someone that only works on her schedule. They were no help leading up to the date and escorted people through my hall during my reception. Luckily my family made sure I knew nothing about it but they did this multiple times including once where 10 people tried to carrying cases of beer. Management did nothing about it. ALso do not hold a ceremony here because they use that location as storage during summer for HIDEOUS dead banana trees. They were only moved for me because there is no communication there and the workers were not told what to move so I was able to convince them to move all of them. Keep in mind one of the want to be banana trees was being held up by a broomstick! Finally at the end of the night they threatened to call the cops because we had more than 5 people in the guest room for a small after party. This was with little warning that there was an issue I only give 3 stars because the Atrium room is GORGEOUS and the food was delicious.
---
Amazing
5/30/2010
Irene D
William Tell made our day perfect. We had both our ceremony and reception there and the staff was so helpful. They handled all the details and made it so I didn't worry about a thing. The ceremony set up outside was gorgeous and the reception was beautiful. We had our reception in the atrium room and the natural beauty, size and huge dance floor made it a night we will never forget. I would highly rec ommend them to anyone. The food was amazing and again teh staff was knowledgable, friendly and helpful.
---
Review for William Tell Banquets
8/29/2008
Carolyn R
You could exit outside without really leaving the wedding.;The tables needed to be checked for proper amounts of seats and settings
---
Review for William Tell Banquets
6/02/2006
Amanda T
Michelle at the William Tell is great. Staff did great with security.;Rooms were outdated. Food was just ok, but it was great when you did your taste test! Make sure when you have soooo much going on and you drop stuff off the night before it does not get lost!!! Our unity candles, champaign glasses, serving stuff for cake, yeah all got put up somewhere and noone could find it........talk about a waste of money!!!!
---
Review for William Tell Banquets
8/23/2008
Dana M
The William Tell has a great garden area and the Atrium Room where we had our reception was amazing! Great layout great lighting everything was wonderful!;The staff can be hard to work with. They messed up many aspects of our contract and were very poor to work with.
---
Review for William Tell Banquets
10/13/2007
Anna R
They were very accomodating to our needs. We were able to pay for alcohol by consumption rather than just a flat fee. Many catering options were given. Everyone was very gracious and helpful.
---
Review for William Tell Banquets
5/23/2008
Vicki C
The room had a feeling of a Mountain Loft. A lot of wood and HUGE large stone fireplace that we were married in front of and then went to the otehr side of the fireplace (as it was a two way fireplace) for the reception.;I am a very detail person. If you're not they will not 'just take care of' things yo may think are obvious.
---
Review for William Tell Banquets
8/10/2007
brenda v
;We had worked with somwone from the william tell for quite awile and everything was great. She was very helpful, but then for whatever reason unanounced she left the facility. We were not told until we continued to call several times asking to speak with her. Finally they told s she was no longer there. within 1 week our detals were changed,we were told we could not have the seating arrangements we previously agreed on, our fee's went up and were told because a mistake was made on the paperwork, the staff were terrible in returnin phone calls and the night of the reception, the banquet servers had terrible attitudes, one to the point she would literally take my food when my spoon was in mid air to my mouth. Yes I said spoon because that is all we were given to eat with, as well as no coffee cups for our coffee, we were rushed through our meal,and then at the end of the night, they began throwing away my flowers, and guest favors sitting on the tables. If I had to do it again, i would not use their banquet hall. Now the hotel itself, including all staff were excellent. If i visited Chicago again, I would definetely stay at the holiday inn again.
---
Send Email