Home

Holly's Cakes LLC
About this Vendor
Unique and gorgeous wedding cakes
Details
Cake Accessories, Cake Delivery + Setup, Cake Tastings, Cakes + Desserts
Contact Info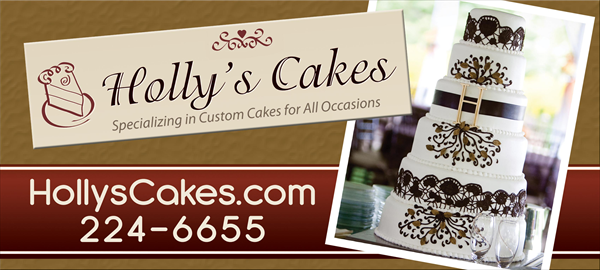 By Appointment Only, Serving Greenville, SC
Reviewed on

5/20/2015
Marisa M
Holly and her team were a pleasure to work with and great at communicating, which is so important. She understood my vision and was able to give us a bigger cake at a lower cost than all the other bakeries we visited. Not only did the cake look amazing, the taste was fantastic! All of her flavors we sampled were delicious, which made it hard to choose. Instead of taking the top tier of the cake for the anniversary cake, she makes a separate one that doesn't even come to the wedding that is well wrapped for freezing. You can pick it up after the big day. That was so convenient and great, especially since our venue lost a box of the leftover cake! I'm so glad the anniversary cake wasn't there to get lost, too! She also packed up a box of two pieces of each flavor for us to take home the wedding night, which was great since we didn't get to eat much of it at the reception.
---
Reviewed on

5/10/2015
Rebecca U
Holly is amazing!!! We met with her, and she really got to know us and captured the vibe of our wedding perfectly. Her work is beautiful, and more importantly, delicious! Sometimes, you go to weddings and you see all of these dessert plates of half-eaten, basic crumbly white cake sitting around after the toast. At our wedding, there was not a scrap left! (Except for the to-go container Holly's team packed up for us!) The guests absolutely flipped for the cake, and got multiple slices to get to try all of the amazing, unique flavors. (Orange creamsicle?! Yes!) You can't go wrong with Holly!
---
Best cakes I have ever had!
Reviewed on

11/09/2014
Langlee M
Holly's Cakes LLC was absolutely wonderful! She is incredibly talented, and she was by far one of the most friendly vendors we worked with. We ordered our groom's cake and wedding cake from her, and they both looked and tasted PHENOMENAL! I had multiple people wanting seconds and even thirds! I absolutely enjoyed working with Holly, and thoroughly enjoyed her cakes.
---
Cupcake Wedding Cake
Reviewed on

10/10/2014
Denisha g
I was married to my bestfriend on 9/20/14 in Anderson, SC at the Anderson Arts Center. I used Holly's Cakes for my wedding cake with a 200 cupcake set up plus a small round cake for my husband & I to cut...It was ABSOLUTELY AMAZING & not your ordinary cupcake setup! ELEGANT, DIFFERENT, & BEAUTIFUL!!
---
I Loved My Clemson Wedding Cake!
Reviewed on

9/10/2014
Holly was great to work with! The tasting and design process is so much fun and you get to see an actual drawing of what your cake will look like. Ladies, have an idea of what you want BEFORE you meet with Holly, because she is so talented, you can have whatever you want, but don't be overwhelmed by all of the pictures of past cakes that she has done. Our cake was super moist and everyone raved about how good it was! We had the strawberry lemonade cake and it was to die for! The cake was not only beautiful to look at, but was tasty too - can't say that about a lot of wedding cakes. On Monday when I took the stand back, I was given the anniversary cake all nicely wrapped and sealed, ready for the freezer - no having to wrap that up at the reception. I highly recommend Holly's cakes for any event! My niece is having a baby soon and Holly will be doing the cake for the shower!
---
AWESOME!!
Reviewed on

8/13/2014
Cheryl M
We did not know exactly what we wanted but knew we wanted something different. Holly, was able to come up with a sketch after talking with us briefly. Everyone at the wedding kept asking where's the cake and did not realize what they were looking at WAS the cake. The cake tasted delicious and was absolutely amazing!!
---
Could not be happier!!
Reviewed on

6/10/2014
Marlee S
Holly's Cakes was perfect from beginning to end. I must admit that I did not care about having a nice cake, but boy did a taste test with Holly change my mind. Our meeting with Holly was professional and comfortable. She had tons of ideas and was respective of our budget requirements. We were able to get 5 flavors between our cake and cupcakes so that every guests favorite flavor would be available. On wedding day, Holly was on time and easy to work with. The cake looked exactly like I had envisioned and seriously could not have been more delicious. I can say without question that it was the best cake I have ever had at a wedding. Holly was one of the first notes I wrote after the wedding to send my utmost appreciation for adding yet another perfect piece to my big day. She's the best.
---
Holly's Cakes for wedding cake
Reviewed on

6/01/2014
Nicole S
Holly's cakes were the most easy and professional company of all my vendors for the whole wedding. I met with Holly and told her what I wanted and I didn't have to do anything else. All correspondence was initiated by them which was very organized and thorough. The most important part is her cakes are delicious!! Not just pretty (which they are), but delicious!! Would recommend Holly's Cakes to everyone and will definitely use them in the future!!!
---
Absolutely Amazing!
Reviewed on

5/30/2014
Donielle Y
My husband and I used Holly's Cakes for our rehearsal dinner as well as our wedding cake. She was incredible. Our consultation was very relaxed and one of our favorite parts of wedding planning. She is an amazing artist and was able to match my dress to the wedding cake. She also created the USC stadium for our rehearsal dinner. As well as looking beautiful, everyone raved about how incredible the cake tasted. She always emailed me back within a day and was very flexible when I had to change cake details due to an expanding guest list. I would definitely recommend her to anyone looking for an affordable, high quality product.
---
Holly's Cakes!
Reviewed on

12/08/2013
Jessica S
We sampled Holly's Cakes at a wedding expo. From the sample booklet of previous weddings to the variety of flavors we sampled, Holly makes beautiful and absolutely delicious wedding cake! We decided on cupcakes with a ceremony cake in four different flavors, all fantastic. My favorite was the sweet potato with cinnamon icing! She helped us design each cupcake with each flavor having a different design, and created a beautiful fondant Celtic design for our ceremony cake. She even made us an anniversary cake at no extra cost.
---
Wedding Coordinator finally the Bride
Reviewed on

11/11/2013
Erika E
Holly's Cakes are the best! We had nothing but great service from the first time my husband & I went to sample cakes and she drew up my dream cake wrapped in diamonds! If you want a cake that tastes as good as it smells than her cakes are for you.
---
Delish!
Reviewed on

10/14/2013
Sarah J
Holly did an amazing job with our cake! The appointment to go over ideas and flavors was easy and relaxing. She does such a great job and she's so affordable! I personally love having an anniversary cake in the freezer that doesn't even make it to the reception so that you don't have to worry about your anniversary layer getting eaten! And the cake tasted great! I got a lot of compliments on how yummy it was.
---
Perfect!
Reviewed on

10/12/2013
Betsy W
I used Holly's cakes as a suggestion from my Venue. From the start, Holly and her staff were very prompt, professional, and easy to work with. I gave Holly pictures of what I had in mind and arranged tasting for when in came in town. Every cake I tasted was wonderful!! The price was very reasonable. On my wedding day, they delivered my cake and it was EXACTLY what I had envisioned. The red velvet we chose was perfect and everyone loved it. I didn't have any left! When we turned in our cake stand, Holly had a special top tier wrapped and prepared for us. It's in my freezer now, and I can't wait until our anniversary to try it! I HIGHLY recommend Holly's Cakes. You won't be disappointed!
---
The absolute BEST
Reviewed on

9/03/2013
Megan C
Every girl dreams of her wedding day. From the dress to the cake, everything should be absolutely perfect. I can honestly say that Holly succeeded perfection with our wedding cake. The cake decoration was influenced by my wedding dress and Holly went above and beyond to make sure it was just right. We went with a sweet potato cake with cream cheese icing. AMAZING!! Our guest are still raving about it. We actually ran out of cake because people were having two slices. The outside was breath taking and the inside was beyond delicious. That is VERY hard to find. From now on, we will use Holly for any special occasion we have. She is the sweetest person, very easy to work with and will wow everyone in attendance at your event. Her prices are very reasonable as well. I would give her 10 stars if I could. Use her, you won't regret it! :-)
---
Fantastic!
Reviewed on

8/29/2013
Amy B
Holly's Cakes was wonderful! Everyone at the wedding raved about how great all the flavors tasted. The week of the wedding I needed to add additional servings and she was willing to accommodate! I will definitely use again!
---
My Perfect Cake
Reviewed on

7/28/2013
We went to meet with Holly about the cake. I describe to her what I had in mind and the Colors of my wedding. About 10 mints later she had drawn up the cake I wanted. I was so amazed!! There it was on paper!! She has the moistest cakes ever. And the icing, oh the icing!!! It's to die for! I have been calling upon Holly for several years now for my sons birthdays! And then it was my turn!!! Everything was perfect. She was so awesome with everything! I would recommend her to everyone I know!! You can not go wrong with Hollys cakes!!
---
My cake was perfect!!!
Reviewed on

7/09/2013
Cheryl A
Not only was my cake beautiful on the outside, it was delicious and moist on the inside. Each layer had a different flavor and filling. Holly's cakes are perfect! I truly thank God for Holly's services. I had to change my date at the last minute; and, Holly was able to accommodate my needs. She was thorough and extremely helpful. I gave her my idea and she ran with it. My cake turned out to be more beautiful than I could've ever imagined! Holly, thank you! Thank you! Thank you!
---
Awesome - Creative - Yummy
Reviewed on

7/07/2013
Kimberly P
Holly went above and beyond to make the cake of my dreams - it was fabulou and was exactly what I wanted. Her customer service exceeding our expectations!
---
AMAZING!!!
Reviewed on

6/15/2013
Kayla B
My cake and the grooms cake was absolutely amazing! Holly is one talented individual! Loved working with her on my wedding!
---
Beautiful
Reviewed on

6/09/2013
Jenna C
Holly does amazing work! I LOVED both of the cakes! She did our grooms cake and our wedding cake! I showed her a few pictures and she incorporated what I wanted from each picture into the cake so well. On top of that, it tasted amazing! I will be using her again in the future!
---
Wedding Cake
Reviewed on

5/11/2013
Nicole P
Holly was willing to take us on as clients real last minute which we really appreciated. Her cakes taste awesome and she'll let you chose as many flavors as you want. She also does an extra anniversary cake at no additional charge we we thought was also awesome!
---
Exceeded my expectations!!
Reviewed on

11/20/2012
Brittany D
Holly is a master mind of cakes. When we went for our cake tasting, she showed us some pictures of past cakes she had done, but encouraged me not to pick one that I liked. Instead she said, pick aspects of several cakes that you like. After awhile of browsing, she took all the aspects of the cakes I liked, and drew us our own wedding cake!! It was absolutely incredible on the wedding day and fit everything else perfectly. On top of all that, it tasted AMAZING! I would highly recommend Holly's Cake's for a wedding cake truely original and delicious! We served about 115 people with the cake and the price was a great price.
---
BEST. CAKE. EVER.
Reviewed on

10/11/2012
Jennifer R
I will never ever use another baker for any event. Our wedding cake and grooms cake were amazing. Beautiful, creative, and best of all, delicious! I still have guests raving about how amazing our cake was. Holly's did an amazing job, so sweet to work with, and we couldn't have been happier. Outstanding customer service, reasonable prices, and wonderful talent.
---
3rd Time's The Charm!
Reviewed on

10/05/2012
Chelsea H
After visiting two other bakeries, I was apprehensive to try a third. I'd seen numerous cake designs that were both beautiful and delicious, but nothing that was out of the ordinary enough to hold my attention. Holly was both welcoming and creative, sensing what I liked from the beginning and drawing up an elaborate cake that was everything I wanted and more. I left her home more excited than I thought possible about both the Wedding and Groom's cake. The cakes exceeded my expectations in person - in appearance as well as their deliciousness. I emailed Holly from my Honeymoon in Jamaica just to tell her how amazing the cake was - and that's coming from a cake lover! I'm still receiving compliments on the cake almost two weeks after the Wedding!
---
Wedding Cake
Reviewed on

9/21/2012
Hannah F
Holly was very pleasant to work with and was very helpful in planning out the cake. However, on the day of the wedding the cake was not set up the way we had discussed. There were supposed to be flowers all around the cake, but the man that brought the cake only put 4 very small flowers on each side of the bottom layer of the cake. Luckily one of my bridesmaids added more flowers to it and made it look beautiful. However, the cake did taste delicious.
---
Send Message