Home

Hornblower Cruises and Events
About this Vendor
Award-Winning Yacht Venue
Imagine exchanging vows under a blanket of stars surrounded by glimmering waters. At Hornblower Cruises & Events we combine the finest cuisine with a location so romantic you'll have to check your feet for glass slippers! Departing from Newport Beach, Long Beach and Marina del Rey.
Amenities + Details
Amenities
Handicap Accessible

Liability Insurance

Indoor

Outdoor - Covered

Outdoor - Not Covered

Reception Area
For more details about amenities, please message the Venue.
Waterfront, Beach, City Hall, Cruise, Historic Venue, Restaurant, Rooftop
Bar + Drinks, Cakes + Desserts, Destination Wedding Packages, Destination Wedding Planning, Destination Weddings, Food + Catering, Planning, Rentals + Equipment, Service Staff
Contact Info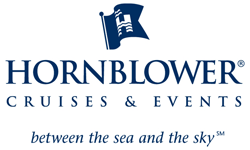 3101 West Coast Highway #209, Newport Beach, CA
Amazing staff and beautiful venue
Reviewed on

9/12/2011
Kelly S
We were married 8/20/2011 on Entertainer in Newport Beach in an evening wedding. Amy was our planner for almost a year before being promoted to Director of Sales. She's amazing to work with! She's kind and patient and couldn't have been sweeter. Holland was our "day of" coordinator and she was just as amazing! She's professional and organized, which kept us on time and things flowing perfectly. Heather in the front office was fantastic to work with too. Our boat was gorgeous, complete with sprays of twinkle lights and nice decor. Food was delicious, although I was too busy to eat much, but all of our guests said everything was quite tasty. The DJ was good and took all of our suggestions and requests to heart. Everyone danced the night away, and had a great time. We could not have been happier, or have had more fun, than we did with Adventures At Sea. You won't be disappointed!
---
A wonderful wedding at sea on the love boat :)
Reviewed on

3/07/2011
John J
We were looking for a stress free wedding venue and this was the perfect choice! Karen King took care of everything from the flowers to the cake to the food and entertainment. All we had to do was show up with our guests and enjoy the night. It was also a great value, the food was delicious, the staff was very attentive, and the entertainment included live music. We had many compliments from our guests. The yacht was fantastic - we felt like celebrities.
---
Really great venue
Reviewed on

5/12/2014
Erica W
Hornblower took care of everthing and offered a day of coordinator. Holland was amazing! It was so easy and they took care of everything, and so the actual wedding planning was practically stress free! The food was surprisingly delicious, and we got to eat our meal--which I think is a high complaint normally for bridal couples. :) I highly recommend them based on our experience. The staff was pleasant and the captain did a great job during the ceremony.
---
Made my wedding memorable
Reviewed on

1/27/2013
Sara N
The service was great and everything went as planned!
---
Awesome!
Reviewed on

10/20/2012
Brittany H
Everyone at Hornblower was extremely helpful in planning our wedding down to every last detail. The lag in the response time was occasionally frustrating, but overall everything came out beautifully!
---
Couldn't ask for a better wedding!!
Reviewed on

8/09/2012
Jessica C
My wedding with Hornblower Crusies turned out better than I could have ever dreamed! We got married on the yacht called Mojo! It is such a good deal! Everything is included except for a photographer! The price for what you get is unbeatable! The food was soooo good! The DJ played all our favorite songs and keep the partying good all night! The flowers turned out beautiful and she gave us such an amazing deal for what we got! Other places would have charged us thousands for the work she did and she only charged us 900!! And the view of having your wedding on a yacht is breathtaking!! Wonderful water views all around! My guests haven't stopped telling me how it was the best wedding they have ever been too!!
---
Great!
Reviewed on

8/01/2012
Brittany R
So much fun, beautiful, great food!
---
Beautiful, affordable, and easy to work with
Reviewed on

5/19/2012
Elizabeth M
While planning a small wedding from out of state, I had some difficulty early on finding a venue that offered intimacy and privacy for a small group and was also affordable. Hornblower Cruises and Events was the perfect solution. Everyone we worked with was friendly, responsive, and professional. Karen, our representative, was great to work with and helped me get connected with all the other services we were looking for. Many area hotels offer a corporate rate for Hornblower clients which we and our guests found to be very competitive. We chose the Champagne Brunch package on the yacht Dream Maker with our ceremony performed by the captain and had a lovely event. We were able to customize parts of our ceremony, which I wasn't sure would be possible and very much appreciated. Captain Gordon was very friendly and personable, but also brought a nice degree of formality and gravitas in performing our ceremony. He was also very kind when my husband got a little choked up during our vows. The on-board service was excellent - everyone was friendly, cheerful, and very much on top of things. The brunch buffet was very good, plentiful, and nicely presented. Our guests enjoyed the food, the harbor cruise, and the beautiful surroundings. It was easy to accomplish a nice, relaxed environment that allowed us to really enjoy our wedding and our guests. One consideration to be aware of is that the steps between levels on Dream Maker are quite steep. Our elder guests managed just fine with assistance but extra accommodations would be needed for anybody with more significant mobility limitations. The other larger yachts will have different layouts, of course. I also needed some help on the stairs until my gown was bustled, but Holland the on-board coordinator always seemed to be on hand at just the right moment. Wearing a long gown and even having a train on the yacht can be manageable with some planning. I made sure to wear flats for convenience but my guests who wore heels had no problems navigating the steps. In conclusion, my new husband says "They really know what they are doing and they got everything right."
---
Package Deal!!!
Reviewed on

10/19/2011
Grace H
Having worked with Hornblower Cruises was the best decision we made regarding our wedding venue. It was a package deal. Food was included, as well as the DJ. We weren't to impressed with the DJ, but you can hire your own if you prefer. Other than that everything right down to the coordinator on board was fantastic!!! The cake was even included and basic table dress/ware. They give you the option to have added details from vendors they work with, or they give you the option to work with outside vendors of your choice. Which saves on money as well. They gave us time to board the boat early with our wedding party, and also to decorate if we wanted to. We cruised for 5 hours, and every guest on the boat had an great experience. For some it was their first time on a yacht. They have a great selection of yachts as well. I will say we are from San Diego, but it seemed that the Newport area had better options, and deals than San Diego. They were more flexible as well.
---
ok
Reviewed on

8/15/2011
Lucy X
went with electra cruises over this.. yacht weren't as modern.
---
great service
Reviewed on

6/23/2011
jennifer W
our wedding on the Dream Maker yacht turned out beautifully and we were very happy we used Adventures at Sea for our wedding!
---
Amazing!!
Reviewed on

5/12/2011
Callie S
To anyone that is interested in using Adventures At Sea, don't hesitate. All I wanted was a California wedding on the beach and I ended up with an AMAZING wedding on the water. I can't even explain how awesome the girls (Karen,Heather and Alison) are. They know their stuff and were always helpful with anything and everything I needed input on. Karen was always there to assist me, weather it was a long phone conversation or a quick email. I couldn't have asked for a better coordinator. Everyone at Adventures was on top of everything. Like I mentioned above Karen was the best, but there was also the best crew on board. The day of my wedding they had everything set up so beautifully and the food was great. I couldn't have asked for anything better. The only bad part was that it was here and gone so fast. I wish we could have sailed for a little longer.
---
amazing experience
Reviewed on

5/04/2011
Jessica m
I actually won a wedding with them and paid to have an additional 25 guests and the planning with them was a little difficult but it was an experience and the day of was almost amazing. For example they totally worked with getting the vendors on to the yacht earlier then they were allowed which helped with set up, which was a plus. one down point we had at the beginning was the issue of a certain amount of people being able to do pre boarding for pictures, which was not enough for my whole entire wedding party, i felt like they were telling me how many i can have in my wedding party, but after talking to someone they were able to accommodate everyone. Staff is really nice and if you have communication everything will go great! trust me the day of everything turns out good and it is so amazing.
---
Very Happy Couple!!
Reviewed on

12/17/2010
cassondra l
We got married on October 16,2010. From the moment we contacted Adventures at Seas-Hornblower Co. We were totally taken care of . Our wedding cordinator Karen King was absolutely the best!! Her and the staff really went over and beyond their duties to make our wedding day perfect. From the cake, to the flowers , to the food, service and scenery we couldn't ask for anything better. Everyone was so professional and nice ! Karen never let any question go unanswered , I knew I could put my trust in her to plan our beautiful day. I would recommend Adventures at Seas to anyone looking for an intimate and elegant wedding. Our experience was amazing and my guests were happy and impressed. It was well worth our money! Very Happy Bride & Groom:) Nuttall~ October 16,2010-Lady Hornblower
---
Absolutely Awesome!! The perfect wedding for us!!
Reviewed on

12/06/2010
Laurie B
We cannot say enough about Karen King, Chad, and the rest of the staff. Our wedding was everything that we asked for and more. Karen recommended Pamela Lowe the florist, Rossmore Bakery for our cake, and Steven the D.J. We were extremely pleased with these choices. Our choice for the sit down luncheon aboard the "Dream Maker" was perfect. Our guests raved about how wonderful the food and the day was. The kicker is that they were able to put it together for us in 10 weeks. You would have never known either. They are truly Professionals!! We would recommend Adventures at Sea anytime!!
---
Adventures at Sea gave us our dream wedding!
Reviewed on

12/01/2010
Kristina G
Adventures at Sea was an amazing company to deal with. I live out of state, so a lot of the preliminary communication was via email/phone, and Jennifer was super to deal with. Right from the beginning she made me feel comfortable and answered all of my questions. Once we were able to visit the boats and finally reserve one (we went with "Mojo") we were even more impressed with the service and friendliness of everyone! The day of the wedding went off seamlessly and all of our guests commented on how smoothly everything flowed and how great the food was, the atmosphere, etc. I felt like I didn't have to lift a finger or worry about anything. I truly could not have asked for anything more and would highly recommend Adventures at Sea to anyone who wants a unique and beautiful wedding.
---
Great experience from beginning to end!
Reviewed on

11/30/2010
Karen V
I began my planning a bit early, 3 years early, having had to change the date once. So I went thru at least 3 sales girls. All very nice and so attentive to my needs. I emailed them so much I almost felt bad. I have to say though that every email was answered in detail regarding whatever I was asking. My last salesperson Karen King-Hoyman, was awesome, she worked very closely with me and essentially with my wedding planner. The day of the main event turned out beautifully. I couldn't have asked for better service. I would definately recommend this company to anyone looking for a chic/romantic/all-inclusive event. Thank you.
---
Thanks
Reviewed on

10/28/2010
TamaraGarcia T
The staff of the yacht was so helpful and friendly to the guests.And all this service is really good.
---
All in one venue - just perfect!
Reviewed on

10/28/2010
Mitzi A
We wanted a wedding by the ocean but at the same time something unique, simple but elegant. We planned to have about 50 guests and wanted something intimate where everyone can enjoy. We saw the Mojo yacht from Adventures At Sea and it was just perfect. It is newly renovated, looked like a private yacht (compared to other yachts) and it was beautiful. The people at Adventures At Sea were wonderful. Our wedding coordinator was Tonya who was just very sweet and helped me all the way from planning to execution of the event. She was just great! We chose the Elite package and the food choices were superb. During the wedding, we had an on-board coordinator, Allison, who was just as great. I am happy with their service. I highly recommend this company.
---
Excellent venue/options; terrible service early on
Reviewed on

9/20/2010
Katherine J
This was a great choice because I had just about everything except my photographer wrapped into one package, with multiple vendors to choose from. The yacht was amazing, and surprisingly affordable (we had wanted to do a vineyard wedding but couldn't afford it - never thought a yacht would be cheaper!). The downside was I got little to no attention until about two weeks prior to the big day. My calls went unreturned and it was like pulling teeth to get the info I needed, which hindered the planning process considerably. I think this is just because they do not consider you a priority until closer to the event. From then on, the service was great (I highly recommend Holland as your day-of coordinator and do NOT recommend Amy Deift as your ongoing contact person - try to book with someone else).
---
Review for Adventures at Sea
Reviewed on

5/10/2010
Erica T
I loved being on the water, the view was fantastic, and because we were in Newport Bay the entire time, no one had any issues with motion sickness. The staff was fantastic and treated us like royalty. The boat had recently been updated and was really lovely.;This was on a yacht on the ocean. We were lucky enough to have a gorgeous full moon and mild weather, but they obviously can't guarantee that. Also, everything has to be brought onto the boat, which creates certain issues with gifts (because of terrorism laws) and potential issues.
---
Review for Adventures at Sea
Reviewed on

5/10/2010
Tiffany S
The staff of the yacht was so helpful and friendly to the guests. The food that was prepared was perfect there is nothing that I would change about the food.
---
Review for Adventures at Sea
Reviewed on

9/21/2008
Kristi M
Being on the water!!! The set up provided space for everyone - place to sit and chat place to dance place outside to cool off and have quiet chats. Pictures/views were incredible and the Coordinator on the boat was totally amazing!;Remember - there will be other boats on the water and they CAN see what is going one - we had one boat drive by and tell us not to do it.... but is was still an awesome experience!
---
Send Message