Home

Hotel Allegro
About this Vendor
Chicago's Most Spectacular Ballroom
Place your special day in the very capable hands of our expert planners at the boutique-style Hotel Allegro Chicago. Surrounded by the vibrant and warm decor of our hotel, your event at Chicago's luxury Hotel Allegro will be unique and exceptionally personal.
Amenities + Details
Amenities
Handicap Accessible

On-Site Accommodations

Indoor

Reception Area
For more details about amenities, please message the Venue.
Bar + Drinks, Cakes + Desserts, Food + Catering, Service Staff
Contact Info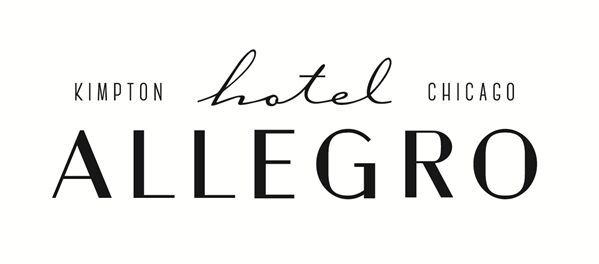 171 W Randolph St, Chicago, IL
Vintage meets Modern
Reviewed on

5/27/2014
Clare
What a beautiful venue, from the original chandeliers circa 1920 to the "L" train floating in the background, Hotel Allegro is the quintessential location for a romantic Chicago wedding. The food is OUTSTANDING and the portion size would rival "Man vs Food." Many guests couldn't polish their plates. The sound/lights and dance floor all contribute to a non-stop party. We looked at many locations before feeling at home with a warm hug from KT. They were flexible, working in our budget and accommodating all our bar requests. We meet another catering managers who shoved their noses in the air at the idea of modifications. We never felt silly with any questions and always given an excellent explanation. It was great for guests to head upstairs to bed after partying all night or quickly grab a car out the main doors. I want to do it all over again :)
---
A Venue To Remember...
Reviewed on

6/24/2013
Sara M
If you are looking for a venue that everyone will remember then Hotel Allegro is the place to be. They offer complimentary wine hour every day from 5 - 6 pm in the lobby, have the best staff, and the food is not your typical hotel food. The ballroom is breathtaking and with the window shades open you can see the trains go by throughout the evening. The lobby is very modern and a great backdrop for portraits. We looked at 5 hotels and the moment we visited the hotel we knew it was the one for us!
---
Classic Chicago Wedding
Reviewed on

5/13/2013
Marissa A
After searching for the perfect venue for our wedding we found the Hotel Allegro! It is a fabulous combination of contemporary style and old-school Chicago class. The Walnut Ballroom boasts stunning silver chandeliers, Walnut walls, large windows to see (but not hear) the El; and the cocktail area outside the ballroom imparts a modern chic ambiance. For any bride-to-be, one of the draws of the Hotel Allegro is their wedding coordinator, KT Thompson. She is amazing. She respected all of our ideas and gave us suggestions on which vendors to choose to make our vision come true. We used the florist she suggested and we could not have been more pleased with the results. KT communicated with us nearly seamlessly. When I called or emailed with a question, my message was returned within 24 hours.
---
Hotel Allegro - Exceeded Our Expectations
Reviewed on

1/14/2015
Katie B
When looking for a venue, I didn't just want a place to get married, I wanted to create an environment where my guests felt comfortable and welcome. I wanted to create a wedding weekend, with a community feel, where our guests had the opportunity to get to know each other, so we could come together at our wedding and celebrate as a group. Hotel Allegro provided the perfect opportunity! Our guests were treated with personalized service all weekend long. The hotel staff welcomed our guests in the way we'd welcome our guests into our own home. It was comforting to know our guests were being treated to an expert level of care. The 1920s bones of the building, enhanced with modern touches created a beautiful space for our weekend. There were so many neat places to take pictures, tuck surprises, and entertain. We absolutely loved the newly renovated Green Room with it's dark wood and masculine fireplace. The Crescendo Room below felt like it was straight out of The Great Gatsby with gorgeous chandeliers, luxurious curtains, and feather accents. The real treat of the hotel was The Stardust Suite. This top-story hospitality suite came equipped with a pool table, speaker hook-up, Nintendo Wii, sitting areas, a private bathroom, and sweeping views of the city. We stocked the Stardust Suite with goodies (booze and snacks) so our guests could play from the moment they arrived to the moment they left, even when there weren't any planned wedding events happening. This room was hopping all weekend long. It was so cool to see guests from both sides of the wedding meet and interact. It really created that community atmosphere we were seeking. Even guests who are a little uncomfortable in a big city were at ease because they didn't have to leave the hotel to find fun. The hotel hosts a Wine Hour for all of it's guests. We timed our ceremony to begin just as Wine Hour was ending. Our guests were tickled that they unwind with a glass of wine before our ceremony. We chose to serve our guests Family Style, and KT Thompson worked with us to ensure there would be enough space on the table for all the serving dishes, the food would be presented in the appropriate amount of time, and guests would have access to extras if needed. Dinner service was beautiful. We offered sliced beef tenderloin and sea bass, which got rave reviews. Guests loved being able to choose their portions and pass dishes, discussing and experiencing the meal together. What a great opportunity to share something we enjoy with our guests! The Walnut Room was about as "Chicago" as it gets. Guests absolutely loved that they could see The El running by out the windows, but it could absolutely not be heard, even during our quiet ceremony. The original chandeliers dazzled as light bounced off of them. The lighting is adjustable and we changed it with our needs, throughout the evening. We had a live band and while most of our guests danced the night away, some got comfortable in the space off the ballroom, where our photobooth was set up. Guests could easily flow from one space to the other, without feeling cut off, if they wanted a break from the music. The entire weekend was about as magical as it gets!
---
Great Venue, could have been more responsive and accurate
Reviewed on

11/16/2014
Jessie L
We were very happy with everything Hotel Allegro did on our wedding day. Our wedding went very smooth and was beautiful. The food was delicious and everyone was raving about how wonderful everything was after the wedding. One of the problems we encountered is the responsiveness from the hotel staff. It was an out of town wedding for us and we often had to wait for answers to our emails and phone calls. Even after decisions were agreed on we had to reconfirm info with the wedding coordinators because they did not keep up with the details. The coordinator was really nice in person and was always very agreeable and easy to work with in person. It was just all of the arranging that we had to do over email and on the phone and we had some problems with. We would have our wedding again at Hotel Allegro and it was beautiful. Our only advice is to stay on top of the coordinators and make sure all of the details are confirmed back to you correctly. We even had our final contract typed on incorrectly which we had to amend and our billing also came out with errors at the end. That was corrected also.
---
Hotel Allegro Best Wedding Ever!
Reviewed on

11/04/2014
Not only is the Hotel Allegro the perfect place for a Chicago wedding, but KT Thompson is the best Director of Catering ever! KT had the most amazing talent for knowing just what we wanted and took care the care to deliver at every turn. From the venue (Beautiful), to the cake, to the food, the band set up, the decorations... every detail was perfect. Last minute details like finding me a pair of cuff links (I forgot to pack them) to providing cues for what should happen next, KT was on top of it. I think she must have even coordinated with the CTA to time when the El trains passed by the windows for that extra special Chicago atmosphere during the ceremony. Thank you to KT and every person on staff at Allegro for making our daughters wedding day more special than I could have imagined!
---
Amazing, Friendly, Genuine
Reviewed on

10/31/2014
Elizabeth H
I have to say that unfortunatley I got married in the suburbs do to convience for my family. However: the Hotel Allegro is hands down the best venue in Chicago for your wedding. KT is amazing. She will enusre that everything you want will be done and it will be fabulous. The Walnut Ballroom is breathtaking. The way the hotel has stayed true to its historic roots really helps make this Hotel one of a kind. If you are looking for an intimate venue then the Hotel Allegro will be the perfect place for you.
---
Most Memorable Wedding! Allegro Hotel!
Reviewed on

10/30/2014
We are a same sex couple who after 26 years of committed relationship chose the Allegro Hotel for our wedding ceremony and reception. We had investigated several excellent hotels in Chicago and chose Allegro after we met with the Director of Catering KT. She listened to all of our ideas and professionally added some of her own to help us create an amazing memorable event for us, our children, and our 150 guests. This was all done with the utmost respect and true personal touch. KT and her team seamlessly worked with the florist, band, photographers, etc, etc. The food was amazing (friends are still talking about the filet!). All in all, if you want the perfectly orchestrated wedding, go talk with KT and her team at the Allegro Hotel!
---
Perfect
Reviewed on

10/29/2014
I couldn't ask for much more from my wedding day than Hotel Allegro. When we saw the Andy Warhol-esque decor meets Great Gatsby-esque architecture, we were practically sold. THEN, we met the Catering Manager/Wedding Planner, KT and we were REALLY sold. She is the rare combination of talent and passion and we instantly knew we had to have our wedding at this venue. The hands on approach of every detail made it possible for us to put our own personal touch on almost every aspect of the wedding. From the food (delicious) to the way the ballroom was setup, the whole wedding felt like it was ours and not just something we picked from a set of pre-packaged options. The personal touches the venue allowed us to incorporate (such as a giant light up letter 'M') made our guests feel like they were in a welcome and familiar environment. Here are some random thoughts.... -The Stardust Suite on the top floor made for an EXCELLENT gathering place for the whole weekend. We kept it stocked with food and booze, and everyone made their way up at some point. It also made for a great after party. -Cocktail hour in their newly renovated space is a must. The low ceilings and fun decor give a great feeling of intimacy with you and your guests. -There was a wine hour put on by the hotel from 5p-6p. This isn't special to the wedding, just something the hotel does on a weekly basis. This was great because it gave all our guests an extra hour to drink wine. With a 6p start for the wedding, it was nice to have a little bit of a 'looser' crowd. They smiled, they laughed...it made being the center of attention (not my favorite place) much more at ease knowing they were all having a great time. I'm sure there are several other tips and memories I could recall from this day, but simply put, I could not recommend Hotel Allegro enough for your wedding. It is a truly unique space in a city where I feel like I've been going to the same wedding over and over. Put your trust in Hotel Allegro, and they will deliver the truly remarkable experience that you are looking for!
---
Perfect Venue - Romantic and Elegant
Reviewed on

10/26/2014
The Hotel Allegro was the perfect venue for my daughter's wedding weekend. The Walnut Room was an elegant and romantic backdrop for the ceremony and reception. The Stardust Suite was the perfect gathering space for our out of town guests and the after party. The food was delicious and we so appreciated the extra planning that was put into accommodating our request for family style dinner. It was not a small feat, but was orchestrated beautifully. KT Thompson, Area Director of Catering, did an outstanding job of listening to our requests, asking questions, and offering recommendations. I'm an event planner and KT was 10 steps ahead of me with her attention to detail. No need for an outside wedding planner, KT and her staff managed every single facet so we could relax and enjoy the wedding weekend. KT had a unique way of making us feel as though our wedding was as important to her as it was to us. It was the perfect venue.
---
Nothing short of Amazing!
Reviewed on

10/21/2014
Katie G
Words cannot express the amount of gratitude I owe the staff at Hotel Allegro, for helping to make our special day, the most amazing day of our lives. There's NO way I could have kept it together during wedding planning, if it wasn't for the amazing Director of Catering, and Coorinator. They both truly, made the planning process easier, and more enjoyable than I could have imagined. At times I probably wasn't the easiest bride to work with, considering my really RELAXED perception of time! Whether it be delayed emails, timelines, or even making sure to be on time to our wedding! Regardless, the entire staff was nothing but patient and kind throughout the entire process! More importantly, they helped to ease my stress, by making sure things got done, and were done on time! I could not have asked for a better team, a better hotel, and a better staff than Hotel Allegro! Everything looked amazing throughout the entire night. The service was impeccable, and always on top of it. Even to the point, that there was NEVER an empty glass at any table throughout the entire night. Did I mention how amazing the food was, and that it was served hot?! I was one of the many in a food coma, by the end of the night! I wanted our big day to be a memorable one, and it exceeded all of my expectations. It's a little over three months later, and I am still getting rave reviews about our wedding. I have had many people come up to me, and say that the food, service, and overall experience was the best they have ever had at a wedding. That's impressive, when you think about how many weddings most people have been to! Plus, the venue itself was a huge hit! As odd as this sounds, I even received reviews on how amazing the beds were at Allegro. I must say, I agree! :) I could go on, and on, about my experience of having our wedding at Hotel Allegro, but the bottom line is, they were amazing! Even if I had to do it over again, and this time with an unlimited budget, I would still choose to have our wedding at Hotel Allegro. I can honestly say, I have no regrets. I will forever cherish our wedding day, for it was the best day of my life. My experienence with Hotel Allegro from the beginning to the end, was invaluable, and I strongly urge anyone planning a downtown Chicago wedding, to check them out. For those, that do choose to have their big day at Hotel Allegro, I can honestly say, you will NOT be disappointed.
---
The gem of Chicago
Reviewed on

10/20/2014
Haley F
We had the most incredible time at our wedding at Hotel Allegro. The food was outstanding (we are obsessed with the truffle Mac & Cheese), service was great, and the accommodations were out of this world. My friends and I had the best time in the Stardust suite, everyone was talking about how nice it was to get ready in such a big and beautiful room. The hair and makeup crew were also so thankful for the wonderful accommodations. KT (the director of catering) was great, everything on the wedding day went smoothly. We greatly appreciate all of her hard work. Our plan is to stay at the hotel every year for our anniversary, I am totally in love with Hotel Allegro. The decor/vibe of the hotel is so warm and unique. All of our guests were calling it the gem of the city, because it is a little off the beaten path and such a find. I recommend it to any bride who wants a classy, vintage type wedding without the corporate feel of lots of venues. Hotel Allegro is the best!
---
Fantastic Reception at Hotel Allegro
Reviewed on

10/17/2014
Nancy B
It was such a pleasure to work with KT Thompson on my daughter's wedding reception at Hotel Allegro. This was my first wedding to plan, and everything was rather new, and with my daughter living in another city, we were doing a lot of long distance coordination. From the start, I felt that KT was a partner in the process, and that she understood what I wanted the reception to be like. She made helpful suggestions, and was accommodating on my requests. She understood that I wanted good food, quality drinks, flawless service--all in beautiful surroundings. We accomplished that! She embraced the participation of the mariachi band, which was a different feature from many weddings, and showcased them to their best advantage as far as the timing and placement of their performance. She spent extra time to help, including going out of her way to get cookies from an Italian bakery herself. My cousin got it--she said "These cookies taste familiar." You can't get a better compliment than that! Her presence throughout the wedding day was reassuring, and I felt comfortable that I could reach her for whatever I needed. My guests had a wonderful time, and the bride and groom were thrilled with the whole experience.
---
Best day ever!
Reviewed on

10/14/2014
jenny b
Our September 2014 wedding ceremony and reception at the Hotel Allegro was beautiful, elegant, and FUN! Several things contributed to our experience. First, the venue is elegant and the decor stands on its own. Second, the food was delicious and the dinner/ bar service was great. We received several compliments from our guests on the food and friendliness of employees. We really felt like we got a lot of value for our money. Most importantly, we received a lot of personal attention from the Director of Catering (shout out to you KT Thompson). KT walked us through everything we needed for our wedding and was super responsive to all my questions (and I had a lot). KT also went out of her way to accommodate special requests and paid attention to details like making sure we had time to eat appetizers. We also received great service from Paige who coordinated my bridal suite and all of our guest rooms. There are many stressful aspects to planning a wedding but working with the Hotel Allegro team was a real pleasure and was the least stressful part. KT helped keep me calm! In the end, we had the best day ever. It was perfect and I wouldn't change a thing.
---
Bride
Reviewed on

7/23/2014
Janet N
Hotel Allegro was a beautiful and elegant place for my wedding. The service was well organized and well done. All of my guests had a great time and loved staying in the hotel as well.
---
Hotel Allegro can't be beat!!!
Reviewed on

11/06/2012
Sivan K
We just got married at Hotel Allegro this past weekend and I still feel like I am floating in a dream! Everything was absolutely flawless. KT Thompson is an angel - she is the reason I didn't lose my mind or become a bridezilla during the wedding planning process. She can do anything - literally! Everyone at the hotel from the front desk staff to the housekeeping crew was amazing. I don't think the hotel ever said "no" to any of my requests the entire weekend. I am a very detail oriented person and I know not everyone is. I did not have to worry that the many details involved in this wedding would get overlooked if I wasn't the one handling them. I had been nervous and stressed up until Friday when we checked into the hotel. Once the rehearsal came along on Friday evening, I told KT I was handing this wedding over to her and she told me that was just fine with her and she would take it from here. From then on I enjoyed every minute of the weekend without having to worry about a thing! This hotel is gorgeous and our guests were raving about the entire weekend. I wish I could get married there every weekend!!!!
---
Perfection!
Reviewed on

10/30/2012
Katherine S
This hotel and their staff were beyond amazing! I actually miss it now that the wedding is over and find myself calling it "my hotel!" The place and it's employees take the word "class" to another level. The ballroom and foyer are gorgeous and the rooms are modern and comfortable and have an added flair to them. The catering captain made sure dinner was perfect - which it was - guests are still raving about dinner and hors d'oeuvres. Our coordinator KT was the most accomodating and professional person I've ever worked with. She went above and beyond at all hours of the day, weekday or weeknight. I knew everything would be perfect because of her! In addition, to be noted most, my dress was entirely too long after I took off my heels before our reception. KT personally safety pinned the dress up and pricked herself a million times! She eventually grabbed a pair of scissors and stayed late to sit on the floor underneath me and my dress and cut out the massive layers of gown. It was a great laugh and great memory. She has become a friend of ours now, and the hotel has become a part of our new life together. Because of the Allegro and KT our day was spectacular!
---
Hotel Alleg-WOW
Reviewed on

10/29/2012
Carey S
A little more than two weeks have passed since our wedding weekend and while I am very sad it's all over (I've cried at least a dozen times), I could not have been more pleased with the outcome. We utilized Hotel Allegro for the following: guestrooms, rehearsal dinner and post wedding brunch. It was Friday night, I walked into the Walnut Ballroom at Hotel Allegro to see our rehearsal dinner space set-up, for the first time. Our guests were arriving in 15 minutes and while I had no doubt the space would be beautiful, I held my breath, opened the doors and stood in amazement....12 months of planning (from afar, we live in Arizona), countless emails, phone calls, g-chats, text messages, menu revisions, linen selection, monochromatic floral centerpiece decisions and last minute chair rentals, came together seamlessly. The ballroom was beautiful on its own, but the special touches, which were suggested by the fabulous Catering Team - headed up by the wonderful Kimberly (KT) Thompson - helped make our vision a reality. We hosted a formal weekend that felt anything but. The menu was casual - slider, french fry and salad stations - but the presentation was deluxe; Goose Island beers were featured to pay homage to our hometown; Pink Cotton Candy was spun a-la-minute and the Boom Daddy Candy Station was overflowing with tasty bites, sugary treats and sweet morsels. From Engagement to Arrival, Departure to Today no stone was left unturned; no request too obscure or ridiculous to accommodate and all done with a genuine sense of professionalism, hospitality and of course, a great big smile. I wish every bride (and groom) the same experience we had, as there was NOT ONE thing we would have changed. It was a perfect weekend...one that will not soon be forgotten. It is with thanks, gratitude and pleasure that I recommend Hotel Allegro for all of your event needs. Cheers!
---
Beautiful and everything I could have hoped for
Reviewed on

10/09/2012
Ashley S
I was looking for a unique space in the city and really wanted a place with a view (somewhere on a high floor), but when I realized all those places were either too expensive or couldn't hold enough people, I came across the Hotel Allegro and fell in love. As soon as I walked into the ballroom I knew it was the place I wanted to get married and hold my reception. The vintage, art-deco (and original) chandeliers are a centerpiece to the room and I absolutely adore. They are so unique and very much my style. It's old world Chicago in the ballroom and the wood-paneled walls add warmth and class. And I loved that you could see the EL go by right outside the windows (not the sweeping view I originally wanted, but it was so charming and different, I loved it just the same). The staff at the Allegro were extremely helpful and KT (the coordinator) made my day so perfect and seemless. She was extremely organized and helped make sure all my vendors were in-line, informed and ready to go for the day-of. Once my big day actually arrived, I had nothing to worry about. KT took care of everything, and if there were any snafus, I was unaware and she handled it all with a smile on her face. She checked in with both the guys and gals while getting ready on multiple occasions to make sure we had everything we needed. I could not have been happier with my decision to have my wedding at the Hotel Allegro. It is modern meets vintage which perfect reflects my husband and me. It's such a beautiful, newly renovated hotel that hasn't lost its charm. We did both the ceremony and reception in the ballroom and everything was gorgeous. We've been getting compliments still, even a few weeks after the wedding, about how wonderful everything was. And the food was delicious!
---
Hotel Allegro
Reviewed on

10/02/2012
Nicole A
We discovered Hotel Allegro through Hotels.com after a visit to the original hotel we had reserved did not meet our expectations. Hotel Allegro offered a very reasonable price for our wedding block, and after a visit to the hotel we quickly reserved our block. We had a direct contact at the hotel, Caity, who handled all of our requests and went above and beyond to ensure we were completely satisfied. Allegro even store our gift bags weeks ahead of the wedding. All of our guests were greatly impressed with Allegro, and most of us will stay at Kimpton hotels from now on.
---
Absolutely Wonderful!
Reviewed on

6/18/2012
Laura S
If you're looking for a charming and traditional ballroom and great service, the Allegro offers both! They really do make you feel like stars! You'll also work with a highly organized, thorough, and genuine catering staff.
---
so happy with pur pick
Reviewed on

11/15/2011
Katherine K
We were so happy with the way our wedding reception turned out. We received many compliments on the food and the unique space.
---
Reception
Reviewed on

10/23/2011
Lisa A
Excellent service, delicious food, beautiful ballroom and attentive service. I could not have had a better time at my reception. Hotel Allegro and KT (the coordinator) were great!!
---
Beautiful Venue - Helpful Staff
Reviewed on

9/27/2011
Nicholl D
I couldn't have been more pleased with Hotel Allegro. From the very beginning they worked with us and made the wedding planning process super easy. KT, our wedding coordinator through Allegro, was on top of things. She answered every question we had along the way and worked with us to build a wedding that fit us. We had both our ceremony and reception at Allegro. The Walnut Ballroom is just gorgeous. The ceremony didn't feel like it was in a hotel at all. It almost had a churchlike feel to it. After the ceremony we had a cocktail reception in the Green Room. It was a very nice space away from the main lobby so there was privacy. There were comfy chairs provided as well as high boys for people to stand at. After the cocktail reception we went back into the Walnut room for the reception. We had about 120 guests and a total of 13 tables plus a head table. There was plenty of room for guests to walk around. There was even a little seating area with couches and chairs for guest to congregate at if they didn't want to sit at the tables. The ballroom is gorgeous by iteself so we didn't have to do a lot of extra decorating. That saved on costs. The package provided by Allegro included open bar, cake, wine with dinner, champagne toast, white linens, microphone, signature drink, butler passed hors devours, salad, three options for main course and we even added late night snacks. We were prepared to spend much more than we did, but Allegro worked with us and brought the cost to a very workable number. The food was great!! The food we had at our tasting was the exact thing that was served. They didn't downsize for the actual event. The wedding party and some guests spent the entire weekend at the hotel. Allegro offered us the Stardust Suite for both Friday and Saturday night at a special rate. It was perfect. It was a large room with a pool table, TV, plenty of seating. It served as the perfect place for our guests to gather Friday after the rehearsal dinner and even Saturday after the wedding. It sounds corny but I really do not have a bad thing to say about Allegro. It was perfect for us.
---
Stress Free & Fabulous
Reviewed on

5/26/2011
Clory S
My wedding took place on 10/10/10 at Hotel Allegro. The vintage charm with a modern twist was appealing as well as the one stop shop for my wedding. My wedding coordinator KT Thompson was awesome! She took care of all the details and snags leading up to and on my wedding day. I was not stressed at all because of her. The facility catered my food and even had their own cake baker. I just had to pick my cake design and my chair covers, which KT gave me recommendations and discounted prices. Everything was gorgeous and full of class. The prep room and honeymoon suite was divine. Everyone is still talking about how great it was!
---
Send Message