Home

I Am Not Maggie Fine Art
About this Vendor
Preserve Your Memories In Paint
Maggie Smith Kuhn is a live event painter with 10+ years experience. She will paint your life's biggest moments in real time, allowing your guests to see her work the painting from start to finish. Her specialty is finishing artwork by the end of your event, so guests see the completed result. One of the few painters who can work in this time frame, she is the perfect entertainment to create a dramatic finish at your event that will wow guests.
Details

Reviewed on

12/17/2016
Alexys W
The most talented, professional, and kind person you could book for your wedding day. Wedding guests still rave about their personal portrait paintings they received as their wedding favors to this day. Absolutely thrilled to have had her as a part of the most important day of... Read More my life so far. You can not go wrong by booking her. It would be a mistake to pass her up!
---
Reviewed on

1/31/2018
Nicholas P
We wanted to give our guests something special and unique and Maggie could not have been a better person to make that happen. She was more than pleasant to deal with and what can I say about her work - it is magical. Thank you Maggie for making our day so special and good luck... Read More in the future.
---
Reviewed on

1/08/2018
Ali D
You will not be disappointed by Maggie!!!! She is very sweet and professional. Above all, she is incredibly talented. I still can't believe how detailed our painting is and that she did it during our reception. It is absolutely gorgeous and one of my most prized possessions.... Read More Make room in your budget (flowers don't last forever, paintings do). You won't regret it!!
---
Reviewed on

11/26/2017
Lauren C
I started planning our wedding about 15 months in advanced. My now husband and I had settled on a French Provencal venue outside of Austin, Texas - and I was looking at ways to make our wedding special. I really wanted it to have a French feel without being super over the top... Read More thematic (I am half French, and knew I was going to have actual people from France at our wedding). My now husband had just vetoed a photo booth, so I had a thought, "I wonder if there is a watercolor artist who paints portraits, kind of like they do in (albeit my favorite) touristy part of Montmartre," and quickly started googling on a Friday evening. My efforts paid off in spades and led me to a buzzfeed article about Maggie and her 5 minute watercolor portraits. By Sunday evening, we were chatting on the phone with Maggie with a plan in place and had her booked that same night! In the year or so leading up to the wedding, Maggie was always easy to reach (and super sweet at that) whenever I had any questions come up, and I was beyond excited to actually meet her and see her talent in person. She very kindly did portraits of my then fiancé and I in advance, as well as one of our two dogs at my request. They turned out so beautifully, and she brought them framed to have displayed at our wedding. But really - our guests could not stop gushing about Maggie. I was so sad that I literally only got to spend about 30 seconds with her after all this time, but everyone was so excited and interested in having Maggie paint their portrait! Ultimately she was able to paint about 70 out of our 105 guests. She actually was there and ready before our wedding, so I know a few people who arrived early and got portraits then - including 2 of my junior bridesmaids who had snuck out to test their shoes, but somehow detoured to sit for Maggie. According to everyone (and my firsthand experience), Maggie was nothing but sweet, lovely, and professional, and we have had so many people share their portraits with us or even make them their new facebook profile / cover photos. We even got the added bonus of being featured in her new video series, The Wedding Painter, and have a super special video souvenir of our wedding day that we would not have had without Maggie. Thank you so much Maggie for making our day so special. Your talent and skillset are truly unique, and I hope that one day we can actually spend more than 30 seconds together, because I just want to be friends with you <3. If you are considering hiring Maggie for your wedding or event - DO IT! Do it early! She's a true gem, and you will have a difficult time finding anyone else that holds a candle to her!
---
Reviewed on

10/31/2017
Adrianna W
Maggie painted a BEAUTIFUL oil piece of my first dance that my guests are still talking about 8 months later. The best entertainment for the day of as well as an awesome forever keepsake. If you are looking to have a live painter for your wedding, Maggie is your girl :)
---
Reviewed on

10/30/2017
Whitney C
My now husband and I met Maggie at a friend's wedding. I knew immediately that we had to have her come paint our first dance at our wedding. I booked her over a year in advance to be sure we would have her. She was so gracious to travel to our wedding the weekend before... Read More Christmas 2016. I literally could go on and on about the amazing job she did. We received countless compliments on the paining she did. She really did an exceptional job at capturing our reception venue and our first dance. I can't believe she was able to paint everything she did all during our reception. I love our painting and will treasure it forever! Thank you Maggie!
---
Reviewed on

10/30/2017
Scott B
We were honored to have Maggie paint a scene from our wedding. She is a remarkably talented artist who is able to deliver a unique memory from such a special occasion. Maggie deeply cares about her work and the people involved in the event , which shows in her ability to... Read More interact with guests even as she's painting. We HIGHLY recommend her for any wedding or a special event!
---
Reviewed on

10/30/2017
Judy G
Maggie is such an amazingly talented artist!! Due to strong winds and rain, our tent reception had to be relocated to a ballroom at the last minute, leaving Maggie with two hours' less time to complete a painting of our daughter's wedding. To say that she painted a masterpiece... Read More is to put it mildly! She remained so calm under that pressure and has provided our family with a gorgeous treasure - a painting of the bride and groom's first dance - that will forever be cherished!
---
Reviewed on

10/30/2017
Jenifer S
This was by far worth one of the best gifts I could give to my daughter and her husband on their wedding day! Hiring Maggie was in the top 3 best decisions we made while planning our daughters dream wedding. I hope to have the opportunity to hire her again for another event.... Read More Her work, her passion for what she does and her love for people really shines through in her paintings. Well worth the money and would do it all over again. Thank you Maggie for capturing such an important night in our lives and delivering a gift they will cherish forever.
---
Reviewed on

10/30/2017
Becca A
Maggie is an amazingly talented artist and a kind person. I loved working with her! We will treasure the paintings she did for us for many generations! You can tell she enjoys what she does and pours her heart into each event she does.
---
Reviewed on

10/30/2017
I hired Maggie as a surprise for my sister and her husband at their August 2015 wedding. Maggie was prompt in responses before the wedding and by the time the day came, we had talked so much that I wasn't worried at all about her. She had to arrive after we left the venue for... Read More the ceremony so the bride and groom didn't see her, so I didn't actually meet her in person until the reception. The bride and groom were AMAZED when they realized she was there! The guests loved interacting with her throughout the night and Maggie was so engaging with everyone. We had it framed for them while they were on their honeymoon and it is proudly displayed now in their home. It is so beautiful! If you love her style, you will absolutely be thrilled with the outcome. Maggie is professional, talented and kind. I would recommend her to anyone, but ESPECIALLY to a couple considering live painting at their wedding.
---
Reviewed on

10/30/2017
sharad v
there are great photographers available to capture your special moment...but Maggie brings a talent, elegance and timelessness to her work. Her real time work painting during our reception resulted in wonderful vision and a forever piece for my wife and i that will be viewed... Read More by any guest we are honored to have in our home. She is a beautiful rare breed. Please do not miss a chance to have her capture your special moment.
---
Reviewed on

10/30/2017
Freddie S
Maggie repainted my photo after the date. While she wasn't live at my event, she may have well been. She was able to capture the emotion so flawlessly. I recommend her to everyone for just about any event!!!
---
Reviewed on

10/30/2017
Jeff E
Maggie is an incredible artist, and has been for quite some time. She works hard and cares immensely about the quality of her paintings. Her live event painting is really special, and it's astounding how quickly she can turn around her gorgeous, finely-detailed works. I'm... Read More already saving up to hire her for my wedding, and I haven't even proposed yet!
---
Reviewed on

10/30/2017
Deborah F
Most amazing talent! Her attention to detail and color made our wedding painting such a treasure. It is a one of the most special memories that we can see everyday from the wonderful night.
---
Reviewed on

10/30/2017
Denise P
Maggie is absolutely AWESOME! I commissioned her to paint two paintings at my daughter's wedding, and she did both during the wedding/reception timeframe, and both were gorgeous representations of the witnessed event! Guests were in awe of her talent, and how spot on she... Read More captured every detail! I would definitely recommend Maggie to anyone looking for a live event painter!
---
Reviewed on

6/29/2017
Doug S
Maggie just painted our daughter's wedding reception picture . We along with our guest were amazed watching her thru out the night . She/painting were the hit of the night. We will for sure have her at my son's wedding in the future. This picture will always be special to us... Read More and can not say enough with how pleased we were.
---
Reviewed on

4/27/2017
Ella L
Having any creation from Maggie is one of the greatest treasures to have and to hold. Her artistry is magic and she has such a gift in capturing the essence of whatever it is that she's creating because her heart is open.
---
Reviewed on

12/16/2016
Kamryn H
We hired Maggie to paint a picture from our wedding day. The outcome was beautiful and we could not be more please. She is incredibly talented and I hope to get more paintings from her in the future!!
---
Reviewed on

12/16/2016
Carlen F
Maggie is incredibly professional, sweet, and above all, insanely talented. Her work is beautiful and I'd recommend her to anyone looking for a unique and wonderful addition to their celebration!
---
Reviewed on

12/16/2016
Jackie k
I have hired Maggie twice to paint both my best friend and sister's weddings. She was absolutely amazing! She had great ideas about what to paint and was very professional when working with her. Not only did both my friend and sister have an amazing gift and memory, but the... Read More guests were enthralled with her work through out the evening. What a unique experience to add to your own wedding!! My only complaint is that I didn't know she did this when I got married!!
---
Meet The Owner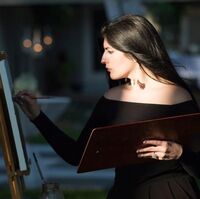 Maggie Smith Kuhn
Hi, I'm Maggie Smith Kuhn, a fine artist working in Atlanta, Ga. I have been live event painting for the last ten years. I love painting, fashion, dogs, and honest to god, I love weddings! I feel so honored to be a part of personal love stories, and documenting love through artwork is the highest calling I can imagine for myself. I can't wait to meet you!