Home

Ilizabeth's Beauty Movement
About this Vendor
The inspiration behind the movement make beauty
Based in Newport Beach, CA serving the Coastal Beach area's, Ilizabeth's Beauty Movement is your On-Site & In-Studio Hair, Makeup & Wedding Specialist. To us, hair and makeup are like art and weddings let us create. Every Bride wants a highly trained and experienced Hair Stylist and Make Up Artist. With over thirty years in the beauty business we can achieve your desired look. We make sure your wedding day is everything you ever dreamed of. We handle all Brides, brides maids, mother's & flower girls.
Details
Beauty Group Bookings, Hair + Makeup Trials Available, Hair Stylists, Airbrushed Makeup, Makeup, Makeup Artists, On-Site Hair + Makeup, Waxing, Beauty

Reviewed on

1/13/2017
Sara B
Ilizabeth was just what I wanted on my wedding day. she knows how to do glam! I felt like a princess. Hair and makeup and to find someone who can do that in fraser Co? We got married at Winter Park Resort. She came out to us with no travel fee. She did 2 bridesmaids and 2 moms.... Read More She can do subtle to. Everyone was happy happy. If you are getting married get her. She books up quick! Thanks Ilizabeth's Beauty Movement! The Best
---
Reviewed on

10/29/2017
Jan K
Ilizabeth is the BEST hairdresser! We didn't even do a practice run for my wedding. I totally trusted Ilizabeth's expertise and taste to come up with a creative idea the DAY OF MY WEDDING!! It was incredible! I think I got more compliments on my hair than my dress!! It was... Read More absolutely beautiful!
---
Reviewed on

10/26/2017
Cameron M
This was by far the best vender I chose for my wedding. Not that the others were bad at all. But Ilizabeth not only listened she heard me and did exactly what we all wanted. There was only three of us getting hair and makeup. We decided to just go to Ilizabeth's studio which is... Read More 5 minuets from DTR. I've never had airbrush makeup it feels weird , but is amazing looking. We all loved it. Even my mom who hates everything. My hair looked exactly like the photo and Mary my bridesmaid loved her look as well. Ilizabeth was very kind and complementary. I liked the Privacy. We started on time and were done promptly on time. I was even able to dress there. Ilizabeth helped us with the dress. It had some complicated features. We went back and forth on the veil. Ilizabeth said" forget it." Really glad I did. My point on my long review is- Ilizabeth knows more about weddings than anyone else I worked with. She's been doing this a long time. She is great at what she does. Highly recommend her.
---
Reviewed on

10/24/2017
Elizabeth F
Wow, the best ever! I couldn't find anyone I liked in Vail. Not to mention the outrages prices. One gal wanted $250 just on the day of the wedding. Sure I spent a total of $480. With Ilizabeth but that was Hair/makeup trial. Travel and day of hair and makeup. She was a dream... Read More come true. Very relaxed. We had eight girls. She brought one assistant and they both blew our minds. My mom was so impressed, that hard to do. Ilizabeth is very quiet but works smarter not harder. I loved her style. I would refer to anyone and everyone. Thanks for making my wedding day Beautiful
---
Reviewed on

10/24/2017
Cathryn D
We had a big group and Ilizabeth brought in a few assistants. She should be an event planner. She was more organized than my wedding coordinator! We got married at Beaver Creek and Ilizabeth did everyone's makeup. Airbrushed and flawless. She also did my hair. While her... Read More assistants did everyone else's hair. We All looked magazine worthy! She does an amazing job! She did a great job keeping everyone everyone in line. There were 11 of us. I could not do her job. 11 haggling women. She kept everyone on track and the wedding was on time. I like the fact that after we were all done everyone was rechecked for loose hair or makeup adjustments. I loved her. She really knows her stuff!
---
Reviewed on

10/03/2017
Ilisabeth did a wonderful job on my hair, I loved the look I felt like a princess. Her makeup was airbrush and even though I found it weird. It looked amazing. I have been going to Ilizabeth for years. She has a way with color unlike any other I always get compliments! She does... Read More a smoothing keratin treatment which leaves my hair so luxurious and soft amd touchable. I highly recommend her!
---
Reviewed on

9/26/2017
Hannah G
Ilizabeth did an absolutely outstanding job on my makeup for my big day! I chose the airbrush option and was so extremely happy with how it turned out. She made me look and feel beautiful and I couldn't be happier with the service she provided! Even better, it lasted all day!... Read More She also did one of my bridesmaids hair and it look beautiful! Thank you Ilizabeth!!
---
Reviewed on

3/21/2017
Kristin S
I first meet Ilizabeth in February 2015 she was doing my trial for my wedding. She owned Fraser Hair Co. back then. There was a lot going on in there and the salon has a weird echo so everyone sounds louder. It was way too noisy for me and my mom. I had to bring my mom.... Read More Ilizabeth could tell we were put off by something. She asked us is everything okay? We asked if it was always this noisy?she said that was the thing she disliked the most. She apologized. We moved on. The trial was very in depth she asks lot's of questions and listens a lot before she even she even starts working on you. I found her to be extremely professional. She takes this very serious. When we got to the makeup she lightened up a bit. I loved it. The day of the wedding came, we had 9 girls. She brought one assistant and WOW! It was hard to believe this kind of talent is up in Winter Park. We got married at Winter Park Resort. They were on time and finished on time. The day of the wedding Ilizabeth was happy and was really funny. Her work was perfect. She finished at 3 and my hair and makeup stayed all day and night. She is a real class act. She contacted me to let me know she had sold her salon and set up a studio in her house. I told her since I live in Golden I am going to come up and have her do my hair. Now that she's out of that loud salon. I'm very excited for her. Book her if you can. You won't regret it! I can't wait to see you!
---
Reviewed on

2/03/2017
Lauren C
Best hairstylist I've ever meet. I wish I lived in Fraser. I really liked Ilizabeth for so many reasons. Mainly her experience makes her very chill. She came in(without a trial.) she talked to all of us together. Which was great. She asked us what we wanted. She did it. Everyone... Read More looked perfect. What a great winter wedding! Trust me I've been in lots of weddings. There's just something about her. Not only was she honest with us. She told us. "Tell me if you don't like something I will fix it. My feelings won't be hurt. This day is about you, not me. I want you to say good things about your experience not bad." Most the time I'm afraid of telling them "I look like a clown or my hair hurts and this bun is not what I wanted." So if you want what you want. Book her! Fast cuz she is busy. She did 2 weddings the day she did mine. ❤️Love her! Oh thank you The Knot! What a great app. I found her and everyone I used here.
---
Reviewed on

1/27/2017
Amanda S
Ilizabeth did a beautiful job on our hair and makeup. She arrived on time. She listen to each person. Everyone was extremely happy. No one looked like a clown. I had a trial at another salon in town the girl was a half hour late. Had some drama going on with her boyfriend or... Read More husband. Made a mess of my hair. So to find Ilizabeth was a dream. She just talked about me during the trial. She emphasized this is your day. You need to tell me how you want to look and she made it happen. She also gave me tips on the day before the day of and for that morning. Which really helped. She finished all of our hair and makeup on time and we loved it! I wish I could post a photo. If you are looking for the right person for your beauty on your wedding day get on her schedule now.
---
Reviewed on

1/13/2017
Keli S
I had Ilizabeth do my hair and makeup as well as my brides maid. The salon was closed. It was a Sunday. She was so pleasant and just really nice to work with. She checked and double checked if everything was going the way I wanted. I was very impressed with her perfectionism and... Read More her professionalism. I highly recommend Fraser Hair Co. Oh I loved my makeup
---
Meet The Owner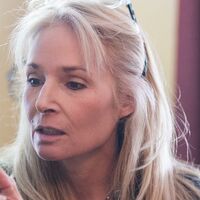 Ilizabeth
To me, hair and makeup are like art and weddings let me create. Every Bride wants a highly trained and experienced Hair Stylist and Make Up Artist. With over thirty years in the beauty business I can achieve your desired look. I make sure your wedding day is everything you ever dreamed of. I continue my education to create updated looks. Whether hair or makeup I want your vision to come to life. Check out my photo gallery, website or my Pinterest page to see what I've been up to. Thanks for stopping by.