Home

Illinois Beach Resort & Conference Center
About this Vendor
Weddings are a Breeze by the Beach
Illinois Beach Resort is the ONLY full service resort located on the shores of Lake Michigan in a breathtaking State Park. Lake View Ballrooms, dream beach front ceremonies, unforgettable photo opportunities, and highly rated cuisine make this resort the only choice for your wedding day.
Amenities + Details
Amenities
Handicap Accessible

On-Site Accommodations

Indoor

Reception Area
For more details about amenities, please message the Venue.
Ballroom, Waterfront, Beach, Hotel, Tented
Contact Info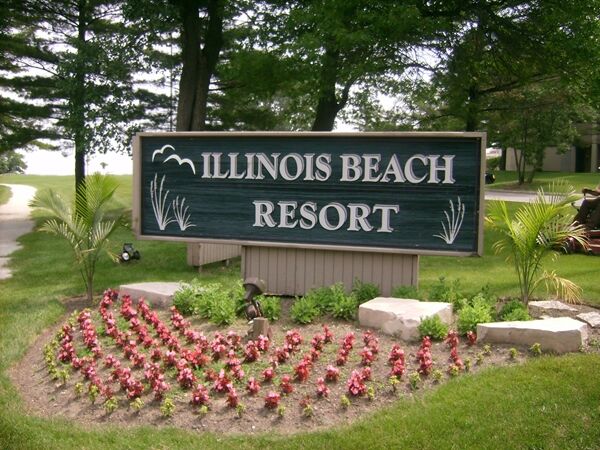 One Lakefront Drive, Zion, IL
Amazing Venue
Reviewed on

11/10/2010
Melissa L
I got married at IL Beach Resort September 4th, 2010. The venue is amazing. I wanted a destination wedding when we first started planning, though my husband did not. The only other place I could think I would want it was Il Beach Resort. It had the feel that we were in the tropics with the wedding itself held outside on the beachfront garden and the reception in the Grand Ballroom overlooking the beach. Nicole and her staff we so helpful and friendly, they were incredibly accomodating for anything that we needed or needed changed at the last minute. They even did a private tasting for us to make sure that the meal was exactly what we wanted. If you want to get married outside at a beautiful destination and have your guests able to stay all in one place, this is definitely a place to check out! Thank you!
---
Our wedding couldn't have been more perfect!
Reviewed on

11/19/2010
Nicole B
We started off our wedding weekend on Saturday, Sept.4th, 2010 with a bonfire on the beach (with a cash bar) and it was a blast and totally worth it moneywise. Then we got married on site on Sunday, Sept. 5th and had our reception in the beautiful, Grand Vista Ballroom (I highly recommend this room because the wall of windows are amazing). Nicole, the wedding coordinator, and the entire staff were professional, accommodating, kind, and patient (I emailed Nicole more than a dozen times before the wedding with millions of questions and she comes with the deal at no extra charge). The beach was beautiful. The food was excellent for banquet food; we had the choice of veggie lasagna or chicken marsala with garlic mashed potatoes and asparagus. The chicken was extremely tender, the mashed potatoes were perfect consistency, and the asparagus came in a cute little zucchini ring. Many guests came up to me and told me how fantastic the food was, which was what really mattered to me. From booking the reception, we also received a free cake, which was an excellent deal (Ann's cake was delicious) and the resort gave us a free suite for the night of the wedding, in which they left us a sweet congratulatory note, a fruit plate, and a bottle of champagne. Oh, we also rented out the outdoor terrace for the cocktail hour, which was wonderful in the last week of summer. I also liked how the Grand Vista ballroom bar area is sectioned off from the reception because you could escape from the DJ music (not that you would really want to) and have a chance to socialize. My only complaint would be that the hotel rooms seemed to be a little bit expensive for what you get, but on the other hand, it's right there and easy to walk up to your room, instead of having to take transportation after a night of drinking and believe me, we had a ton of stuff (DIY centerpieces, gifts, clothes) to lug around before and after the wedding, so everything being right there was awesome. Also, the resort was extra accommodating to us in adding rooms to our room block and to upgrading some rooms to a balcony room at no extra charge. Overall, the wedding was not as cheap as we would have wanted, but we wanted a lot: a weekend getaway for people, an open bar, a sit down dinner, and the ceremony on site, and we got everything we hoped for and dreamed for at Illinois Beach Resort. To be honest, the money doesn't even matter in the end, because the whole experience was amazing (everyone keeps telling me how much fun our wedding was) and I would spend the money again just to relive the day and night!
---
Great venue on the beach!
Reviewed on

7/14/2015
Jenna P
I had my wedding and reception there!! We were very happy with our ceremony and reception! All of our guests loved the food- we did stations! The bartender at the wedding-Joey- was excellent! She was attentive and did a great job managing our crowd! My only complaint was that they did guarantee us rooms to get ready in the day of, we got lucky and some of our families rooms were ready and or suite. It worked out, but could have been a major problem. Overall i would recommend this venue!!! Beautiful!!
---
DREAM LOCATION!!!
Reviewed on

10/10/2014
Beth C
I held my wedding at IL Beach Resort in Zion, IL. The Lake Michigan Beach was PERFECT for my outdoor ceremony and the Grand Vista Room was the ideal reception venue with elegant decor and floor to ceiling windows overlooking Lake Michigan. It was the IDEAL LOCATION for my beach themed wedding and it is local so more of my guests could attend. Highly, highly recommended!
---
Beautiful!! Amazing!!
Reviewed on

10/29/2013
Sara G
Kim Hall was amazing!! It poured rain up until about 15 minutes before my ceremony and Kim checked in the whole time to see what we wanted to do and had the chairs dried off for my ceremony to be on the beach after the rain. It was beautiful!!
---
Gorgeous Location
Reviewed on

7/03/2013
Emily M
Gorgeous location, friendly staff, wonderful day!
---
wonderful location, great venue
Reviewed on

10/02/2012
Stacey S
This place was perfect for our wedding. Its a bit pricier than other hotels in the outer Chicago suburbs, but it was all worth it. The location is perfect, the event staff were very helpful and on the ball with every request we made. There are some minor maintenance issues (door handles in stairs, etc), which makes the room prices seem a little high, but the beds are comfy and the rooms were nice and clean. Our guests complimented the food (as far as wedding food goes), and the bartender was awesome. Definitely recommended for a beach/outdoor wedding!
---
Beautiful Location/Excellent Service
Reviewed on

9/25/2012
Michelle M
Excellent location - right on Lake Michigan. Food was great and hot. Very flexible. Thought onsite coord. could have done a bit more. Day of the staff was so accomodating and helpful. Did feel like rooms are a bit over priced for what you get. Resort is starting to feel a little dated and tired in certain areas, but the beautiful location makes it an ideal place to get married.
---
Feel of a Destination Wedding
Reviewed on

9/13/2012
Sarah S
I had my wedding here at the end of August as well as the rehersal dinner the night before. When i was first looking into doing the wedding here, the prices seemed a little steep, but they include the open bar/ wine/ champagne toast, meal, cake, tables and table linens. In the end it was pretty comparable and much less stress. We held our event in the tent which felt very cozy and sitting out near the water was a real treat for our guests. Kim, the wedding coordinator was very helpful throughout the process and was always very good about getting back to us about any questions we had. Overall, all our guests had a lot of fun staying at the resort and several made comments on how it felt like they were somewhere else tropical. Also we did the bonfire after the rehersal dinner on the beach. It was one of the highlights, since it really gave our families a chance to talk and get to know each other better. Downfalls would have to be that the hotel rooms were a little steep in pricing, but there are other hotels in the area that you can recommend to guests. Also, there isn't too many other nice places in Zion (in case you don't want to do the rehersal at the resort). Lots of fast food and diners. Overall, I loved the place.
---
It's a great location to get married!
Reviewed on

8/14/2012
Candice P
The service was amazing! The coordinator is very flexible and we were able to book the venue for a decent price. The food was great, the view was beautiful, the seating lent itself to a cozy feel, and the servers were great. There were a few miscommunications that were solved quickly by the manager. I recommend this place to anyone who wants a gorgeous, cozy and tasty wedding. It makes for great pictures!
---
Big Bang for Little Buck
Reviewed on

6/29/2012
Annie A
The food was delicious, the setting was spectacular and we paid a fraction of the price of most places. We were able to keep the party going until 2 AM with no issues. Our ceremony was overlooking Lake Michigan and the reception was all windows looking out on the lake. I would HIGHLY recommend getting married here, it was amazing.
---
Couldn't have been more perfect
Reviewed on

6/21/2012
Kristie S
I would recommend this vendor to any bride! They were absolutely amazing. The staff was great- so attentive and polite, and they really made sure that everything was perfect for us. The food was spectacular and the view is like no other (the lake is the backdrop). We had so many complements from our guests and it was perfect to have the ceremony and pictures on the beach, walk upstairs to our reception, and walk down the hall to our hotel room! Wonderful!!
---
Beautiful Beachfront Venue
Reviewed on

6/04/2012
Lisa B
From the initial inquiry into the Beach Resort to our big day, I was continuously impressed with the flexibility, courtesy, and communication of the wedding planner(s) and the hotel staff. Their prices were very reasonable, and they included things that many other venues had separate charges for. They offered us a discount for having the wedding on a Friday, from the rental costs to the food. For what we would have paid for a set dinner on a Saturday, we were able to get a huge buffet on Friday. They also upgraded our rehearsal dinner space for free because no one was using the better room that day, and they did so without being asked. It was a wonderful surprise! The front desk staff were endlessly pleasant and accommodating to all our requests and questions, as was the wedding coordinator. The only thing I was nervous about was the weather, as a beachfront wedding doesn't provide much shelter from the elements if it storms, but we were very lucky and had a perfect day! Our guests raved about the food in our buffet at the reception. At the end of the night, my husband and I were treated to fresh fruit and champagne in our suite, too. We also enjoyed the brunch we had in the resort's cafe the next morning. Again, super-reasonable prices and the food was good! Overall, the rooms were nice and clean and spacious, the food was great, the ceremony and reception spaces are gorgeous, and the staff was terrific! Everyone said it felt like a fun party at the beach!
---
Our October 1 Wedding
Reviewed on

1/21/2012
Jane R
I had a morning wedding, so arranged to go the night before to set up the tables w/centerpieces and candles, etc. It wasn't ready! My mother had to go early in the morning and set it up without me or my girls :( We were wed on the Beach - which was beautiful, just windy and cold. Not much the vendor could do about that! They only have one set of chairs to use, so they had to break down the guest seating where we were married and move the chairs into the tent. The tent was not heated so it was cold, too. The food was fantastic. There was a misunderstanding about serving my guests champagne for the toast, but it was immediately remedied. Our overnight accomodations were lovely. The front desk manager was extremely accomodating and told me I was the bride, and could have anything I wanted! I immediately was at ease and knew they would take care of me. I took off a star from the rating, because it was very expensive for what I got. But it was quite lovely.
---
Perfect venue for our perfect day.
Reviewed on

10/28/2011
Megan B
Couldn't have been more pleased with having used the resort as our wedding venue! Nicole, who helped plan and execute our wedding, was so nice, professional, helpful, patient, and made our day come together perfectly. The venue itself is beautiful (even in the rain) and the beach wedding was a dream come true. Our dinner was incredible. Of the comments we heard from guests, the most prevalent was; "It wasn't typical wedding food... it was great!" Every one of the staff was attentive, courteous, and very professional. If we could give Illinois Beach Resort 10 stars out of 5, we would.
---
All in all, a great day
Reviewed on

9/29/2011
Alley L
IL Beach Resort proved to be a great location for the outdoor wedding we desired. The staff was usually pretty easy to work wit, however, there were definitely times when they could have been more accommodating. Lots of fees were tacked on for minute details which is to be expected at any venue, but the fees added up quickly. Food was great and was complimented all night from our guests and the bar kept the drinks coming, but did run out of a few types of liquids which shouldn't have happened since we paid for the highest upgrade. The tent was beautiful and I would recommend the venue for those looking to have an outdoor wedding with a picturesque backdrop
---
Amazing Ceremony and Vevnue
Reviewed on

8/23/2011
Carrie L
The IL Beach Resort was an amazing venue. I had responses to all my questions in a timely manner. They assisted with making my beach wedding everything I could ask for. They worked with our menue for those that had allergies or other dietary requests. They were simply amazing. Nicole was awesome and she did a fabulous job. I am very happy I had my wedding at the IL Beach Resort, anywhere else and I do not think I would have been as happy.
---
Destination wedding near home...
Reviewed on

6/22/2011
Alison C
The venue is stunning and many people said it was like a destination wedding on the beach. It is a hidden jewel. Nicole, the wedding coordinator, was so helpful and sweet!
---
Absolutely Beautiful
Reviewed on

6/14/2011
Laura P
This place was fantastic! The view was absolutely beautiful! My guests are sending me thank you cards for inviting them. Had tons of compliments on the food and on the service. Besides, having your whole wedding at the resort was really nice for those out-of-town guests and for those in-town guests who want to stay and party and cant drive home. ;)
---
Happy Bride!
Reviewed on

12/01/2010
Courtney G
I had the most amazing experience working with Nicole and the rest of the staff at Illinois Beach Resort! Their professionalism, service, and event space far exceeded any and all expectations I had for the perfect wedding weekend! We had our rehearsal dinner, wedding ceremony and reception on site over Fourth of July weekend, which made it very convenient for us and our guests! We also had approximately fifty rooms rented by guests who stayed for the entire weekend. The site itself is breathtakingly beautiful, we took all of our pictures there taking advantage of the beach and lake views, we also had our ceremony outside -- in spite of a massive downpour right before the ceremony! Luckily for us, Nicole and the staff were right on top of it, bringing inside what they could and drying off all of the chairs and replacing the linens for the cocktail hour with dry ones. We started with only a slight delay which was quite amazing considering the amount of cleanup required! The reception was beautiful, everyone loved their food and the service, the drinks (which were included in the package) were constantly refilled! We even had a wait staff member who kept tabs on the groom and myself exclusively throughout the night, every time I turned around, he was there to answer questions or to get me a new drink -- including even following out to the bonfire to see if I needed anything from the bar! In addition to everything being perfect and beautiful the day of, we had a wonderful experience planning. Nicole was always available to answer questions, and I had many, all of which she handled with a smile on her face! She also worked very well with all of our vendors, all of which were new to the venue. She managed them all on-site the day of, so that I was able to peacefully get ready with my bridesmaids in the complimentary suite -- I think I was probably the most unstressed bride ever and that was largely due to Nicole, the staff, and having everything available on site! It truly was the most amazing day, we can't wait to celebrate our anniversary at the resort in years to come and our guests had such a great time laying on the beach, swimming in the pool, walking on the trails, and hanging out in the lobby that many have already talked about visiting the resort again! Thank you so much Nicole and Illinois Beach for making our day, our guests and ourselves feel so special!
---
Great Experience
Reviewed on

11/30/2010
Lindsay V
We chose Illinois Beach Resort as our Midwest alternative to a destination wedding. It turned out being the best decision we made! Nicole does an AMAZING job helping you prepare for the big day. I e-mailed back and forth with her for a year nailing down each and every detail. She made sure that all of our weekend details went smoothly. We had great experiences from the rest of the staff also. We had about 50 guest at the resort Friday night with the remainder of the guest, about 100, staying Saturday night. A Friday Rehearsal, Rehearsal dinner and bonfire were all hosted at the resort. A beach side wedding and indoor reception in the beautiful ballroom (floor to ceiling windows) on Saturday was just perfect! We did feel that the price was a bit high (try to negotiate at your first meeting), but we can't complain too much because we had a PERFECT weekend. Overall, we wouldn't have changed a thing.
---
My Dream Wedding!
Reviewed on

11/12/2010
Dania R
I couldn't of asked for a more perfect day! Everything was the way I had dreamed it would be.... Lakefront ceremony breath taking... Pavilion Tent Reception Perfect ... My guest are still talking about how amazing our Dinner was... Everyone was vary helpful and the staff was great!! If I had to do all over again I wouldn't change one thing!
---
Wedding venue
Reviewed on

10/29/2010
Jennifer C
Location was absolutely beautiful and the staff was very friendly and helpful. Food was good, though overall it was a bit pricey for the amount of food and drink that was served.
---
Send Message