Home

Immaginare Events by Giseli Spera
About this Vendor
Our clients' enjoyment is our highest priority!
Your wedding is the best day of your life. You should enjoy and relax. We will work closely with our reliable and talented vendors to bring your vision to life by coordinating all the design and logistical elements throughout the planning process. Contact us today!
Details
Destination Wedding Planning, Day-Of Coordination, Full Service Wedding Planning
Contact Info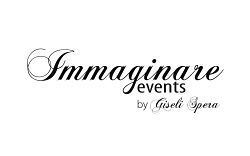 Reviewed on

12/19/2017
Nick C
Giseli is a true professional and she handled a large wedding of 200 people in a timely and professional manner. The way she worked with everyone to bring it all together was amazing. There were plenty of occasions someone in her position could have completely lost it but she... Read More kept it together at all times and made the best of crazy situations! She knows when to be patient and when to be demanding which is exactly what you need for a big wedding! Her design aesthetic is good too. The entire wedding event was so much fun and had no major hiccups, and it looked absolutely beautiful as well. I highly recommend Giseli and Immaginare Events.
---
Reviewed on

2/12/2018
Brianna L
I can't say enough wonderful things about Giseli!! My husband and I were getting married in Santa Barbara but live up in the Bay Area. We were looking for someone who knew the area and could help with some suggestions on vendors. Being a planner myself, I had very high... Read More expectations. The moment I spoke with Giseli on the phone, I felt at ease! She knows Santa Barbara so well, has so much experience and relationships with vendors and venues and is so nice! She gave me so many amazing suggestions on vendors along the way, I ended up hiring all of her recommendations! Anytime I had a question or concern along the way she was there for me right away! She knew our venue like the back of her hand which was so helpful from trying to plan from out of town. Hiring Giseli was the best decision we ever made! She calmed me down in my panic moments, is so organized, is always one step ahead and prepared for anything. Our wedding day went seamlessly and I owe it all to Giseli and her amazing vendor recommendations! Not only was everything organized and coordinated perfectly but she truely made my vision come to life! I couldn't be happier with how our day turned out. Thank you So much Giseli!!!
---
Reviewed on

11/05/2017
Michele M
Giseli was absolutely amazing. My wedding wouldn't have happened without her. From the very beginning of planning to the very end, she was always there with great advice. She gave us so many ideas and really kicked off the wedding planning for us. I don't know what I would have... Read More done without her on our wedding day! She went above and beyond with helping us make our wedding day perfect. I was able to enjoy my wedding because of her wonderful work.  Words can't express how happy and thankful I am.
---
Reviewed on

10/26/2017
Steven K
Giseli was a blessing! I could not imagine having anyone else coordinating our wedding. She was an absolute pleasure to work with, overly flexible and very professional. She asked all the questions, and managed all the details we had not thought about. The wedding went smooth... Read More and we were left to only care about enjoying the day while she took care of the rest. The review, meeting and preparation she did, behind the curtains and with us made all the difference. I highly recommend her for a coordinator, and we are so lucky that she was available!
---
Reviewed on

9/27/2016
Jessica O
Words cannot describe how amazing Giseli is at her job. She truly is talented. We hired Giseli as a day of coordinator but she definitely went far and beyond what he hired her for. I got married just two weeks after I took the bar exam and could not have had such an amazing day... Read More without Giseli's help, patience, and professionalism. She was incredibly personable and paid amazing attention to detail. All of this was true in the months/weeks leading up to the wedding and even more so on the day of. She and her assistant moved both my husband and I, and our guests, fluidly through all the planned events and seamlessly adjusted our schedule on the fly when necessary. Knowing that she had everything under control allowed my husband and I to enjoy our day, and for that, I am forever grateful. One piece of advice I got before starting my wedding planning was to hire a coordinator, and Giseli was worth every single penny and more.
---
Reviewed on

7/26/2016
Mia G
Giseli was the best gift we ever could have received!!! She became part of our relationship, as she helped us plan the most perfect wedding we ever could have imagined. Giseli was everything - our advisor, our friend, our legal advice, our mentor...she was available to us all... Read More the time and did every task we asked with grace and efficiency, and then went above and beyond. One of the saddest parts of our wedding being over is that we no longer talk to Giseli every day. Do yourself a favor and hire Giseli!!! She is amazing in every way!!!
---
Reviewed on

5/04/2016
Celina D
Thank you, thank you, thank you!!! Giseli you were amazing. I found Immaginare Events on the Knot, and was nothing but pleased with the services they provided. I had initially planned most of wedding details myself, but realized I needed month of/day of help, Immaginare Events... Read More had the perfect package for me. Giseli was amazing and fulfilled all my needs. She helped with timelines, gratuity lists, picture lists. I could tell she was very experienced and enjoyed what she did. I would highly recommend her for your wedding planning. Immaginare events has various levels of help depending on your needs, I am sure they have something perfect for you! Thanks again for making my wedding day beyond my dreams, it was perfect!
---
Reviewed on

9/08/2015
Alexandra P
I wanted to take time to express just how much I am grateful for all that Giseli have done for my husband and I. First of all, she went above and beyond of what our expectations for a wedding planner were. Giseli has always been available at any time of the day and at any... Read More hour to answer all, even some of the ridiculous, questions I've had to put me at ease each time. As you are aware, this is a blessing for the brides like me who are planning a destination wedding with over a 100 guests (we live in Austin, TX). Just like the previous reviewers have said, she is there with you every step of the way! Secondly, Giseli's calm, laid back attitude along with high professionalism and positive energy made the whole process so much easier! She is truly a pleasure to work with! After each call or meeting with her, I would tell my husband how much BETTER and organized I felt about the whole planning process! Now, about the actual event, I don't know if every bride can say this but... I've HAD SO MUCH FUN, was completely relaxed and just was trying to capture, live, breathe and memorize every moment of the day! All that because of how flawless Giseli ran the whole event! I've heard such good things from our families mentioning how helpful she were during the wedding! She truly is a great example of why every bride needs a wedding planner like her! I feel extremely thankful to have found Immaginare Events through WeddingWire! Sincerely, Alexandra Vasquez
---
Reviewed on

8/04/2015
Caitlin S
We just got back from our honeymoon and the first thing we wanted to do was shout Giseli's name from the rooftops. Immaginare Events is an absolute gem of a wedding planning and coordinating service. Giseli goes above and beyond what is included in the contract. She is there for... Read More you every step of the way, she responds to calls and emails with lightning speed, and she has really helpful tips (e.g., do a receiving line after your ceremony so you don't have to walk around to visit each table during dinner---giving you time to relax and enjoy your meal). She was fantastic at getting our wedding party on task and has amazing foresight into what snags might come up. She has an amazingly kind and warm personality, as well. Our DJ, photographer, baker, and makeup artist all independently mentioned to us that Giseli was the best planner/coordinator they had ever worked with. She called them each to go over all the details and provided them a very detailed timeline. The other vendors said they didn't have to do nearly as much work as they usually do, because she made their jobs easy. Snap up Giseli as soon as you get engaged--it will be the best investment to making your wedding calm, beautiful, smooth, and enjoyable.
---
The best vendor decision we made for our wedding
Reviewed on

10/29/2014
Kristin L
Giseli was our last major vendor that we booked. We got married at the Santa Barbara mission and they did not allow an outside planner but we knew that we needed someone to help us for the evening/reception/ Giseli was our ace in the hole/the best vendor decision that we made... Read More for our wedding. Amazing, spectacular, and incredible do not even begin to cover how incredible she was. She was organized, had great referrals, a keen eye for detail, and helped us to manage all of our other vendors, the timeline, and all of the small meaningful details of the day. We are SO grateful and lucky to have found Giseli. Really and truly - if you need a planner - she is it! Warm, kind, professional, a pleasure to work with, and really and truly - the best. I am, and as soon as I met with her, have been the BIGGEST fan of Giseli. I lack the eloquence to truly express my gratitude and appreciation - but she was INCREDIBLE. I usually don't write reviews but reviews played such an important role in my booking of vendors (and believe me when I tell you how thorough my research was - I looked at probably 100 planners) - so if you are on the fence or are still looking for someone ... Do yourself a favor and get in touch with Giseli. Our wedding day was that much more magical and special because of her. We are forever grateful and indebted to her AMAZING services. !
---
Giseli Is the Best!
Reviewed on

12/30/2013
Michelle N
Giseli Spera (of Immaginare Events) is an excellent wedding planner: smart, calm, thorough, responsive, and professional. We employed her as a day-of coordinator, but she let us call and email her as much as we needed, which was enormously helpful and comforting. Several weeks... Read More in advance, she provided us with a detailed schedule of what would happen on the week of the wedding. She also communicated with our other vendors - the caterer, the photographer, the baker, the ceremony musician, the DJ, and even the taxi company - so that on the day of the wedding, all of them worked seamlessly as a team. The ceremony and the reception went more smoothly than we could have hoped. It was a lovely evening, and we have Giseli to thank for the opportunity to sit back and simply enjoy it. We couldn't recommend her services highly enough!
---