Home

Ines Naftali Floral and Event Design
Details
Aisle Decorations, Centerpieces, Flower Girl Baskets, Pedestals, Plants, Vases, Chuppah, Wedding Arch, Wedding Decoration Delivery, Wedding Decoration Setup, Decorations + Accents, Flower Crowns, Hair Accessories, Accessories, Fashion, Bouquet Wraps, Bouquets, Boutonnieres, Corsages, Flower Alternatives, Flower Delivery + Setup, Flower Preservation, Flower Arrangements
Contact Info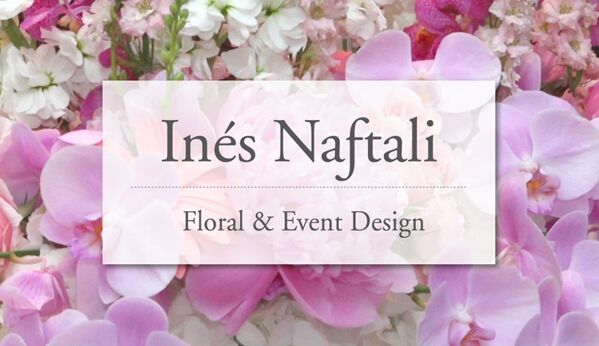 Truly a professional
Reviewed on

4/22/2013
Victoria B
Ines is an artist who truly understands her craft. When I went to Ines, I had very little vision of what my flowers would look like-- all I knew was that my color theme was purple, and that the flowers should tie that theme together. When she asked about specific flowers,... Read More frankly, I had no idea what she was talking about, so I gave her carte blanche (within a budget) to create a beautiful setting. While this might make some brides nervous, I really think this is where Ines excels, and I was delighted with the results. Beautiful, beautiful flowers--- down to the very last detail (including real flowers for my hair). My only frustration in the whole process was dealing with Ines's administrator. While she was pleasant, I found that I would answer her questions, only to repeat the answers later with Ines directly. I would eliminate the middle man and plan to talk directly with Ines herself, because she is the one with vision. (Ines herself would get 5 stars for service). If you want floral arrangements that guests will remember, Ines is the one you want!
---
Incredible florist
Reviewed on

7/26/2012
Vanessa P
Ines is a true artist. She understood my taste and the look and feel I was going for and she kept everything in the budget I gave her. She is responsible, reliable and her designs are simply gorgeous. I would highly recommend her to anyone looking for a florist (for any type of... Read More event or occasion).
---
Reviewed on

11/04/2016
Tahira M
The vision I created in my mind leading up to my wedding didn't come close to what Ines crafted for us. Everything she did for us was absolutely stunning! Thank you Ines for sharing your talents with us. You blew us away!
---
Reviewed on

9/02/2016
Carly U
Ines and Claudia did an amazing job decorating our wedding venue. They took the time to listen to our ideas and incorporated their own suggestions into the design. The end result was above and beyond our expectations.
---
Reviewed on

8/18/2016
Beatriz R
Ines and her team are wonderful!! We interviewed multiple florists but felt an instant connection with Ines. Ines makes you feel at ease and instantly understands your idea/view. She not only makes your idea/view a reality but takes it to another level. Her attention to details... Read More is remarkable. Loved her and her work -cannot recommend her enough. You really will not regret choosing Ines and her team.
---
Reviewed on

8/18/2016
Huier Z
They over did, everything was just amazing, and we got such a wonderful wedding
---
Reviewed on

1/27/2016
Ashley S
Ines is so incredibly creative - I can't overstate how beautiful the flower arrangements were at our rehearsal dinner, ceremony, and reception. They were beyond what I could have imagined. And Ines and Claudia are both wonderful!
---
Reviewed on

1/21/2016
Gabbie D
Ines and Claudia were the most wonderful ladies to work with. From our first meeting I knew I wanted her to do the flower arrangements and be my Day of Coordinator. They guided us and were there for every question we may have had. Her flower arrangements in the ceremony were... Read More beautiful and the decorations and flowers in the reception ballroom were amazing. The bouquets for the bridesmaids, maid-of-honor and for the bride were gorgeous. She also made the most beautiful broaches for the moms. I highly recommend anyone to use Ines Naftali.
---
She read my mind!
Reviewed on

11/24/2015
Jamie M
We used Ines and her team for both floral/event design and day of coordination. They really pulled it off. I am a worrier but every time I spoke to Ines, Claudia or Florencia, I instantly felt at ease. The florals were everything I imagined they would be and more. I am not... Read More a creative person but somehow Ines was able to predict exactly what I wanted. Our wedding day was everything I ever dreamed it would be thanks to Ines and her amazing team. Thank you, Ines!! My gratitude cannot be expressed in words!
---
Reviewed on

10/06/2015
Angela M
I met with Ines with my wedding planner and was immediately drawn into her by her ideas and drawings. I had a meeting just prior to the one with her with another big miami florist, and felt like just another random everyday job. That was not the case at all when I met Ines. I... Read More came in with pinterest ideas all ready to go. She got so creative with them, within 10 minutes I knew I had to have her for my wedding. She took my overused pinterest ideas and made them into something similar but unique that i LOVED. We got a lot of compliments on all the floral designs for our 190 person wedding. My bridal bouquet was PERFECT and stunning- I got 20+ compliments. If you are needing a florist- do not hesitate to hire her.
---
Breathtaking wedding, thanks to INES!
Reviewed on

3/11/2015
Dalia F
I cannot begin to express my gratitude for Ines. Before meeting her, I had a serious amount of appointments with several florists. For one reason or the other, none of them seem to convince me. After 5 minutes in my meeting Ines I knew she would be the one to make my dream... Read More wedding come true! She is not only an extraordinaire human being (which is really important to have around when you are celebrating one of the most important days of your life) but she is also very professional and detailed-oriented. Ines will listen to YOU, she will pay attention to what you like and what you don't like, and she will work with your budget to make the best out of it! My wedding was simply spectacular, elegant and beautiful!! The service was impeccable, Ines and her team are THE BEST! Breathtaking arrangements, the chuppah, the ceremony, everything looked beautiful. She is very reliable, and she will give you what she promises. As a bride, I recommend Ines 100%! But not only that, I would recommend you to MAKE AN APPOINTMENT, meet with her before making any decision with other vendor! I think that after meeting with her, and seeing her work, you won't go with anyone else!
---
A Master Florist/Wedding Stylist!
Reviewed on

5/15/2012
Esther M
I wanted vintage, romantic, peonies, garden roses, the top flowers for the most important day of my life, Ines told me, "whatever your budget is, we will make it work for you." With that, I expected average arrangements. Boy was I wrong! The decor at my wedding looked like a... Read More garden in heaven! Every single person commented on the absolutely stunning centerpieces, my amazing bouquet with all the flowers I wanted PLUS rare flowers I've never seen before! The whole ceremony smelled like a Parisian garden! The hoopah was draped in white fabric and embedded with stunning vines and flowers. When I caught sight of it as I came down the aisle, I took three steps and started to cry at how absolutely gorgeous the setting was for the happiest day of my life. Ines was the consummate professional, and a sweetheart to boot. I plan to use her again and recommend her wedding stylist services to any bride who wants to be surrounded by beauty on her happiest day. The quality of the flowers was A1, as was the quality of Ines's artistry. A true floral MASTER!
---
Meet The President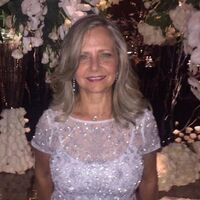 Ines Naftali
In our studio, we show how a work of art can transform an ordinary room into an exquisite place; we transform your vision into reality. We understand your event should be an expression of you. Beautiful moments are what we love to design. From the smallest detail to the entire event, we work with your personality and wishes to create a special and unique art for your event . Our first consultation is very important to fully understand your wishes, dreams, vision, budget and have a wedding or an event creatively tailored for you and not as any other one you may have seen before.
Use our messaging tool to connect with vendors anytime, anywhere. Stay organized, all in one place.