Home

Ines Naftali Floral and Event Design
Details
Aisle Decorations, Centerpieces, Flower Girl Baskets, Pedestals, Plants, Vases, Chuppah, Wedding Arch, Wedding Decoration Delivery, Wedding Decoration Setup, Decorations + Accents, Flower Crowns, Hair Accessories, Accessories, Fashion, Bouquet Wraps, Bouquets, Boutonnieres, Corsages, Flower Alternatives, Flower Delivery + Setup, Flower Preservation, Flower Arrangements
Contact Info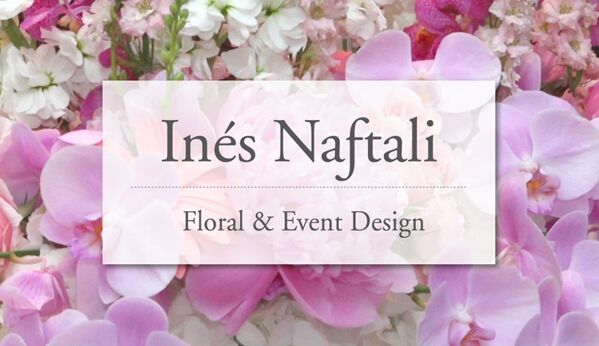 Reviewed on

2/23/2017
Melinda W
Ines and her group are amazing. Planning events a large as weddings can be very stressful and her and dina were so understanding and honestly helpful. The days leading up to my wedding date Ines personally called me to ensure that my bouquet was everything I wanted and more. She... Read More is truly an artist and doesnt need much instruction, but she is also extremly connected to her clients and what they want. Before my guests were able to see the reception decor, she brought me down and made sure it was everything i thought it would be.... that was very personal to me, and meant alot to have a moment alone to take in all the beauty. I would highly recomment Ines to anyone having any sort of large event, she is the best.
---
Reviewed on

2/22/2018
Luciana C
We were referred by friends that got married 2 years before us and were super happy with Ines' service and after seeing the final outcome of our flowers & décor I can understand why: Ines' work is amazing! She did an incredible job with the flowers and some of our special... Read More requirements: we had antique doors as our "arch" that required communication and integration with another vendor and the outcome was amazing; I`ve asked her to be sure our sign in table was the most amazing piece at the wedding and it was incredible, we had lots of compliments. I had a conflicting vision (my references were very vibrant but my speech and request was for something more romantic) and Ines just "entered my head" and delivered exactly what I wanted! My bouquet was a dream and I loved the special touch of Ines requiring to deliver it herself – makes you feel special, as you should in your wedding day! Ines is a true artist, and as for most of the artists… the administrative part is definitely not their strong point! For a more structured bride like me this can cause stress and that would be my only point of improvement. Since our first meeting, almost a year before the wedding, I had 3 different contacts at Ines`s teams and most of our interactions were not to my satisfaction – either not getting back or taking too long to treat the emails/requests up to surprising things such as sending me a contract to be signed the day before the wedding (when we had a balance due USD 0 and their timeline for arrival at the venue pending). If you can handle the lack of organization in the administrative part to prioritize the end result & an amazing design/outcome I definitely recommend Ines. Thank you so much for the beautiful set up in our wedding, for the flexibility in receiving us after hours and for understanding and delivering exactly what we wanted! You`re a true artist!
---
Reviewed on

6/22/2017
Anna M
Ines and her entire team were wonderful to work with! Everything about our initial meeting, the sample meeting, and our wedding was absolutely wonderful because she is so sweet and is such a pleasure to work with. We had some basic ideas about the style we wanted (white, simple,... Read More elegant) but we put our trust in her creative vision and I am so glad that we did! We are still getting complements on the elegance of the design! Her team decorated our reception area with bistro lights under the tent as well and it was absolutely beautiful. We even had her pick out the linens and chairs since we trusted her style so much. My bouquet, the bridesmaids' bouquets, and boutonnieres were lovely as well! We would not have changed a thing! My mother, who has very high standards, declared Ines as the best vendor at our wedding (and she definitely had some competition for that title!).
---
Reviewed on

4/23/2017
Rebecca B
Ines and her team designed our perfect wedding at the Biltmore in January. Incredibly luxurious, yet tasteful. The team helped me articulate my vision to create something entirely unique to me. Throughout the process, I was confident that I chose Ines, but she OVERDELIVERED on... Read More the day of the wedding. Thank you! Thank you! Thank you!
---
Reviewed on

3/02/2017
Adreanna N
Ines is truly talented. She brough my vision to life with her magic. She did my florals and decorations, and everything was perfect! I was reccommended from a close friend and I didnt even see any other florist becausr I knew I wanted Ines. When we met once I instantly knew she... Read More was going to make everything beautiful, and she did.
---
Reviewed on

2/28/2017
Talia O
Thank you, thank you, thank you! From the moment I first met Ines, I knew she would be the one to paint the canvas for our day! She delivered and exceeded my expectations. From the bottom of my heart, THANK YOU!
---
Reviewed on

2/12/2017
Lianne R
Take your money and run in the opposite direction of this tiny woman. I got shafted, and you shouldn't have to. IF you absolutely, positively have to book Ines because you have called every single florist in ALL of South Florida, and they didn't answer, then below you'll find a... Read More few things to keep in mind. Anyway like I said, if it's life or death, and you must choose Ines as your florist, here's a list of what to look forward to: Anything and everything will be said to gain your business, and you'll really want to do business with her because she's just so, so, so sweet and adorable. Fight the urge to book her, even if she gives you all the hugs in the land, and you're convinced she's your Florist-y Godmother. You'll be duped by all these great photos of outrageously beautiful designs - its okay, I was too. I'm sure the that there are weddings she does florals for that are out-of-hand. I wouldn't know because my wedding flowers fell far from that tree. There will be things promised, that won't look anything like what you agreed on, and will likely be a fraction of the size originally discussed. Ines might possibly give you a call on the day of your wedding, saying she needs to charge you some extra fees that she "forgot" to include. This will be while your make-up artist is mid-contour, your hair dresser is finishing up your hair rollers, and you're T-Minus three hours from walking down the isle and your bouquet is no where to be found. Nothing like a collection call on your big day to really brighten your smile, and lighten the mood. If anything goes wrong, don't expect a fix, expect for the problem to be treated as "it is what it is". If it's going to be anyones fault, you can expect it to be yours. When you finally do get your bouquet, theres a possibility it will be half the size you agreed on, and might be missing a few key elements that we're pretty pivotal to the design... No big deal. A business, especially one in this field should never over-promise, and under-deliver. I tried to speak with her after my wedding letting her know I was upset, and she would only relay messages through her assistant, which I found to be extremely rude and unprofessional.
---
Reviewed on

2/06/2017
Nery B
I am extremely disappointed at the poor customer service we received from Ines. When we first contacted her, she had someone from her company send us a welcome email with a form to fill out which we did. We were detailed with our vision, provided a budget and even a Pinterest... Read More board with samples. We had to wait about 3 weeks to get an appointment due to the fact she is very busy. Finally the day came but instead of meeting with her, we met with her assistant who is fairly new at this. Okay not a problem, she wrote down all of the information to present to Ines so that she could draw up a proposal. Mind you, Ines was there the whole time but could not be bothered to sit down with us for even few minutes. At the time this did not bother me, I understand she is extremely busy and this is why there are assistants. We were told we would have a proposal within a few days. But then we waited and waited and waited for 3 weeks and we still do not have one almost 4 weeks later. During this time, we received a call from assistant with a verbal figure that was more than we had budgeted for but I asked her to send us a formal proposal because we really wanted to work with her and could have made it work. Well, that never came. Neither did a courtesy phone call or a reply email to any of my emails. I called every few days to follow up with her assistant but received nothing but excuses for not sending. Several times I was told it would be sent later that day or tomorrow or next Wednesday. Long story short, unless you have a large budget, she probably wont be interested in working with you and that's fine, clearly she is now in a position to pick and choose. If they had been upfront and explained that they could not work with us, I would have understood and moved on but to string me along is just plain rude and very unprofessional.
---
Reviewed on

11/04/2016
Tahira M
The vision I created in my mind leading up to my wedding didn't come close to what Ines crafted for us. Everything she did for us was absolutely stunning! Thank you Ines for sharing your talents with us. You blew us away!
---
Reviewed on

9/02/2016
Carly U
Ines and Claudia did an amazing job decorating our wedding venue. They took the time to listen to our ideas and incorporated their own suggestions into the design. The end result was above and beyond our expectations.
---
Reviewed on

8/18/2016
Beatriz R
Ines and her team are wonderful!! We interviewed multiple florists but felt an instant connection with Ines. Ines makes you feel at ease and instantly understands your idea/view. She not only makes your idea/view a reality but takes it to another level. Her attention to details... Read More is remarkable. Loved her and her work -cannot recommend her enough. You really will not regret choosing Ines and her team.
---
Reviewed on

8/18/2016
Huier Z
They over did, everything was just amazing, and we got such a wonderful wedding
---
Reviewed on

1/27/2016
Ashley S
Ines is so incredibly creative - I can't overstate how beautiful the flower arrangements were at our rehearsal dinner, ceremony, and reception. They were beyond what I could have imagined. And Ines and Claudia are both wonderful!
---
Reviewed on

1/21/2016
Gabbie D
Ines and Claudia were the most wonderful ladies to work with. From our first meeting I knew I wanted her to do the flower arrangements and be my Day of Coordinator. They guided us and were there for every question we may have had. Her flower arrangements in the ceremony were... Read More beautiful and the decorations and flowers in the reception ballroom were amazing. The bouquets for the bridesmaids, maid-of-honor and for the bride were gorgeous. She also made the most beautiful broaches for the moms. I highly recommend anyone to use Ines Naftali.
---
She read my mind!
Reviewed on

11/24/2015
Jamie M
We used Ines and her team for both floral/event design and day of coordination. They really pulled it off. I am a worrier but every time I spoke to Ines, Claudia or Florencia, I instantly felt at ease. The florals were everything I imagined they would be and more. I am not... Read More a creative person but somehow Ines was able to predict exactly what I wanted. Our wedding day was everything I ever dreamed it would be thanks to Ines and her amazing team. Thank you, Ines!! My gratitude cannot be expressed in words!
---
Reviewed on

10/06/2015
Angela M
I met with Ines with my wedding planner and was immediately drawn into her by her ideas and drawings. I had a meeting just prior to the one with her with another big miami florist, and felt like just another random everyday job. That was not the case at all when I met Ines. I... Read More came in with pinterest ideas all ready to go. She got so creative with them, within 10 minutes I knew I had to have her for my wedding. She took my overused pinterest ideas and made them into something similar but unique that i LOVED. We got a lot of compliments on all the floral designs for our 190 person wedding. My bridal bouquet was PERFECT and stunning- I got 20+ compliments. If you are needing a florist- do not hesitate to hire her.
---
Breathtaking wedding, thanks to INES!
Reviewed on

3/11/2015
Dalia F
I cannot begin to express my gratitude for Ines. Before meeting her, I had a serious amount of appointments with several florists. For one reason or the other, none of them seem to convince me. After 5 minutes in my meeting Ines I knew she would be the one to make my dream... Read More wedding come true! She is not only an extraordinaire human being (which is really important to have around when you are celebrating one of the most important days of your life) but she is also very professional and detailed-oriented. Ines will listen to YOU, she will pay attention to what you like and what you don't like, and she will work with your budget to make the best out of it! My wedding was simply spectacular, elegant and beautiful!! The service was impeccable, Ines and her team are THE BEST! Breathtaking arrangements, the chuppah, the ceremony, everything looked beautiful. She is very reliable, and she will give you what she promises. As a bride, I recommend Ines 100%! But not only that, I would recommend you to MAKE AN APPOINTMENT, meet with her before making any decision with other vendor! I think that after meeting with her, and seeing her work, you won't go with anyone else!
---
Truly a professional
Reviewed on

4/22/2013
Victoria B
Ines is an artist who truly understands her craft. When I went to Ines, I had very little vision of what my flowers would look like-- all I knew was that my color theme was purple, and that the flowers should tie that theme together. When she asked about specific flowers,... Read More frankly, I had no idea what she was talking about, so I gave her carte blanche (within a budget) to create a beautiful setting. While this might make some brides nervous, I really think this is where Ines excels, and I was delighted with the results. Beautiful, beautiful flowers--- down to the very last detail (including real flowers for my hair). My only frustration in the whole process was dealing with Ines's administrator. While she was pleasant, I found that I would answer her questions, only to repeat the answers later with Ines directly. I would eliminate the middle man and plan to talk directly with Ines herself, because she is the one with vision. (Ines herself would get 5 stars for service). If you want floral arrangements that guests will remember, Ines is the one you want!
---
Incredible florist
Reviewed on

7/26/2012
Vanessa P
Ines is a true artist. She understood my taste and the look and feel I was going for and she kept everything in the budget I gave her. She is responsible, reliable and her designs are simply gorgeous. I would highly recommend her to anyone looking for a florist (for any type of... Read More event or occasion).
---
A Master Florist/Wedding Stylist!
Reviewed on

5/15/2012
Esther M
I wanted vintage, romantic, peonies, garden roses, the top flowers for the most important day of my life, Ines told me, "whatever your budget is, we will make it work for you." With that, I expected average arrangements. Boy was I wrong! The decor at my wedding looked like a... Read More garden in heaven! Every single person commented on the absolutely stunning centerpieces, my amazing bouquet with all the flowers I wanted PLUS rare flowers I've never seen before! The whole ceremony smelled like a Parisian garden! The hoopah was draped in white fabric and embedded with stunning vines and flowers. When I caught sight of it as I came down the aisle, I took three steps and started to cry at how absolutely gorgeous the setting was for the happiest day of my life. Ines was the consummate professional, and a sweetheart to boot. I plan to use her again and recommend her wedding stylist services to any bride who wants to be surrounded by beauty on her happiest day. The quality of the flowers was A1, as was the quality of Ines's artistry. A true floral MASTER!
---
Meet The President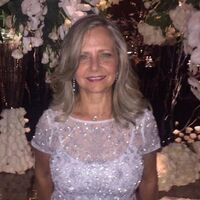 Ines Naftali
In our studio, we show how a work of art can transform an ordinary room into an exquisite place; we transform your vision into reality. We understand your event should be an expression of you. Beautiful moments are what we love to design. From the smallest detail to the entire event, we work with your personality and wishes to create a special and unique art for your event . Our first consultation is very important to fully understand your wishes, dreams, vision, budget and have a wedding or an event creatively tailored for you and not as any other one you may have seen before.